Chris Brown's Mother Joyce Hawkins Showcases Slim Legs in Sparkling Gold-Embroidered Dress with Long Sleeves
Joyce Hawkins's title is more than being a mother to a megastar singer, Chris Brown; she is also an ageless beauty. The woman recently showcased her slim legs while rocking a sparkling gold-embroidered dress with long sleeves.
Chris Brown remains an unbeatable singer and dancer. The artist is the best in his game, and through it all, he has been blessed with overwhelming support from his fans and family.
His mother, Joyce Hawkins, provides unwavering support for her child. In the good times—his successes, and the bad—public controversies and lawsuits, she has been steadfast in her love for him.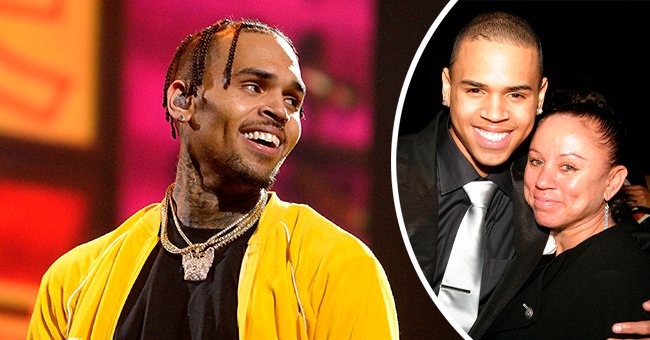 Hawkins is also an independent woman with great business principles, has a fantastic fashion sense, and unchanging family values, which includes bonding and doting on her son, and two grandkids.
A few hours ago, the career mom graced a fashion event hosted by a friend in Gateway arch as expected; Chris's mom cruised in the venue in a unique style.
The shared highlights from her page showed her smiling after leaving the vehicle while taking quick steps to her destination. The caption read:
"WHEN WITH @laton_fashionstylist WE ALWAYS DRIVE UP IN STYLE!!! YOURE THE BEST!!"
Before the last post dropped, Hawkins had given fans a sneak peek of her evening finesse. She posed in a purple outfit with gold embroidery, fitted on her upper body, with a stylish cut out around the thighs.
The attire also had long sleeves with a similar cut pattern. Her gold earring hoops, black clutch, and glazing makeup also added to the fashion statement-worthy look. Via the caption, Hawkins poured out a heart of gratitude to the fashion event's host and stylist. She added:
"THE OUTFIT BECAME A SHOW STOPPER!!! THANK YOU SO MUCH!"
WHO IS HAWKINS?
She is an ageless beauty, and since 2019, has been concerned about creating a new portfolio while porting from being a celebrity's mom to a beauty queen.
Hawkins has been consistent in serving different snaps dripping with gorgeousness, style, class, and youthfulness. A few months ago, she shared an image revealing an unbelievable body and facial transformation.
Many fans gushed over the post, while some added that she went under the knife for the look. Whatever the answer is, the mother is not letting age, time, or comments dictate her appearance.
Hawkins has also been Chris's ride or die; she is ever ready to represent and support her child from the first day he signed a recording contract in 2005.
Although she is famous for making heads turn via her stylish appearances online and in public, Hawkins never lets out personal details concerning her family.
She spends a lot of her time with the singer and his kids, daughter, Royalty, and son, Aeko. Although despite that, they are from different mothers, grandma treats and loves them equally.
When Hawkins first became a grandmother, she was excited and shared the joyful news online. Since then, she has been living to flaunt her grandkids while spending time with them whenever the opportunity arises.
In November, Hawkins gushed over her grandson, Aeko, as his mom taught him how to swim during a family vacation and reunion with his parents, Chris, and model, Ammika Harris.