Fans Are Divided over Whom Todd Chrisley's Granddaughter Chloe Looks More after Seeing Her in New Photo with Grandma
Reality star Todd Chrisley loves to be a hands-on grandpa to his granddaughter Chloe, and in a new picture he shared, fans could not decide who the 8-year-old looks like.
Since his family show "Chrisley Knows Best" aired, businessman Todd Chrisley has given the world a full view of his family life and what his kids are like, and one thing fans know is that the real estate mogul is a hands-on dad.
Todd not only loves his kids, but he also loves to be involved in their lives and relationships, so it is no surprise that the 52-year-old wears his role as a grandfather with pride.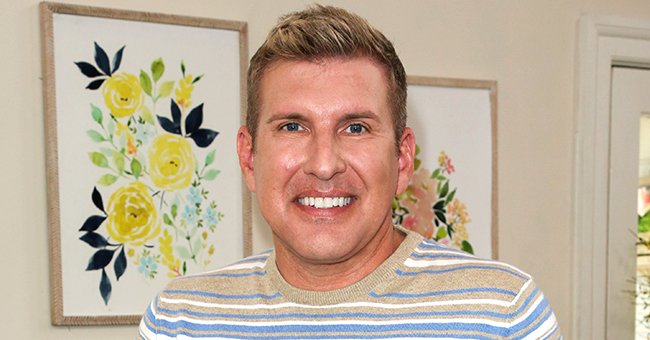 Todd's eldest son Kyle's daughter has lived with the Chrisley patriarch since she was little, and the reality star almost finds it impossible to imagine life without the sweet 8-year-old.
In a recent picture he shared on his Instagram, Todd showed the world the two most important women in his life; his wife Julie and his cute granddaughter Chloe.

Julie and her granddaughter looked lovely, enjoying a sweet moment as they smiled for the camera. The sight was more than magical for the business mogul who wrote on the post,
"I can't love these two enough."

Fans of the proud grandpa joined him to admire the post, but at some point, his followers found it difficult to decide who the stunning 8-year-old looks like. Some remarked that she looked like her dad Kyle while others said Chloe resembled her famous aunt, Savannah.
One fan in favor of Chloe looking like her dad wrote, "Wow, she favors her dad." A second fan could not agree less and called Chloe Kyle's twin. Finally, a third fan wrote, "Omg, she looks just like her father so cute."

For a fourth fan, Chloe's eyes showed that she looked like no one but her dad. The fan wrote, "Beauty queen and princess. Chloe is really looking like her dad. Those eyes."
The father of one shared the picture of his reunion with Chloe on Instagram, and his fans were excited to see the family bond again.

On the other side of the fence, aunt Savannah is who Chloe truly resembles. One fan in support of the argument called her Savannah's twin, while a second remarked that Chloe had many of Savannah's features.
A third follower wrote, "Chloe is looking so much like Savannah." Another follower added, "My gosh, she is so beautiful and starting to look just like Savannah."

The comments must have been pleasing for the Chrisleys to read as everyone considers the little Chloe to be their favorite. Fans know how much the family treasures Chloe and would not waste any time calling out those who cross the line.
Chloe's grandpa, Todd, showed his other side after blasting fans who racially abused his biracial granddaughter. Todd criticized the fan for his comment about Chloe's color.

However, the real estate giant noted that he had already begun teaching Chloe about racism as he sees it as an important conversation to have.
In another post, Chloe's grandmother, Julie, addressed racist comments targeted at Chloe. She warned the fans who ignorantly remarked that Chloe did not fit into their family to steer clear of the 8-year-old.

Chloe is the daughter of Todd's son, Kyle, and his ex, Angela Johnson. She was born in 2012. However, Kyle's personal problems have been kept away from his daughter until recently.
Following the end of his feud with his family, Kyle got closer to his daughter. The father of one shared the picture of his reunion with Chloe on Instagram, and his fans were excited to see the family bond again.