Supermodel Cindy Crawford Displays Stunning Figure While Recreating 1992 Commercial
Supermodel and actress Cindy Crawford recreated her famous 1992 commercial on Instagram. Her fit figure left thousands of fans speechless. See her stunning snap.
"Fair Game" actress and renowned supermodel Cindy Crawford may be 55 years old and have two grown children, but she still captivates fans with her age-defying looks. 
Crawford, one of the most famous models in the late 1990s, recently uploaded on Instagram a picture of herself reminiscent of one of her famous commercial ads nearly 30 years ago.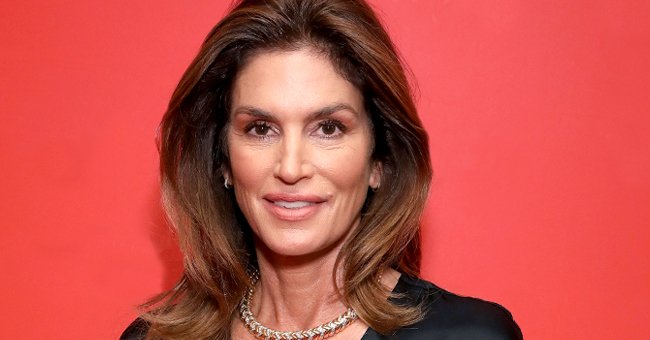 In her snap, Crawford posed in front of a red car with two adorable dogs inside it. Just behind the vehicle was a vintage-looking restaurant called Halfway House Cafe. A fan quickly commented:
"Wait! Is this photo from 1992 or the recent photo show? My Gawd! You just don't age! Beautiful! 😍"
Crawford wrote in the captions that she recreated her photo from her 1992 Pepsi commercial. She shared that she did it to raise funds for the American Family Children's Hospital in Wisconsin.
The model extraordinaire also added that the Wisconsin-based hospital was where her brother was treated for leukemia. Her meaningful cause moved many fans and Crawford's supermodel friends. 
The Meaningful Beauty founder said that getting older is a privilege.
Crawford showed off her slender legs and fit figure in a white tank top, denim shorts, and red heels as she drank a can of Pepsi. Supermodels Helena Christiansen and Tyra Banks gushed over the catwalk queen.
Besides being known for her signature blow-dry hairstyle, Crawford is also iconic for her long and flawless limbs. She previously sent fans into a frenzy after displaying her legs by the poolside.
Her pose was similar to the one she pulled off on the 1982 cover from her high school's newspaper, the DeKalb NITE Weekly. The mother of two said it was her first-ever cover shoot. 
My very first "cover" during high school in DeKalb, shot in my highschool boyfriend's backyard... pic.twitter.com/LnVilQDoDM

— Cindy Crawford (@CindyCrawford) June 6, 2013
Crawford shared that her first photoshoot, which landed in her high school's "Communiversity Issue," changed her life. It helped her launch her modeling career and reach the pinnacle of success.
On how she retained her youthful figure, the "Wizards of Waverly Place" actress has dedicated herself to fitness. Besides running, she also does solid strength routines, which include ab and leg workouts.
Although she regularly works out, Crawford shared she is not afraid of aging, and she feels lucky she's now in her past 50s. The Meaningful Beauty founder said that getting older is a privilege.
The veteran model has been married to bar and entertainment businessman Rande Gerber since 1998. The longtime couple shares two beautiful children: daughter Kaia, 20, and son Presley, 22.