Goldie Hawn Celebrates Her Dog's 12th Birthday with Tasty Treats
Goldie Hawn's beloved dog, Rupert, turned 12 this month, and the actress shared a video of him enjoying a few tasty treats to celebrate, which she posted on Instagram. 
Goldie Hawn's dog, Rupert, just turned 12 this month! To celebrate, the "First Wives Club" actress shared a video of herself cuddling the lucky pup while he enjoyed a few tasty treats!
The treats included a bone-shaded dog cookie that had "Happy Birthday" written on it as well as dog-safe ice cream. Rupert looked totally content as he chowed down on the snacks in the arms of his loving owner.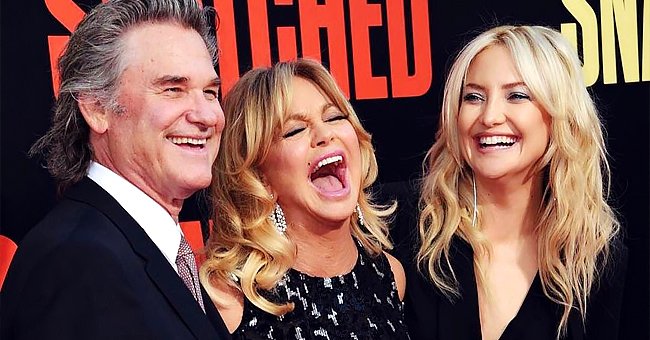 In the video, Hawn calls the dog by a nickname, Ruppie, as she wishes him a happy birthday and even sings a few bars of the birthday song. She also showered him with lots of hugs and kisses. 
Hawn's love for her sweet dog was on full display as she shared with her fans how much she loved him and how special he was. She ended the video with a question many dog owners wonder themselves:
"Is there anything better than a dog?"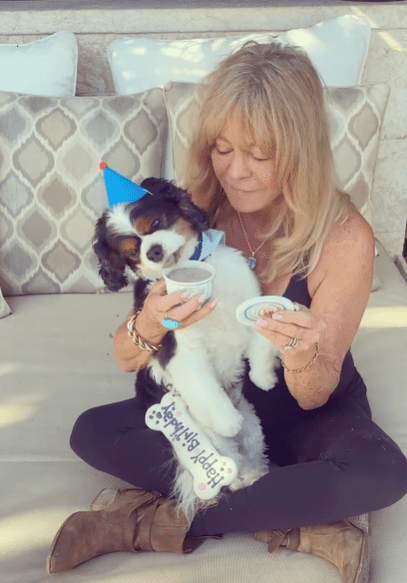 Hawn's fans filled the comments with wishes for Rupert for his birthday, which was not the only birthday Hawn celebrated this month. Her oldest child and son, Oliver Hudson, celebrated turning a year older too a few days earlier. 
Hawn shared an adorable photo of herself and her firstborn on the golf course to mark the occasion. In the photo, the mother and son were decked out in golf attire and posed with their golf clubs. 
Hawn filled in for her daughter in a recent episode and shared what she had feared after she gave birth to her son. 
Hudson had his arm around his mom while they smiled broadly for the camera under their sunhats. Hawn greeted her son and called him handsome in the caption. 
A few days later, Hawn shared a stunning black and white throwback picture of herself and Hudson from when he was a small child. In the caption, she shared she would appear on Hudson's podcast:
"@theoliverhudson was a gift and still is! Talking life… soup to nuts with Ollie by Golly on this week's episode of @siblingrevelry 👩‍👦"
Hudson and his sister, Kate Hudson, host a podcast together called "Sibling Revelry." Hawn filled in for her daughter in a recent episode and shared what she had feared after she gave birth to her son. 
She revealed that her firstborn had been taken to the NICU following her emergency C-section. Her baby had suffered from a meconium aspiration, which left Hawn worried that Hudson might pass away. 
Fortunately, Hudson, who she shares with her ex, Bill Hudson, pulled through, and he is now a proud father to his own children. Of course, also an uncle to his sister's three children. 
Hawn and her children are incredibly close as they all regularly share photos of each other on social media. Hawn herself regularly shares glimpses into her private life with her children and grandchildren.