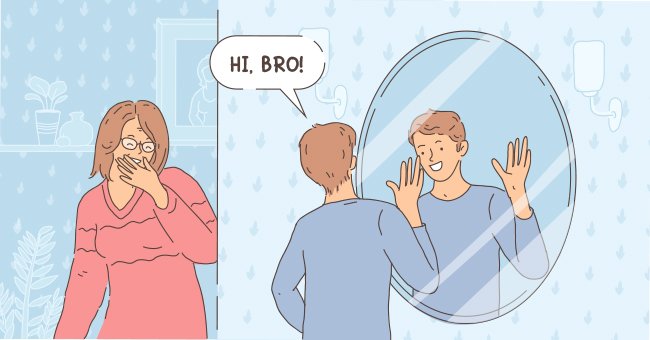 How Do Identical Twins Live: Users Share Their Most Embarrassing Stories

Being a twin means you have a mirrored company to follow up from birth until the end of time. There's always going to be someone who not only shares the same birthday as yours but also looks like you. Identical twins and Reddit users shared embarrassing moments when people had got them mixed up.
As identical twins, the pair shares the same genes and are clones of each other. In some cases, identical twins usually have an upbringing that brings their similarities to the spotlight. Though some twins try to think differently, they'd mostly end up with the same decision.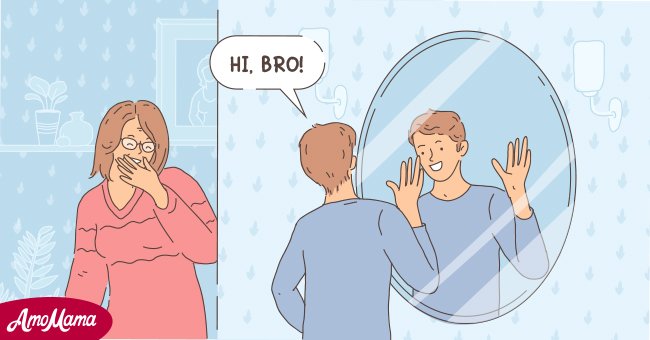 Source: Amomama
For instance, one Redditor explained why the link between identical twins is unbelievably strong. His mom has an identical twin sister, and they always dressed alike. At one point, the twin sisters hated it and decided to shop dresses separately for Halloween. But when they came out of their room, both of them wore the same thing!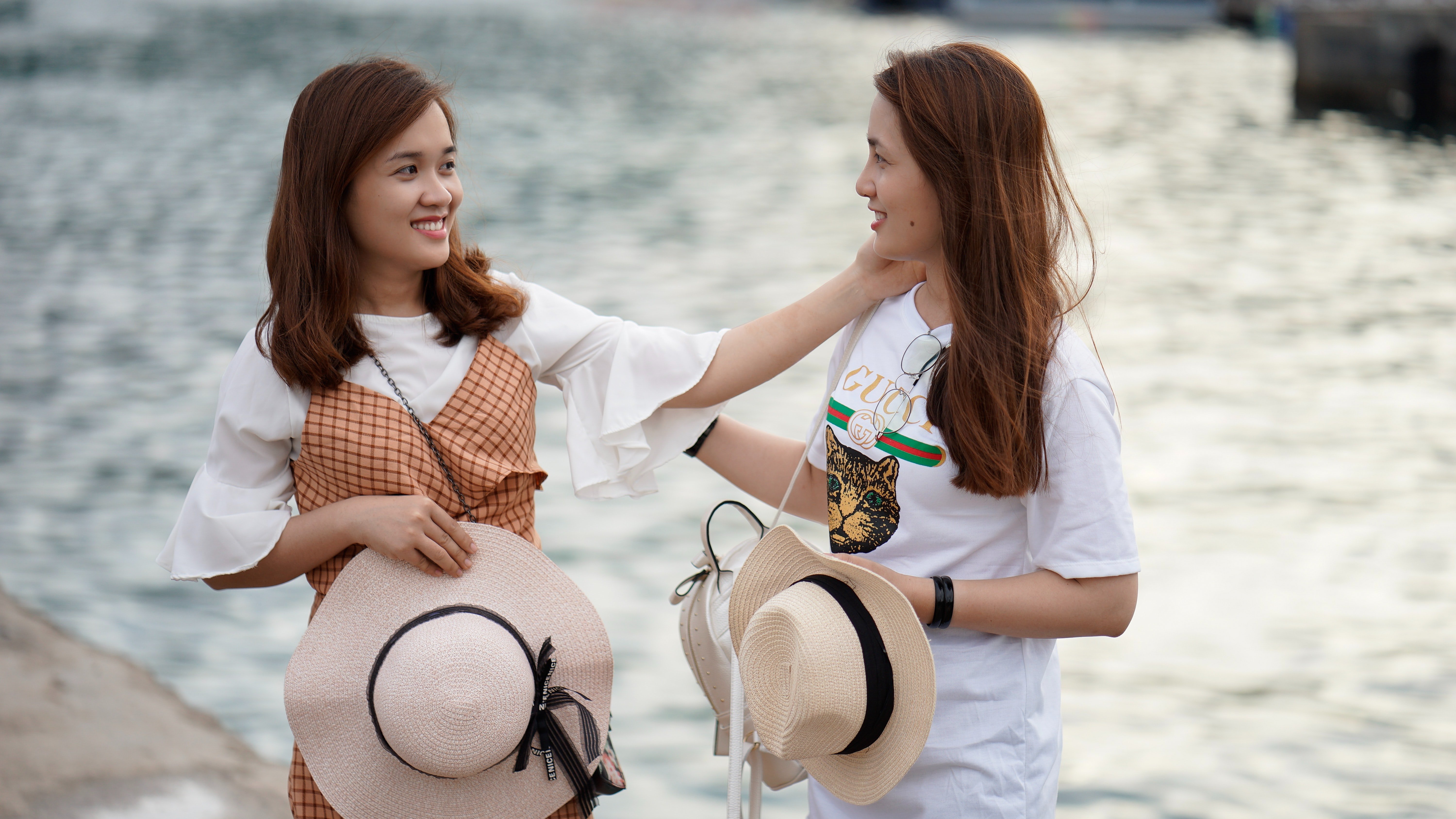 Twin sisters enjoy a day out together by the beach | Photo: Unsplash
A CASE OF MISTAKEN IDENTITY
It appears to happen straight from a movie scene when you're mistaken for your identical twin. You'd be confused and think what the other person is even trying to tell you when you're found answerable for something you didn't do. One Redditor shared the hilarious situation his friend faced at the supermarket:
"One day, after summoning up the courage, the cashier pulls my friend's wife aside and says: "I'm sorry to have to tell you this, but I've seen your husband here several times with another woman."
According to Verywell Family, identical twins are unique individuals despite sharing similar genetic components. Though they share similarities, they also have many differences, like different hobbies and interests. Because of this intrinsic connection, you'll spend the rest of your life having "moments" no one else can understand…unless they, too, are a twin.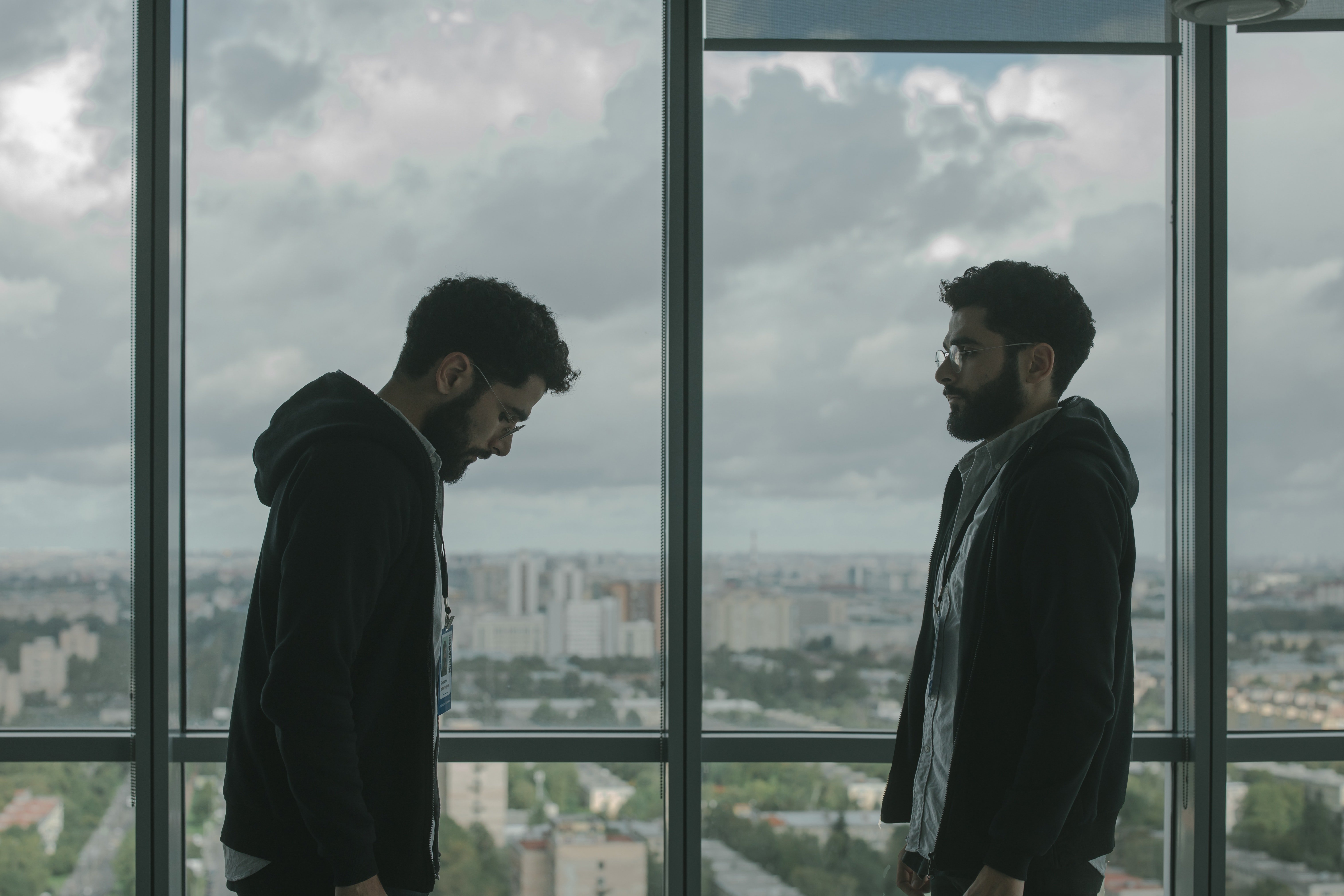 Infuriated man stares at his identical twin | Photo: Pexels
REDDITOR GETS IN TROUBLE BECAUSE OF HIS IDENTICAL TWIN
Being identical twins comes with many perks and a few embarrassing experiences, especially when you're held accountable for something you never did. Another Redditor recalled the moment his brother's teacher yelled at him, assuming he skipped classes. In his post, he said:
"I was walking down the hall, and all of a sudden I was pulled in by a teacher who I had never seen before, and she started yelling at me (and I mean yelling at me) because I had skipped her class and I had the audacity to walk in front of her class right after. It was really awkward to just say, "Uhh, I have an identical twin brother... My name is JSweat."
While some believe that telling apart identical twins is quite challenging, twins can scientifically be separated with additional genetic information. For instance, BBC announced about a new test claimed to quickly and affordably tell apart identical twins, though it was practically impossible to distinguish their DNA.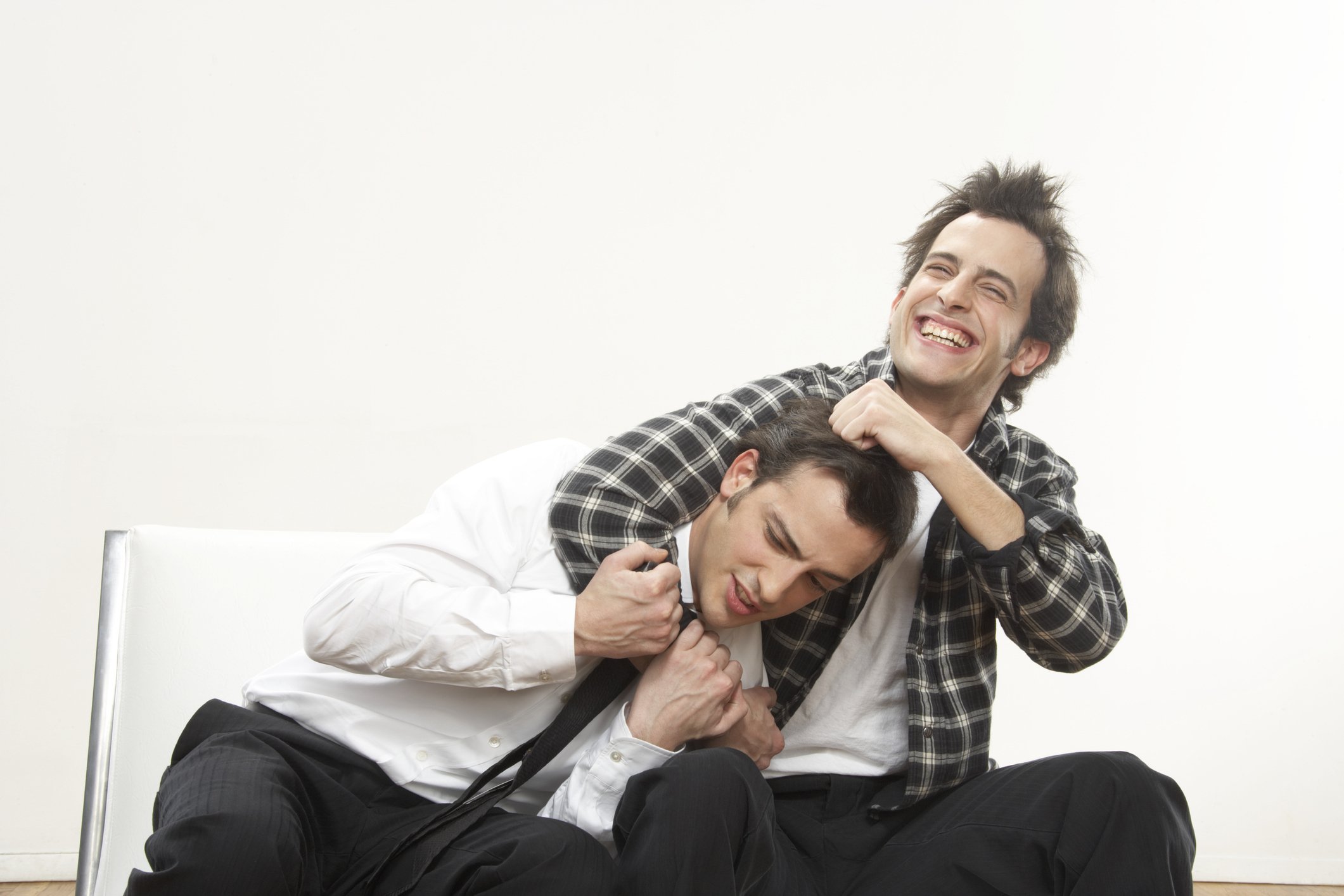 Twin brothers seated on a couch laugh out loud about something hilarious | Photo: Getty Images
PEOPLE FIND IT HARD TO TRUST IDENTICAL TWINS
Sometimes, the people around you might think you've switched places with your identical twin even if you haven't done it. Having an identical twin can cause people to doubt you, just as they did for this Redditor who wrote in his post:
"In 7th grade, I was minding my own business in class when someone joked that I wasn't myself. Immediately everyone in the classroom and the teacher decided to investigate. Although I had all my papers with me and all my belongings, they came to the conclusion that we could have switched them."
The personalities of twins are dependent on both nature and nurture. According to one study, the Minnesota Study of Twins Reared Apart, identical twins had similar personalities regardless of whether they were raised in the same or different household. Conclusively, the report suggested that some aspects of their personality are influenced by genetics.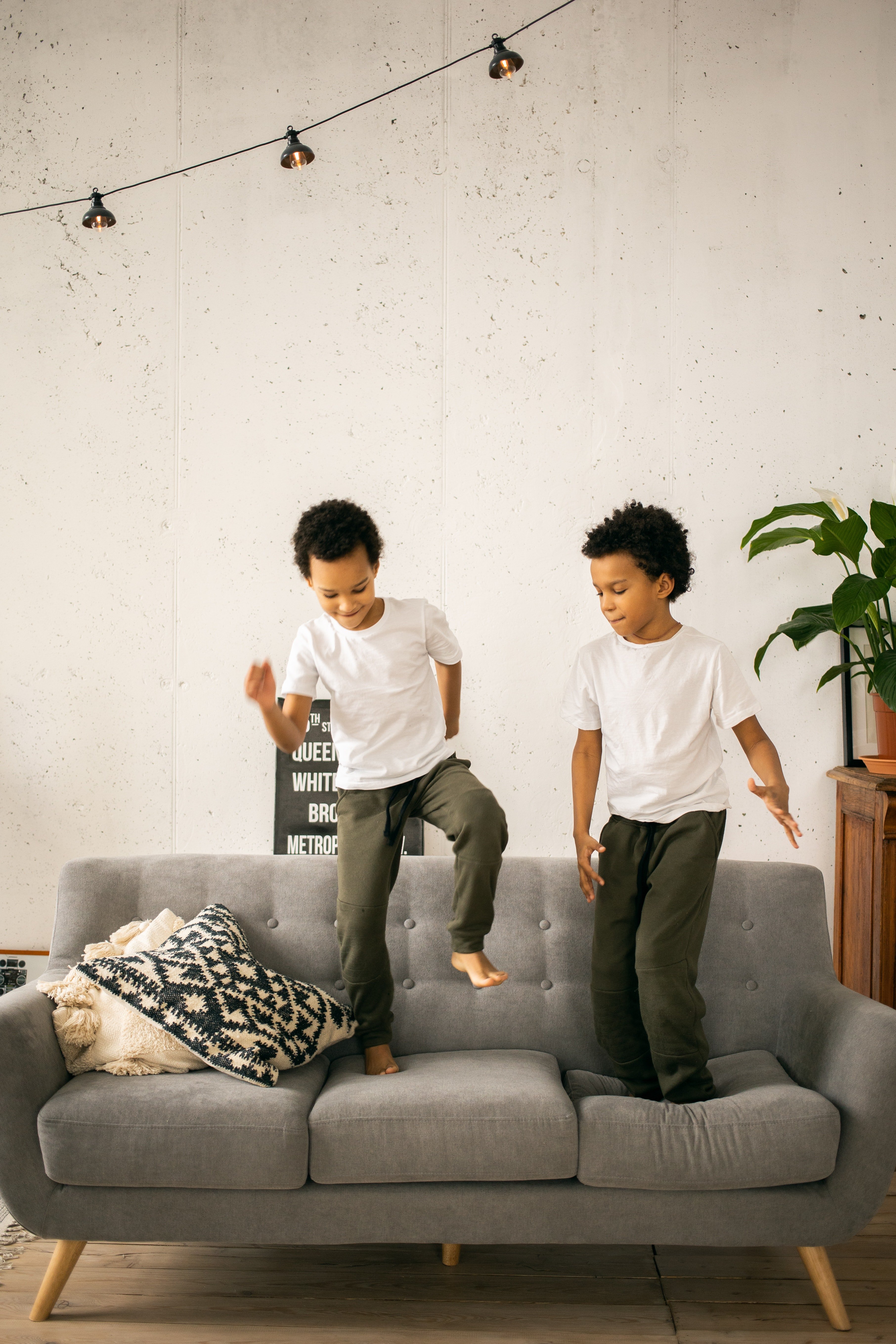 Identical twins jumping on the sofa | Photo: Pexels
TWINS ARE USUALLY HELD RESPONSIBLE FOR EACH OTHER'S ACTIONS.
It's sometimes fun when someone looks at you thinking you are your identical sibling. However, not all encounters things can easily go wrong, especially when you're held accountable for the mischief your identical twin had done. One Redditor recalled one such embarrassing moment, posting of which she said:
"The only one that really comes to mind is way back when she got caught stealing (and then banned from the store), and I went into the same store unaware of what had happened."
Although telling apart identical twins is quite tricky, Patrick Flynn, a Notre Dame-based computer scientist, says it's possible using a digital imaging system. This technique helps find minute differences in spots, freckles, and skin pores. However, he says that even the most commercial systems can fail because of lighting differences, facial expressions, and other imaging complications.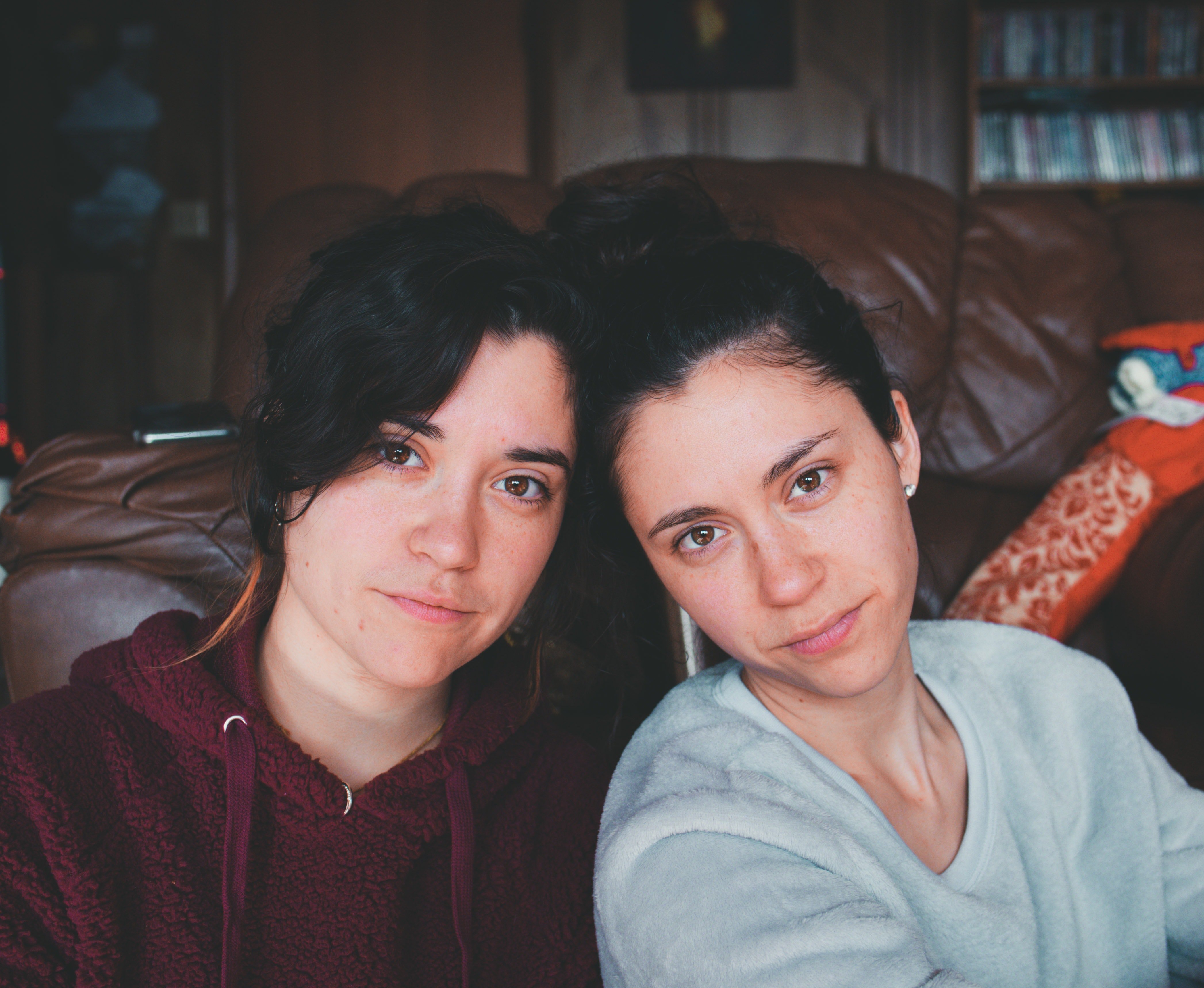 Twin sisters take a picture of themselves in the living room | Photo: Pexels
TWINS CAN BE AT TWO PLACES AT ONCE.
Working together with your identical twin sometimes has its benefits. You can silently sneak away with an extra break without a clue! But not to forget the downside when you're caught being at two places at the same time or are scheduled wrong. One Redditor recalled the most embarrassing moment when a customer yelled at him instead of his twin brother:
"Most awkward thing I can recall that happened was I got yelled at by a customer (I ran register and he ran the floor) for something my brother did."
Another example of double trouble would be the one identical twin brothers Joey and Peter caused at local gas stations in Fredericksburg. While some people visiting the brothers at their job places get their mirrored connection, some customers assume Joey and Peter are the same person working at two different locations.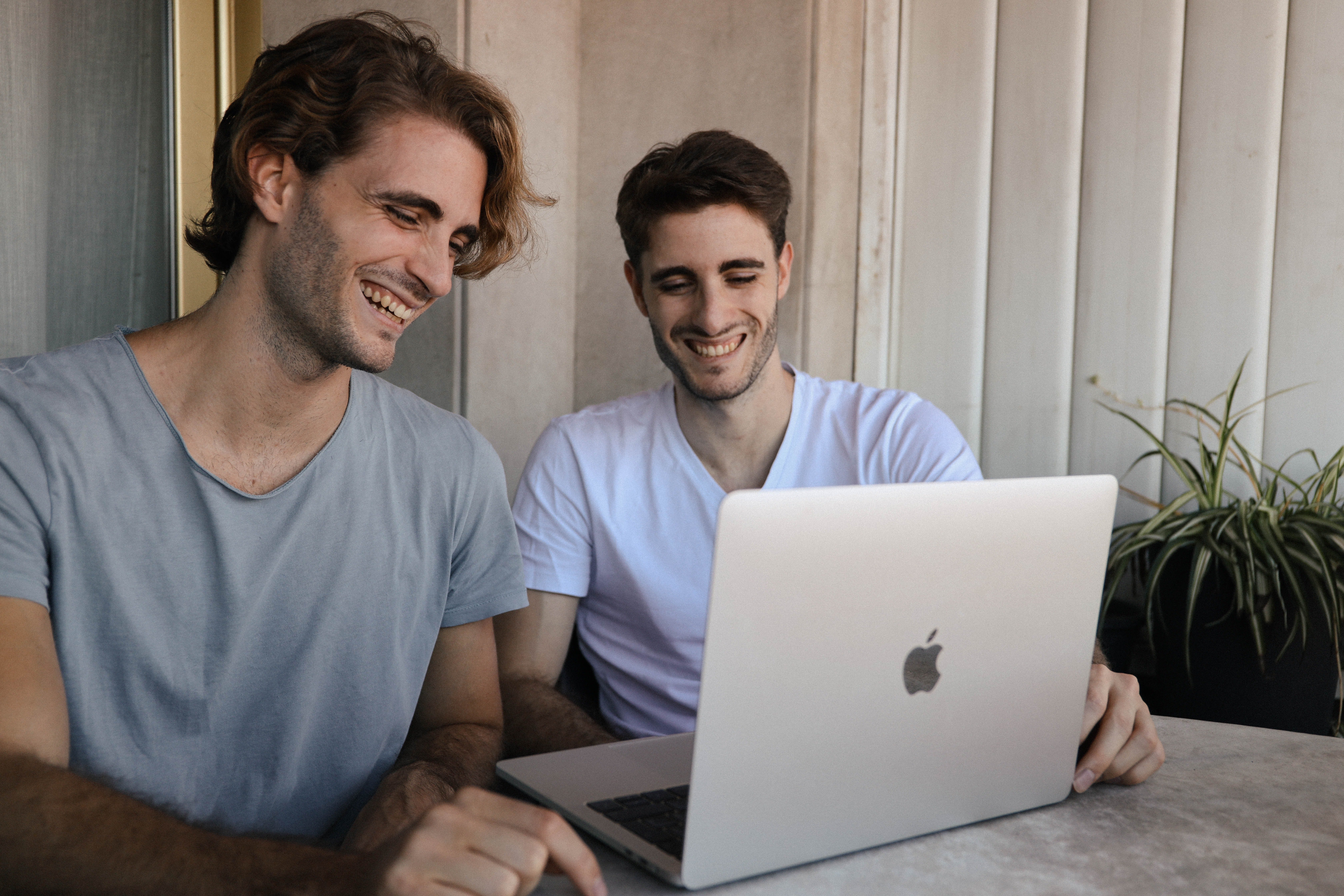 Identical twins share a hearty laugh over an internet joke | Photo: Pexels
LIVING A DOUBLE LIFE
Though your close friends and family members might know you have an identical twin, not everyone knows it. At times, there are chances where people mistake you for someone else and start gossiping about you. For instance, a Redditor shared how the restaurant staff whispered about his dad:
"Every time we go to that restaurant, the staff point and whisper. Dad tells us it's because they think he and his twin are the same guy, with two families (who don't know about each other), and bring both of his families to the same place."
According to Vox, scientists who've studied twins over the years claim that their personalities and even taste are entirely genetic. Also, growing up in the same environment harbors even more similarities.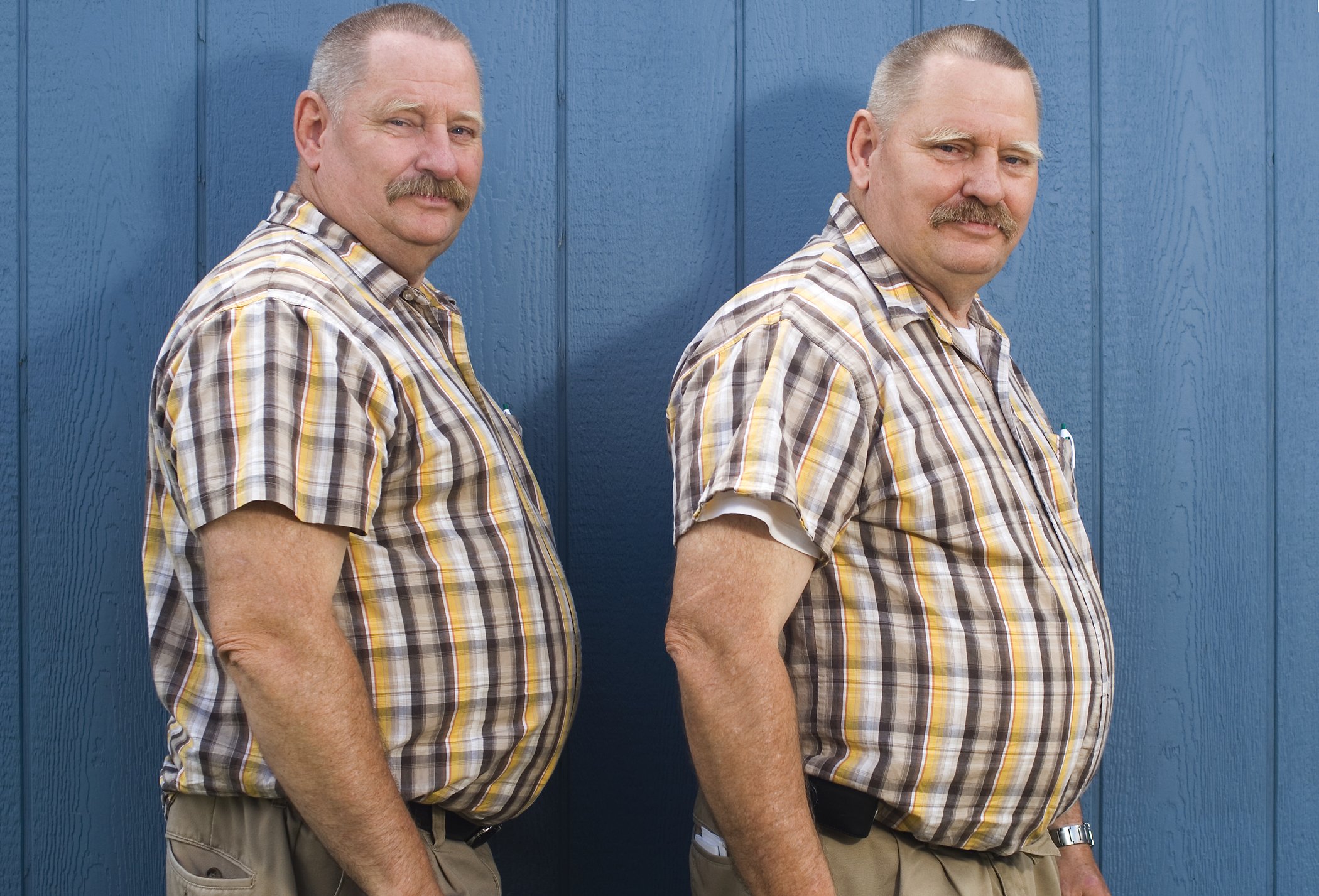 Identical senior twins wearing similar shirts | Photo: Getty Images
PEOPLE START SUSPECTING
It's always a wise decision to inform the others around you that you have an identical twin. But by the time this Redditor told his colleagues about his twin brother, it was too late. "Anyway, one day, one of my coworkers pulled me aside and asked, "Hey, I just wanted to check but is everything okay with you and Kerri?" he said, adding:
"We saw you with your arm around that blonde lady at the Fox and Hound last night. If you're going to cheat, why on earth would you do it THERE?"
According to Nistya Singhal, a BMM student, an identity crisis is one of the worst issues twins face in public. Mistaking one twin for the other sometimes causes a rift between them and, in some rare cases, stays with them even after they've moved past the embarrassing incident.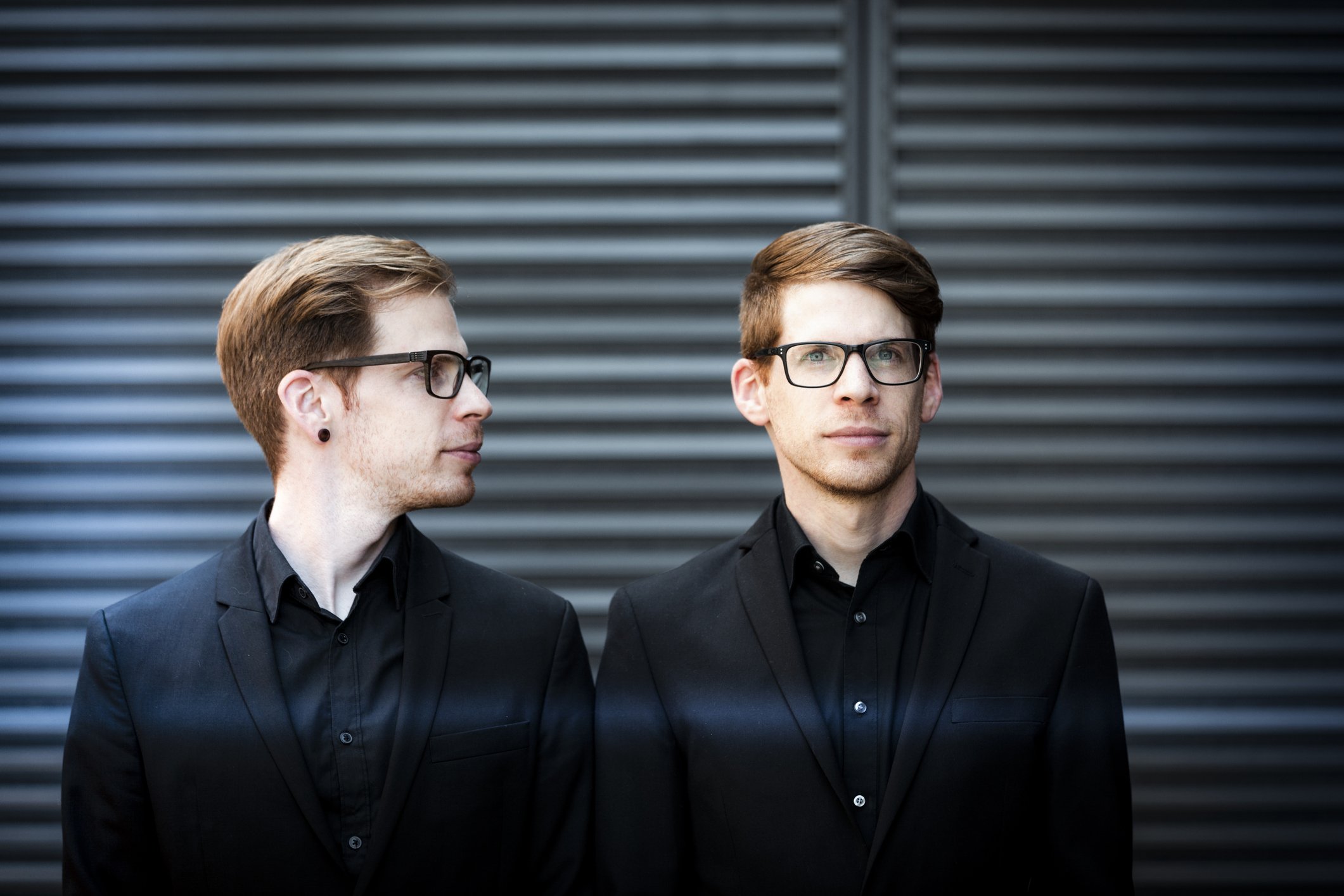 Twin brothers in black suit and glasses | Photo: Getty Images
SOMETIMES IT'S HARD TO TELL IDENTICAL TWINS APART
It's hard to tell apart identical twins unless you know them thoroughly. The situation gets even more complicated when people from the other side of the world find it difficult to believe the person is not you but your twin. One Redditor revealed the funniest incident after his foster sister misinterpreted the situation about his dad:
"Dad was off traveling for work, but my mother and I Skyped my uncle and aunt, who'd just come out the shower so was in a bathrobe. The foster girl came in, and shrieked "WHO IS THAT WOMAN IN THE BATHROBE WITH YOUR FATHER? WHY IS YOUR MOTHER OK WITH THIS?"
One of the characteristics of monozygotic or identical twins is an uncanny similarity in their physical appearance. Their remarkable mirrored features can make it difficult to tell them apart. However, it's still possible to differentiate them, claims Elle, whose best friends are identical twins. She tells them apart by how they act around others.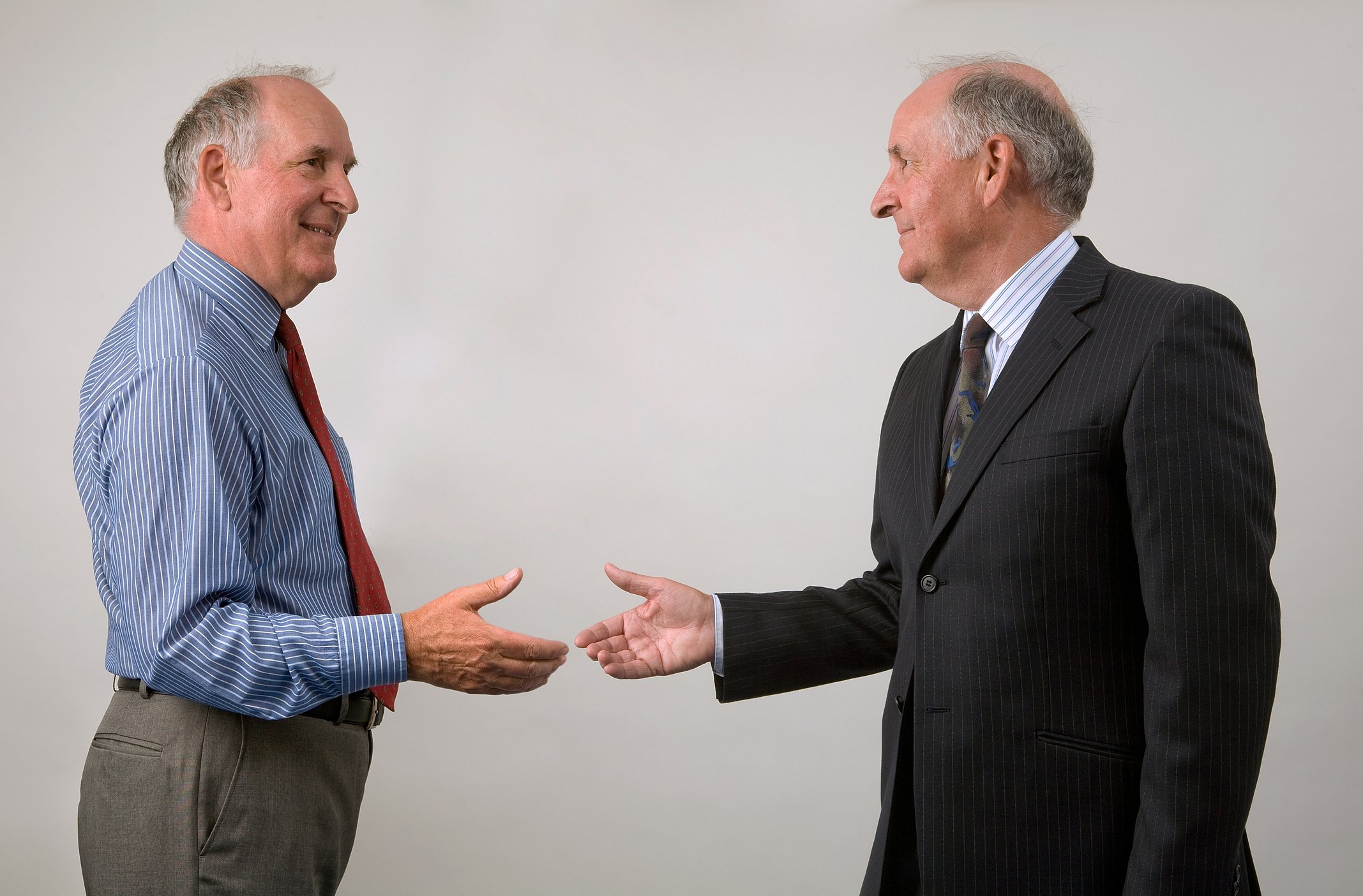 Senior twin brothers shake hands | Photo: Getty Images
DOUBLE TROUBLE
Identical twins share a mysterious connection, but they also face some unique challenges when fashioning their identities. Also, many identical twin stories emphasize those embarrassing moments when one twin is mistaken for another.
These awkward moments are pretty common when you have an identical twin. You might've heard it all, especially when people around say the same comments and ask similar questions. Nevertheless, it can get quite annoying after a while when you're held accountable for something your twin did.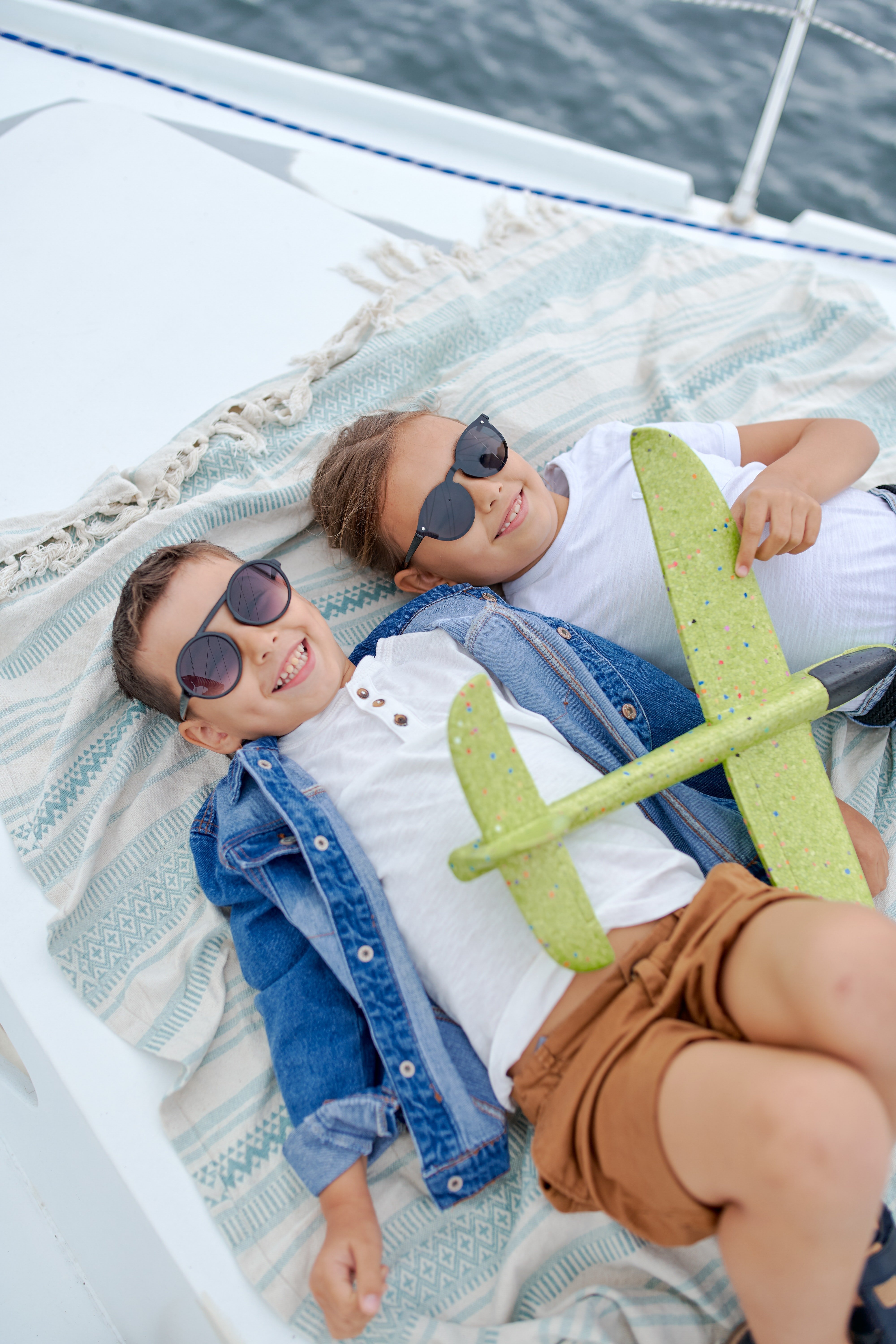 Twin brothers yachting | Photo: Pexels
Despite sharing similar features, twins are individuals. They have their personalities, interests, and identities. When twins are around, it might be double the fun. However, there can also be some double trouble!
Most of us know that there's a situation with some mistaken identity between two doppelgangers. Have you encountered a similar problem with someone who has an identical twin? Your comments are appreciated! Thanks for reading!
Please fill in your e-mail so we can share with you our top stories!