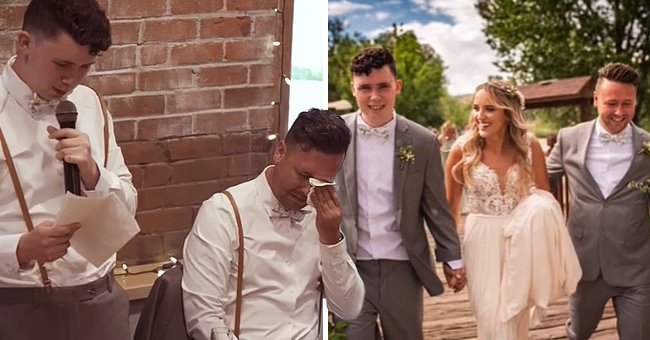 tiktok.com/@scoutrueandfam | facebook.com/Jonah Waldron
Groom Asks Autistic Brother to Be His Best Man and His Speech Leaves Their 170 Guests in Tears

At his wedding, a groom's autistic brother delivered a funny yet tear-jerking speech praising his brother, whom he called a "hero."
Weddings are some of the most intimate and special occasions that bring families together, but also, it is the time when things get more emotional than usual.
Jonah Waldron and Madison Waldron had part of their wedding reception filled with tears as the best man delivered a heartwarming speech.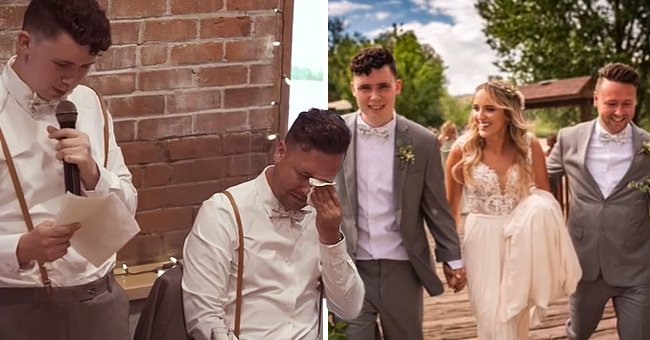 Jonah Waldron, Madison Waldron, and Sam Waldron during a wedding reception. | Source: tiktok.com/@scoutrueandfam | facebook.com/Jonah Waldron
Jonah asked his brother Sam, who has autism, to be the best man for the big day, not expecting him to give such an incredible speech. Sam started by telling the guests how incredible his new sister-in-law was.
He highlighted that she was well-loved by the Waldrons and even creatively described his family -- "like a good fudge -- mostly sweet with a bunch of nuts." He also joked about Madison marrying "the second most handsome Waldron." He said:
"For me personally, Maddy, you know that sometimes I can get very uncomfortable and nervous around many people. I have never been that way around you. You give me peace."
Sam then focused on his brother, whom he said never looked down on him and instead encouraged him to become a better person. Sam said:
"You lifted me up and looked out for me. You always reminded me that being different is a real strength, not a weakness. You were, and are, patient and kind. You love me just as I am."
Sam's sincere and thoughtful words had the couple's 170 guests in tears as they felt the pride the best man had for his brother. As he concluded his speech, the crowd gave Sam a standing ovation.
Although delivered well, Sam admittedly felt nervous before speaking and didn't think everyone would be interested in his speech.
Although doctors predicted she had another year to live, Wignall was not able to walk down the aisle.
Sam's speech has since gone viral, with over 6.2 million views and nearly a million likes after Jonah posted it on his TikTok account.
Sam was seven years old when he was diagnosed with autism and struggled with being social. Still, he found comfort in his brother and grew close to him, being only four years apart in age.
In school, Sam would go to his brother and ask for assistance with academics or just hang out. To help with Sam's condition, Jonah helped his brother practice social situations in public.
With their tight bond, it was no wonder that he would choose Sam as his best man. Recently, another tear-jerking wedding speech was given by a groom, but sadly, it was said during a funeral.
Ryan Dixon was only months away from marrying his fiancee, Kate Wignall when her melanoma took her life. Although doctors predicted she had another year to live, Wignall was not able to walk down the aisle.
Please fill in your e-mail so we can share with you our top stories!