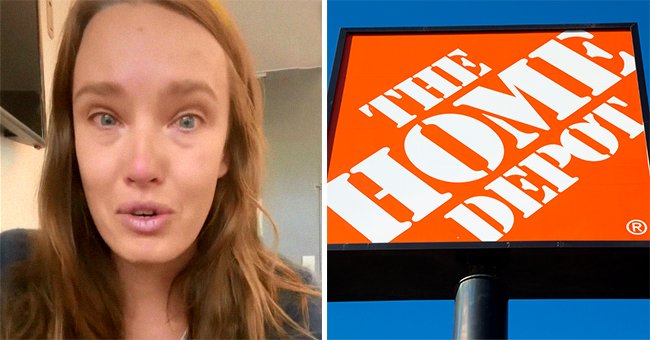 tiktok.com/cassidygard Shutterstock
Woman May Lose Dream Home after Opening Home Depot Credit Card

A brutally devastated woman bawled her eyes out when she realized her dream would no longer manifest. This tragedy was all because she bought a can of paint for a measly $9.00.
A red-faced and teary Cassidy Rainforest Gard, who also goes by the username @cassidygard on TikTok, posted a clip. The TikToker spoke about what she referred to as her number one blunder in her entire life.
The netizen donned the video a PSA, meaning a "Public Service Announcement" for those thinking of opening a credit card. Although she never does, one day at Home Depot, this TikToker revealed, she chose to do so. Unfortunately, she then forgot.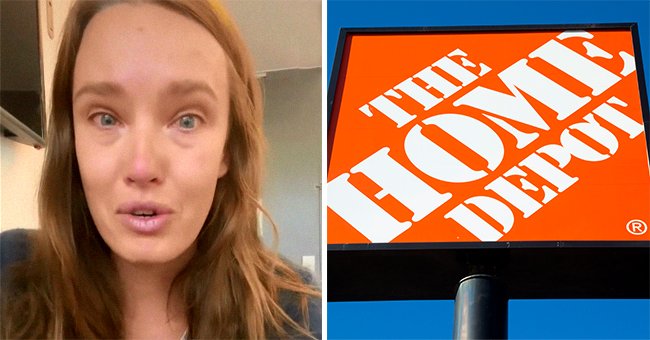 TikToker Cassidy Rainforest Gard [left]; A Home Depot sign [left]. | Source: tiktok.com/cassidygard Shutterstock
As a result, Gard exasperatedly stated that she might not purchase a house due to lousy credit linked to Home Depot and how much she owes the company for around 7 months. @cassidygard expressed:
"For a $9.00 can of paint, I am now probably not going to get a mortgage on a house."
There were a significant amount of individuals who attacked Home Depot and expressed sympathy. However, although many of them were also compassionate, they accused the TikToker of not taking accountability for her own mistake, which led to her owing the company around $2000.00.

Individual commenting on a TikTok post by Cassidy Rainforest Gard. | Source: tiktok.com/cassidygard
One individual remarked that she might be misunderstanding that it was her and not the store which was at fault. The TikTok user responded, revealing that she acknowledged she was the responsible one, penning:
"That's why it's a PSA. So, if other people have a horrendous memory, they can realize how damaging this can be."
Among others, fellow netizen @elvis.stressly defended her against the naysayers, asking them if they were perfect and had never forgotten something important. These comments have so far reached just over 9000.
As one can gather, it is essential to understand the many aspects of the Home Depot credit card. One is that it does not waive interest, but it can defer it, meaning if one has not paid for their accruing interest after six months, they may owe a lot of money.
Beyond this clause, it is helpful to remember that those who just received a credit card from the store receive fair discounts on products. For example, a customer can take $100 off a purchase of $1,000.00.
On top of everyday house purchases, the company does offer credit for larger projects such as remodeling house spaces. This can assist individuals who are unable to access other lower-APR loans.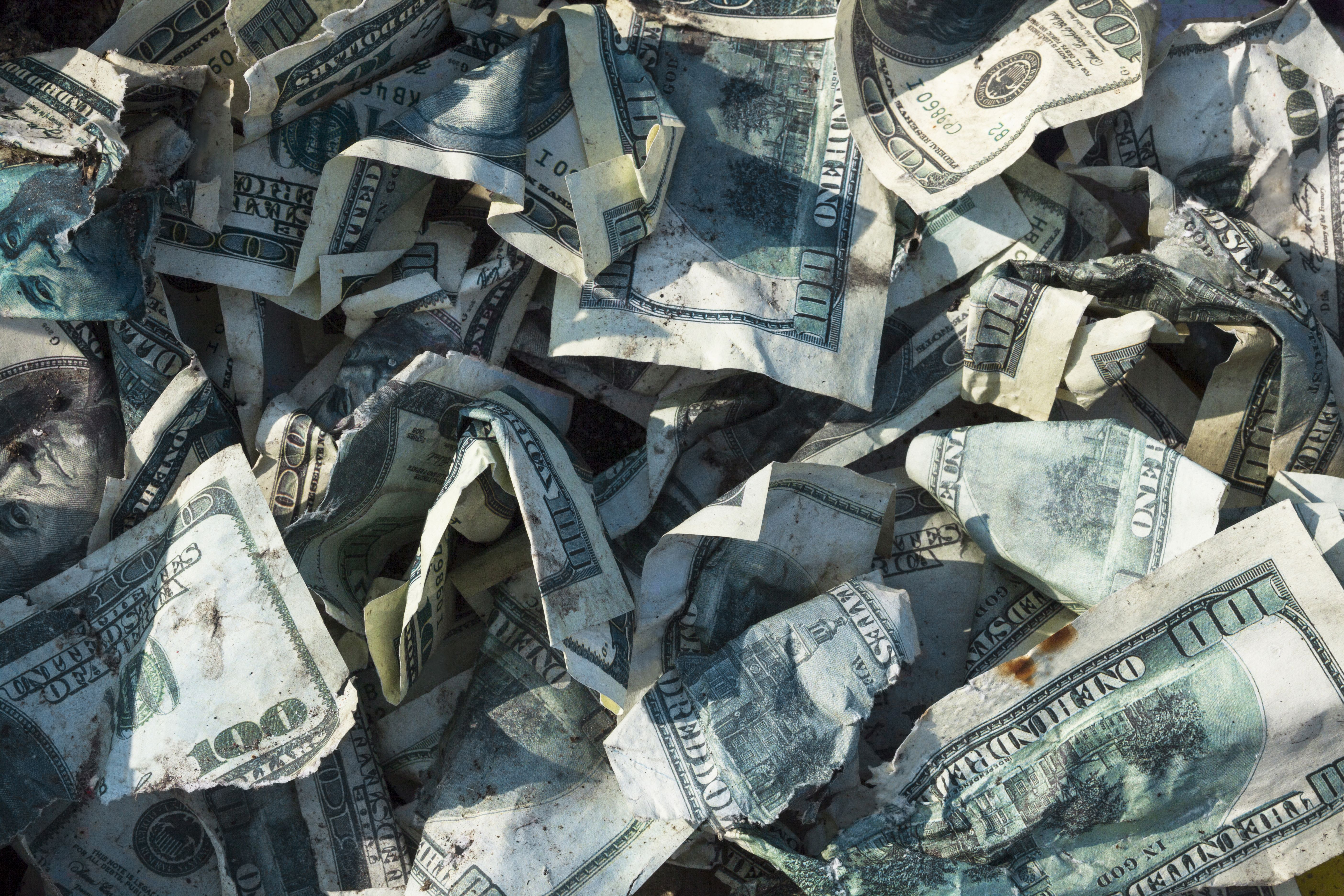 Crumpled up one hundred dollar bills. | Source: Shutterstock
Whether the credit is high or low, it is always essential to understand the ins and outs of how it all works so individuals can use their credit ratings to their advantage and perhaps use that to get a mortgage.
A crucial step is to examine your credit report consistently and fix any blunders that may come along the way.
These can include particulars that are outdated, and ex-spouses information that should not be included, or details that do not pertain to you, to name a few. The credit agency should be notified as soon as possible if any of these mistakes are found.
The money keeps piling up as another woman, Midge or @mxmclain, recently received an unexpected bill. The Twitter user shared a post detailing her being charged an extra $11 for a $223 mole removal surgery because she teared up.
The bill listed the cost as "Brief Emotion." Several commenters were unimpressed, attacking the American healthcare system.@mxmclain spoke to the account outside of the Tweet, claiming it was meant for a "depression screening."
Midge stated that this took the form of several questions she had to answer to assess her emotional state. Credit and tears—if not running the world entirely, it appears that money can indeed have an enormous impact on mortgages and medical bills.
Please fill in your e-mail so we can share with you our top stories!