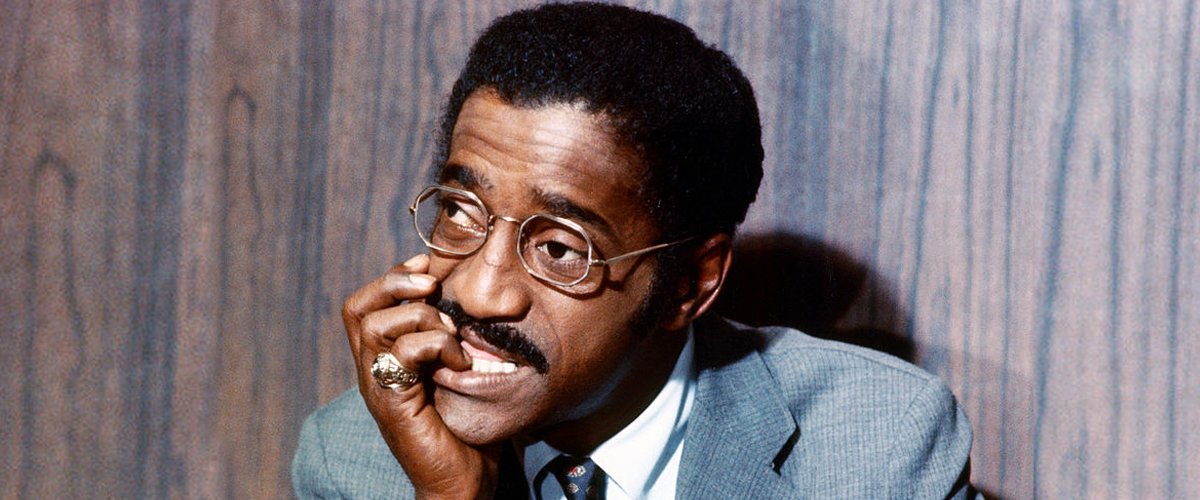 Getty Images
Meet Sammy Davis Jr's 3 Wives Including May Britt Whom He Received Death Threats for Marrying

Sammy Davis Jr., the man whose talent and lifestyle overwhelmed the world, was married three times. Meet the women who once called him husband, including Swedish actress May Britt, who changed his life.
Sammy Davis Jr. was an embodiment of talent. He was great at singing, could perform onstage effortlessly, a skilled actor, vaudevillian, dancer, and comedian.
He was able to find his purpose at a young age and began blessing his audience with his strings of talents while he toured with his uncle and father.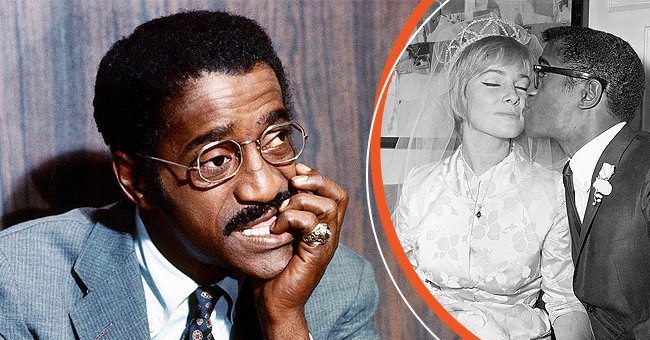 A picture of Sammy Davis Jr. and his wife, May Britt | Photo: Getty Images
The renowned entertainer died at age 64 in 1990, but not without establishing a legacy. Many remember Sammy as the black man blessed with military talents, whose confidence and belief in himself prevailed against racism.
But like many entertainers, his private affairs became inseparable from his professional life. Yet, not many knew details about the iconic man's life.
Before delving into rarely-printed information worth knowing about the legendary Sammy Davis Jr., it would make things clearer to have some background knowledge of why he is famous.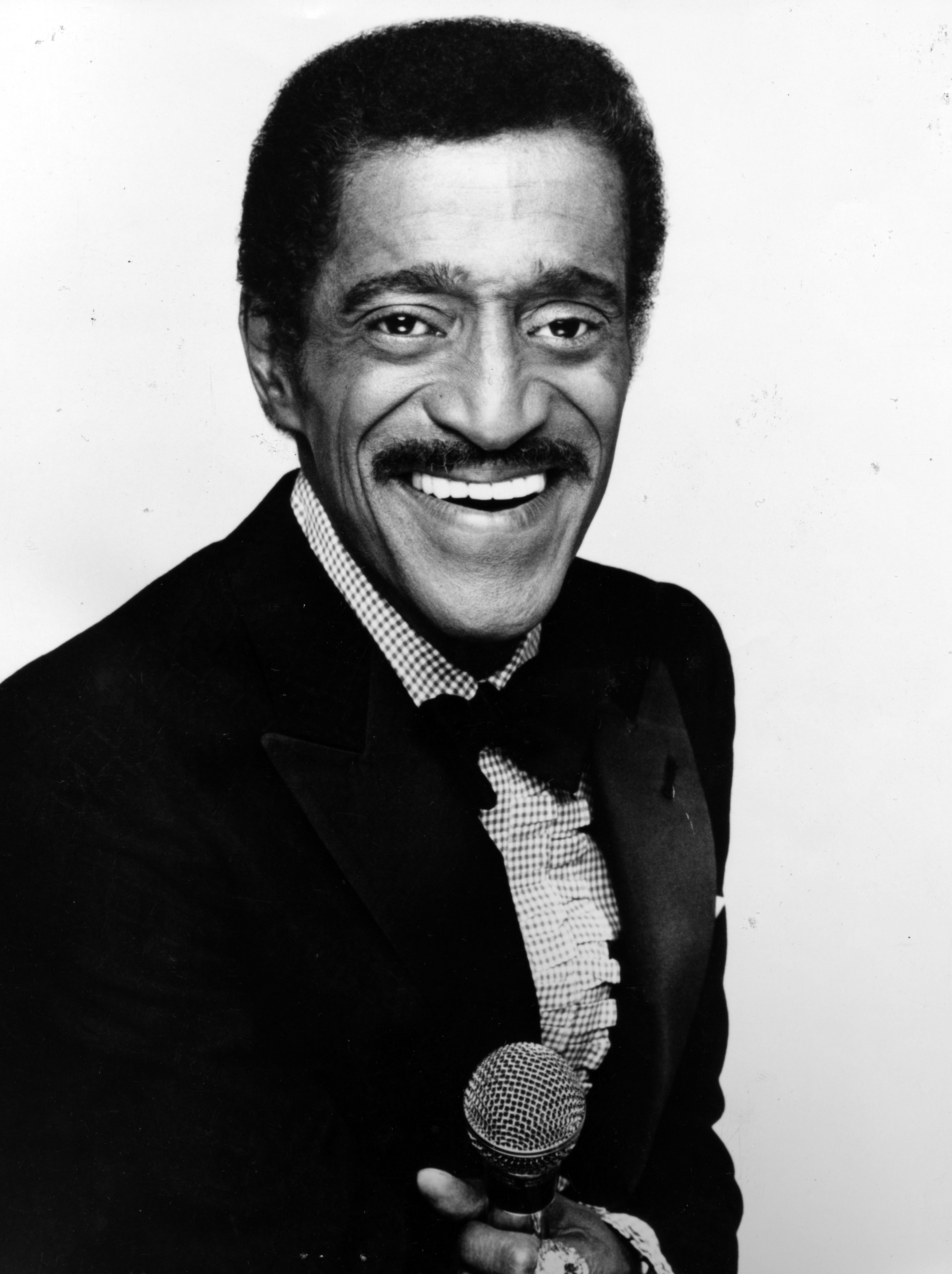 Portrait of African American entertainer Sammy Davis Junior, 1970.| Photo: Getty Images
WHO WAS SAMMY DAVIS JR.?
Sammy was an exceptional man. Although he never received formal education due to his regular movements with his bandmates, including his dad and uncle, he learned from private tutors.
He joined the army, where he experienced a tremendous amount of racial prejudice but later found solace in performing. It did not break his spirit; instead, it ignited the power to work extra hard.
The actor also had an accident that took his eye, and while many would have thought that would slow him down, it was only a pause in Sammy Davis Jr.'s journey as he went on to release albums, starred in shows and films.
RUMORED AFFAIR AND ITS DANGERS
In the 1950s, the name Sammy Davis Jr. started to become a household name. As a young man, he performed with a group of older men—family members called "Will Mastin Trio," even after his accident.
Sammy was recognized by people of his race who felt he resonated with their struggles and represented them on a larger platform, but he was also loved by some big names in the field, like Kim Novak.
His delivery style was indeed something to note, so it was not all that surprising for him to catch Novak's eyes. However, she was a notable actress who was white and ready to reach for the stars.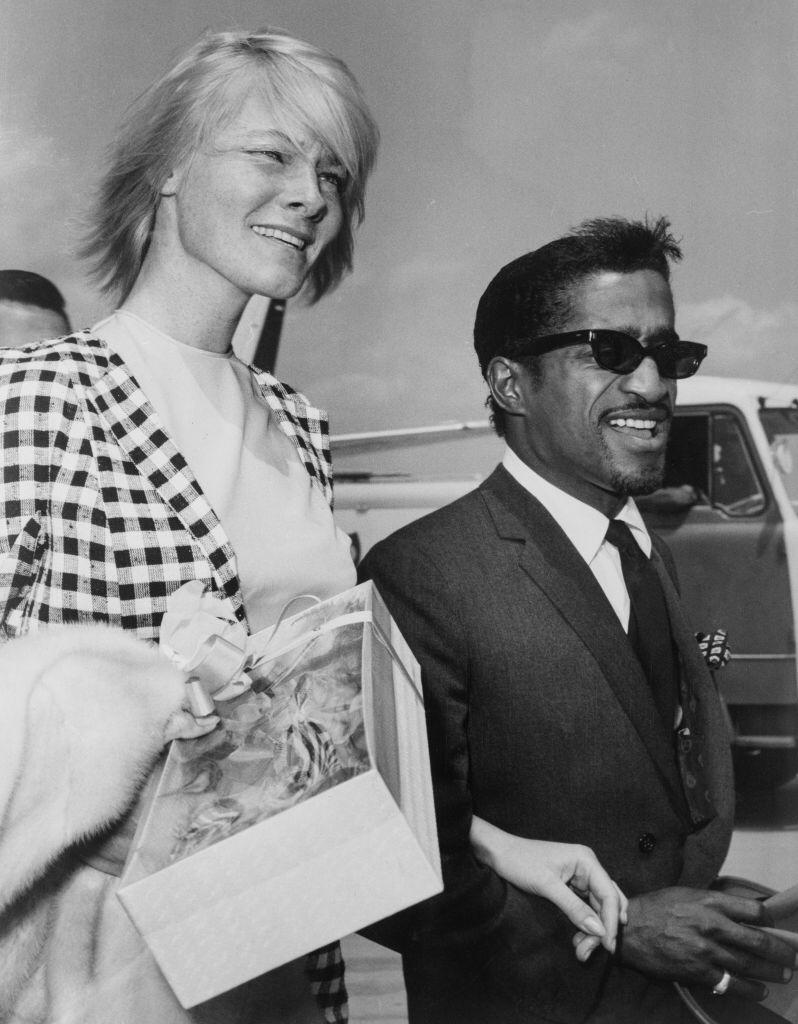 Sammy Davis Jr and her husband May Britt, circa 1960 | Photo: Getty Images
The lady noticed Sammy in a nightclub, spoke briefly to him, and later met at a party. In no time, the gossip mills churned out stories of a possible affair between the duo.
At the time, interracial relationships were taboos and could ultimately affect their careers. In 1957, nearly half the states in the US forbade such marriages, and many Americans hated it, with only about four percent of the population agreeing with such a relationship.
That was not all; at the time, the Supreme Court had ordered the desegregation of public schools over the integration of the Central High School in Arkansas City, leaving an atmosphere of racial tension.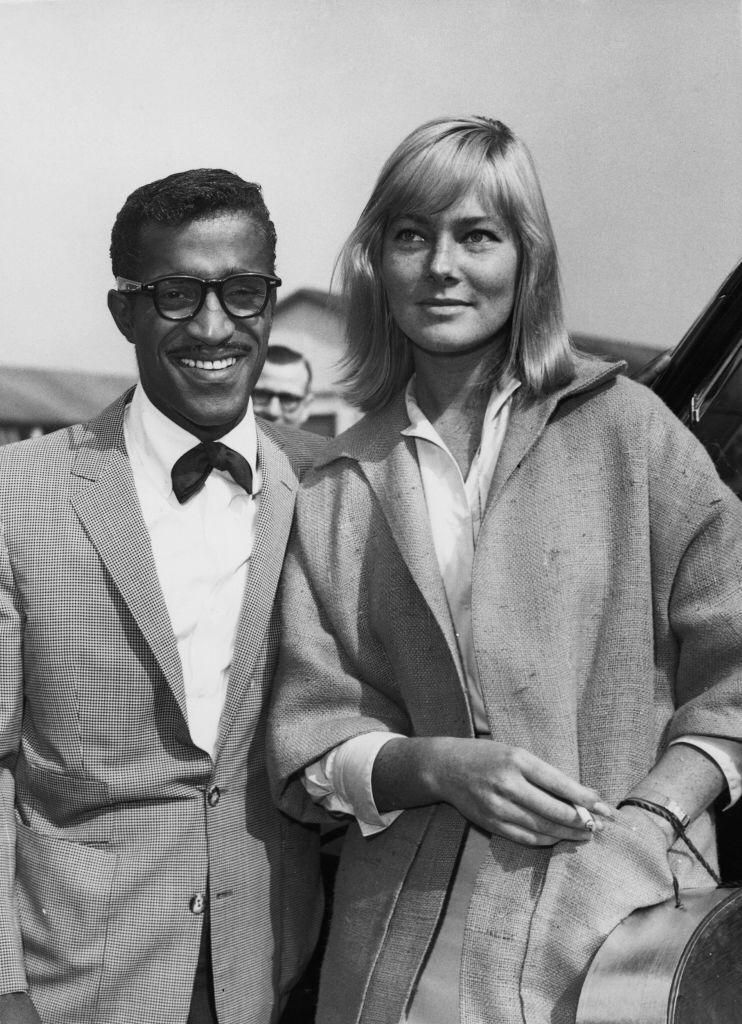 The American singer, actor and dancer Sammy Davis Jr. (1925-1990) with his future wife, the actress May Britt, during a visit to London | Photo: Getty Images
So it was not the best time for such news to be out as society mainly frowned upon it. When the news broke out, Sammy reached out to Novak to deliver an apology for putting her in such an awkward position with the studios.
The actress shoved it aside, adding that the industry does not own her, and later invited her friend over for a nice meal. Eventually, these two ended up becoming lovers.
Their affair was an idea that was carefully exhibited. They acted with discretion, hiding their relationship, dates, and hangouts from the media.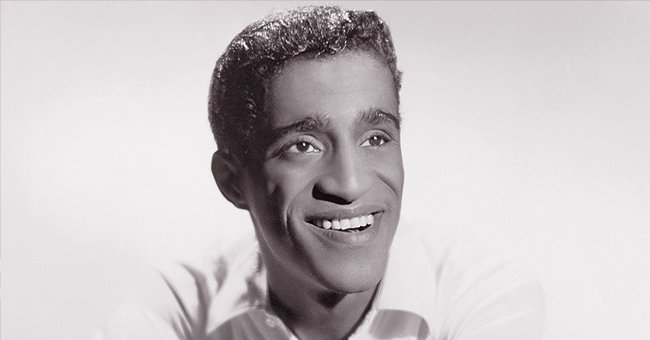 American singer, actor and dancer Sammy Davis Jr. (1925 - 1990), circa 1960 | Photo: Getty Images
It did not deter the media from making up stories about these two and even printing a possible wedding that never happened. These rumors soon affected them, as the high and mighty in the studios ordered Sammy to desist from Novak and marry a black woman or risk losing his limbs.
DETAILS ABOUT HIS FIRST MARRIAGE
Sammy's fear of the cabals caused him to think of a strategy; he married his former lover, Loray White. White was a black singer and had been on a few dates with the entertainer; she agreed to the marriage after receiving a chunky sum between $10,000 to $25,000.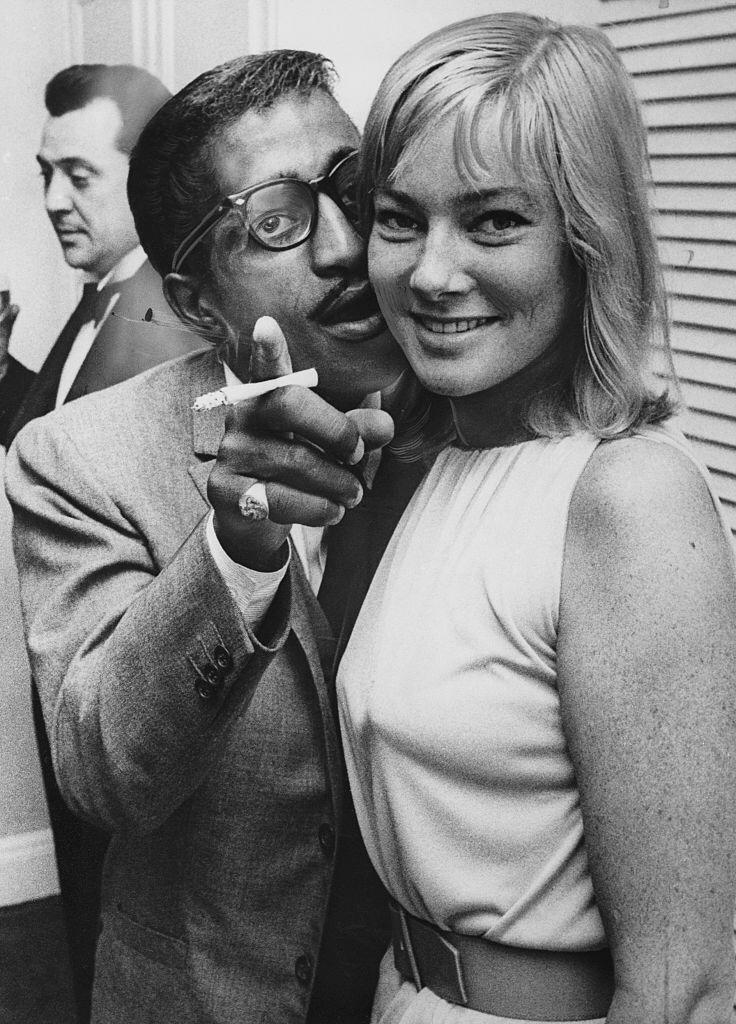 American entertainer Sammy Davis Jr. (1925 - 1990) meets his future wife, Swedish actress May Britt, on her arrival at London Airport from Hollywood, 4th June 1960. | Photo: Getty Images
She played along during the wedding, but an unhappy, devastated groom overwhelmed himself with alcohol and tried to strangle the new bride on their way to their hotel for a supposed honeymoon.
A few months later, the duo could not keep up with the charade, and news of their divorce broke out. These two had a very short wedding indeed!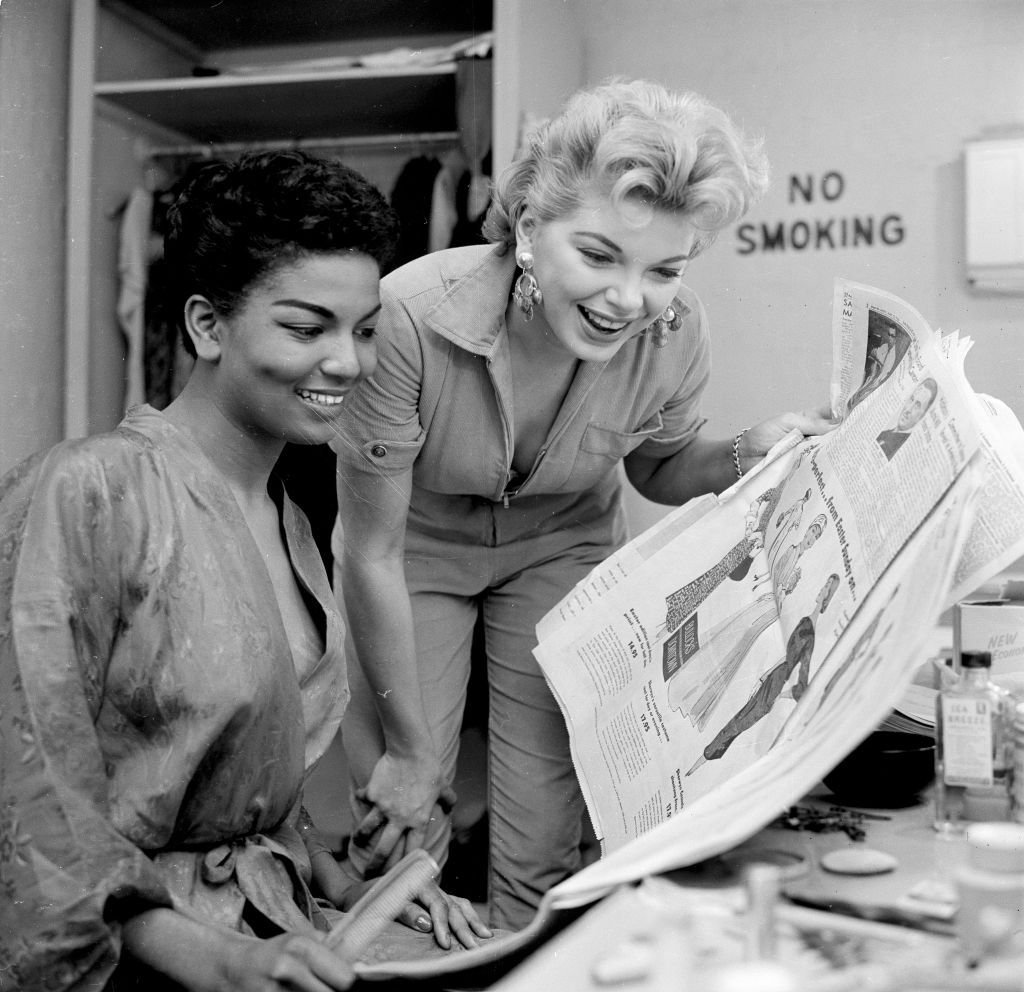 Barbara Nichols poses with Loray White for a portrait in Los Angeles | Photo: Getty Images
ALL ABOUT HIS SECOND MARRIAGE
A few years after his failed marriage, Sammy noticed a woman during lunch with his friend. Her frame and beauty were captivating, and he wasted no time in knowing this young beauty.
She was May Britt, a 26-year-old Swedish actress, and she found some endearing features in the actor. They began a romance that led to an engagement announcement.
The Europeans did not find her relationship to be problematic and wondered why the world did. Their engagement news dented Britt's contract at the time, as the studios felt it was inappropriate for her to be with a black man.
This relationship changed Sammy's life, as he began to receive death threats, leading him to hire armed guards for 24hours. The couple was scared to be seen in public, and when they stepped out, they had a weapon for protection.
WHO WAS MAY BRITT?
Britt was a native of Sweden. She appeared in the limelight as a young adult, and before performing on screen, she worked as a photographer's assistant in Stockholm. Her looks earned her a spot as a Hollywood star after two casting executives found her worthy of appearing on TV.
She starred in numerous works before bagging a deal with 20th Century Fox in "Blue Angel." After her marriage to Sammy, she quit acting to focus on being a good mother to her children.
THE WOMAN THAT STAYED UNTIL HIS DEATH
Like his first, Sammy's second marriage crashed in 1968, after lasting for eight years and produced three kids. Two years later, the second-time divorcee married again.
This time, it was to Altovise Davis, who died after battling a stroke in 2009. She was dedicated to acting and singing too.
After their marriage, the couple adopted a son named Manny Davis. Sammy died at 64, leaving his widow and child to sort out some tax debts and oversee his fortune.
This resulted in two lawsuits against some former business associates after Altovise claimed they tricked her into signing off a part of the estate.
Altovise was of the same race as Sammy, and their union attracted little attention. They stayed together until death did them part, but fans would agree that Sammy was a go-getter who was not bothered about the tabloids!
Please fill in your e-mail so we can share with you our top stories!