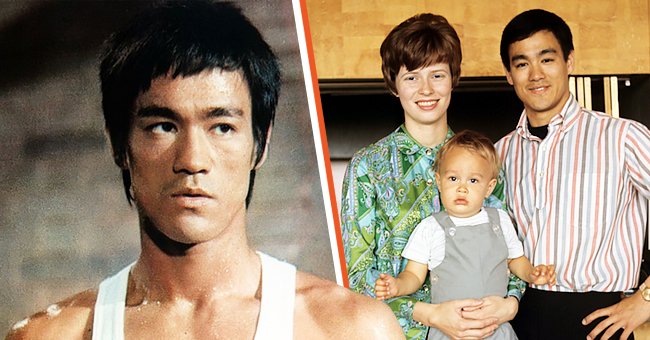 Getty Images
Bruce Lee Reportedly Passed at Home with His Wife - the Truth Soon Came Out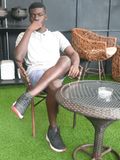 American martial arts actor Bruce Lee's passing still raises questions as the proven fact about whose bed he took his last breath remains a mystery to many.
Actor and martial artist Bruce Lee gained fame in both the American and Hong Kong movie scenes, bridging the gap between both worlds. Remarkably, he achieved that within his short three decades on earth.
While his life's achievement and numerous credits can be detailed objectively on the pages of a book, the same can't be said about the facts surrounding his painful death.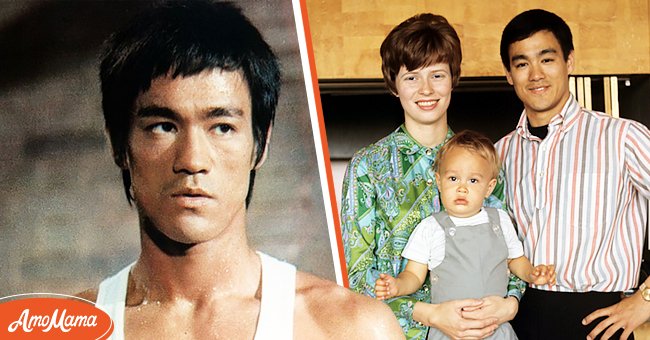 American martial artist Bruce Lee with his wife and son. | Photo: Getty Images
To date, debates over how the iconic movie star met his end arise, with numerous theories coming to light, mostly swirling around his alleged mistress, Betty Ting Pei.
BRUCE LEE'S LIFE
Born in November 1940 in San Francisco, California, to Hong Kong parents, Lee Hoi-Chuen and Grace Ho, Bruce Lee had American and Eastern identities.
The icon's dad, Hoi-Chuen, was a famous Cantonese opera star and introduced him to the movie industry at a young age while growing up in Kowloon, Hong Kong. In the early 40s, Lee began appearing in several films as a child star, also undergoing training in the martial arts.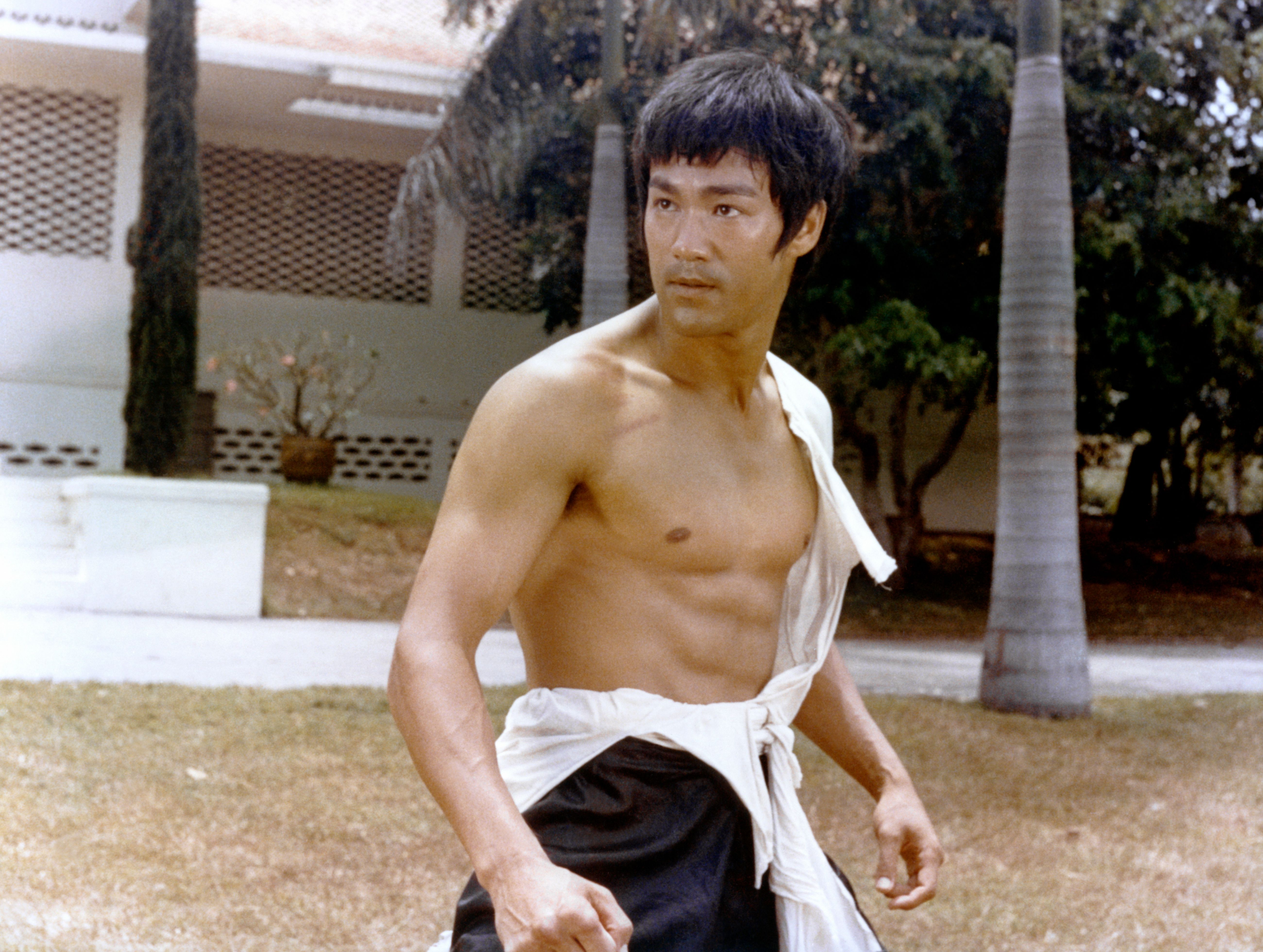 Actor Bruce Lee on the set of the 1971 film, "Big Boss" | Photo: Getty Images
Following his move to the US at eighteen, the star's prowess as a martial arts instructor gained him recognition, eventually earning him a place in the Hollywood spotlight.
He returned to Hong Kong eventually, easily reclaiming his childhood popularity after releasing a handful of movies, some of which he produced and directed.
Lee also fostered the popularization of Hong Kong and Hollywood-produced films, portraying a mix of Eastern and Western culture.
LEE'S DEATH
On July 20, 1973, Bruce Lee Died a month before the release of his most popular movie, "Enter the Dragon," which shot him to global stardom posthumously.
His sudden death shocked many, as the actor always seemed healthy, avoided drugs and alcohol, took his vitamin supplement religiously, and adhered to his fitness regime.
Yet, he was found unconscious in a room in Hong Kong on that dreadful night in 1973 and was confirmed dead shortly after, at the Queen Elizabeth Hospital.
Although initial investigations ruled his cause of death as inconclusive, further post-mortem examinations showed he died after consuming the prescription painkiller Equagesic.
A detailed report on his cause of death on his company's website revealed the icon became dizzy after taking the painkiller and proceeded to lie down. While sleeping, he fell into a coma.
When efforts to jolt him from sleep proved abortive, they rushed him to the hospital, where he was pronounced dead. Autopsy results determined the actor died from a hypersensitive reaction to the tranquilizer meprobamate, one of the ingredients in Equagesic.
The reaction triggered cerebral edema, the swelling of the fluid in his brain. The condition led to his coma and eventually death.
PREVAILING THEORIES ABOUT HIS DEATH
To date, Bruce Lee's death still raises questions, as most of the evidence either seems inconclusive or leaves room for loopholes. Dwelling on these lapses, several theories about his death have surfaced, remaining widespread nearly five decades later.
Some theories imply the legend crossed paths with Chinese gangsters who ultimately took his life, while others suggest he was poisoned. Another theory attributes the actor's death to cannabis intoxication.
The actor only showed up at her Kowloon Tong flat that evening to discuss the making of the movie, "The Game of Death."
Other theorists believe some form of supernatural power came to play in his death, with speculations ranging from voodoo to a mysterious family curse leading the polls.
Among these theories, the most prevalent remains his involvement with Taiwanese actress and alleged mistress Betty Ting Pei. Many believe the actor met his end while having sexual relations with her in her Hong Kong home.
RAYMOND CHOW'S DECEIT
Following Lee's death, his producer and business partner Raymond Chow, who discovered him unconscious, released a statement to shut down the growing rumors about how he died.
In his statement, the "Game of Death" producer claimed the actor collapsed at his home while walking in his garden with his wife, Linda Emery. The story stood for a while until a reporter uncovered the ambulance's pick-up location as Pei's apartment, raising new questions.
According to accounts of the martial arts instructor's death detailed in author Matthew Polly's book, "Bruce Lee: The Life," Chow's statement was fabricated to protect Lee's young kids at the time.
HOW IT WENT DOWN
Polly claimed the producer figured it would be bad for people to discover Lee unconscious in the apartment of his alleged mistress. Hence, he dressed the actor and attempted to move him.
When he did not regain consciousness, they summoned Pei's doctor, Dr. Eugene Chu, who tried to revive the legend to no avail. They called for an ambulance to transport him to the hospital.
Still, in a bid to protect Lee's image, Chow insisted the ambulance drive them to Queen Elizabeth Hospital, which was farther away from Pei's house to avoid suspicions. During the drive, he called Lee's wife, Linda Emery, and had her meet them at the health facility.
Linda watched her husband being wheeled into an emergency ward and was informed shortly after that he probably died long before he arrived at the hospital.
WHO IS BETTY PEI?
As the truth surrounding Bruce Lee's death slowly began to unfold, many ardent fans immediately threw daggers at Betty Ting Pei. Most outrightly accused her of killing the Kung Fu legend, while others implied he would still be alive if she hadn't been with him that night.
The former screen beauty's life gradually became clouded in the shadows of Bruce Lee's untimely death, ultimately forcing her to reclusion. She ended up developing schizophrenia, ruining her once-bolstering career for good.
Before it all came crumbling down, Pei was a Taiwan-born actress making her way in the Hong Kong movie scenes under the Shaw Brothers Studio. She was born in 1947 and moved to Hong Kong two decades later to kick off her career.
She went on to star in movies like "The Purple Shell," "The Millionaire Chase," "The Yellow Muffler," among other dramas, comedies, and musicals.
WHAT HAPPENED THAT NIGHT?
Amid the many accounts of Bruce Lee's night of "misadventure," Pei has told her part of the story in hopes of finding peace within herself.
She claimed she was unable to bear the burden anymore, hence her resolve to tell her story. In an interview, the 74-year-old denied the allegations that the martial artist died while they were making love on her bed, saying such speculations were unfair to him.
Sharing her side of the story, Pei, who admitted to striking a close, perhaps sexual, relationship with Lee following their meeting months prior, admitted he died on her bed.
However, contrary to most people's belief, the actor only showed up at her Kowloon Tong flat that evening to discuss making the movie, "The Game of Death."
Chow was also present at her apartment for the discussion but left later to attend a dinner meeting. Shortly after Chow left, Lee complained of a severe headache, prompting her to offer him the painkiller Equagesic.
He asked to have a short nap on her bed, which she willingly agreed to. Hours later, she found him unconscious when Chow returned from his dinner meeting. They summoned a doctor and eventually transported him to a hospital, where he was declared dead.
The then 26-year-old admitted to being scared out of her wits at the time, which only worsened after realizing "the whole world" wanted her dead. She was left to lead a reclusive life while dealing with the loss of a dear friend alone.
Please fill in your e-mail so we can share with you our top stories!
The information in this article is not intended or implied to be a substitute for professional medical advice, diagnosis or treatment. All content, including text, and images contained on news.AmoMama.com, or available through news.AmoMama.com is for general information purposes only. news.AmoMama.com does not take responsibility for any action taken as a result of reading this article. Before undertaking any course of treatment please consult with your healthcare provider.