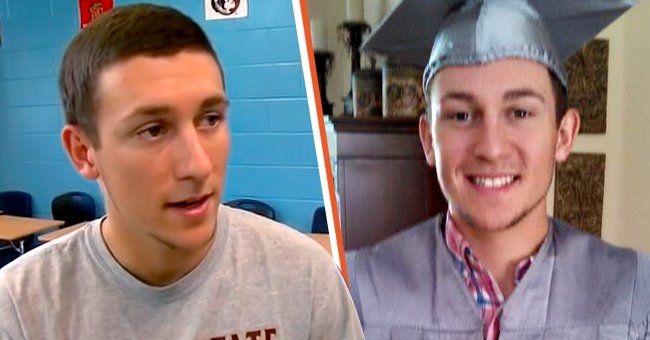 twitter.com/GMA | youtube.com/ABC News
Homeless Teen Graduates Top of His Class, Moves Hundreds of People with Valedictory Speech
A Florida teenager was named the valedictorian as he graduated with the highest ranking among his class in 2014. The then-18-year-old boy revealed that he had spent a difficult childhood moving from one shelter to another.
We read numerous stories every day, but some of them are so impactful that they leave a lasting impression on our minds and hearts. Griffin Furlong from Jacksonville, Florida, emerged as a phenomenal teen at the time, setting examples for people like him.
His entire childhood was spent in homelessness and hunger, but he didn't let such problems define him. He lost his mother to leukemia at the age of 6. When Furlong turned 7, he began moving from one shelter to another, alongside his brother and father.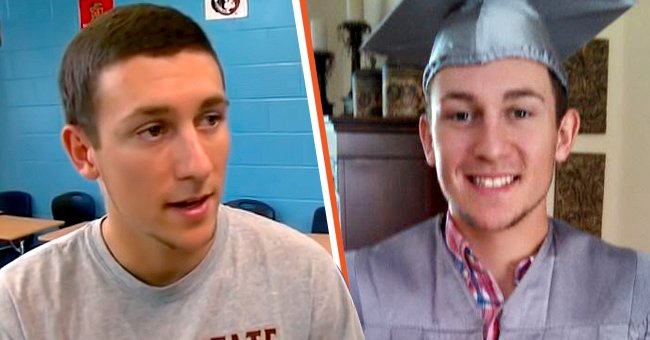 A homeless teenager from Florida graduated top of his class in 2014 and delivered a moving Valedictorian Speech. | Photo: twitter.com/GMA | youtube.com/ABC News
Despite his miserable state, Furlong managed to concentrate on his studies because he saw education as the only means to help him move towards a better tomorrow. In his highly inspirational Valedictorian Speech, he shared:
"Never let anyone tell you that you can't do something, because I've been told that all my life. People would tell me I wasn't smart enough, and now I'm here at the top of my class."
In addition to being a high achiever academically, Furlong also excelled in sports and was a baseball player. The rim of his baseball cap contained four golden words, which were his life motto: "Just never give up."
The homeless teen revealed there was a time when he had felt lost and disillusioned. None of his teachers, friends, and schoolmates knew what he was going through. However, surviving the worst only made him stronger. He also added:
"I never gave up no matter how bad I wanted to. To everyone sitting here before me, do not live a life without purpose. Deep down inside, you know you have something to show."
Furlong even moved in with his girlfriend Avery McCall's family, who were very supportive of him, followed by his aunt and uncle. Due to his family hardships, he and his older brother, Sean, couldn't have a normal childhood.
Sean explained that despite being older, he had always looked up to Furlong for inspiration. Because of their situation, the two brothers could never invite friends over, so they ended up forging a strong connection. Further, he said:
"I couldn't invite them [friends] to my house, so it was mainly just me [Sean] and Griffin, and we did everything together, baseball especially."
When Furlong graduated with a 4.65 GPA from First Coast High School in Jacksonville in June 2014, his brother was already studying at Florida State University. The exceptional teen had always seen education as a way to battle all the storms in his life.
Furlong's teachers shared that he had never missed an assignment or made excuses in class. His Calculus teacher, Jennifer Stover, who also wrote college recommendation for him, further revealed:
"He is a remarkable kid and an excellent student. He's an inspiration to everyone around him."
The once-homeless teen won a scholarship that covered his housing cost at university, and his friends and family set up a GoFundMe to raise funds for covering the remaining dues. His future plans included studying civil engineering at Florida State University.
Please fill in your e-mail so we can share with you our top stories!