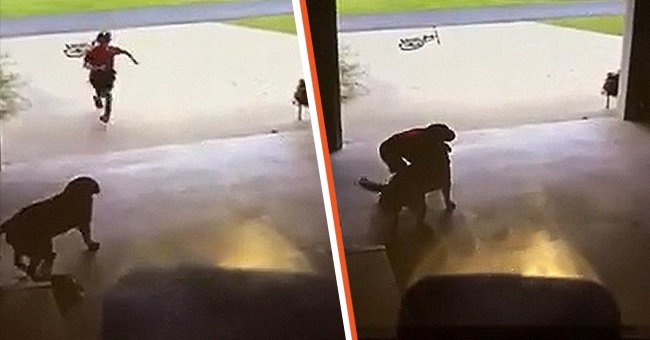 facebook.com/hollie.mallet
Emotional Moment a Boy Sneaks into Neighbor's Garage to Cuddle a Dog after His Own Pet Died

A little neighborhood kid left many netizens' hearts torn to bits after a video of him sneaking into the neighbor's garage to cuddle their dog went viral.
Josh Breaux, an adorable kid who resides with his parents in their small Pierre Part neighborhood in Louisiana, grew up having a canine companion by his side.
The family dog, Bella, lived with the boy since he was two, making him fond of the loyal pet. However, he lost his longtime companion, leaving him craving the comfort only a pup could offer.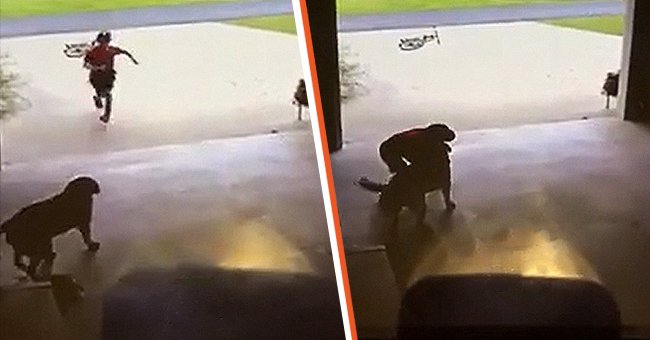 A photo of a young boy and a neighbor's dog, | Photo: Facebook.com/hollie.mallet
Interestingly, he soon found that solace in his neighbor's dog, Duchess. For a while, he kept looking out for the pup, playing catch with the animal when he thought no one was watching, and sneaking into the neighbor's garage to steal a quick cuddle.
Unknown to him, his adorable gestures were captured by the neighbor's surveillance camera. While going through her camera feeds one day, the homeowner Hollie Mallet came across the sweet display of love and immediately became emotional.
She showed her husband the videos, and the duo set out to find the identity of the Duchess' new pal. Mallet shared an excerpt of the footage on Facebook in 2016, seeking the help of netizens in discovering the identity of the mystery boy.
The clip showed little Josh riding his bicycle past the neighbor's garage and stopping right after spotting the dog. He quickly got off the bike, ran up to the pet, and gave her a heartwarming hug.
Duchess looked enthusiastic as she rushed towards her little pal, wagging her tail. After a quick snuggle, the boy bid the canine farewell and rushed back to his bicycle, wheeling away. Mallet captioned the post:
"Anyone know who this sweet little boy is? Every now and then when he rides his bike, he will quickly come and love on my dog or play fetch real quick, but always leaves quick."

A netizen's comment on the viral Facebook video | Photo: Facebook.com/hollie.mallet
Mallet understood that the boy's tendency to flee after a short time was because of his fear and uncertainties over trespassing in another's garage.
She used the medium to let the lad know he was welcome to stay in her property and play anytime, as Duchess, who was strangely fond of him, needed the attention.
The clip garnered over two million views in no time, and several comments from netizens marveled at the boy's actions. One wrote: "This is so sweet. I bet if he knew he could stay a little while more, he would be so happy."

A netizen's comment on the viral Facebook video | Photo: Facebook.com/hollie.mallet
Another commenter expressed how nice it felt to see the innocence in a world full of negativities. The netizen went on to commend the boy's parents for doing a great job at raising him.
Amid the sea of comments, many Pierre Parts residents identified the lad as Josh Breaux, the 9-year-old son of Ginger Clement Breaux, a resident of the neighborhood.
Ginger was shocked to learn of her son's sneaky adventures. She commented on the video, confirming it was indeed her son, and she was aware of the boy's fondness for the dog.

A netizen's comment on the viral Facebook video | Photo: Facebook.com/hollie.mallet
However, she was mortified to discover he was sneaking into other people's properties, albeit for a just cause. She explained how they lost their family dog a while ago and were not prepared to replace her just yet.
Following the leaked footage, Josh's mom knew it was time to step up. She adopted a black labrador, Drake, and gifted it to her son, making him the happiest kid on the block.
Despite how upset she was by his secret escapades, Ginger was just glad her son managed to bring smiles to millions of faces. She couldn't have been more proud of little Josh.
Please fill in your e-mail so we can share with you our top stories!