tiktok.com/sincerelysapphic
Woman Gives Parents DNA Testing Kit, Finds Out Her Mother Lied to Her about Biological Dad
A woman bought an Ancestry DNA kit for her mother, who had been adopted, so that she could trace her birth parents. She also gave one to her father, so he didn't feel left out, but the results of his test left her utterly shocked.
Life is full of unexpected surprises, but sometimes, we can experience moments that leave us bewildered and at a serious loss for words. The TikToker @sincerelysapphic never thought that gifting a DNA testing kit to her mom would end up impacting her.
The young woman revealed that she wanted to give a pleasant surprise to her beloved mom, so she bought a DNA kit. She then got one for her dad as well but wasn't quite prepared for the results.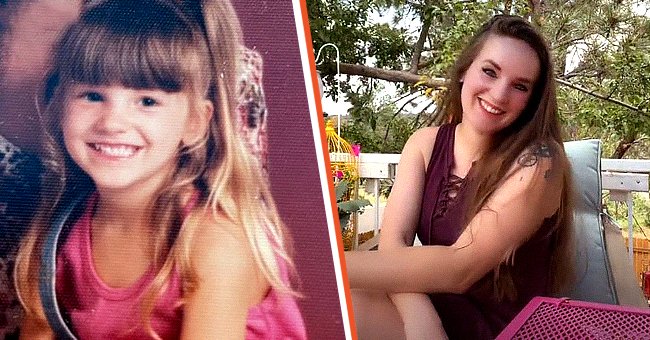 A TikToker shared how results of an Ancestry DNA kit left her shocked and confused. | Photo: tiktok.com/sincerelysapphic
In a 1-minute-long video clip posted on TikTok, the woman shared how she and her father were left astounded when the results of his DNA test arrived. She wrote in the clip:
"Orders an ancestry kit to find my mum's biological family (she was adopted). Buys dad a kit to rule out his side of relatives from hers (sic)."
At first, the woman thought that her father had forgotten to do the test, so she decided to give him a reminder. To her astonishment, he had already taken the test.
The TikToker then explained that when she signed in and looked up her father's name, she discovered that he wasn't her DNA match. She further said in the video:
"I'm grateful for the man who raised me and he will be the only one I ever consider my father (sic)."
She also revealed that her mother kept her in the dark for 30 years, which made her feel betrayed. However, the woman shared that she still considers him her "real" father and is deeply grateful for the way he brought her up.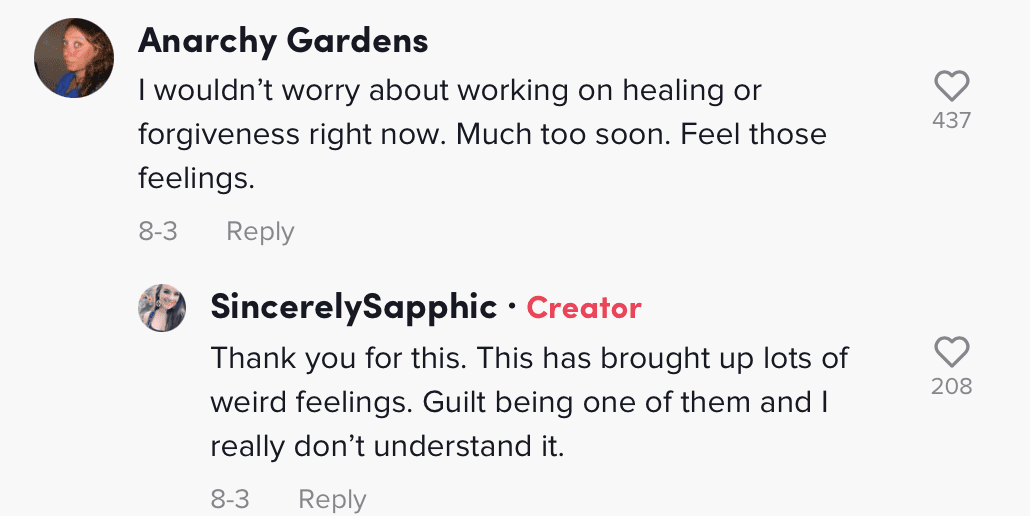 A netizen leaves a comment on TikToker's viral video on taking the Ancestry DNA test. | Photo: tiktok.com/@sincerelysapphic
Several netizens left comments on the viral video, which has been viewed more than 95,000 times. One user commented:
"If he was a good dad he's your dad."
A second one wrote: "He must be just as shocked as you. I am so sorry for this crazy messed up scenario you now find yourself in — but the love is strong between you (sic)!!!"
THE MISSING VIRGINIA GIRL
Learning eye-opening details about yourself can be plain shocking, and it seems TikToker @sincerelysapphic isn't the only one who survived the horror of finding out she had been lied to about her birth father.
A woman named Kaylynn Stevenson from Indiana went through a similar experience when she came across posters of a missing girl, following which she decided to opt for DNA testing.
After the results of her test arrived, she stepped forward and revealed she was Britanny Renee Williams, the 7-year-old girl in the poster who had reportedly gone missing from Henrico, Virginia, almost 21 years ago.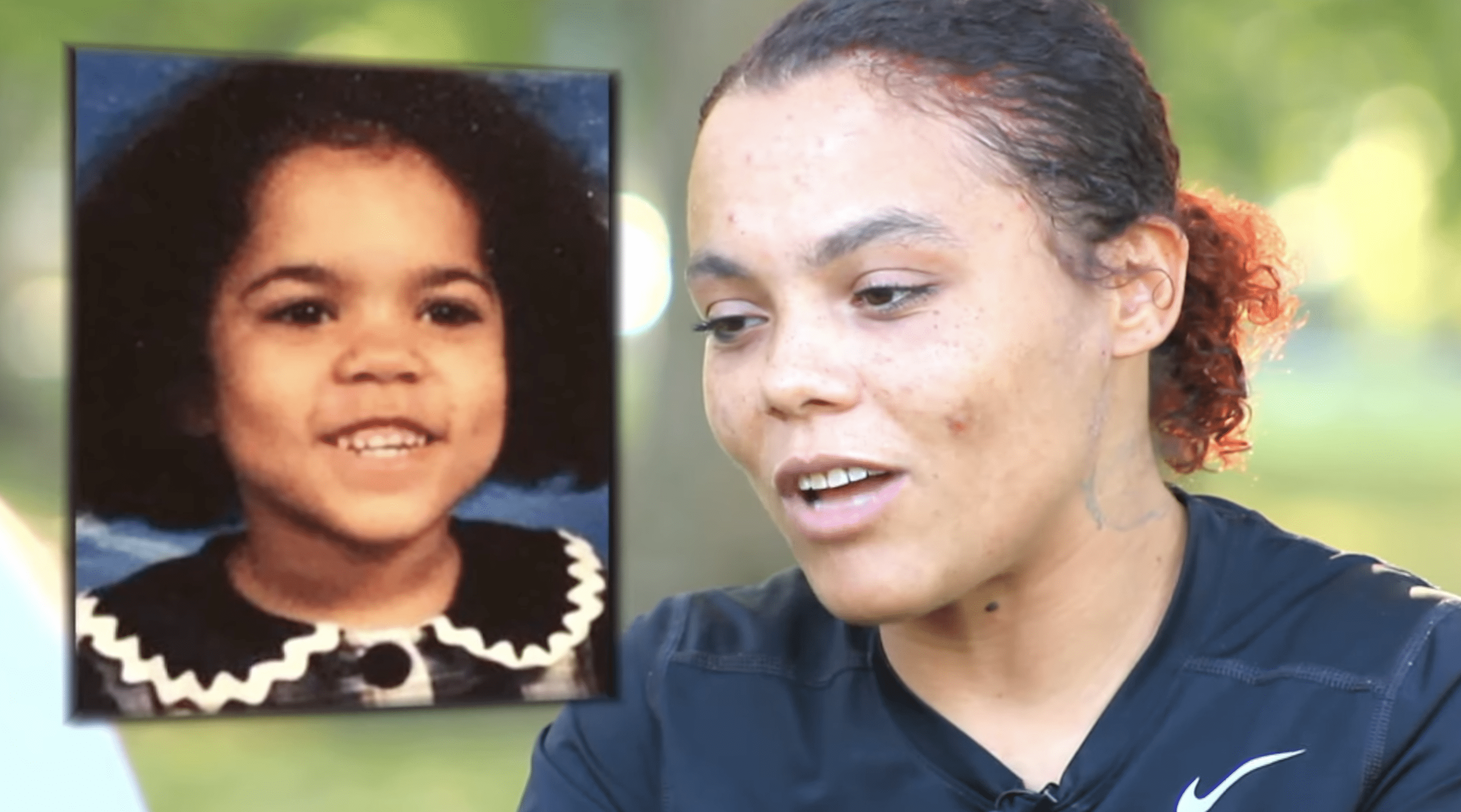 Stevenson claimed she took a DNA test, the results of which were proof she was the missing girl in the poster. | Photo: YouTube.com/NBC 12 Richmond
Stevenson disappeared from her home in 2000 and lived with Kim Parker, who ran a foster care center in Henrico. She was also treated for AIDS. Talking about her traumatic experience, she shared:
"When you look at the missing person flyer, what do you think about that little girl? That little girl went through a lot... but she survived, and everybody thought otherwise."
The woman shared that she had vague memories of her childhood, which pushed her to start looking for her biological family. Her wife, Ladajah Kelly, also helped her figure out the uncanny resemblance she shared with the missing girl in the poster.
A SHOCKING DISCOVERY
Like Stevenson and TikToker @sincerelysapphic, another woman experienced the nerve-wracking emotions associated with discovering weighty details about your personal identity much later in life.
A TikToker named Amanda Stacy shared she had no clue what she was signing up for when she opted for the Ancestry DNA test. She expressed that she took the test to find any random family members since her grandfather had many children.
While the 31-year-old TikTok user largely took the test out of her skepticism, she was stunned by the results. Her video quickly became a viral sensation, amassing over 466K likes and numerous comments.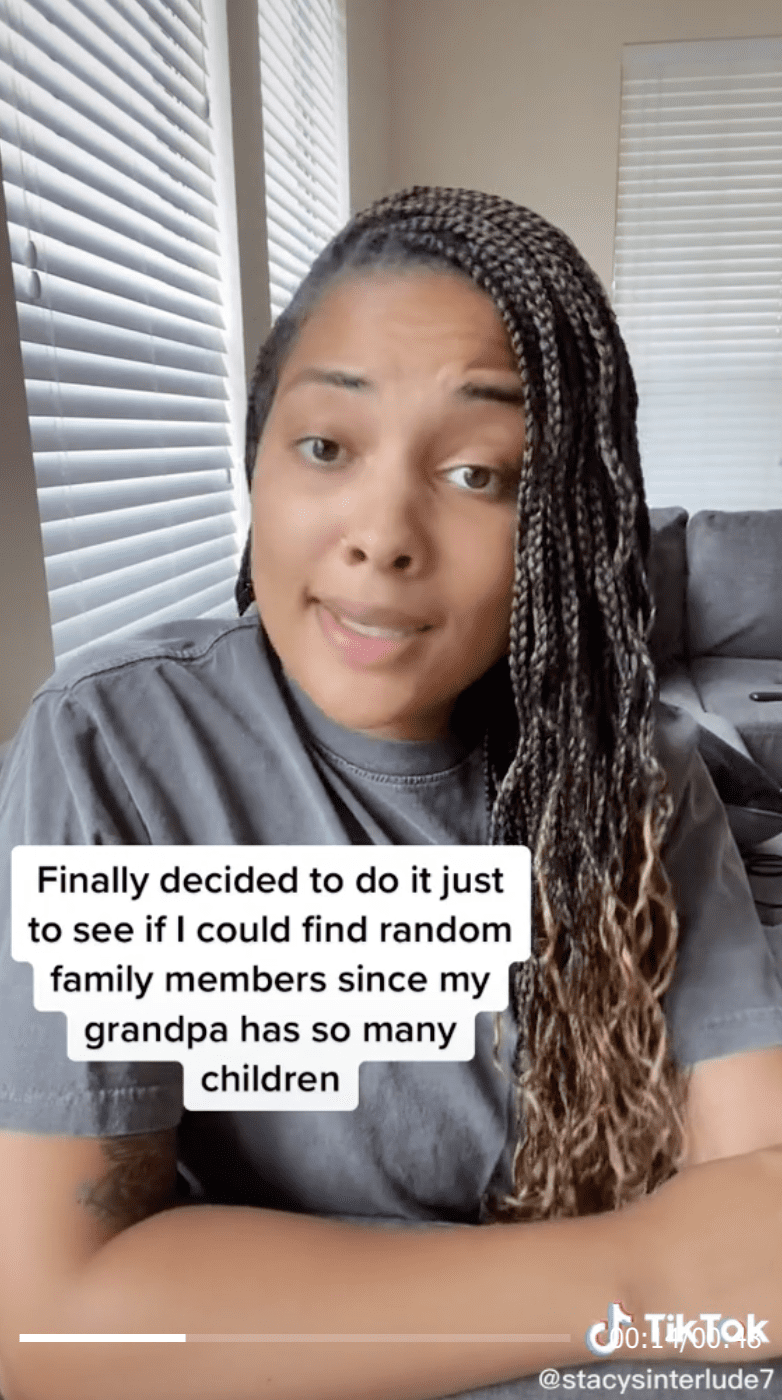 Stacy was shocked by the DNA test results. | Photo: tiktok.com/@stacyinterlude7
Stacy, who goes by the username @stacysinterlude7, explained that her parents later told her she had been adopted when she was an infant, and the 50% match was actually her biological mother. She further revealed:
"I communicated with my biological father that same night and 2 weeks later, I met both of my biological parents in person."
The TikTok user also expressed that she had no hard feelings for her adoptive parents and was glad they didn't give her the news when she was a kid because it would have made her unhappy.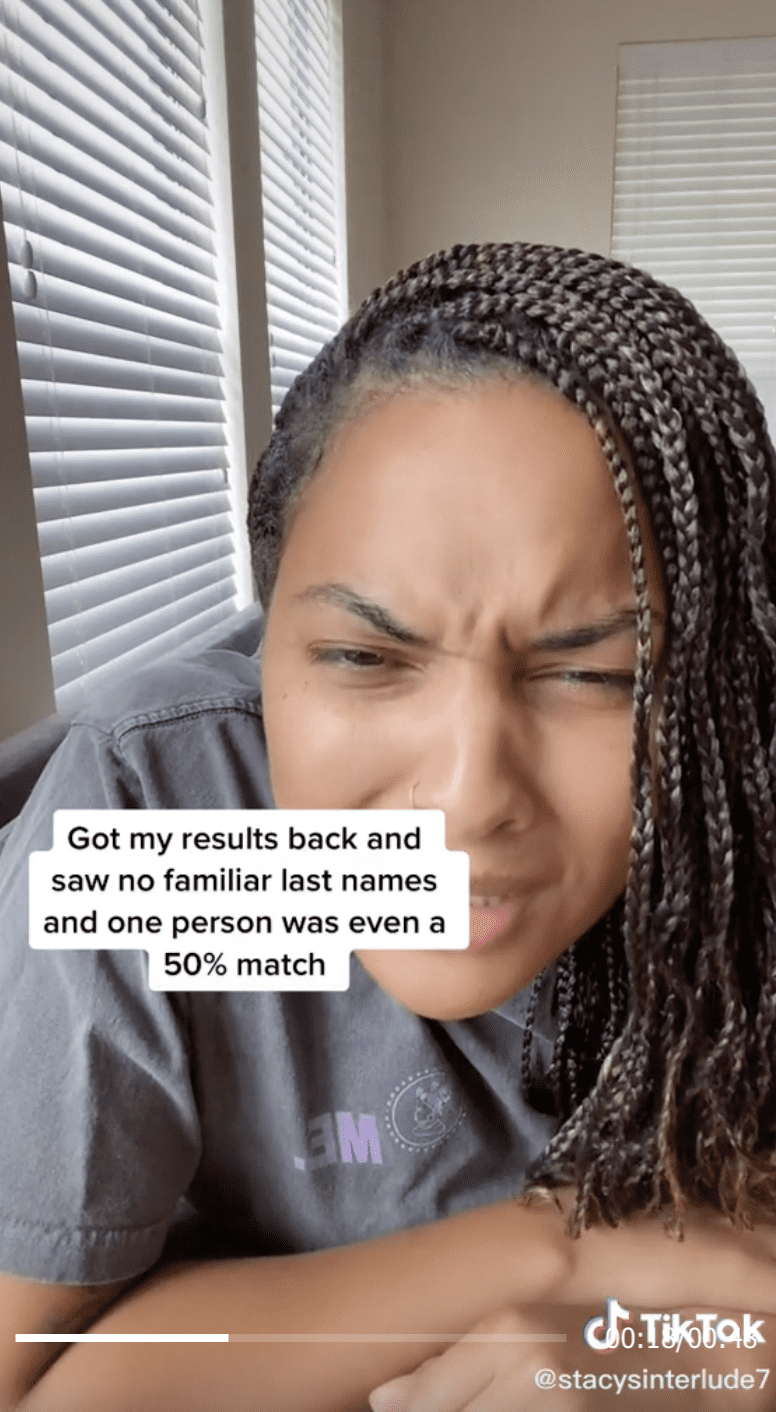 Stacy was shocked by the DNA test results. | Photo: tiktok.com/@stacyinterlude7
Undoubtedly, learning life-altering details about your personal identity is a daunting task. Still, it seems that all of these women have done a brilliant job and set a perfect example for millions of people out there.
Please fill in your e-mail so we can share with you our top stories!
The information in this article is not intended or implied to be a substitute for professional medical advice, diagnosis or treatment. All content, including text, and images contained on news.AmoMama.com, or available through news.AmoMama.com is for general information purposes only. news.AmoMama.com does not take responsibility for any action taken as a result of reading this article. Before undertaking any course of treatment please consult with your healthcare provider.