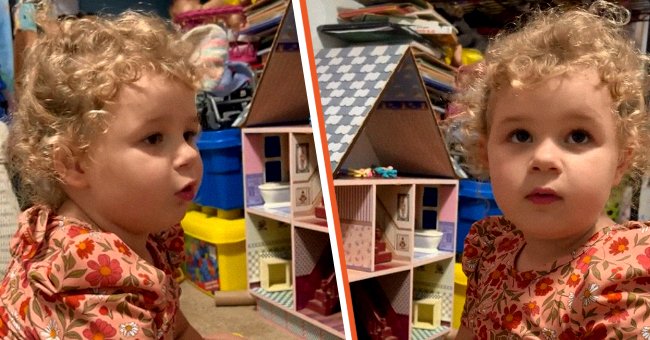 tiktok.com/alongcameabby
Little Girl Shares Powerful Lesson about Life in Adorable Video and It Goes Viral
A little girl taught people online a valuable lesson recently and encouraged them with her wisdom. Netizens were thankful for the "old soul's" words.
TikTok often features clips of sweet kids doing and saying unique things. This month, a TikTok video of a curly-haired blonde girl known as Abby went viral. Sat in front of her dollhouse and clad in a floral dress, the youngster spoke words of wisdom.
She's not the only child bringing encouragement to the online world. In 2019, a three-year-old offered some upliftment when he spoke of himself positively and repeated affirmations.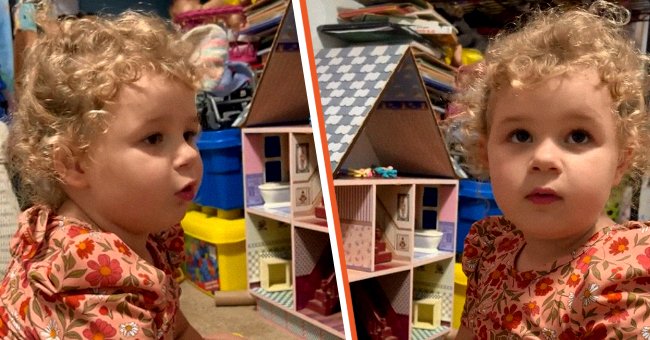 A little girl shares encouraging advice online and uplifts many online users | Photo: TikTok/alongcameabby
POSITIVE AFFIRMATIONS
In the touching video, a young Ayaan proclaimed: "I am smart. I am blessed. I can do ANYTHING!" His mother, Alissa Brielle, told her son he did a good job and shared that they instilled the motto in him a while back.
While Ayaan's affirmations came from his parents, the sweet girl on TikTok under @alongcameabby seems to have always been an old soul. Her father told viewers that Abby loved to share advice.
THE LITTLE GIRL'S PROFOUND ADVICE
The father also shared the brief clip of the special girl on Instagram and said: "A little advice from Aunt Abby." In the footage, she expressed:
"Just follow, just do what you are doing. Don't let someone else take over you."
The little girl's message resonated with many people. Her advice is that people should "just try not to think about what people are saying," and it was much-needed.
KIDS SAVING THE DAY
One user said they had stumbled upon the video after a tough day. They wrote: "Please tell her I say thank you for making me feel better." Kids often manage to save the day.
In 2019, another young girl was a guardian angel for one lucky 21-year-old student. When Andrew Sipowicz returned to his red vehicle, he saw that it had been dented. Thankfully, he would be able to track down the culprit.
GIRL'S CLEVER LETTER
A letter that had been scribbled down quickly by a clever six-year-old disclosed what had happened to his car. It stated: "Bus: 449 hit your car. It stops here every day to drop me off. At 5:00 pm."
The little girl helped Sipowicz tremendously in sorting out the incident. He was also able to track her down to say thank you. Just like Abby and Ayaan, this youngster spurred on positivity and spread a spirit of kindness.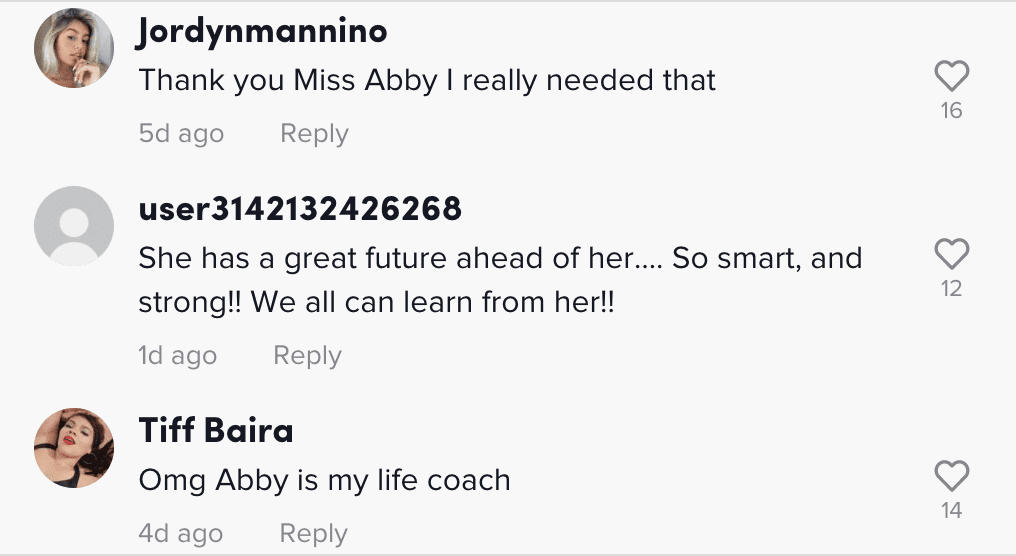 Commenters praise a little girl for sharing encouraging advice and uplifting them | Photo: TikTok/alongcameabby
THE ONLINE REACTION
From the comment section of Abby's TikTok video, countless messages proved the impact a few words of encouragement can have. One commenter stated: "Thank you, Abby. This saved me a one-hour therapy appointment."
A netizen also called her the "most emotionally intelligent child ever." Someone added: "This little lady is going to be big one day!!" People were encouraged by Abby's simple message, and many agreed the world needed more clips like hers.
Please fill in your e-mail so we can share with you our top stories!