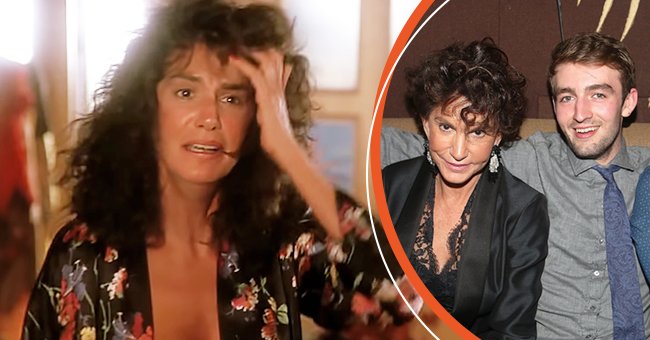 YouTube.com/Movieclips | Getty Images
Mercedes Ruehl's Biological Son Was Once Mistakenly Thought of as Her Much-Younger Boyfriend

When Academy Award-winning actress Mercedes Ruehl first met the son she had given up for adoption, he was mistaken as her much-younger lover.
Raising a child is no easy feat, especially when you're not prepared. Screen and stage actress Mercedes Ruehl knows it firsthand as she gave her first son, Christopher, up for adoption over four decades ago.
She looked for him for years and luckily found him. Their first meeting was out of the ordinary, raised some eyebrows, and didn't go as planned.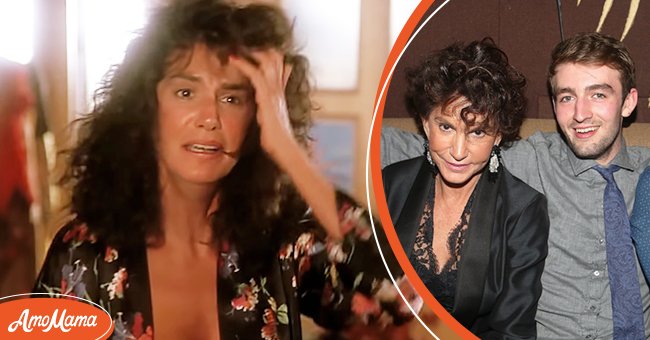 Mercedes Ruehl in "The Fisher King" and Ruehl with son Jake on October 19, 2017 in New York City | Photo: YouTube.com/Movieclips - Getty Images
RISE TO STARDOM
Born in Queens in February 1948, Ruehl's foray into the entertainment industry dates back to 1976 when she had a minor role in "Dona Flor and Her Two Husbands." That same year, she booked the part of Nurse Ursula in "The Doctors." Most of her appearances were uncredited, though.
She also worked in "Big," "Married to the Mob," and "Crimes and Misdemeanors," but her popularity skyrocketed after appearing in "The Fisher King" opposite Jeff Bridges and Robin Williams.
Her performance was so outstanding that she won an Academy Award for Best Supporting Actress in 1992, cementing her name in Hollywood's history.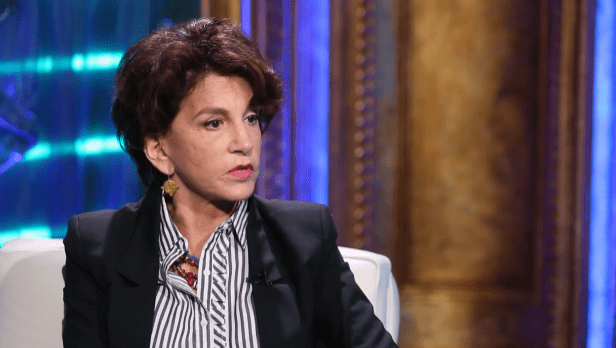 Mercedes Ruehl in an interview with Broadwaycom in November 2017 | Photo: YouTube/Broadwaycom
Ruehl's theater career is just as iconic. She started working in theaters with the Denver Center Theatre Company before moving back to New York and landing a part in the Broadway production "I'm Not Rappaport."
So far, she has taken home Obie Awards for "The Marriage of Betty and Boo" and "Woman Before a Glass." The actress also won a Tony Award for "Lost in Yonkers" and was nominated for two more.
FINDING AND LOSING LOVE
For about two decades, Ruehl was married to painter and underground comix artist David Geiser. He graduated from the University of Vermont and started his career in San Francisco.
Geiser eventually returned to the East Coast, where his career shot to stardom, especially after some of his art pieces were exhibited in museums and galleries in different cities of the US and the world.
[Ruehl] was not economically or emotionally prepared to raise a child, so she put him up for adoption.
Ruehl and Geiser lived together in a waterfront house in East Hampton, but they sold it for $1.2 million in March 2017. Later that year, she admitted they were no longer together but remained close.
The former couple raised a son together, Jake, adopted in the late 1990s. It is important to point out that Ruehl had another experience with adoption years before taking Jake into her family.
RUEHL'S BIOLOGICAL SON
In 2005, Ruehl appeared in "Mom at Sixteen" and portrayed Terry, the mother of a 16-year-old teenager (Jacey, played by Danielle Panabaker) who gets pregnant and doesn't know what to do with the baby.
The film is near and dear to Ruehl's heart because in April 1976, when she was 28 years old, she gave birth to her only biological son, Christopher. For years, she has been very open about her and Christopher's unique relationship.
Although she may not have been a teenager when she got pregnant, she was not economically or emotionally prepared to raise a child, so she put him up for adoption.
When Christopher was about 15 years old, Ruehl started looking for him in Catholic Charities and everywhere else. Six years later, when her son was 21, she finally found him thanks to social workers and plenty of luck.
Instead of rushing into their meeting, she first contacted his adoptive parents to ensure they were okay with it. She got their permission and sent him a letter introducing herself.
One of the things Ruehl wrote was that she was an actress. Christopher didn't know who she was at the time, but some college friends told him about her appearance in "The Fisher King." The actress explained:
"So [Christopher] went out by himself late one night, rented 'The Fisher King' and watched the whole thing, not knowing if his mother was Amanda Plummer or myself."
Ruehl joked that her son was probably wondering which one of "these nuts" was his mother. She also asked him if they could meet, and on Christmas Eve, 1996, she received his answer: "anytime, anywhere, any day."
They agreed to meet in a hotel suite in Boston a few days later. She intended to sit by the fireplace and talk, but things didn't go as planned as a heavy blizzard prevented her plane from landing.
We've had fights. We've almost lost each other. It's a great relationship.
She called the hotel manager and requested to grant access to her room to the "tall, good-looking young man" that would eventually arrive asking for her.
Ruehl probably should have chosen her words more carefully as the manager thought she would meet a young lover and wanted to get in the room to see what was happening.
Once the actress arrived, she and her son looked at each other, laughed, and hugged. She admitted that the tears and speeches commonly shown in films were not real – at least not in their case.
They talked for hours before he left just past midnight. When he did, Ruehl felt the "most profound loneliness." She also acknowledged she learned about both sides of adoption.
Ruehl and Geiser adopted Jake the same year she and Christopher reconnected, so she asked her biological son to be Jake's godfather, and he accepted. Even though Christopher and her mother became close, it was not an easy process. She explained:
"We've done a lot of work together, a lot of therapy together. We've had fights. We've almost lost each other. It's a great relationship."
In 2018, the actress described being a mother as a creative activity as women create a human being in their bodies and eventually raise them, so creativity has an "obsessive component" to parenthood.
At the moment, Ruehl is 73 years old and has not stopped working in Hollywood. Her latest on-screen appearance was as Judge Hudson in "Bull," the CBS TV series starring Michael Weatherly. Way to go!
Please fill in your e-mail so we can share with you our top stories!