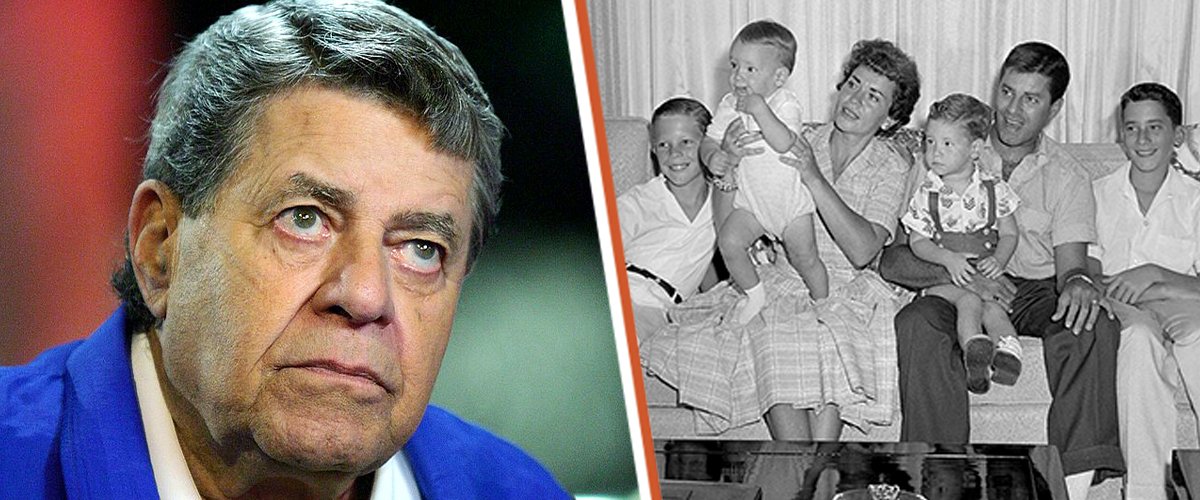 Getty Images
Jerry Lewis 'Intentionally' Disinherited His 6 Children but His Adopted Daughter May Receive It
"The King of Comedy" Jerry Lewis sadly died in 2017 and "intentionally" left his six children out of his will. But his adorable daughter and manager Danielle was an eligible child in the actor's will.
Jerry Lewis was nicknamed "The King of Comedy" because of his hilarious personality. However, the star suffered from different health issues, which eventually claimed his life despite his success.
While the star struggled with pulmonary fibrosis, he revealed that he was "wallowing in depression." But this was not the only health problem Lewis had. He was once hospitalized in Las Vegas after he developed a urinary tract infection.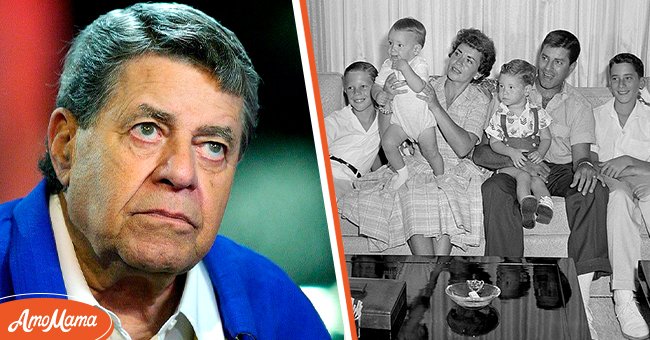 Pictures of actor Jerry Lewis with his family | Photo: Getty Images
LEWIS HEALTH STRUGGLES
In 2006 Lewis had a heart attack in San Diego. Following the San Diego incident, he was taken to the hospital with low blood sugar just before presenting an award at a Friars Club event in 2012.
In 1982, he had open-heart surgery, followed by a battle with prostate cancer, diabetes, and viral meningitis. He also suffered from depression fueled by the steroid prednisone, prescribed to treat the lung ailment pulmonary fibrosis.
The medication resulted in a drastic change in his body. The comedian revealed that he gained 56 lbs due to inflammation and couldn't bend over to tie his shoes in an interview. He also stated exercises would help, but he needed oxygen after walking 20 feet.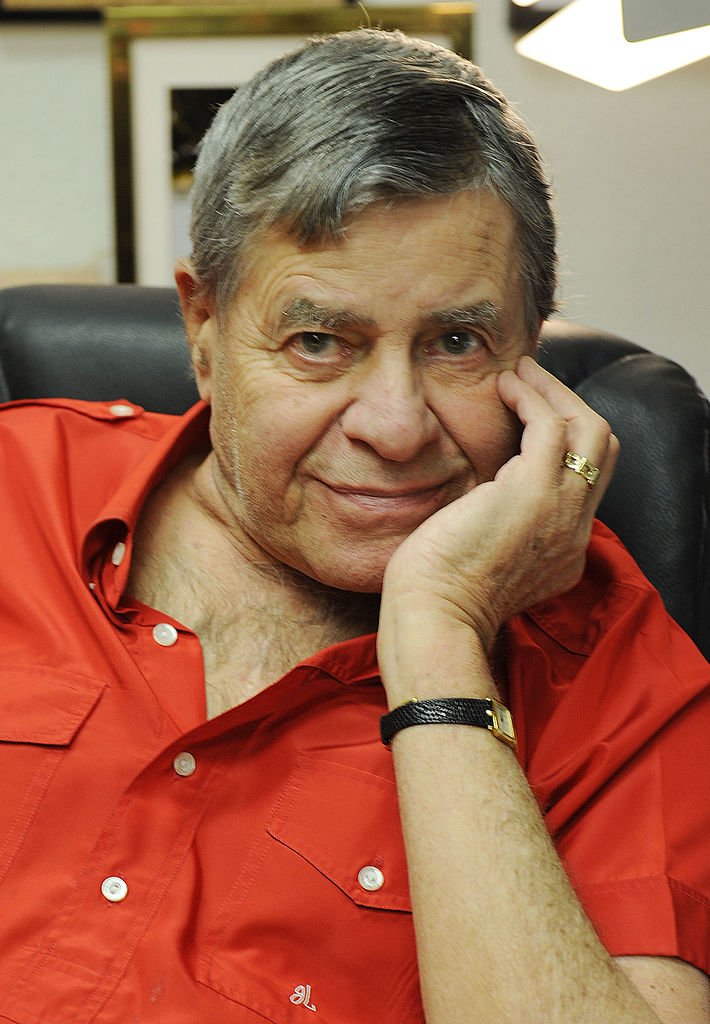 Jerry Lewis at an interview for the Ina Balin documentary on May 29, 2009 in Las Vegas, Nevada | Photo: Getty Images
Lewis's weight caused extra tension on his spine that resulted in severe back pain, which he struggled with for years. And, in a statement, the star opened up about wanting to end his misery with a gun.
But his suicidal thoughts changed after he received a "pain pacemaker," a device that reduces pain through electronic stimulation. The instrument was permanently inserted into Lewis's backbone. After the implant operation, the star stated in an interview:
"I can have Dani run from the gate to Daddy's arms, and I can pick her up."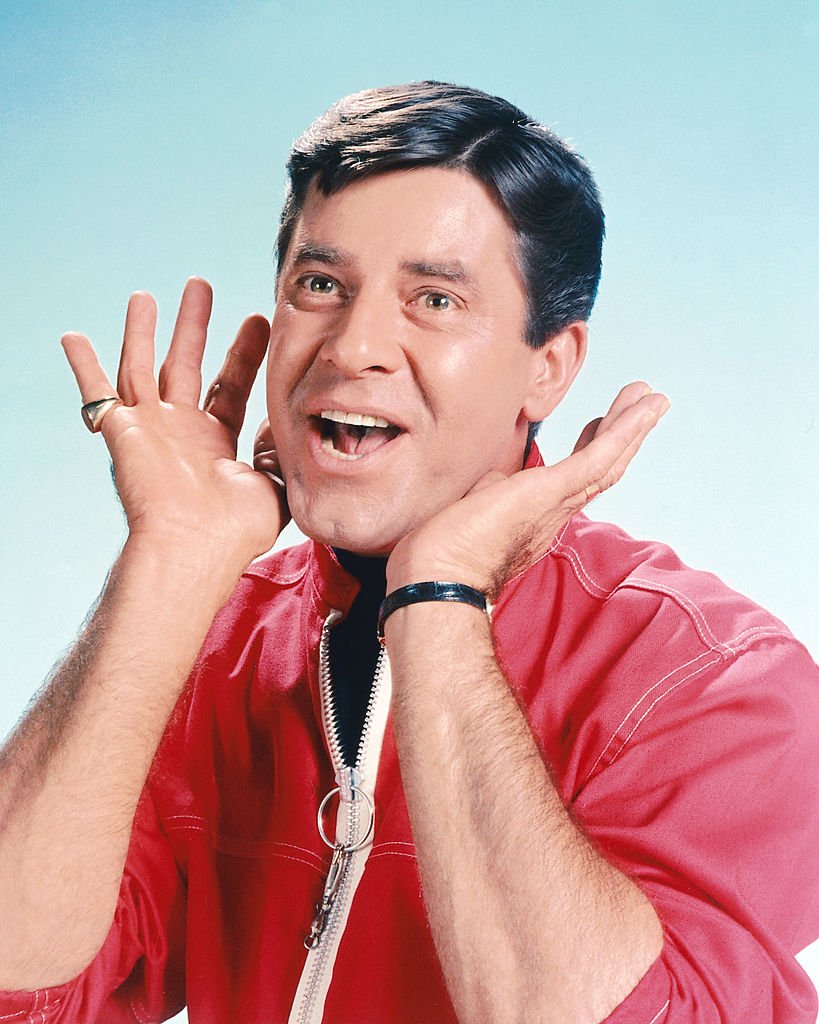 American comedian Jerry Lewis, circa 1960 | Photo: Getty Images
Before he eventually received the pain-killing device, "The Naughty Professor" star admitted to abusing Percodan. According to Lewis, he used to crush about thirteen pills of Percodan and sprinkled it over his salad every day, believing it would work faster.
He struggled stoically with back pain for 19 years. However, in 1997, he had spinal surgery epidural injections, which caused drastic improvements. The injection eventually stopped working, but this didn't keep Lewis from moving forward.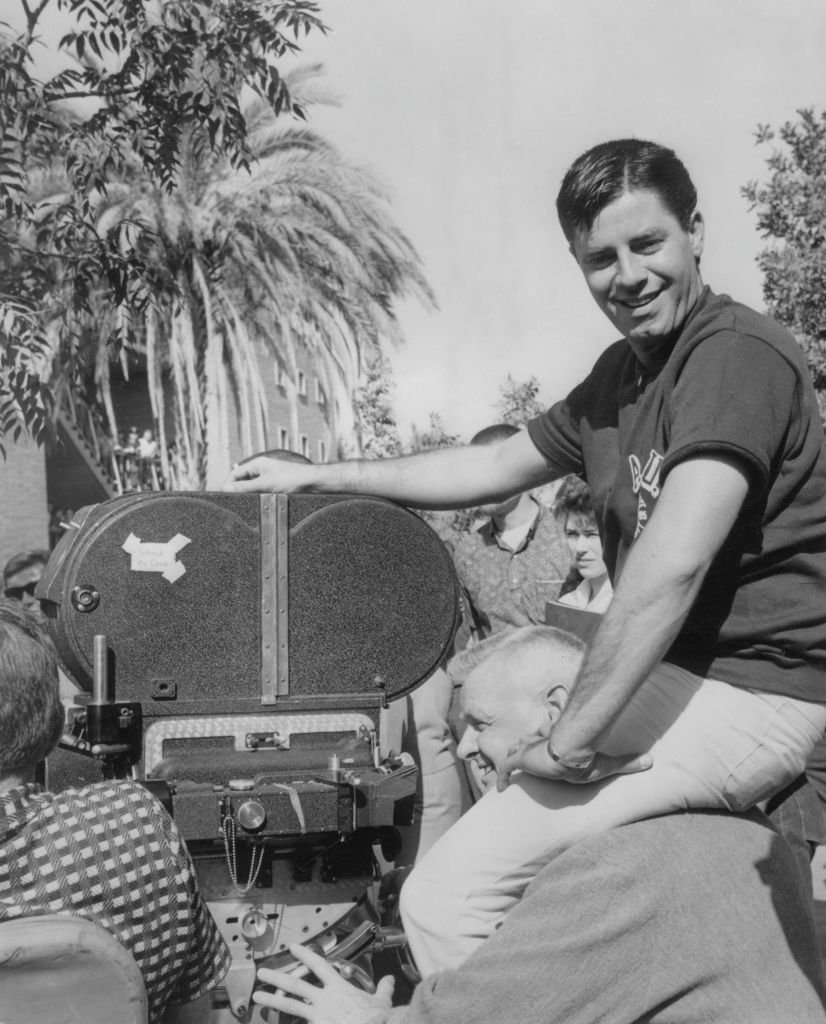 American actor and comedian Jerry Lewis being filmed on location at a college campus in Tempe, Arizona, circa 1963 | Photo: Getty Images
LEWIS'S WILL AND DEATH
Lewis's body endured a long line of illness that took a toll on his body. However, he had a long life for someone who was frequently in and out of the hospital. Eventually, the star's health deteriorated, and he died from heart failure at the age of 91.
His daughter Danielle and the only child Lewis named worthy of his inheritance announced the comedian's passing. Danielle was also the actor's manager before he died. Lewis was married to SanDee Pitnick, former Las Vegas dancer, and they adopted Danielle in 1992.
After his death, the "The Ladies Men" actor's will publicly made it clear that he had disinherited his six children, whom he shared with his ex-wife Patti Palmer. Palmer and the film producer tied the knot in 1944.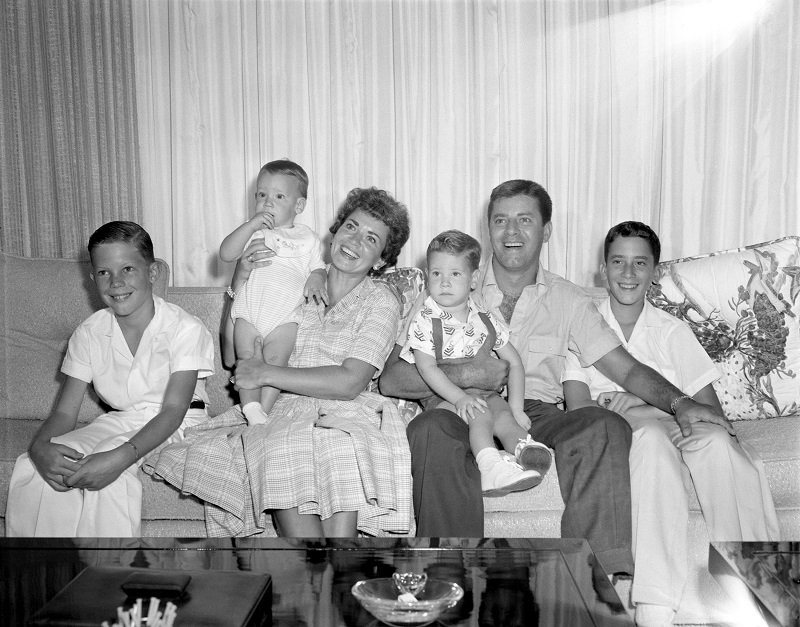 Jerry Lewis, Patti Palmer, and four of his sons in California, in September 1958 | Photo: Getty Images
The relationship went sour, and the couple called it quits in 1980. But, before their divorce, they had six children; Gary Lewis, Ronald Lewis, Anthony Joseph Lewis, Christopher Joseph Lewis, Scott Anthony Lewis, and Joseph Christopher Lewis.
The ex-couple's last child, Joseph, died of a drug overdose in 2009, while another of their children, Gary, became a successful musician. However, Lewis and Palmer's 36-year marriage didn't help the actor and his children build a good relationship, and his will clearly stated:
"I have intentionally excluded [Lewis's biological kids] and their descendants as beneficiaries of my estate, it being my intention that they shall receive no benefits hereunder."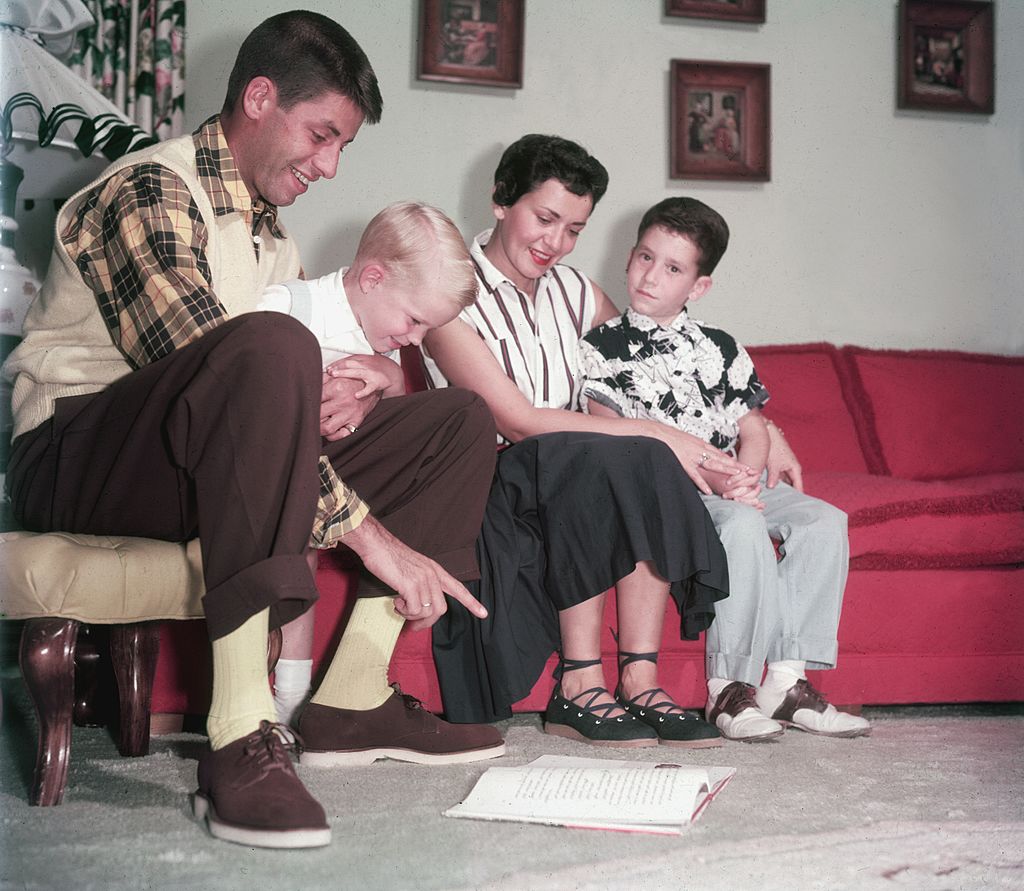 American actor and comedian Jerry Lewis sitting on a couch with wife, Patti Palmer, and their two sons, Gary and Ronald circa 1960 | Photo: Getty Images
LEWIS'S HEIR
The actor proved who was family and worthy of his inheritance when he passed on his 50 million dollars estate to his widow SanDee Pitnick. Danielle is second in line to his wealth if anything happened to Pitnick.
The word "intentionally" was unmistakably noted in the will, which made it clear Lewis intended to disinherit his and Pamela's children. It is clear the actor and his kids have an estranged relationship.
The comedian did not state the reason for his decision, and he has the right to share his property the way he wishes. It also appears that Lewis didn't want his decision altered as he could have kept his will and financial affairs private, but he chose to make it known to all.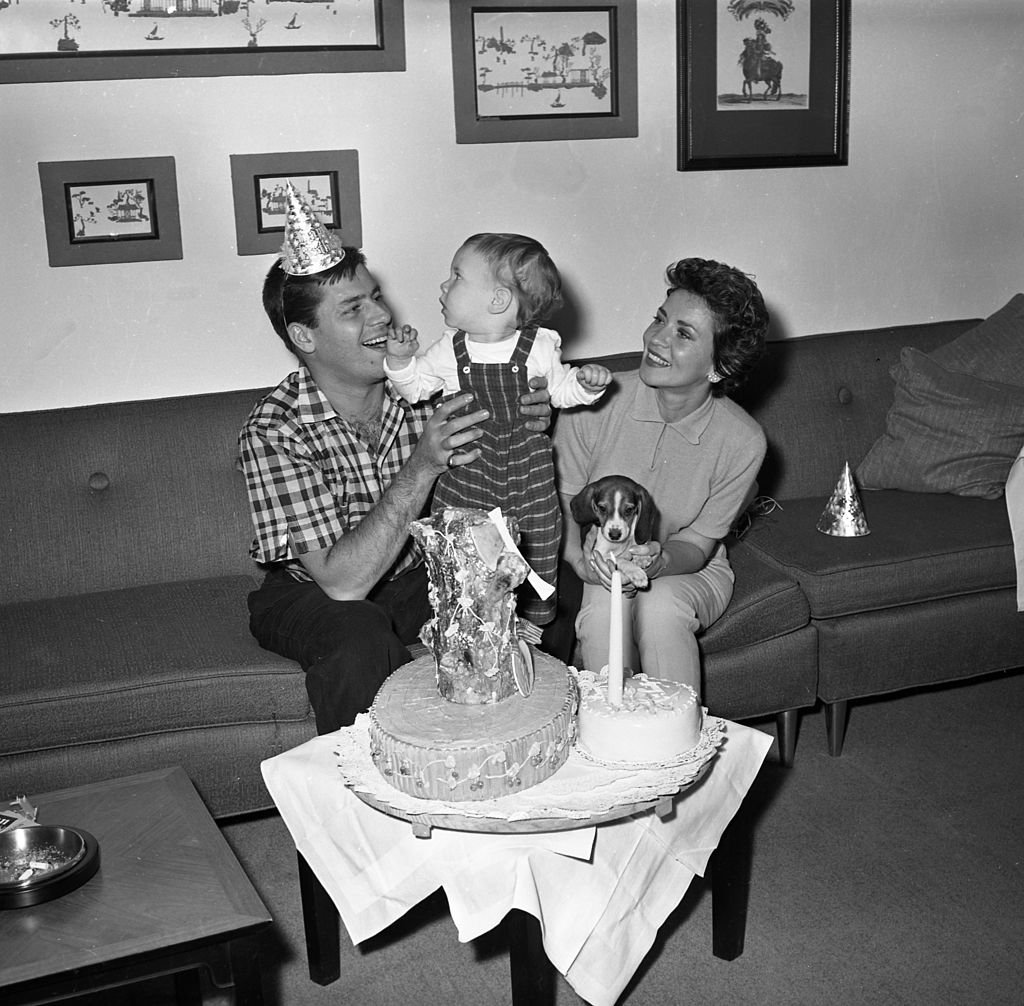 Jerry Lewis backstage at the RKO Palace Theater with his wife Patti Palmer and son Scott Anthony Lewis on Broadway on February 7, 1957 in New York | Photo: Getty Images
Born Joseph Levitch on March 16, 1926, Lewis grew up in Newark, New Jersey, with his Jewish family. His father, Daniel Levitch, better known for his stage name Danny Lewis was a master of ceremonies and vaudevillian.
His mother, Rachel Levitch, known as "Rae," was a WOR radio pianist and Danny's music director. Before Lewis rose to stardom, he performed with Dean Martin at the Glass Hat Club in New York City after they met in 1945. The two later became famous as Martin and Lewis on July 25, 1946.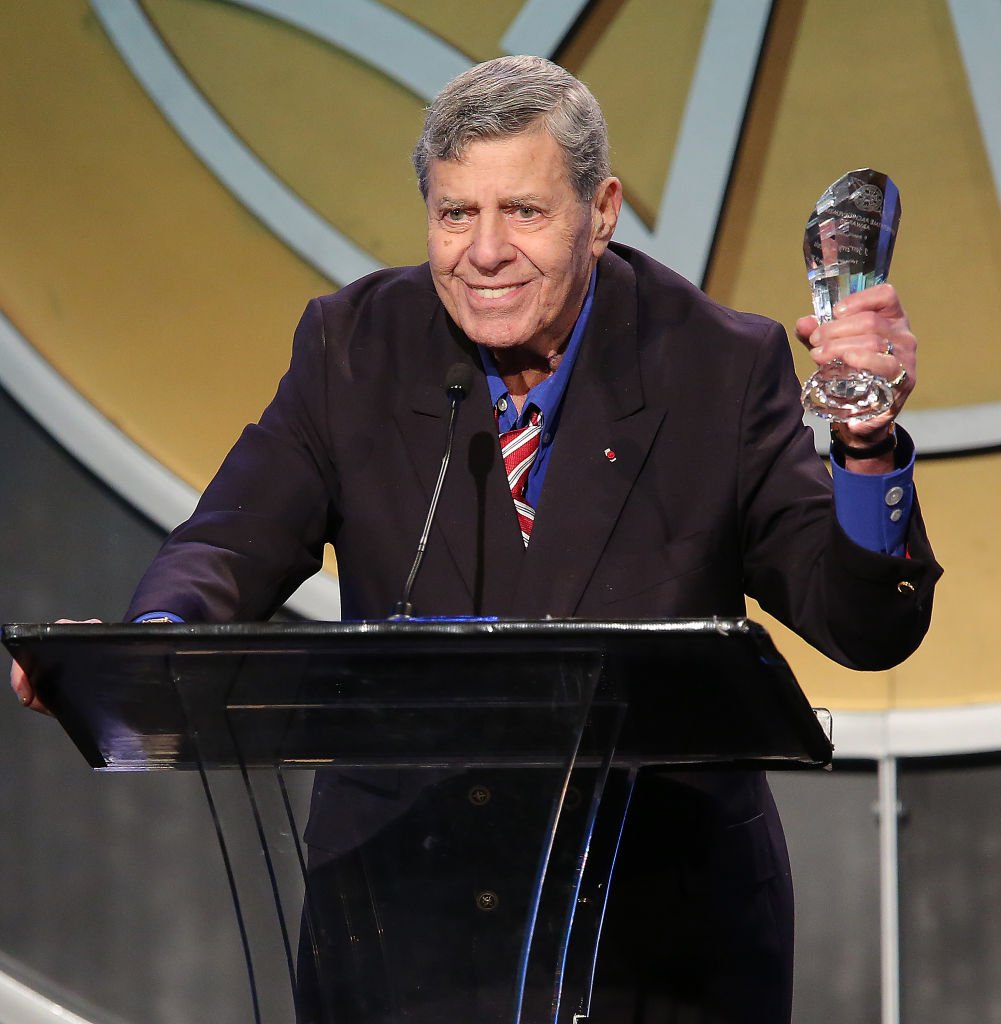 The Lifetime Achievement Award recipient Jerry Lewis at the 51st Annual ICG Publicists Awards held at the Beverly Wilshire Four Seasons Hotel on February 28, 2014 | Photo: Getty Images
Martin and Lewis rose to national prominence, performing at a nightclub and as stars of their radio program "The Martin and Lewis Show." In 1950 the two signed with NBC as one of the weekly hosts of "The Colgate Comedy Hour."
Over the years, Lewis made appearances in about 60 movies, including 1960's "The Bellboy," "Cinderfella" in 1960, "The Day The Clown Cried," "The Family Jewels," 1961's "The Errand Boy" and 1964's "The Disorderly Orderly. "
Please fill in your e-mail so we can share with you our top stories!
The information in this article is not intended or implied to be a substitute for professional medical advice, diagnosis or treatment. All content, including text, and images contained on news.AmoMama.com, or available through news.AmoMama.com is for general information purposes only. news.AmoMama.com does not take responsibility for any action taken as a result of reading this article. Before undertaking any course of treatment please consult with your healthcare provider.