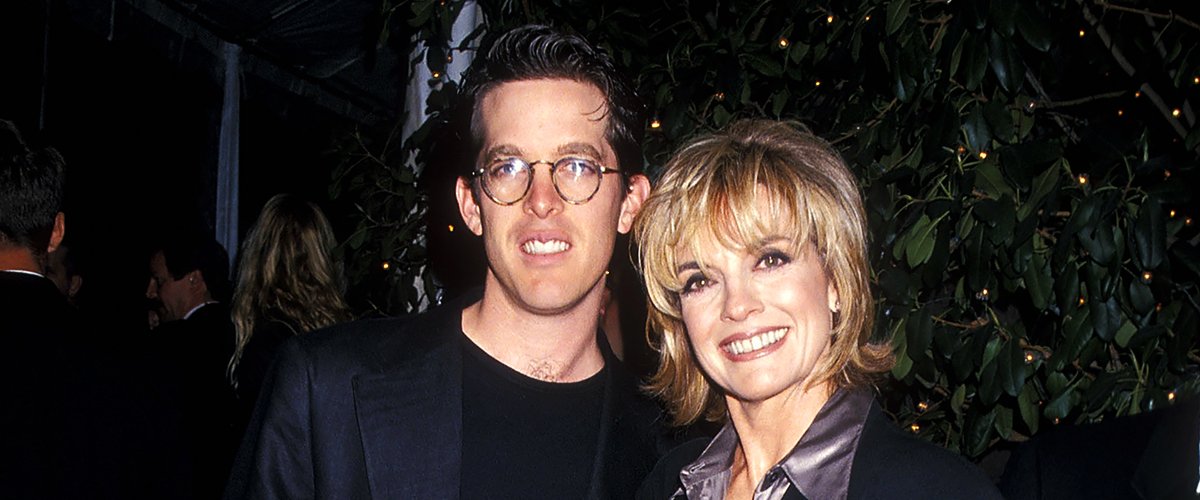 Getty Images
'Dallas' Star Linda Gray's Life Tragedies Including Untimely Death of Son & 'Loveless' Marriage

Linda Gray adored her late son Jeff dearly and revealed being his mother was an honor. She shared sweet memories with him while cooking up a storm in the kitchen.
On November 23, 2020, actress Linda Gray announced the passing of her son Jeff Thrasher with an Instagram post tribute sharing what kind of person he was. She captioned her post:
"A celebration of my son Jeff's life. He was the kindest, funniest, sweetest human being."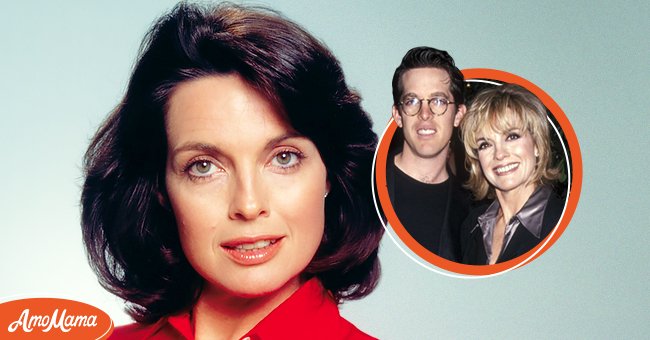 An up close shot of Linda Gray in association with the television program, Dallas in February 1978, the next photo shows her and her son Jeff Thrasher attending the 37th Annual Grammy Awards After Party on March 1, 1995 at the Four Seasons Hotel in Beverly Hills, California | Photo: Getty Images
MOURNING HER CHILD
Gray said her child brought the world such love and was loved by everyone. She also wished him a magical journey, alongside heart, pray, cry, and bike emojis.
Gray posted an image of Jeff riding a bike with his back turned away from the camera along with the post. She shared another photo of his name written on beach sand encircled with a heart.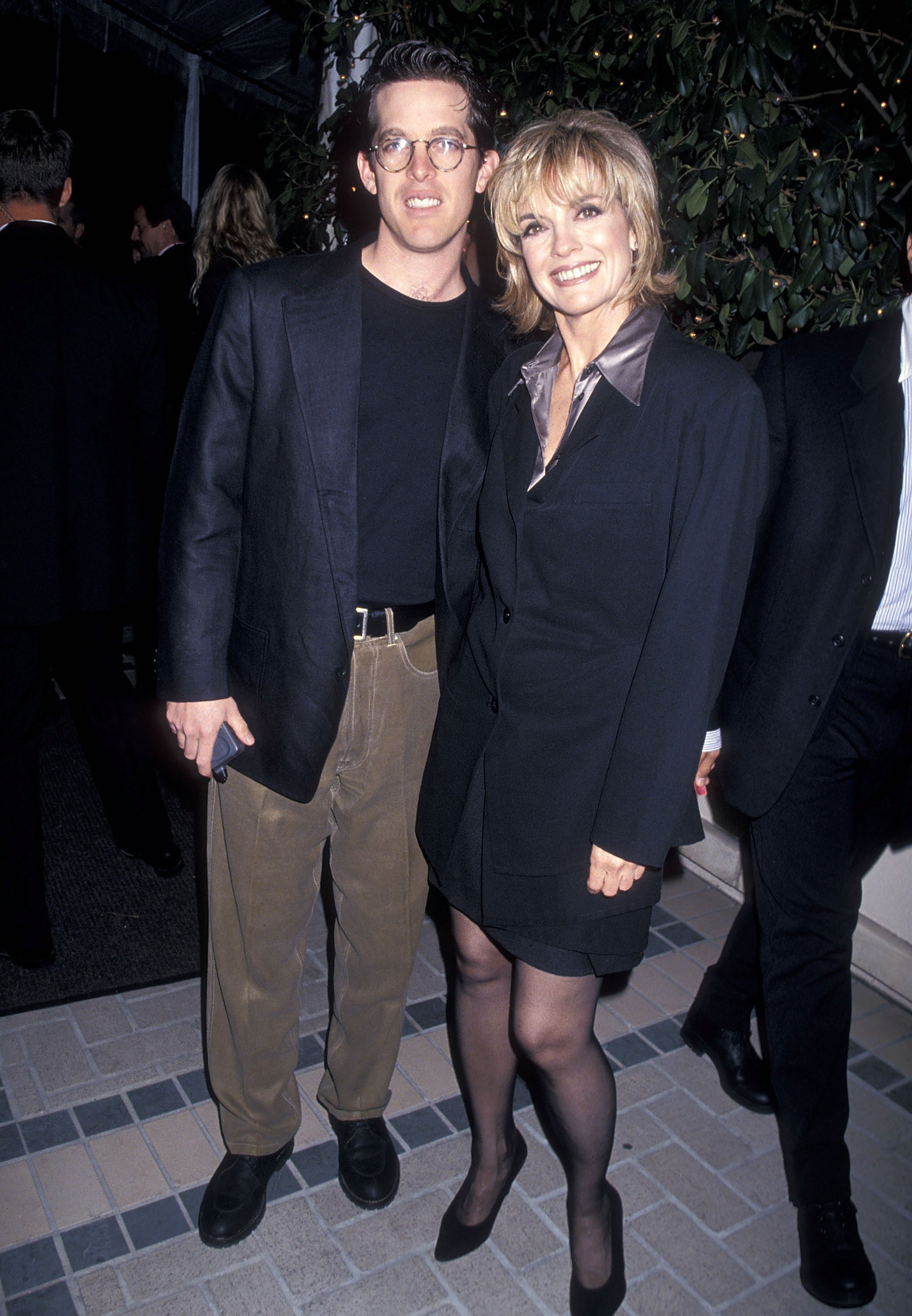 Actress Linda Gray and her son Jeff Thrasher attend the 37th Annual Grammy Awards After Party on March 1, 1995 at the Four Seasons Hotel in Beverly Hills, California | Photo: Getty Images
Three days later, she paid homage to him once again on her Instagram account. Gray shared she has a lot to be grateful for and that being his mom was an honor. She wrote:
"I have such sweet memories of cooking with him. He always carved the Turkey and made his special cranberry sauce."
Gray also posted another snapshot of the mother and son duo posing in the kitchen, showing their happiness, with a Turkey in full display.
ABOUT JEFF
Jeff was a director and an award-winning producer. He boasted 15 years of documentary film, television, and marketing experience.
He was a passionate, adventurous, and highly skilled storyteller. His documentary Mission Asteroid was also nominated for a Canadian Screen Award.
HIS PARENTS
Regarding his passing, Soap Hub revealed he had been battling leukemia. His father was Ed Thrasher, whom Gray married from 1962 until 1983.
The former couple also has a 55-year-old daughter named Kelly Thrasher, who is married to Lance Sloane. Kelly and Lance have two children together.
THEIR MARRIAGE
In September 2015, Gray got candid about her marriage to Thrasher in her book "The Road to Happiness is Always Under Construction."
Gray married Thrasher when she was only 21 years old. She realized she had made a mistake the first night of their honeymoon in Acapulco and explained:
"Because we had sex, I thought, 'Oh now I'm an adult, a woman,' but I didn't feel loved and nurtured."
Instead, she felt abandoned. The next day, Thrasher left her all alone in the hotel all day while he went out taking photos. This event established a hostile environment that continued throughout their marriage.
The "Dallas" actress said it broke her, but she believed she could make it work somehow, and she did exactly that. Gray said it took her 21 years to leave her abusive marriage.
TOUGH CHILDHOOD
Gray experienced a difficult childhood growing up in Culver City, Los Angeles. As a result, the actress stayed in her abusive marriage to escape her unfavorable situation back home.
When she was only five years old, the former model contracted polio and was quarantined for months in her bedroom. Thankfully, she made a full recovery.
Afterward, she and her sister Betty had to deal with their mother Marge's heavy drinking. At times she would even forget to buy food leaving Gray to do the cooking.
She admitted that she and her sibling did not like their mom. Marge eventually ended up going to Alcoholics Anonymous and stopped drinking.
HER AMBITIONS
Gray shared that if she did not pursue her acting career, the same thing could have happened to her. At first, she had ambitions to study medicine.
However, growing up close to film studios meant she would be drawn to acting instead. She and her friends used to hang outside the studios after school, collecting autographs from stars.
Gray then started modeling in her teens for skincare companies and several airlines. However, marriage to Thrasher halted her promising career as the only role he expected of her was that of a wife and a mother.
GRAYS' CAREER
Still, she followed her calling and took acting classes. However, it did not make the art director happy, but she did it anyway. Gray started taking acting lessons at age 37.
She was encouraged by fellow actor Dennis Weaver who spotted her talent. The producer landed her first acting gig as a guest star on the TV show "Marcus Welby MD" in 1974.
When she turned 38, she got her big break when she auditioned for the role of Sue Ellen and bagged the job that would change her life.
She moved to Texas for two months to film, leaving her husband and kids aged 11 and 13. Gray expressed guilt about up and moving, saying:
"I could have turned it down. Leaving children at any age is tricky, but I did the best I could to juggle everything."
The drama series ran for 14 seasons from 1978 to 1991 and broke viewing records internationally. Amidst all of that, Gray still felt guilty about spending time away from her children.
LIFE AFTER 'DALLAS'
As her career thrived, her marriage fell apart. However, she told Hello Magazine in 2015 that she was content with being a single woman.
Gray said many women are fulfilled on their own and do not want a partner as they want freedom. At the time, she had been single for 33 years.
In June 2016, she opened up about life after portraying Sue Ellen. When she and Thrasher divorced, they remained close friends, and she was with him when he died of cancer in 2006.
Afterward, Gray delved deeply into a different life, saying she felt the discretion to find herself as she did not have time for therapy. She explained she wanted to know who she was and why all those things happened in her life.
It dawned on her that she should roll up her sleeves because she was "going to work." Soon after, Gray was filled with radiance and felt the need to find out more about herself.
Please fill in your e-mail so we can share with you our top stories!