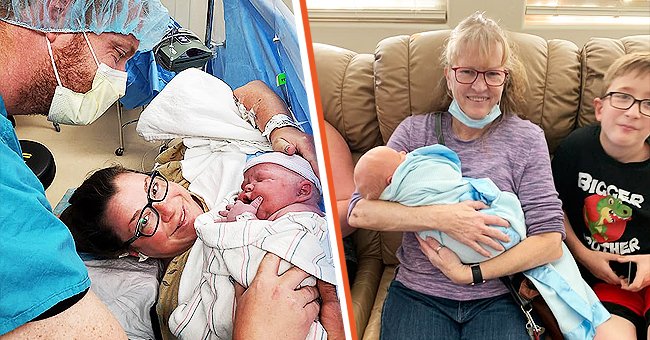 facebook.com/cary.patonai
Woman Gives Birth to Baby Weighing 14 Pounds, Shares a Bunch of Photos
An Arizona couple's bundle of joy turned out to be so big that they couldn't stop gushing. The mother also revealed that her baby was reportedly the largest one her doctor had delivered in over 27 years.
One of the most precious joys a couple can ever experience is embracing parenthood. When a mother sets eyes on her sweet little baby for the first time, her pain, hurt, and trauma subsides and a wave of gratitude and love washes over her.
Cary and Tim Patonai experienced parental bliss firsthand when their newborn son, Finnley, turned out to be bigger than his other two siblings. He was born on October 4, 2021, at Banner Thunderbird Hospital, and weighed in at 14lbs, 1oz.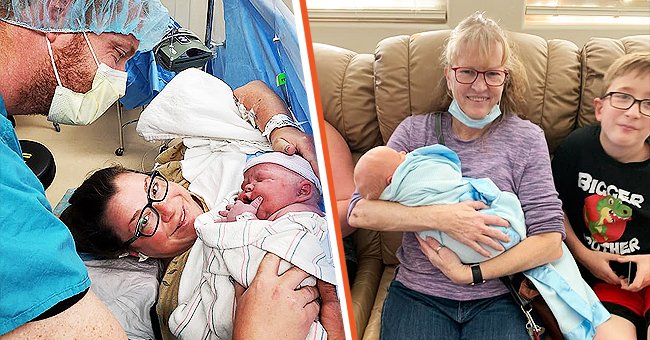 The Patonai family pictured with their son, Finnley, who weighed in at 14 pounds. | Photo: facebook.com/cary.patonai
BIG BUNDLE OF JOY
Finnley was born at 38 weeks, and his parents said they already had a faint idea regarding his big size. According to Cary's last ultrasound, Finnley had weighed in at 13lbs, but the nurses had ruled it out as a probable error. Cary also shared:
"As soon as they pulled him out, they're like, 'oh my gosh, that's huge!' Everybody was freaking out like I've never seen a baby that big I can't believe it. He's definitely my squishy little honey bear."
The Patonais also think that their baby might be the largest one ever born at the Banner Thunderbird hospital, even though the medical staff has refrained from confirming the statement owing to patient confidentiality laws.
Regardless, Finnley instantly became a "little celebrity" at the hospital, and everyone wanted to take pictures with him. He was born through C-section, just like his elder brothers, 10-year-old Devlen, and 2-year-old Everett. Cary further commented:
"He [Finnley] is so big compared to what they are used to, they had to special order his size 2 diapers because they only carry sizes preemie to newborn and size 1 (sic)."
At the time of birth, Devlen had weighed in at 8.2 pounds, while Everett's weight was 11.1 pounds. Cary also added that all three of her children were delivered by the same doctor.
Finnley was born after Cary experienced 19 miscarriages, due to her blood clotting disorder and fibroids. After his birth, he had to stay in the NICU for 8 days, which was indeed a hard time for his parents. Regarding her experience, Cary said:
"[It] slowed my healing progress. But, I did it for my baby Finnley, he is worth every ounce of pain, blood and tears shed."
The Patonais have finally taken their big bundle of joy home, where he gets to stay in the love and protection of his older brothers. Cary's motherhood journey was indeed a tough one, but her perseverance eventually filled her life with joy.
A BIG SURPRISE
It seems that Finnley isn't the only big baby who stunned the hospital staff and brought immense happiness to his parents. In April 2021, another mom shared a viral TikTok video featuring her whopping 6.5 kg (14.3lbs) newborn. She further expressed:
"At 38 weeks and one day, I had my second son via C-section with two doctors assisting because he came in at a whopping 14 pounds, point six ounces (sic)."
The TikToker @shans1588 revealed that her son stayed in the NICU for 11 days, where he was the biggest baby. He didn't even fit in the diapers or clothes meant for newborns, so he had to be accommodated as per his huge size.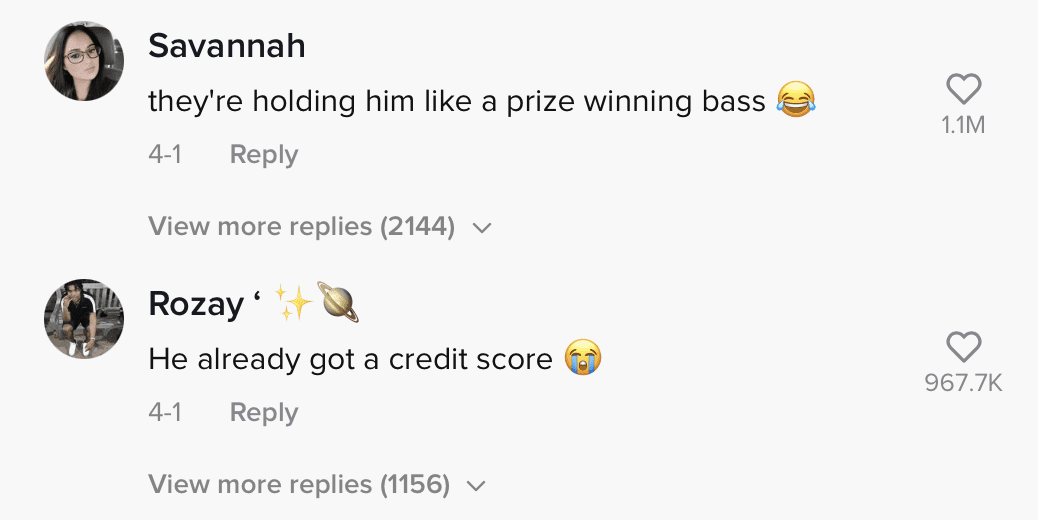 Several netizens chimed in with amusing comments on the big size of the TikToker's baby. | Photo: tiktok.com/shans1588
The viral video has amassed 45.2 million views so far, with several netizens eagerly sharing their opinions. One person chimed:
"He came out a grown man (sic)."
Another user wrote: "That baby drove himself home from the hospital." The mom also shared another video, which included adorable pictures of her baby growing up. She shared that her Baby J is now 5, and loves baseball, football, and monster trucks.
A MIRACLE BABY
While Baby J and Finnley shook the world with their enormous size only recently, a miracle baby astounded his mom and several others in 2019. Harvey Buckley was born on March 12, 2019, through C-section and weighed in at 15 lbs, 15oz.
His mother lovingly called him a "miracle baby" because she welcomed him with only a 15 percent chance of conceiving naturally. She had been diagnosed with polycystic syndrome, which resulted in pregnancy complications.
Buckley was initially placed in the NICU to monitor his blood and glucose levels but was soon discharged. Undoubtedly, parental bliss is a luxurious feeling, and the joy only multiplies when your baby literally turns out to be a huge bundle of joy.
Please fill in your e-mail so we can share with you our top stories!
The information in this article is not intended or implied to be a substitute for professional medical advice, diagnosis or treatment. All content, including text, and images contained on news.AmoMama.com, or available through news.AmoMama.com is for general information purposes only. news.AmoMama.com does not take responsibility for any action taken as a result of reading this article. Before undertaking any course of treatment please consult with your healthcare provider.