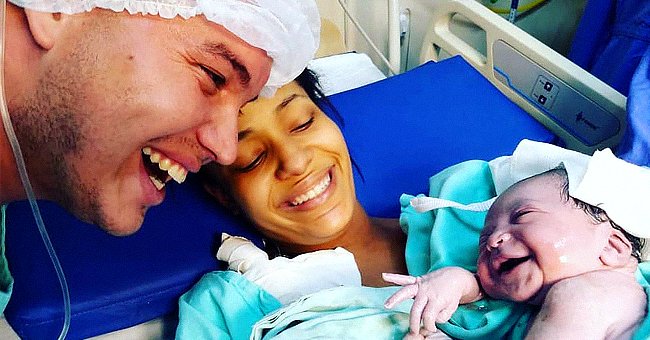 instagram.com/flavio.vilela
Baby Smiles at Dad Moments after Birth Following Months of Hearing His Voice in the Womb
A newborn was captured smiling from ear to ear after recognizing her father's voice, which she previously only heard through the womb.
Perhaps no other moment can compare to a parent seeing their newborn for the first time. However, nothing can beat the time an infant smiled at her father shortly after birth.
Flavio Dantas is the proud dad of smiling Antonella. He shared the magical moment they locked eyes for the first time on Instagram.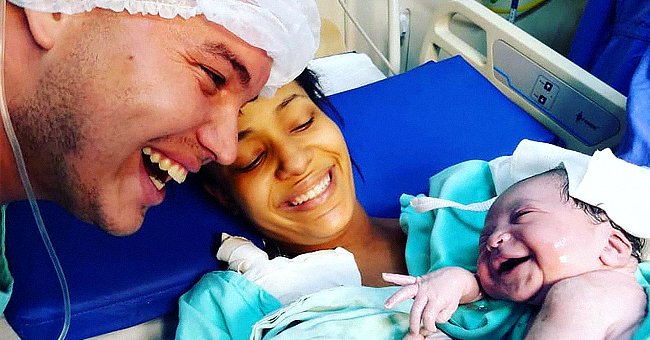 Flavio Dantas smiles at his daughter shortly after she was born. | Source: instagram.com/flavio.vilela
HEARING THE VOICE OF DAD
In his caption, Dantas admitted that he couldn't put into words how he felt. When Antonella was still inside her mother's womb, he would always talk to the little one. He wrote:
"I told her that Dad was there and that I was going to be the best father in the world!"
Dantas was excited to meet his little one, but when he finally saw Antonella, she seemed more excited to meet him. While her mother lay in a hospital bed holding her, she looked at her father and smiled from ear to ear upon hearing his voice.
Usually, babies begin to smile at six to twelve weeks old.
The captured moment showed the proud father's happiness as well as his wife's joy while looking at their precious daughter. Antonella is one of the few babies who can already smile at such an age.
SMILING AT FIVE DAYS OLD
Like Antonella, five-day-old baby Freya made the news for giving a sweet smile at the camera. Born prematurely, she weighed less than four pounds at birth and regained strength at the neonatal intensive care unit. Her mother, Lauren Vinje, shared:
"Our first daughter at five days old. 3 lbs. 14 oz., she was happy to be alive!"
Usually, babies begin to smile at six to twelve weeks old, and every time they do, their parents beam with joy. For some, they consider smiling a milestone.
Such was the case for Shad "Bow Wow" Moss when his little boy, Stone, smiled for the camera. The cute video made its way online and had fans gushing over the baby's adorable face.
The video showed Stone on a baby chair with a colorful bib around his neck. While looking cute at the camera, Stone showed his two front teeth as he smiled widely.
Moss is usually a private person, but when it comes to his kids, he doesn't hold back in sharing how adorable they are with the world, as would other parents.
Please fill in your e-mail so we can share with you our top stories!