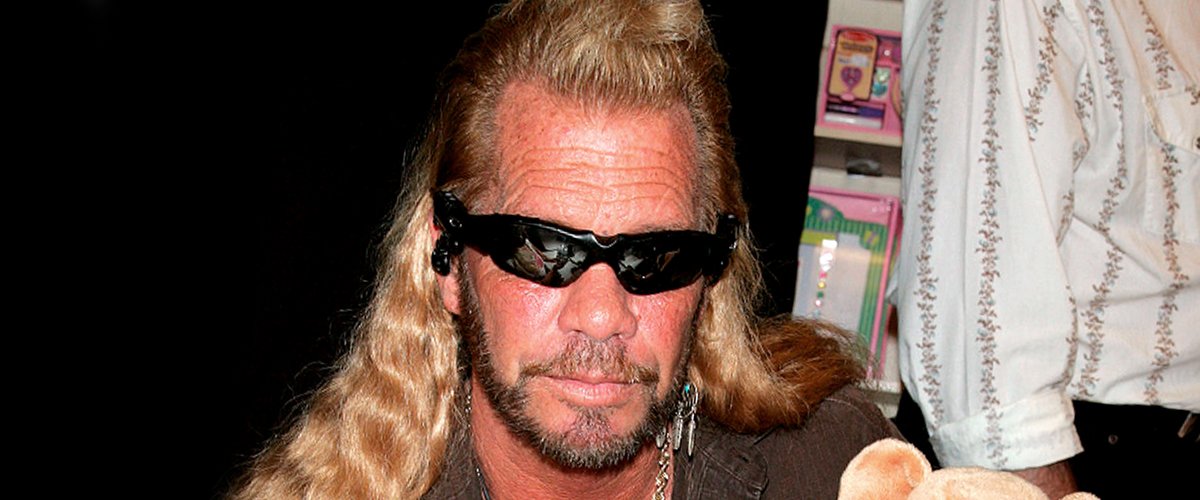 Getty Images
Dwayne Chapman's Relationship with Guards in Prison Launched His Career as a Bounty Hunter
Duane Chapman's years in the reality show business have been productive and entertaining. Audiences stay glued to the action from his show, but the inspiration for Chapman's career came from the most unlikely place.
Duane Chapman is both controversial and entertaining to his fans and those on the other side of the fence. Chapman is an American television personality star, bounty hunter, and former bail bondsman.
The 68-year-old became famous as a bounty hunter in 2003, following the successful capture of Max Factor's heir, Andrew Luster, in Mexico. Factor had escaped from the US while undergoing trial for rape and abuse of women.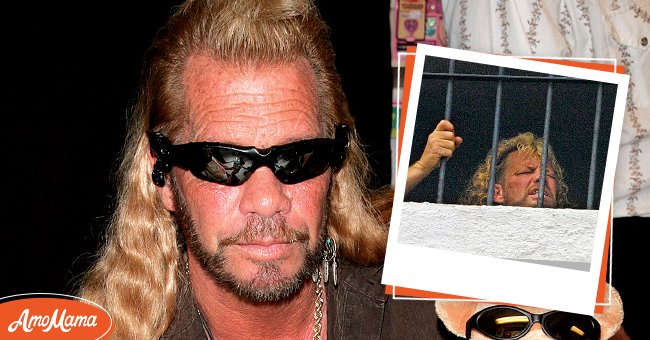 TV Personality Duane "Dog" Chapman at Bookends on August 9, 2007 in Ridgewood, New Jersey [left]. Duane "Dog" Chapman behind the bars of the police station in Puerto Vallarta, in Mexico on June 19 2003 [right] | Photo: Getty Images
Since then, Chapman and his team, consisting of family members, have become superstars in show business, especially for their ability to fish out criminals from their hideouts.
Chapman gained further prominence in the smash A&E show "Dog the Bounty Hunter," which followed his exploits of finding bail jumpers in his fashionable shades and platinum blonde hair.
The show, which premiered in 2004, lasted eight seasons and ignited America's interest in a different kind of reality television show. However, in 2019, following the untimely death of Chapman's wife Beth after a battle with cancer, he decided to take a hiatus from reality television.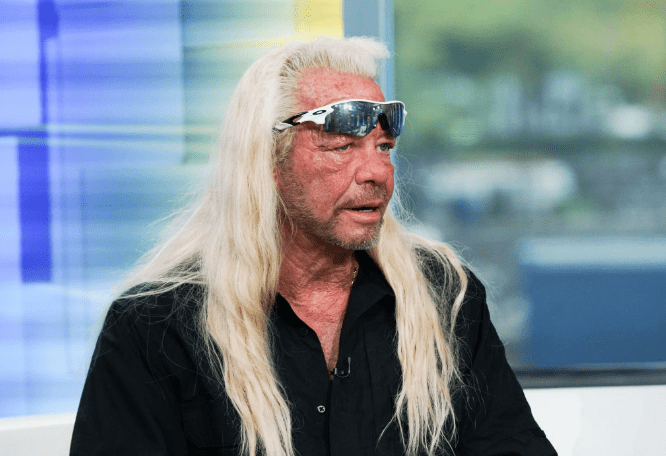 TV personality Duane Chapman aka Dog the Bounty Hunter visits "FOX & Friends" at FOX Studios on August 28, 2019 | Photo: Getty Images
WHO IS CHAPMAN?
Born in 1953 to Wesley and Barbara, Chapman is the oldest of four children, with two younger sisters and one brother. His mother was an Assembly of God minister who instilled her Christian beliefs in her children.
Chapman had a rough experience growing up, including drug deals and several brushes with the law. Unfortunately, he was convicted of first-degree murder after a friend's botched cannabis deal in 1976.
The reality star was imprisoned in the Texas State Penitentiary in Huntsville and while in prison, his first wife, LaFonda, divorced him and married his best friend. Chapman undertook field labor and served as the warden's barber during his sentence.
In a 2007 interview with Fox, Chapman opened up on his experience going to prison. He claimed that his time in jail served as the inspiration for the reality show he would later be known for.
Chapman insisted that he had no hand in the murder, but he explained being with a guilty party was a crime back in those days. Chapman later realized he should have called the cops after his friend killed their dealer.
Life in the prison was new, but Chapman quickly adapted to it. As the warder's barber, he became friends with the guys in prison and even witnessed a life-changing moment while in custody.
THE BIG MOMENT
During his interview, Chapman recalled seeing a prisoner attempting to escape, and he quickly swung to action, caught the inmate, and waited for the officers to take over. He said:
" And as the guard walked up when I was on top of the inmate apprehending him, and he threw down the handcuffs and said, "Hook him up, bounty hunter."
Chapman's good behavior while behind bars ensured that he only served a year and a half of his five-year sentence. The guards at the prison held him in high regard and affectionately called him "bounty hunter."
Upon leaving prison, Chapman was saddled with several bills, including child support from the many children he fathered with several women. The judge in charge of his hearing encouraged him to become a bounty hunter and pay off his huge debt.
Fortunately, the reality star was already considering a career as a bounty hunter, so he turned his life around. Consequently, Chapman began aiding the law in bringing criminals who had tried to escape to justice.
Life after prison was not always so easy for Chapman. He calls his conviction a stain that would remain with him always, which he is never proud of, even if it helped him become who he is.
Aside from the social stigma of being an ex-convict, Chapman, who was not allowed to get a license, faced several difficulties from his family. On the bright side, the difficulties strengthened his resolve to become a better person.
MORE LEGAL WOES
After prison, Chapman and his team, his son Leland and his associate, Tim, ran into some troubles with the law; they were arrested in Mexico and charged with "deprivation of liberty."
This happened after they captured Andrew Luster, the great-grandson of cosmetics giant Max Factor Sr. in the country. After their escapade with the law, they were granted bail. Chapman and his people left the country and on leaving Mexico, they became international bail-jumpers.
ARREST AND ACQUITTAL
Chapman, Leland, Tim upon arriving in America were detained by US Marshals and jailed in Honolulu on behalf of the Mexican government on September 14, 2006, just days before the statute of limitations expired.
Chapman later claimed that his detention was linked to a planned prisoner swap. He believed the US federal officials allegedly sold him out by exchanging him for a convicted Mexican drug kingpin.
All criminal accusations against Chapman, Leland, and Tim were dismissed on August 2, 2007, by the First Criminal Court in Puerto Vallarta, Mexico, because the statute of limitations had elapsed. All pending charges were effectively canceled as a result of the order.
THE ICONIC SHOW
After decades of being a bounty hunter and conducting several interviews, A&E decided to create an ongoing reality series around his bounty hunting job. In 2004, the first season of "Dog the Bounty Hunter" made its television debut.
After eight seasons, the show was canceled. In 2013, Chapman announced a new series, "Dog and Beth: On the Hunt," which featured Chapman, his late wife Beth, and his son Leland visiting failing bail bond agencies and sharing tips on how to capture fugitives and turn their business around.
Please fill in your e-mail so we can share with you our top stories!