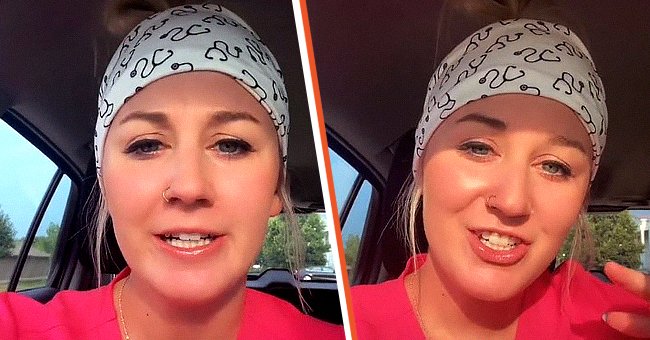 tiktok.com/jordannnagelrn
Nurse Is Shamed by Patient's Wife Because Her Pants Aren't Baggy
A nurse took to TikTok to vent her frustrations after being body-shamed by a patient's wife who felt scrubs needed to look a certain way.
TikTok user Jordann shared a video where she recounted her frustrating encounter with a "Karen" while attending to a patient at work.
Jordann, who worked as a nurse, recalled going to a patient's bedside to check his vital signs one last time before his discharge from the hospital.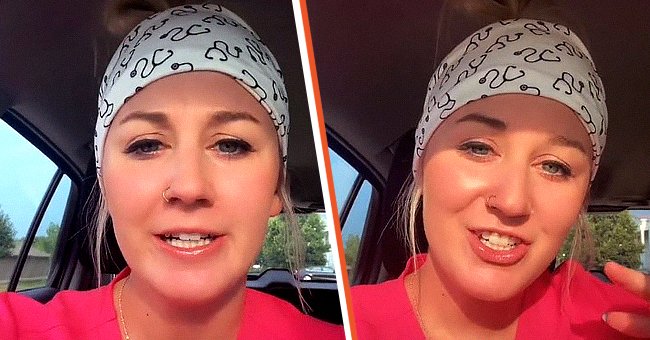 A picture of the viral nurse from the TikTok video | Photo: tiktok.com/jordannnagelrn
While doing that, the patient's wife, who sat observing her all along, suddenly commented on her uniform, saying it was interesting.
Thinking she was referring to the bright color of her scrubs, Jordann quickly agreed, adding that she liked them that way. But the woman clarified she was not referring to the color, leaving Jordann confused. Before she could voice her confusion, the woman chipped in:
"They're a little tight, don't you think? Aren't scrub pants supposed to be baggy?"
Jordann was wearing red FIGS scrubs, which usually came in a jogger-like style, in contrast with the conventional baggy bottoms. She explained to the woman that the scrubs happened to be her preferred style. She also pointed out that most of her colleagues also opted for it.
But rather than accept the nurse's genuine explanation, the "Karen" took another stab at her, saying pants like Jordann's were the reason nurses were being sexualized at work. Trying to keep herself from breaking down, the stunned nurse divulged:
"And I was like… I've never really felt sexualized in my uniform, until now."

A netizen's comment on the viral TikTok video | Photo: tiktok.com/jordannnagelrn
Despite Jordann's explanations, the woman refused to back down. She went on to tell the nurse to stick to looser or baggy scrubs if she did not want to be sexualized by patients. Unable to take the woman's judgmental retorts any longer, the nurse finally blurted
out
:
"Yeah, because my outfit is the problem, not your pervy husband. Okay bye."
The outburst seemed to shut the woman up for good, availing the nurse an escape route. The video has been viewed more than 3.8 million times, garnering over 500 thousand likes.

A netizen's comment on the viral TikTok video | Photo: tiktok.com/jordannnagelrn
Several TikTokers reacted to the post, extending their support to the body-shamed nurse while calling out the "Karen." Other nurses also showed support to Jordann, saying nurses deserved the freedom to style their uniforms as they deemed fit like other professions.
Some recounted their shrewd experiences at work in the hands of pervy patients who tried sexualizing them despite wearing the "supposed" baggy pants.

A netizen's comment on the viral TikTok video | Photo: tiktok.com/jordannnagelrn
Many tried explaining that nurses getting sexualized went beyond their choice of outfits, as some of the attitudes required of a professional nurse often sent the wrong signals. One wrote:
"Nurses are sexualized because we were usually being nice to and serving our patients and many people seem to think it's not part of the job."
Notably, nurses are not always the victims of body-shaming. As in some cases, they turn out to be the perpetrators of such dehumanizing actions.

A netizen's comment on the viral TikTok video | Photo: tiktok.com/jordannnagelrn
Back in 2018, Glenview resident Julie Venn called out a nurse for poking fun at her 13-year-old daughter's weight gain during a routine checkup.
She later explained her actions, saying "girls needed to be empowered, supported and celebrated" rather than made to feel inadequate. Sadly, society often opts for the latter, making women conscious about their weight and looks from the cradle.
The repercussion of such actions often shows itself in relationships, where a partner targets a woman's self-esteem by ridiculing her physical appearance. Those forms of relationships are deemed abusive and unhealthy for the person at the receiving end.

A netizen's comment on the viral TikTok video | Photo: tiktok.com/jordannnagelrn
In 2018, a tweet by Shelby Johnson went viral, showing the barrage of text messages she received from her partner condemning her body shape and "her gut."
Thankfully, she gained support from netizens, who made her see just how abusive her partner of two months was. She eventually broke free from the relationship, learned to accept herself for who she was, and finally achieved that feeling of liberation she so much craved.
Please fill in your e-mail so we can share with you our top stories!