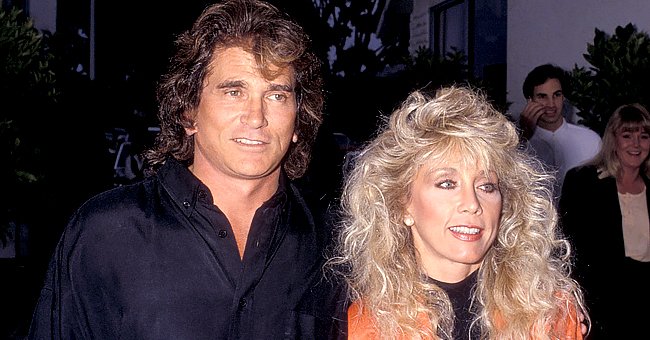 Getty Images
Melissa Gilbert Cut Off TV Dad Michael Landon after His Extramarital Affair with Young Woman
Michael Landon was a friend and father figure for Melissa Gilbert. Unfortunately, their relationship fell apart when he cheated on his second wife, Marjorie Lynn Noe, with a makeup girl.
During the '70s and early '80s, Michael Landon portrayed Charles Ingalls in "Little House on the Prairie." His character was a soft-spoken, family man who loved his wife Caroline (Karen Grassle) and was devoted to his children, including Laura (Melissa Gilbert).
Because of that role, people saw Landon as a pillar of morality and family values. Consequently, everybody was shocked (Gilbert included) when he cheated on his wife with a much younger woman.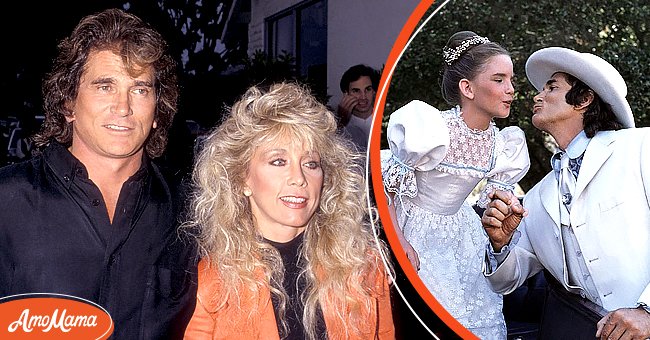 Michael Landon and wife Cindy Landon on June 2, 1989 at La Scala Restaurant in Malibu California [left]. Melissa Gilbert and Michael Landon in "Little House on the Prairie" circa October 1975 [right] | Photo: Getty Images
GILBERT'S TIME ON THE SHOW
When Gilbert auditioned for Laura's part in "Little House on the Prairie," she was only eight years old. However, when the final episode aired in 1983, she was 18, meaning she grew up in front of the cameras.
The actress confessed it could sometimes be awkward, especially when she had to shoot scenes kissing other actors. For example, when she was a teenager, her character fell in love with Almanzo, performed by Dean Butler.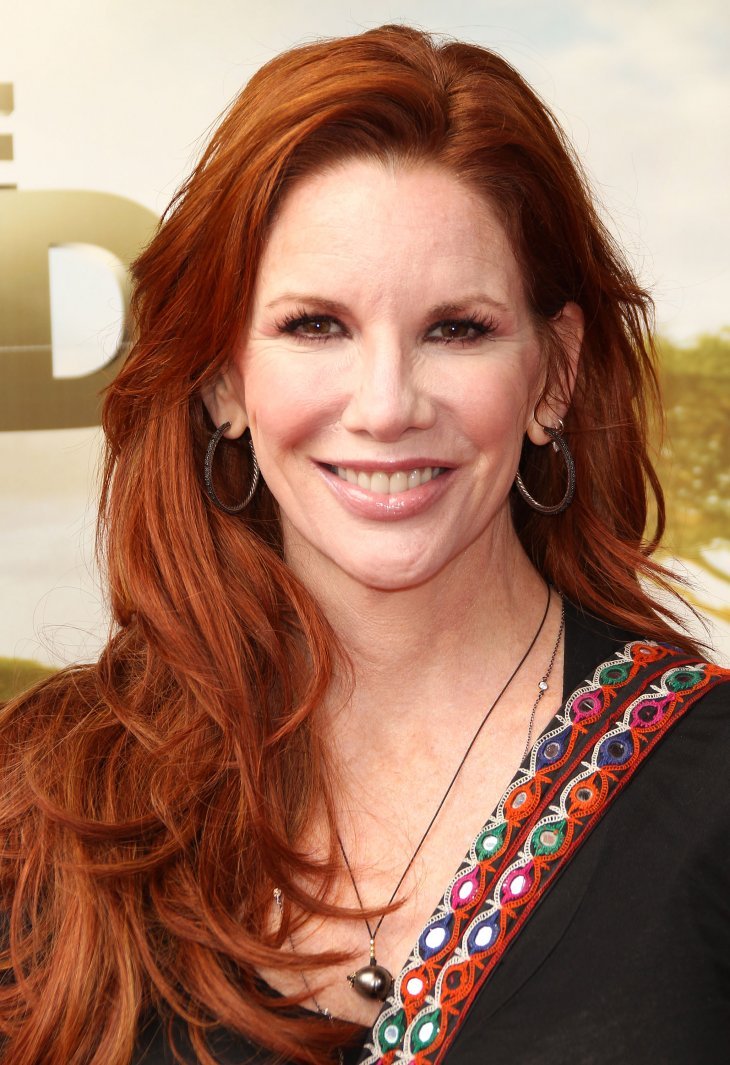 Melissa Gilbert on April 3, 2011 in Los Angeles, California | Photo: Getty Images
Butler was eight years Gilbert's senior, and he became the third person she ever kissed. It is important to point out that her last two kisses were also on TV. About it, Gilbert said:
"I was kissing a man who had to shave that morning, and I hadn't even ever shaved my legs. It's bizarre. I mean, he was a grown-up person with a car. He golfed!"
While growing up as one of the stars of arguably the most-watched TV show of the '70s wasn't always a walk in the park, Gilbert had fun. She once admitted it was like a "great summer camp," especially because she could dress up in "fantastic clothes."
"Little House on the Prairie" also gave Gilbert a close relationship with Landon and his family. Their friendship got even stronger in 1976 after her dad, Paul Gilbert, passed away.
[Gilbert] considered that something didn't seem right about Landon and Clerico's relationship.
She and her mother, Barbara Crane, would go on vacations to Hawaii with the Landons every Easter. To Gilbert's eyes, Landon and the rest of the show's cast and crew were like family.
That is why it was so hard for her to accept that Landon cheated on his wife of almost two decades, Lynn, with Cindy Clerico, a makeup girl over two decades younger than him.
LEARNING ABOUT THE AFFAIR
In Gilbert's memoir, "Prairie Tale," she wrote about the day she learned about the affair. Crane came into her room one morning and, with a bad-news face, she said that "auntie Lynn and Mike" were parting ways.
One of the things that shocked Gilbert the most was that she had seen it coming. For a while, she had considered that something didn't seem right about Landon and Clerico's relationship, especially the time they spent together.
Since nobody else was talking about it, Gilbert told Crane, but she thought Gilbert was crazy. Crane firmly believed that Landon and Lynn were nothing but devoted parents and would never part ways.
The actress confessed that the public and Landon's close friends, including herself and her mother, believed Landon was Charlies Ingalls's real-life incarnation and could never cheat on his wife. Still, it happened.
After informing Gilbert about the bad news, Crane said they needed to support Lynn and her children because more challenging times were around the corner.
However, Gilbert didn't know what to say or how to react, especially because her world was "dominated" by Landon, who was her boss and co-star. She wrote:
"'I have to work with Mike. I can't take sides, yet he's done something that's turned my world into angry, opposing sides.' I was put in a horribly uncomfortable position."
THE OUTCOME
Things turned ugly when the news made it to the media. Initially, he claimed that the affair didn't necessarily mean that his marriage ended. Lynn also said it was like a trial separation for them to evaluate their relationship.
The former couple tried to get back together and even planned a vows renewal ceremony – one that only their children would attend. However, it never happened.
Gilbert remained professional onset, but her and Landon's relationship was already broken.
Landon lost commercial endorsements, including one with Kodak, as a result of his affair. After he moved out of the family's home to a house in the Malibu Colony, his involvement in "Little House" got smaller.
As per Gilbert, she never received any guidance on how to deal with the situation. She only got one instruction: never talk about Landon in front of Lynn, and never talk about Lynn or Crane in front of Landon.
When she was on the set, she and the rest of the crew supported Landon because he was their boss and friend. It was a different situation at home as she and her mother, who always preached girl power, sided with Lynn.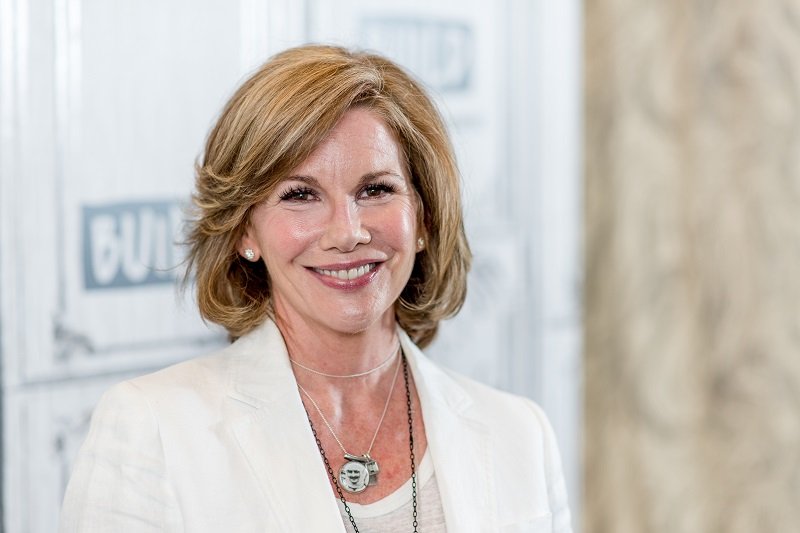 Melissa Gilbert on August 14, 2017 in New York City | Photo: Getty Images
BROKEN BOND
Landon and Clerico's relationship happened to be more than a fling as they tied the knot on Valentine's Day in 1983 and stayed together until he died of cancer in 1991.
The small, backyard beachfront ceremony was held in Malibu with just over 30 friends and family members invited. After that, they took the celebration to a fancy restaurant with 300 guests.
Unfortunately, the situation was too much for Gilbert to bear. She remained professional after the wedding, but her relationship with Landon was already broken.
Eventually, Gilbert completely cut him off. They spent years without talking and only reconnected in 1990, when Leslie, Landon and Lynn's daughter, married Brian Matthews.
Gilbert once acknowledged that Landon would be proud and thrilled that people still support "Little House" after all these years. She added that if he hadn't died, he would have been an "incredibly important voice to have."
Please fill in your e-mail so we can share with you our top stories!