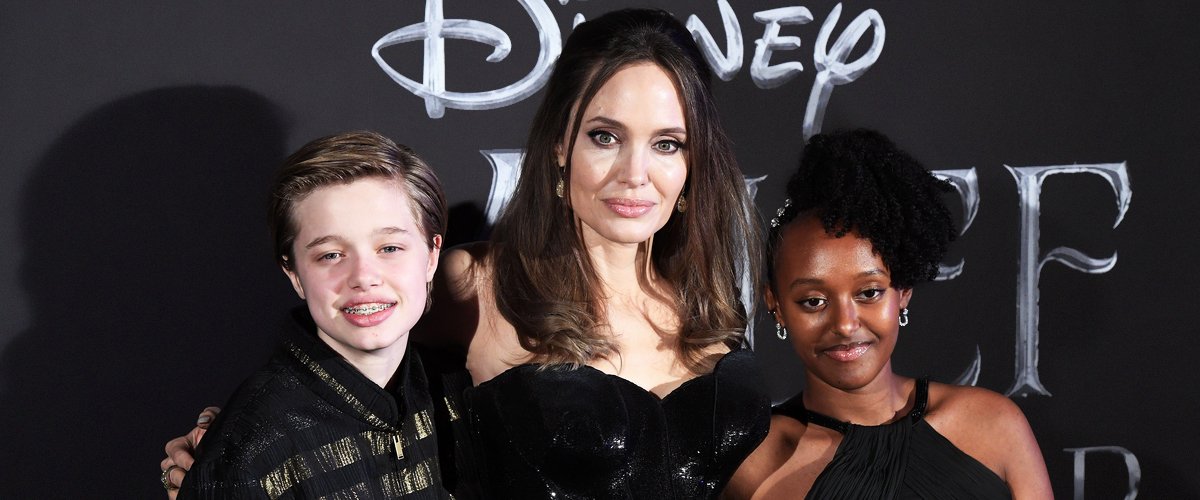 Getty Images
Meet Angelina Jolie's Daughter, Who Asked to Be Called John, Recently Stunned in Her 1st Red Carpet Dress
Movie star Angelina Jolie was the talk of the town when she stepped out with her kids for the "Eternals" movie premiere. During the family outing, fans observed a change in Jolie's daughter Shiloh.
Angelina Jolie has remained one of the top stars in Hollywood. Her career has seen her clinch some of the industry's top awards and feature in blockbuster movies like "Girl, Interrupted," "Salt," and "Maleficent."
Jolie is also known for her personal life, which includes her past marriage to actor Brad Pitt. Their divorce received wide media coverage as both stars battled over the custody of their children.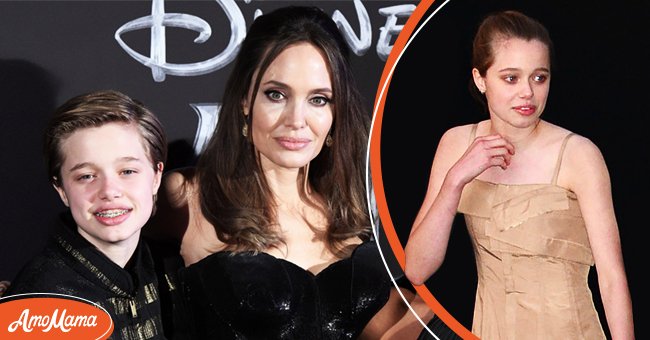 Angelina Jolie and Zahara Marley Jolie-Pitt attend the European premiere of the movie "Maleficent Mistress Of Evil" at Auditorium della Conciliazione in Rome on October 07, 2019 [left]. Shiloh Jolie-Pitt at the Los Angeles Premiere of Marvel Studios' "Eternals" on October 18, 2021 in Los Angeles, California [right] | Photo: Getty Images
The 46-year-old is known to be both passionate and protective of her kids. Recently, fans were pleased to see the entire pack during the premiere of Jolie's new movie, "Eternals."
JOLIE STEPS OUT WITH HER KIDS
The much anticipated "Eternals" is a Marvel movie directed by Oscar-winning Director Chloé Zhao and features popular A-listers like Kit Harington, Salma Hayek, and Kumail Nanjiani.
For the premiere, Jolie was accompanied to the red carpet by Maddox, 20; Zahara, 16; Shiloh,15; and twins Vivienne and Knox, 13. Her 17-year-old son Pax did not join the family for the red carpet moment.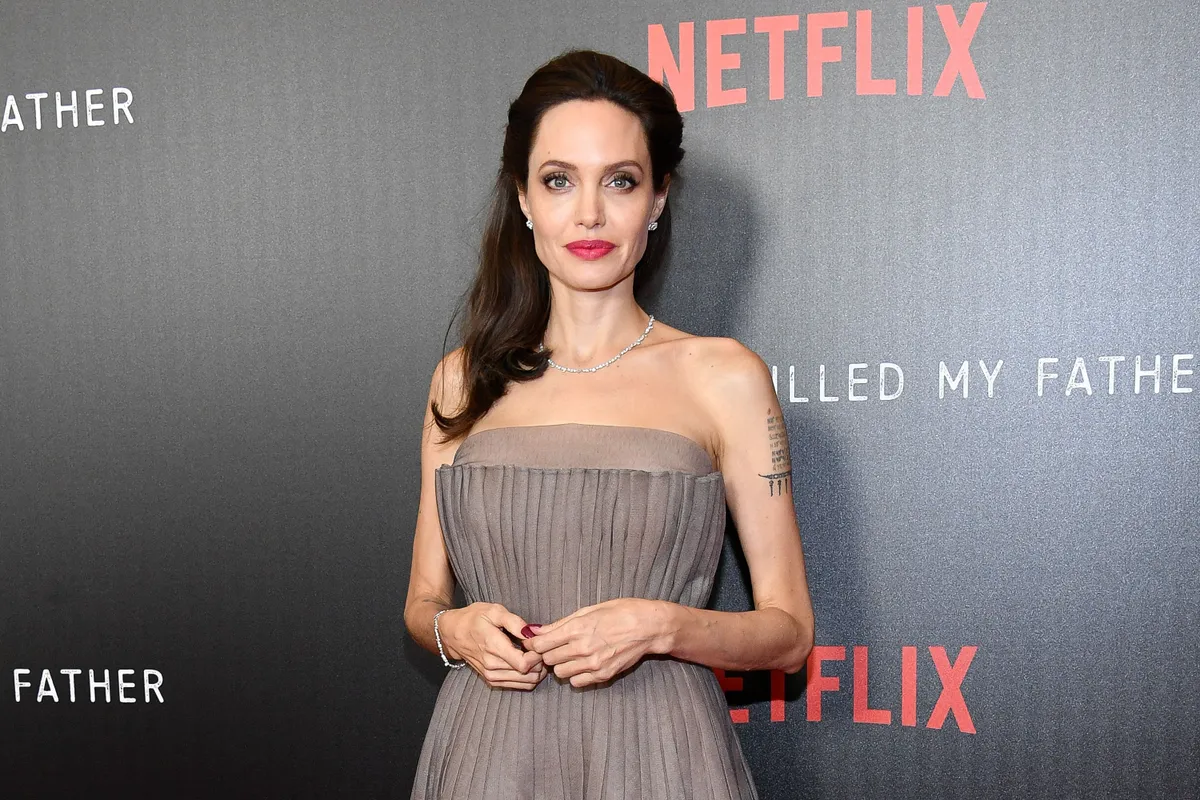 Angelina Jolie at the "First They Killed My Father" New York premiere at DGA Theater on September 14, 2017 | Photo: Getty Images
Maddox wore an all-black ensemble that included a jacket, a button-down top, and jeans for the day, while Knox wore an all-black ensemble of his own. On the other hand, Zahara looked dashing in a silver fringed dress Jolie wore at the 2014 Oscars.
Jolie's daughter, Vivienne, wore an off-white dress with elbow-length sleeves and white sneakers. The lady of the night, Jolie, looked stunning in a long strapless brown gown and jewelry, including a gold chin cuff.
SHILOH WORE A DRESS!
One surprising moment during the event was seeing Jolie's daughter, Shiloh, in a dress. The teenager is often spotted wearing more androgynous ensembles in public, but she chose to adopt a new look this time.
Posing outside the Dolby Theatre in Hollywood, Shiloh looked incredible, rocking a tan hanky hem dress paired with white leather ballet flat shoes and gold anklets.
Jolie's family has supported their daughter's decision to be treated like a boy, with her preferred gender being male. Last year, her father, Pitt, opened up on how proud he was of seeing his teenage daughter speak up for herself and her choice.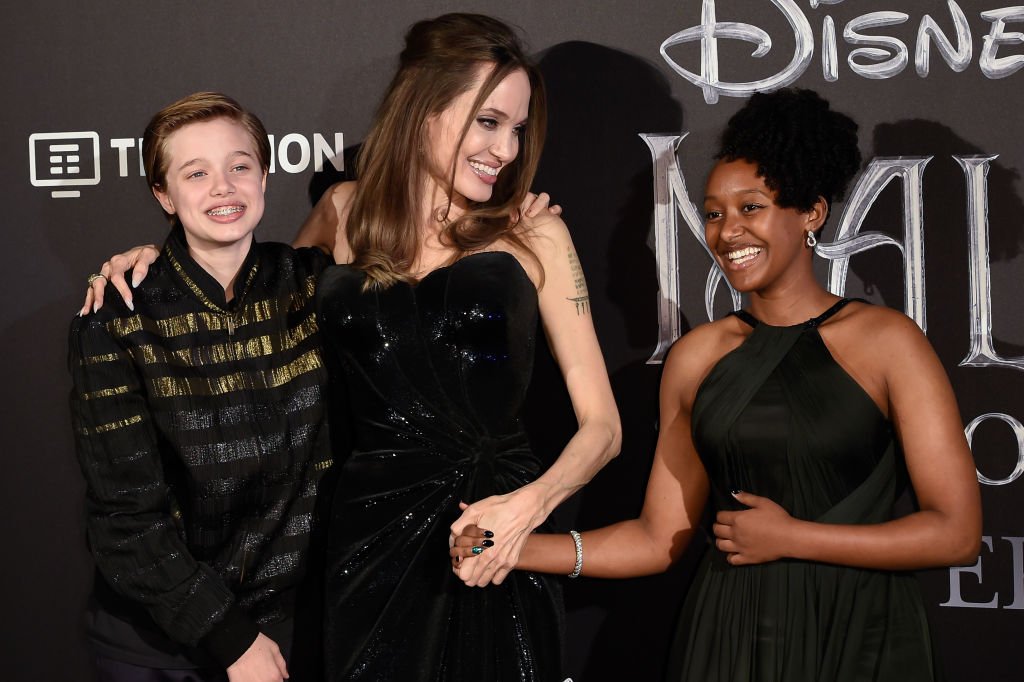 Angelina Jolie and her children Shiloh Nouvel Jolie-Pitt and Zahara Marley Jolie-Pitt during the European premiere of the Disney film Maleficent Lady of Evil on October 7th, 2019 | Photo: Getty Images
Jolie has also publicly addressed Shiloh's androgynous dress sense, noting her daughter considered herself to be one of the brothers in the house, and each family member respects her wish.
In a 2011 interview with Vanity Fair, the "By the Sea" actress revealed that Shiloh wore mostly male clothing and cut her hair like her brothers. She mentioned that the sweet teen is a big fan of tracksuits and suits.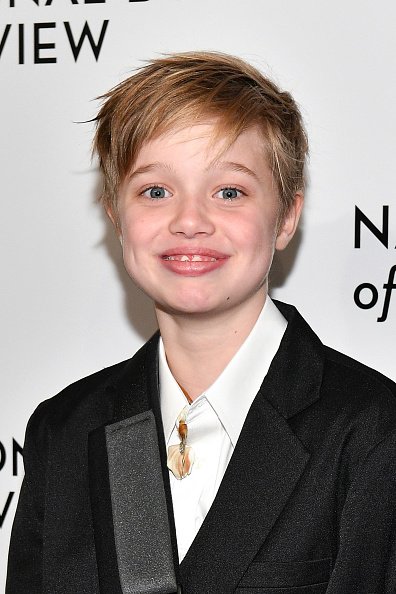 Shiloh Jolie-Pitt attends the 2018 National Board of Review Awards Gala at Cipriani 42nd Street on January 9, 2018 | Photo: Getty Images
During a chat with Oprah Winfrey, Pitt revealed that Shiloh has been requesting a name change since she was two and had asked to be called John or, sometimes, Peter.
On her part, Jolie believes there is no reason for people to see Shiloh for anything beyond who she is; a smart, beautiful, sweet, and funny person. She added that Shiloh's request was a surprise to the family, but everyone found it interesting.
A LITTLE ABOUT SHILOH
Born in 2006, Shiloh is the first biological child of Jolie and Pitt and was born in Swakopmund, Namibia. Like most of her siblings, she is homeschooled and interested in learning about Africa.
Since she was a kid, Shiloh has enjoyed the spotlight. Her first pictures were sold for $4.1million, becoming the first-ever infant to be immortalized in wax by Madame Tussauds.
Like her mom, Shiloh knows how to adapt to the spotlight and seems to be her best on the red carpet. She has appeared at the premieres of "Maleficent: Mistress of Evil," "Dumbo," and "Kung Fu Panda 3."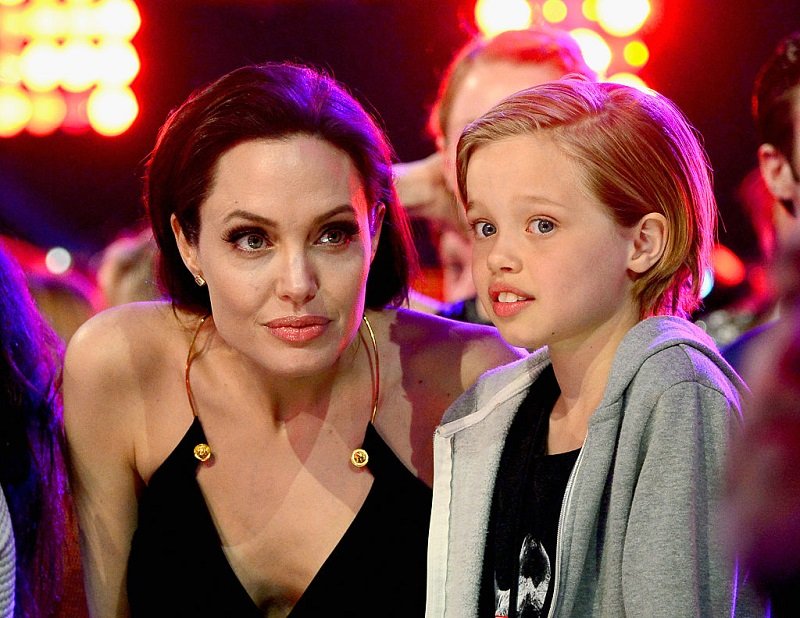 Angelina Jolie and her daughter Shiloh on March 28, 2015 in Inglewood, California | Photo: Getty Images
MEET JOLIE
With leading performances in films such as "Wanted," "Mr. and Mrs. Smith," and "Changeling," Jolie became a household name in Hollywood. She went on to star in Disney's "Maleficent," which became a worldwide hit.
Jolie became familiar with acting as a little girl. Born to actors Jon Voight and Marcheline Bertrand, she began performing at a young age and attended the Lee Strasberg Theater Institute in her early teens.
She later studied at New York University, where she honed her skills. The mother of six rose to fame as an actress in the 1990s.
Jolie made a name for herself in the 1998 television film "Gia," based on the tragic life of model Gia Marie Carangi, for which she received a Golden Globe nomination for Best Actress.
Her meteoric rise continued in "Girl, Interrupted," in which she played a rebellious member of a group of institutionalized kids. Her performance in the film earned her an Academy Award for Best Supporting Actress.
Jolie proceeded to play a range of interesting parts in the years that followed. She also started working as a director. With 2011's "In the Land of Blood and Honey," she made her feature-length directorial debut.
The movie examined a love severely harmed by the Bosnian War. The next year, "Unbroken," a movie about Olympian Louis Zamperini's survival in a Japanese POW camp, was released.
The film, based on Laura Hillenbrand's bestselling novel of the same name, grossed more than $163 million worldwide.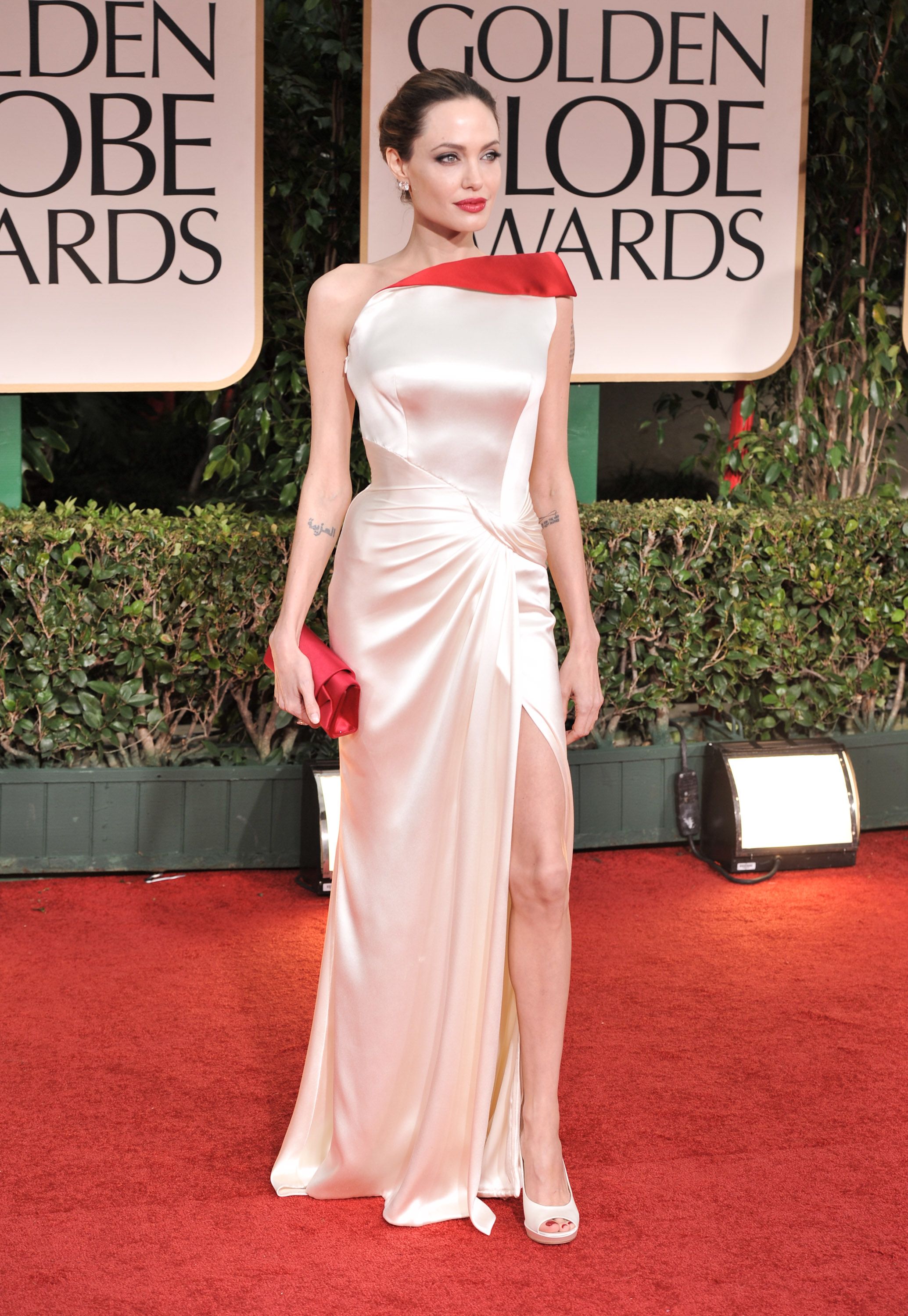 Angelina Jolie at the 69th Annual Golden Globe Awards at The Beverly Hilton Hotel on January 15, 2012, in California | Photo: Getty Images
While her career has been amazing, Jolie has been unable to replicate the same success in her love life. She has had three divorces, the most recent resulting in a bitter feud with her ex-husband, Pitt.
Jolie filed for divorce from Pitt in September 2016, requesting sole physical custody of their six children, igniting a tabloid frenzy. According to reports, Pitt got verbally hostile and physical with their eldest child, Maddox, after drinking on their private plane.
A close investigation concluded no signs of abuse from the actor, and the couple issued a statement communicating their intent to resolve things amicably. However, the fires of their battle seem to rage on five years later.
Please fill in your e-mail so we can share with you our top stories!