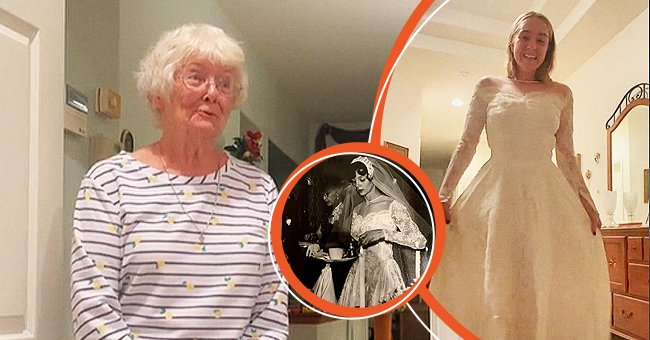 tiktok.com/@_darth_kater
Grandma Breaks Down in Tears Seeing Granddaughter Wearing Her Wedding Dress from 65 Years Ago
A grandma couldn't help her emotions when she opened a box containing the dress she had worn to marry the love of her life 65 years ago. Her granddaughter recorded the heartwarming moment, sharing photos from her wedding day.
Every once in a while, people take a trip down memory lane, revisiting old pictures, dresses, and other items that are reminiscent of the glorious bygone times. Undoubtedly, such moments can likely make one experience a myriad of emotions.
A similar situation unfolded for a sweet gran who decided to take a good look at her wedding gown from the 50s. Her granddaughter could tell how much it meant to her, so she was quick to capture the moving moments.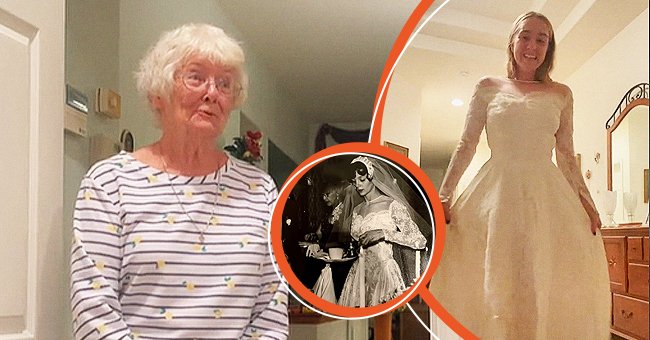 Grandma Marilyn was awestruck to see her sweet granddaughter Kate Petrik don her wedding gown. | Photo: tiktok.com/@_darth_kater
TikToker Kate Petrik, or KP, who goes by @_darth_kater, also runs a website and describes herself as a "Creative Director, Designer, and Photographer." The About section of her website katepetrik.com reads:
"A scrappy creator with a passion for aesthetics & a good story."
Petrik has a whopping 58.5K followers on TikTok and her touching video clips showcasing her grandma Marilyn have garnered sheer popularity from netizens worldwide.
In her first video, Petrik's gran could be seen opening a box with her wedding dress in it. She had last worn the dress 65 years back at her wedding to Petrik's grandpa, who passed away 6 years ago.
The TikToker immediately recorded the heart-touching moment and even hinted at something in the video's caption. The viral video has amassed over 22.5M views so far, and netizens couldn't help share their views.
Petrik also confirms in the comments section that she'll be trying the dress soon. She adds: "For everyone yelling at me to try it on... I'm going over to her house tomorrow!!! Patience grasshoppers (sic)!!"
She then shares yet another video, where her gran's wedding dress can be seen much more clearly. The gorgeous white gown had full lace sleeves, with a scallop trim neckline and embroidery all over it. While KP tries on the dress, the caption reads:
"Y'all I would literally have to remove ribs in order to button these buttons lol (sic)."
Her gran also discovers her flower bouquet from the box. Soon afterward, she walks inside the room and is overwhelmed to see her granddaughter looking breathtakingly beautiful in her wedding gown.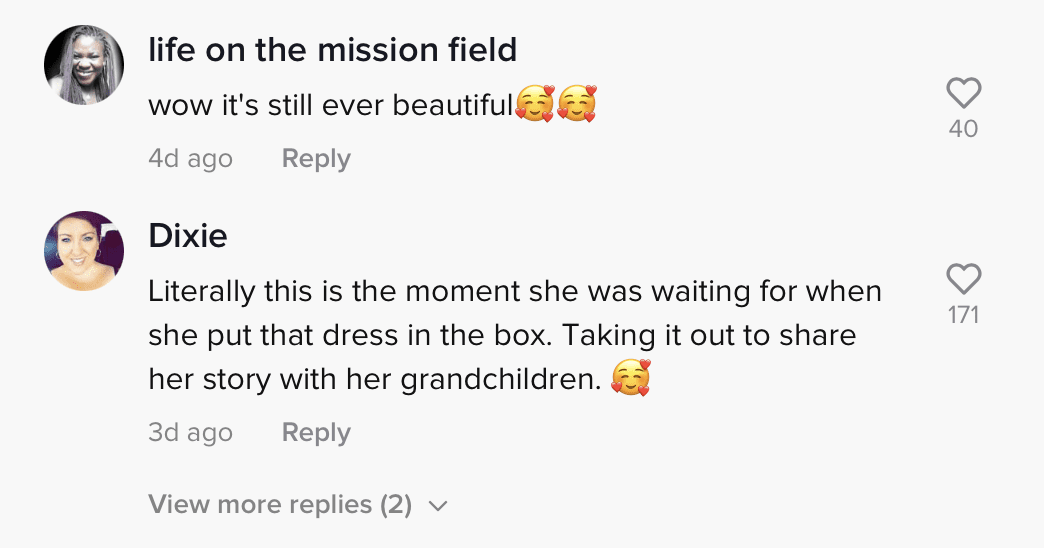 Netizens left heartwarming comments on TikToker's emotional video clip showcasing her grandma's wedding gown. | Photo: tiktok.com/_darth_kater
Moreover, both the clips show stunning images of KP's grandma and grandpa from their wedding day. The viral video has gathered more than 3.4M views so far, including touching comments from several people. One netizen reacted:
"I love hearing older people talk about their lives. We forget these people used to be young and as crazy as we are (sic)."
Another user added: "The look on her face [when] she saw you in her dress was perfect. What a wonderful gift she gave you." No wonder the sweet gran and her granddaughter were able to extract joy from a moment that was special for both of them.
Please fill in your e-mail so we can share with you our top stories!