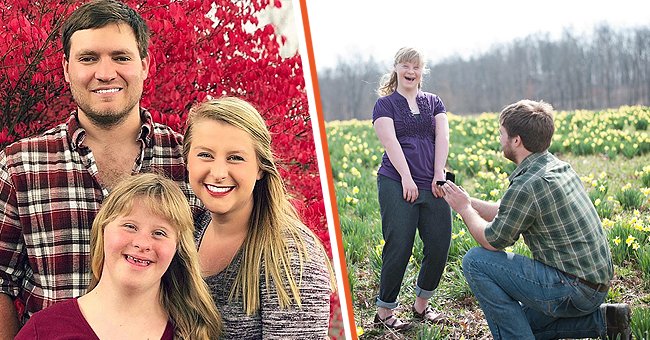 instagram.com/ashleyseaton17
Man Proposes to Girlfriend, Then to Her Sister with Down Syndrome, Showing What True Love Is
When a man proposed to his girlfriend, he didn't exclude her sister, who has Down syndrome. On the wedding day, he arranged a special moment at the alter just for her.
Fifteen-year-old Hannah Schaus has Down syndrome, and her older sister, Ashley, has always shared a close bond with her. Ashley has already been preparing to take over as his sister's legal guardian one day when her parents are older.
When Ashley found a man she wanted to spend the rest of her life with, Hannah was part of the deal. Indiana citizen, Will Seaton, 25, did something heartwarming when he proposed to his future wife.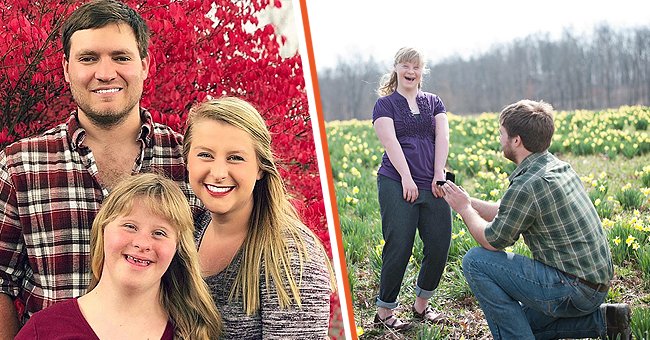 A bride and groom include their sister who has Down syndrome in their big day and the groom proposes to her as well | Photo: Instagram/ashleyseaton17
ASKING THE BIG QUESTION
Seaton dropped down on one knee and asked Hannah to be his "best friend forever." He used the sister's grandmother's ring to ask the special question before turning his attention to Ashley.
The young man then popped the big question and asked his girlfriend of seven years to be his wife. Ashley had joked to her fiancé before about marrying "two women at the same time," and in 2017, this became a reality.
PROTECTING HER LITTLE SISTER
Ashely was delighted that her future husband included her sister in this way. He didn't think twice about making her feel part of the significant milestone. She said:
"He definitely goes out of the way for her so this was more than I could ask for."
Ashley always knew she would need to protect her little sister, and thanks to her caring fiancé, she was able to do just that. Seaton again incorporated his new sister-in-law into the procession on the big day and ensured she got time in the spotlight.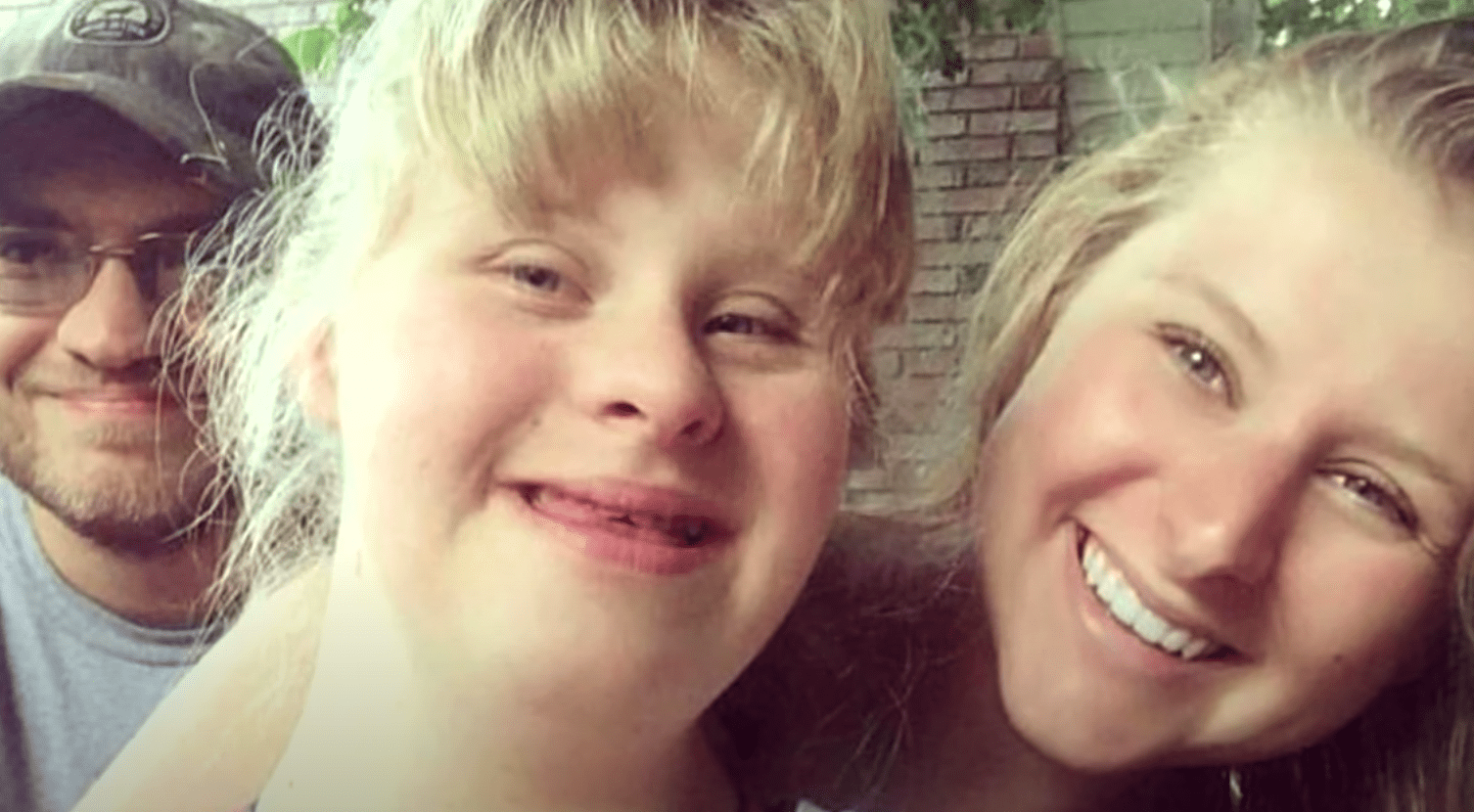 A bride and groom include their sister who has Down syndrome in their big day | Photo: Youtube/Inside Edition
THE EXTRA-SPECIAL WEDDING VOWS
They called Hannah the "Best Sister" because she was more than just a bridesmaid. In a touching video, their marriage officiant asked Hannah and Seaton if they would be best friends forever, and both said, "I do."
Their unique rendition of marriage vows made the wedding extra special. Later, the pair danced to "Best Friend" by Harry Nilsson. Hannah also got to wear a lovely white dress for the occasion, and her sister said: "The happiness level is infinite."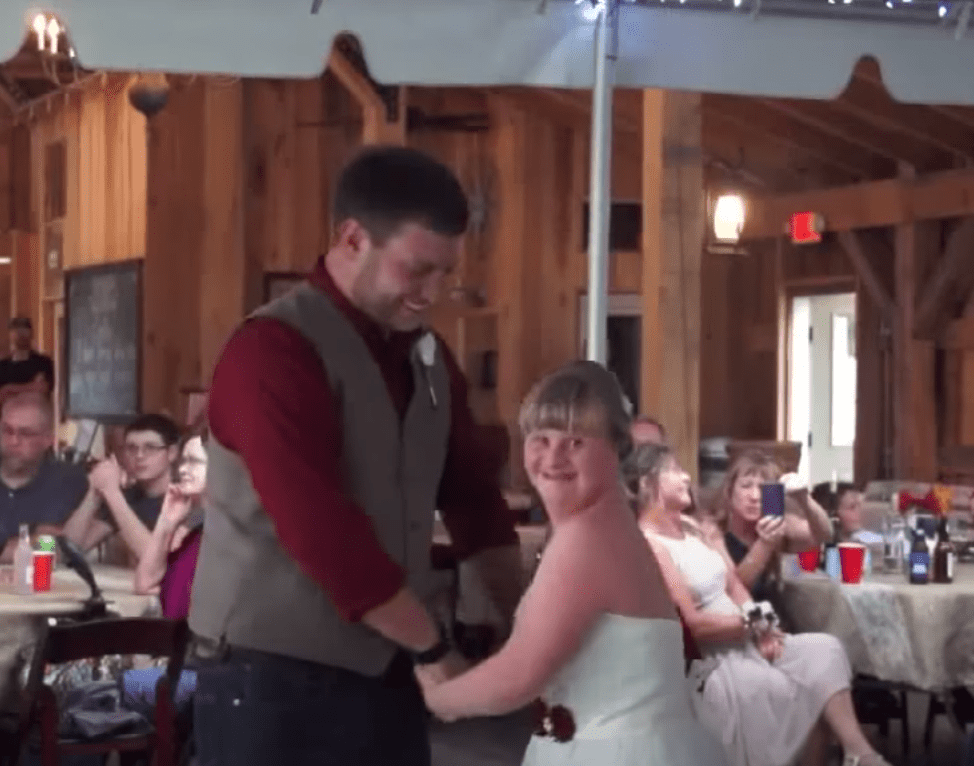 At his wedding, a groom dances with his sister-in-law who has Down syndrome | Photo: Youtube/Inside Edition
THE ONLINE REACTION
Netizens were quick to praise both the groom and the bride for including Hannah in their special moments. Referring to Seaton, one user wrote: "There need to be more people in the world like him. My heart is so happy right now!"
Others offered the sisters compliments, and one person said: "What a beautiful young lady. And the bride looked good too." Someone also shared: "What an amazing thing to do. Total respect." The clip had netizens in tears, and many highlighted that it showcased real love.
Please fill in your e-mail so we can share with you our top stories!