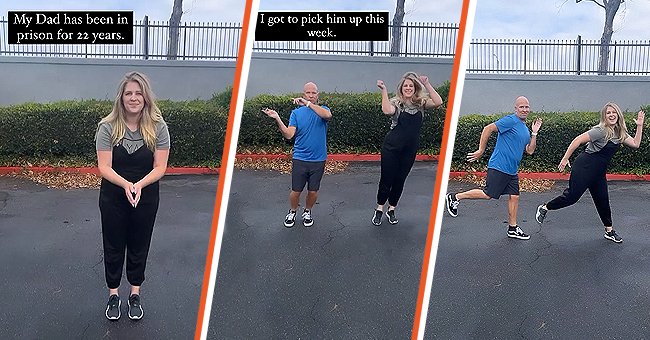 instagram.com/justine_tuckett
Dad Celebrates Getting Out of Prison after 22 Years by Doing a Viral Dance with His Daughter

Justine Tuckett has nothing but nice words for her dad, a changed man after 22 years behind bars. Their recent dance video shows their sweet moments after reuniting.
Justine Tuckett was only a little girl when her father, Bill Lorance, was placed behind bars. At the time, Lorance and his ex-wife had been separated for 18 months.
While depending on alcohol and drugs, he ended up taking the life of his stepfather in 1999. Admittedly, he was fueled by rage and turned violent.
Justine Tuckett and Bill Lorance dance after his release from prison. | Source: instagram.com/justine_tuckett
When it was time to face the consequences of his actions, Lorance's then-wife no longer allowed him to communicate with their kids. However, she later took it back and realized that her children still needed a father.
While in prison, Lorance tried to build a relationship with his children through letters, calls, and visits. Although devastated behind bars, he always displayed a positive attitude when speaking with his daughter.
He tried to be supportive even if he missed several milestones, such as graduations, birthdays, and even Tuckett's wedding.
"When I was younger every time I blew out my birthday candles, I would wish that he would get out of prison… until I was old enough to realize that he wasn't going to be wished back to me," Tuckett said.
Tuckett's Instagram post of their dance warmed the hearts of many viewers and encouraged others in the same situation to reach out.
However, recently, Lorance returned home from prison and finally spent time with his daughter. One of the first things they did was dance together in an Instagram video that immediately went viral.
The father-daughter-duo looked adorable busting out dance moves in what appeared to be a parking area. While big smiles were plastered on their faces, they grooved to Patrice Rushen's "Forget Me Nots."
Lorance was given three days to be with his family before his six-month transitional program began at the California Medical Facility. Throughout his time in prison, Lorance changed into a better man, which his daughter noticed. Tuckett shared:
"My Dad put in the work everyday, he is unrecognizable from the person he [used] to be before prison. Some resilient people CAN be reformed. Some people DESERVE to re-enter society again."
Tuckett's Instagram post of their dance warmed the hearts of many viewers and encouraged others in the same situation to reach out.
However, others had nothing nice to say and didn't think people with such heinous crimes should have a second chance. Nevertheless, Tuckett was unfazed by her dad's strong willpower to change.
There have been other inspiring stories of people who transformed themselves after spending time behind bars. Among them is Ginny Burton, a woman who went from addiction to graduation.
When others saw Burton's unrecognizable photo graduating from a university, her story immediately went viral, and she became a beacon of hope to those in similar situations.
Please fill in your e-mail so we can share with you our top stories!