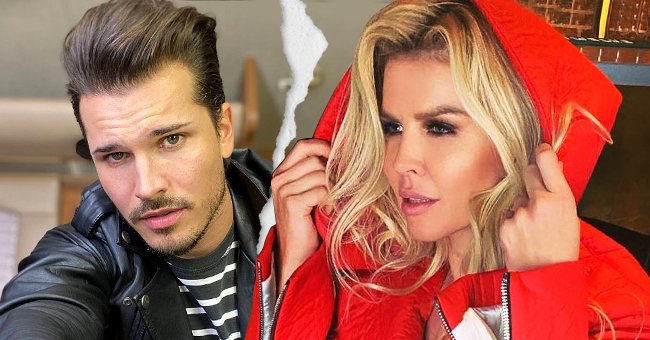 instagram.com/glebsavchenkoofficial | instagram.com/elenasamodanova
DWTS Gleb Savchenko's Marriage Lasted 15 Years but He Found a New Flame Just a Month after Split
A year after, Gleb Savchenko and his wife Elena Samodanova filed for divorce, and it was finalized. However, Savchenko was already dating someone new a month after they split.
"Dancing With The Stars" pro Gleb Savchenko and his now-ex-wife Elena Samodanova announced their separation last year, after 14 years of marriage and welcoming two children, Olivia and Zlata.
In November 2020, Samodanova was the first to break the news to her Instagram followers. On her Instagram stories, she wrote, "After 14 years of marriage with my deepest sadness, our road is coming to an end."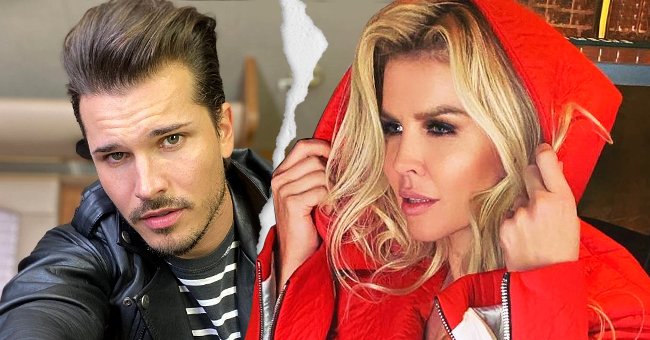 A photo Gleb Savchenko posted on Instagram. [Left] A photo of Elena Samodanova from Instagram. [Right]. | Photo: instagram.com/glebsavchenkoofficial | instagram.com/elenasamodanova
The "DWTS: Russia" judge shared her statement alongside a photo of the couple smiling together and wearing sunglasses. Samodanova also added a broken heart sticker that said, "Break Up" above it.
In addition to the Instagram story, Samodanova posted a cryptic quote on her Instagram feed which she captioned with a broken heart emoji. The quote read:
"I don't hate you, I'm just disappointed you turned into everything you said you'd never be."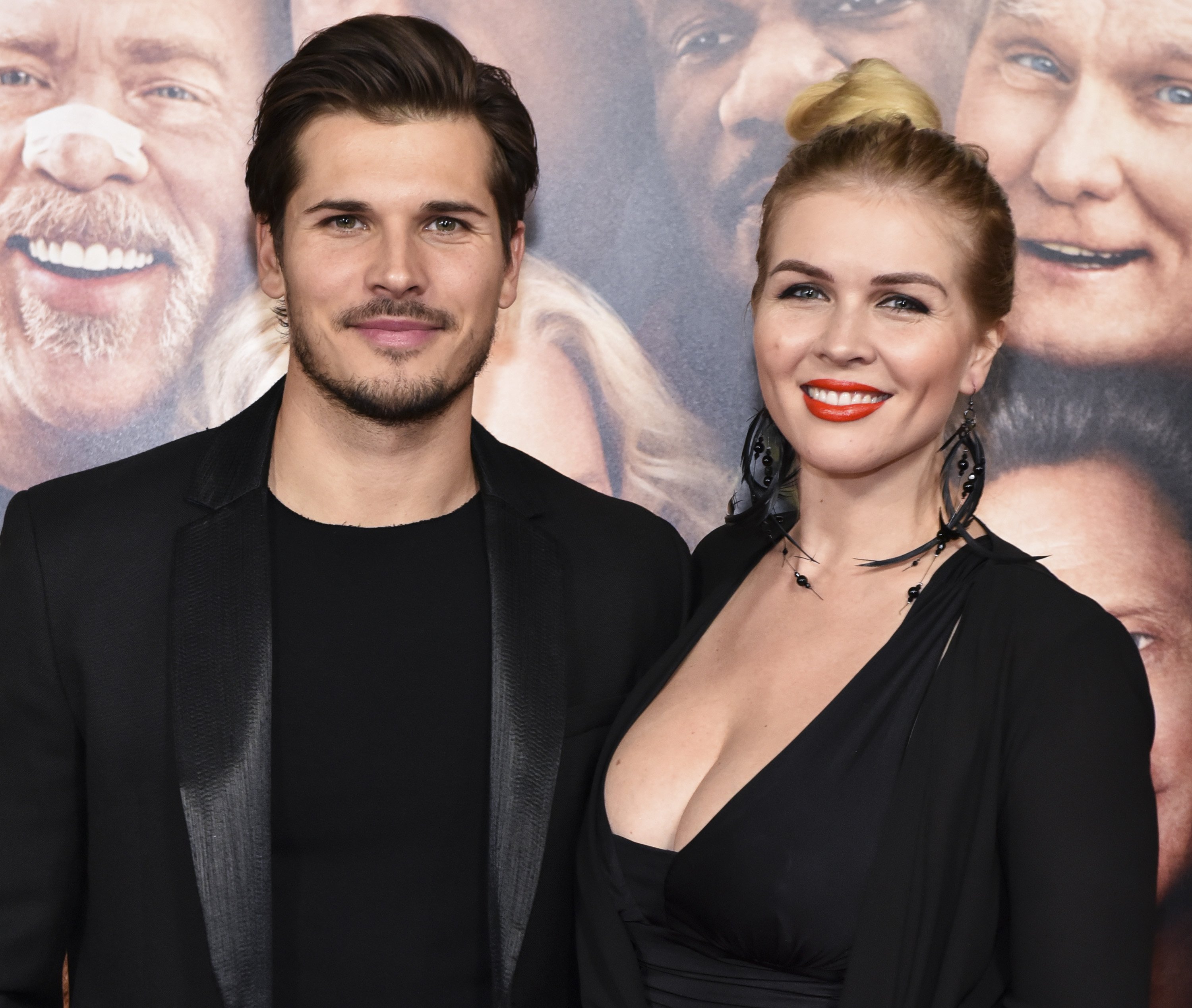 Gleb Savchenko and Elena Samodanova pictured at the premiere of Warner Bros. Pictures' "Father Figures" at TCL Chinese Theatre, 2017, Hollywood, California. | Photo: Getty Images
Later the "DWTS" choreographer confirmed the couple's split in his own Instagram post. The dancer shared a photo of himself, Samodanova, and their two daughters alongside his announcement.
Savchenko wrote "with a heavy heart" that he and his wife were parting ways after 14 years of marriage. He shared that they intended to co-parent their two children.
Furthermore, the loving father wrote that he and Samodanova would strive to be the best parents they could be for their children. Finally, he asked fans to respect the family's privacy.
A month after the couple's separation announcement, Entertainment Tonight reported that Savchenko was dating actress Cassie Scerbo. A source told the outlet:
"They're not serious at this point, but they're seeing where things go. They've been enjoying spending time together and getting to know each other better."
According to the pair's Instagram stories during December 2020, it appeared they vacationed at the Le Blanc Spa Resort in Cabo San Luca, Mexico, together.
Savchenko and Scerbo were joined by Savchenk's former "DWTS" partner, "Selling Sunset" personality, Christell Stause, and her then-boyfriend, Keo Mostepe. He is a good friend of Savchenko and a fellow "DWTS" dancer.
At the time, Savchenko posted a few pictures with Motsepe hanging out by the pool. Both men posed shirtless for the photographs, which Savchenko captioned:
"2020 has been a crazy year…"
Savchenko and Scerbo's fling did not last long. Shortly after the trip, it was reported they were on a break. According to reports, Savchenko wanted to focus on his family.
However, The Daily Mail reported that the couple seemed to be together as they were spotted walking together, getting coffee, and sharing a passionate kiss. But, they are no longer together.
At the time of Savchenko's trip to Mexico with Scerbo and friends, Samodanova let her fans in on how she was feeling about the whole situation.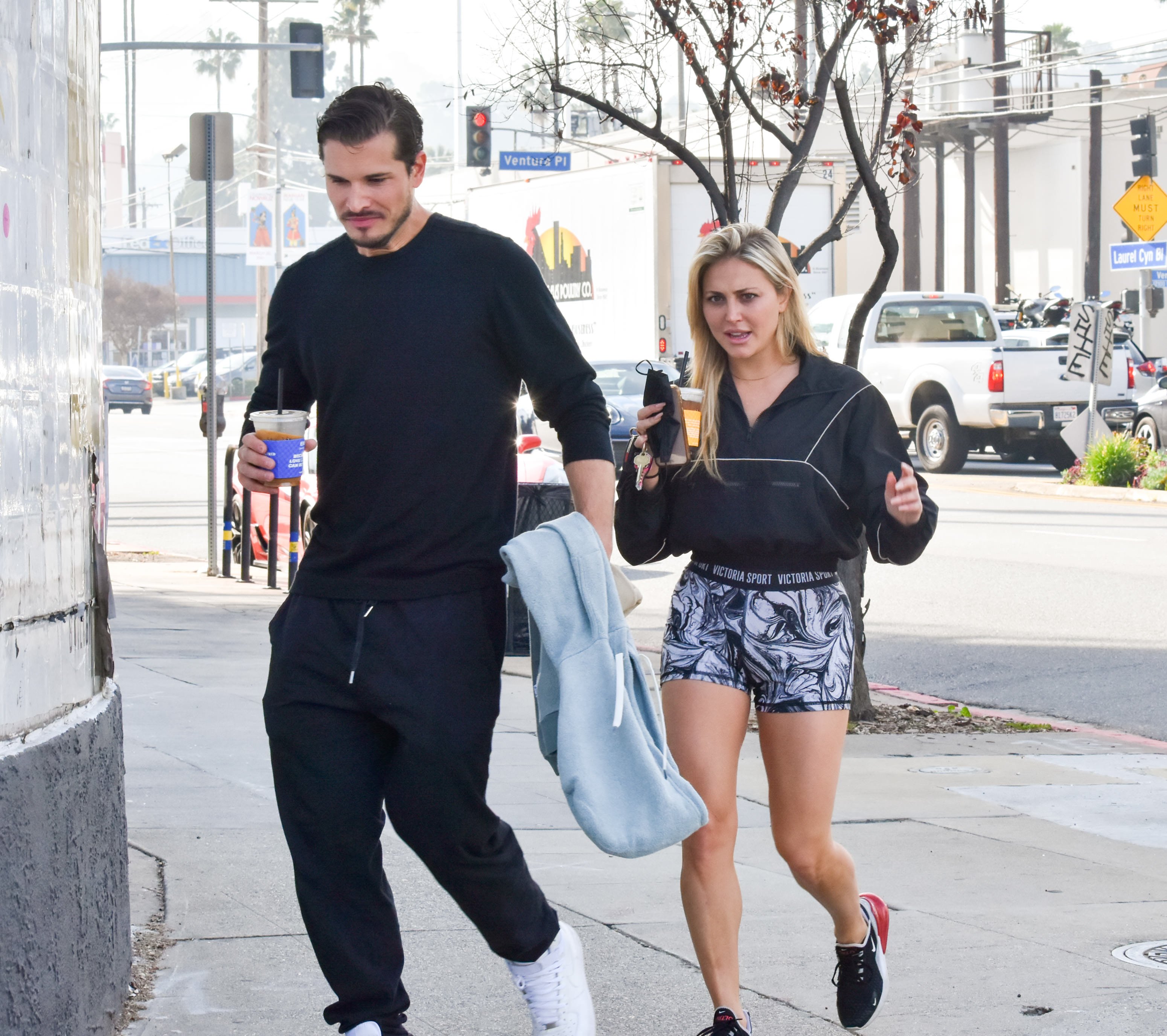 Gleb Savchenko and Cassie Scerbo pictured during a walk out in Los Angeles, California in February, 2021.
While Savchenko was on vacation, his wife, a talented and professional dancer, held an Instagram Live Q&A, during which she was making pancakes with her then-three-year-old, Zlata.
The mother of two was asked by a fan what her plans were for the couple's ballroom dance studio, Dance Pro L.A. Samodanova stated in response to the question:
"We've tried to figure out… if we're going to be running it together. Not at this moment, I'm just too pissed off at him."
However, Samodanova's statement might have been about her ex-husband's apparent infidelity, which he has vehemently denied, as well as his vacation away to Mexico.
Rumors surfaced that Savchenko cheated on his wife following their separation. Including speculation that Savchenko and Strause had a romantic relationship. However, he stated that their relationship was platonic.
Later, Samodanova released a statement to People that said she was not concerned with Savchenko's "playboy antics" and was only focused on the happiness and well-being of their daughters.
Savchenko has denied any infidelity. Furthermore, a source told the outlet that Savchenko and Samodanova spent time living separately and dealing with issues before they separated.
Savchenko and Samodanova may have ended their marriage on a seemingly negative note, but flash forward a year, and the parents seem to be working well as co-parents.
This year, the former couple showed off their ability to put their differences behind them and went on a family vacation to Mexico together in April.
A year after they announced their separation, they are now officially divorced. Us Weekly reported that the former couple's divorce was finalized in October 2021 and shared the details of their court documents.
According to the outlet, the documents stated that Samodanova and Savchenko would share joint legal and physical custody of their children, and neither requested spousal support.
Samodanova was awarded ownership of the couple's dance studio, and Savchenko will pay his ex-wife $2,800 each month for eight years upon the sale of their former L.A. family home.
Following the divorce finalization, Savchenko exclusively told Us Weekly that he wants to make sure the divorce does not affect his daughters too negatively as he said:
"My No1 priority right now [is] and always will be my daughters and making this divorce have as minimal an effect on them as possible."
The professional dancer added that he and Samodanova have agreed to work together and end their relationship gracefully and amicably.
In addition, they want to protect their daughters from their disagreements and support their relationships with the other parent, so as parents, they can put their daughters' growth and development first.
Savchenko has moved on as he is now dating Elena Belle. While Savchenko has been open to dating, it seems Samodanova is not currently seeing anyone.
According to her Instagram, Samodanova has been busy enjoying life with her beautiful daughters as she regularly shares photos and videos of the girls.
Savchenko has been hard at work filming the latest season of "DWTS." This season he was partnered up with former Spice Girl Mel B.
Please fill in your e-mail so we can share with you our top stories!