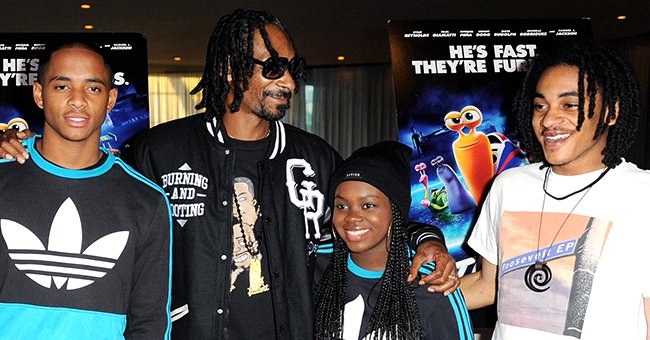 Getty Images
Snoop Dogg Is a Protective Dad of 4 but Once Declared His Kids 'Can Do Whatever They Want'
Aside from being a music legend, Snoop Dogg is also a loving dad to his four children. In a recent interview, the hip-hop star shared about raising his children differently than most parents.
Hip-hop Star Snoop Dogg, who rose to prominence in the late 1990s, has been admired for his incredible talent in rapping. The rap icon's hit tracks include "Drop It Like It's Hot," "I Wanna Love You," and "Buttons."
Snoop Dogg also starred in many movies, including "Scream" and "Mac & Devin Go to High School." He is also a famous voice artist in several animated films such as "The Addams Family" and "Turbo."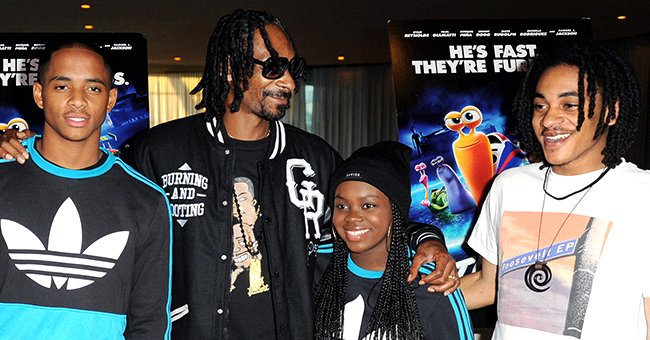 Cordell Broadus, Snoop Dogg, Cori Broadus and Corde Broadus attend the special screening of DreamWorks Animation "TURBO" at the Arclight Theatre on July 16, 2013 in Los Angeles, California. | Photo: Getty Images
A PROUD AND PROTECTIVE FATHER
Outside of his music and acting career, Snoop Dogg is also a proud father of four grown-up children: Corde, 27, Cordell, 24, Julian Corrie, 23, and 22-year-old daughter Cori Broadus.
The renowned rapper shares Corde, Cordell, and Cori with his longtime wife, Shante, a philanthropist and entrepreneur. Meanwhile, Julian Corrie is Snoop Dogg's son from his ex-girlfriend Laurie Holmond.
While fans have noted Snoop Dogg's personality as fun and carefree, the 50-year-old acclaimed musician is a protective man, especially when it comes to his children.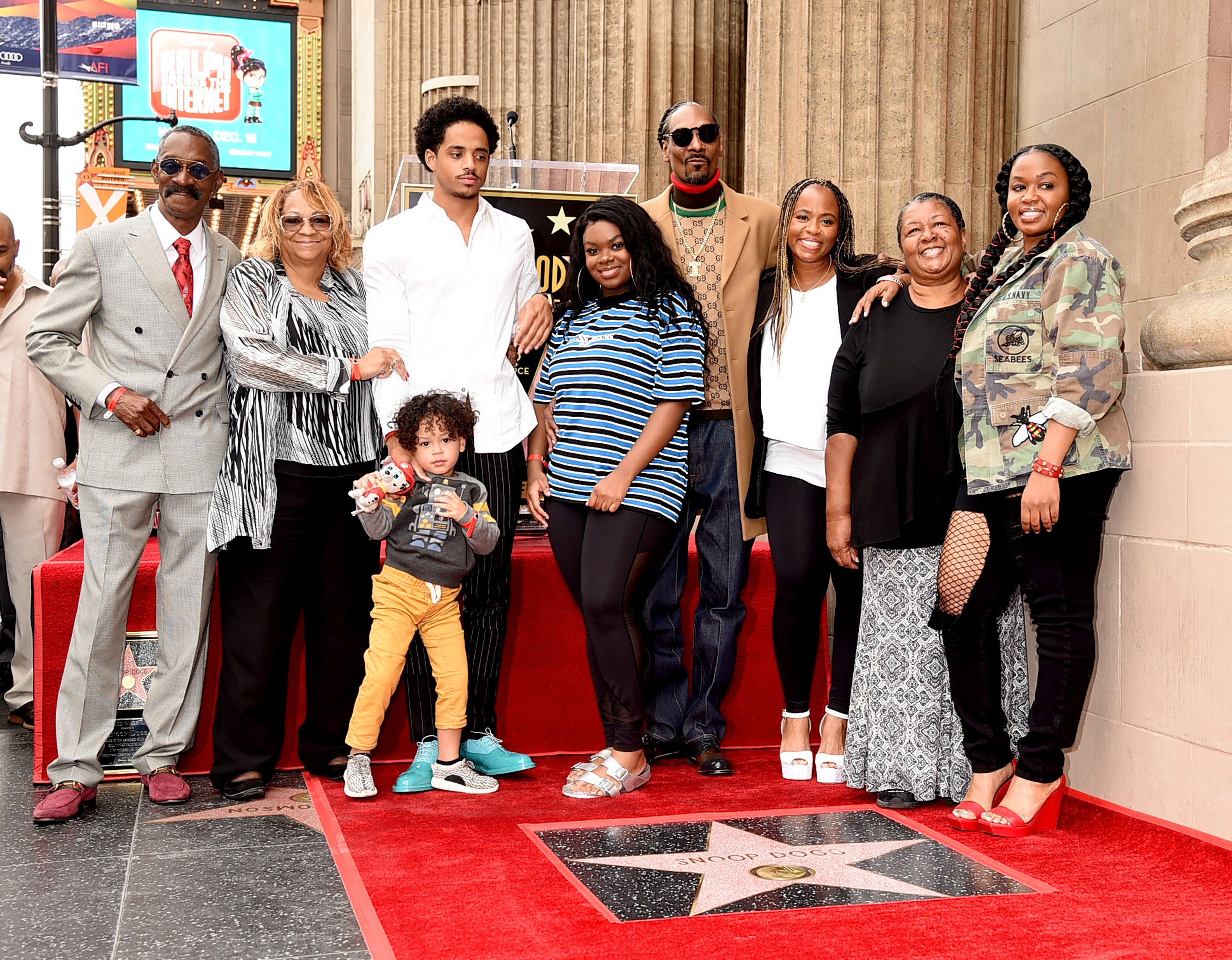 Snoop Dogg and his family at The Hollywood Walk Of Fame on Hollywood Boulevard on November 19, 2018 in Los Angeles, California. | Photo: Getty Images
TEACHING KIDS FOOTBALL AND TOUGH LOVE
In a 2007 interview with renowned TV Host Ellen Degeneres in "The Ellen Degeneres Show," Snoop Dogg appeared with his then 8-year-old Cori. His daughter revealed that the rapper was not a strict father.
Snoop Dogg believes that giving them tough love is necessary to rise to the top.
But Snoop Dogg chimed in, telling his daughter that she should tell Degeneres what age she should be allowed to have a boyfriend. Cori quickly said his dad wanted her to date at 77.
Besides the father-daughter duo's delightful conversation with Degeneres, Snoop Dogg opened up about his excitement for spending his free time coaching his children in a little-league football team. He said:
"That's my love, that's my job. That's my No.1 excitement is coaching those kids on the football field."
While having fun with his children, the "Trouble" star admitted that he could be a tough dad. Snoop Dogg believes that giving them tough love is necessary to rise to the top.
SETTING A POSITIVE EXAMPLE
It is no secret that Snoop Dogg had a troubled past. Despite his tumultuous upbringing, the proud father said he uses his bad experiences to set a positive example for his children.
The rap icon explained that he considered himself as the best example for his children. He wanted to demonstrate that it is possible to make a good life regardless of a challenging background.
Snoop Dogg's children have changed since then and have been succeeding in their careers. With the changes, the "Young, Wild, and Free" hitmaker has been very proud of who they are now.
SNOOP DOGG'S RELATIONSHIP WITH FAMILY
In addition to being a proud father, Snoop Dogg is also a free-spirited individual who treats his children as close friends. He also doesn't mind them smoking cannabis at home. He said:
"My kids can do whatever the hell they want. For me to say otherwise would be hypocritical."
Snoop Dogg's children looked up to him, so the rapper wanted to show them the proper way. The music icon says some parents lack connection with their children, and as a result, the kids turn to destructive vices.
While he enjoys his role as a father, Snoop Dogg also relishes his longstanding relationship with his wife. He has been married to Shante, his high school sweetheart, for 24 years.
Some difficult times pushed the music veteran to file for a divorce from Shante in 2004, citing irreconcilable differences, but the couple's split didn't last. He later admitted it was a mistake to file a divorce from his wife.
The "Hotel Transylvania" star revealed he begged his wife to get back together. In 2008, they rekindled their relationship and renewed their vows at Charlie Wilson's ranch on 20 acres.
EMBRACING HIS GRANDPA ROLE
The international musician has also been enjoying his new role as grandfather to his four grandchildren Zion, Elleven, Cordoba, and Chateau. Zion, born in 2015, is Corde's son from a previous relationship.
Elleven, who was born in 2018, is Corde's daughter with his current girlfriend, Soraya. Cordoba and Chateau are the daughters of Cordell and his girlfriend, Phia Barragan.
Since becoming a granddad, Snoop Dogg has been captivated by his grandchildren's charm. In a past interview with the "Today" show, he said he would be an unsuspecting grandfather who lets his grandchildren get away with everything.
LOSING KAI LOVE
In 2019, Corde and his girlfriend welcomed another son, Kai Love. But unfortunately, Kai passed away ten days after his birth. Snoop Dogg also mourned the loss of his grandson.
After Kai's passing, Corde wrote that his son would be a force of love in his life in an Instagram post. He posted images of Elleven's first birthday party featuring Soraya, who was pregnant with Kai Love at that time.
He added that Kai Love died in his arms. Corde, who has yet to reveal the cause of his son's death, shared they "will use his energy" for raising their daughter.
EXPERIENCING ANOTHER GRIEF
Two years after Kai Love's death, Snoop Dogg's family experienced grief once again. He recently shared on social media that his beloved mother, Beverly Tate, has died. She was 70.
The mourning son shared three Instagram posts in honor of his late mother. He shared a smile with Tate in the first post, while the second post showed the latter dressed in a red outfit while holding a bouquet.
The grieving star wrote a short and touching message of gratitude to his mom. His third post showed a white background with acronyms "TWMA," which means "till we meet again."
Fans and friends from around the world expressed their support for the "Straight Outta Compton" actor and his family. Snoop Dogg's celebrity pal Martha Stewart also expressed her condolences.
Snoop Dogg shared that he and his brothers visited their mother at the hospital in July. The musician did not disclose the condition or cause of his mother's death.
Please fill in your e-mail so we can share with you our top stories!