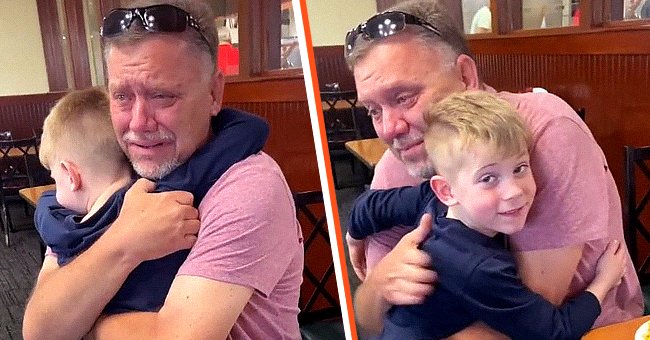 tiktok.com/erica_mf_lusher
Tearful Moment a Grandfather Receives Surprise Visit from His Grandson Who Lives 800 Miles Away

One of the viral clips making the rounds on the internet captures the moment a grandfather broke into tears after getting a surprise visit from his daughter and grandson, who live 800 miles away. Here's what happened.
"Family is everything" is a golden statement that can never lose its value, especially in a time like this. As the world fights the pandemic alongside economic meltdowns, having family around would count for much.
Grandparents love to have their grandkids around. The world almost stops moving once a grandpa or grandma gets to know their little one would be visiting, and preparations start almost immediately, but Erica Lusher decided to spice things up a bit.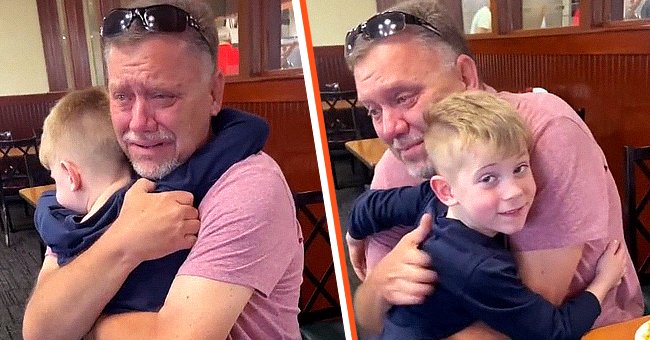 The moment Erica Lusher's son is embraced by his grandfather | Photo: tiktok.com/erica_mf_lusher
Rather than notify her parents she was visiting with her son, she decided to make the moment count by making it a surprise. Due to the pandemic's constraints, it had been over a year since Lusher and her son visited her parents in Port Orange, Florida.
A year is a long time for Lusher's parents to wonder how much their grandson has grown, and although they have had family Facetime, their arms have been itching to have the little man run into them.
Lusher and her parents recently got vaccinated and received the all-clear to move around freely. Since it was safe for a reunion, Lusher secretly made the 800-mile trip from Kentucky.
On getting to her parents' house, she located the restaurant where they were eating, and with her camera in one hand, she recorded the moment that would go on to become one of the best days of their lives.
First to catch the love bug was Lusher's mom, who, on recognizing their August visitor, had her eyes filled with pleasant shock and delight. She held her hands over her mouth as if to say, "this could only be a dream."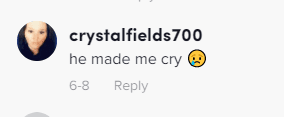 A heartwarming comment on the viral Tiktok video | Photo: tiktok.com/erica_mf_lusher
The next in line was loving grandpa, whose eyes were quickly filled with tears on spotting his grandson. Grandpa then spread out his arms while his excited little man ran into it, and both enjoyed a passionate hug. Amidst the hug, an emotional grandpa was heard saying, "Hey buddy."
Lusher's dad paused a little to take a quick glance at his grandson as though meaning to check how much he had grown and also to ensure this was not all just a rude dream.
Then, after confirming the moment was real, he sweetly pulled him close for another round. Lusher shared the post on her TikTok, and it quickly became a hit with thousands of views and comments.

A heartwarming comment on the viral Tiktok video | Photo: tiktok.com/erica_mf_lusher
The moment was one people could relate to. It left most viewers with a longing for their loved ones and would hopefully go on to spark various acts of love and kindness in families.
Please fill in your e-mail so we can share with you our top stories!