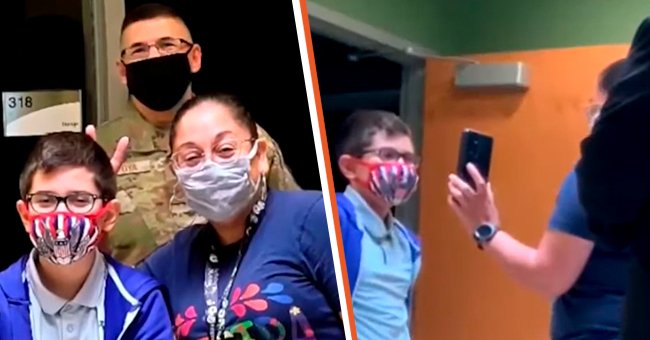 youtube.com/KOAT
Boy Can't Hold His Emotions When Military Dad Appears in a Photo Taken with His Own Teacher

Both on different continents, a father and son were separated for years, the young boy's heart sore for his dad to come home. The military dad himself was also determined to survive his mission to be with his child again.
Tyler Tafoya was only a baby when his father, Chief Master Sergeant Rubel Tafoya, was deployed overseas. Now, in fifth grade, the 10-year-old had never even hugged his army dad.
Rubel was assisting with Operation Allies Refuge before he came back to the United States of America. However, his son was unaware of his return.
Tyler Tafoya, one of his teachers and his father Rubel Tafoya all posing for a photo [left]; Tyler Tafoya looking at a phone [right]. │Source: youtube.com/KOAT
CONSPIRING FOR LOVE
The Chief Master Sergeant's new mission was to surprise his little boy at school. He pitched this to Tyler's teacher, Mrs. Perez, at Sandia Vista Elementary School. She took the message to the principal, Miranda Jeantete. Jeantete has expressed:
"We were so excited and honored to help him."
Upon Rubel and Tyler's mother's arrival at the school, the staff shared a cute idea of how they should reveal to the young man that his dad was home. His parents loved the pitch.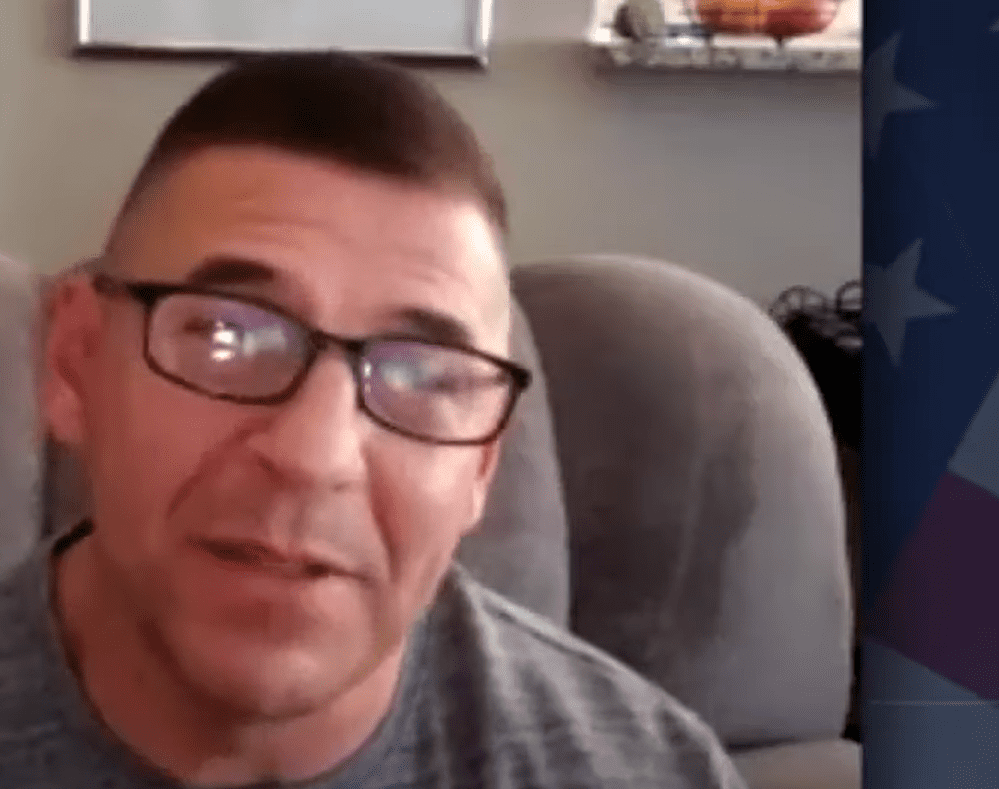 Chief Master Sergeant Rubel Tafoya. │Source: youtube.com/KOAT
WHAT IS GOING ON?
In a clip shared on the educational institution's Facebook page, the young boy got his picture taken with a teacher. His father popped out from behind him as the snaps were being taken.
The possibility of him being deployed again... [hangs]over their heads.
Tyler turned around, feeling something was off, but nothing was there as Rubel disappeared through a doorway. They showed the 10-year-old the photo, and he was baffled.
A HEART-THROBBING REUNION
His father then slowly walked out behind him again, and when Tyler turned around, he just jumped into his dad's arms. Speaking about the experience, the army dad said:
"He just kept holding me, which I felt, it was awesome. That was a great feeling."
The father said that both of them were tearing up. Following this, they took pictures together by a sign from the school wishing Rubel a warm welcome home.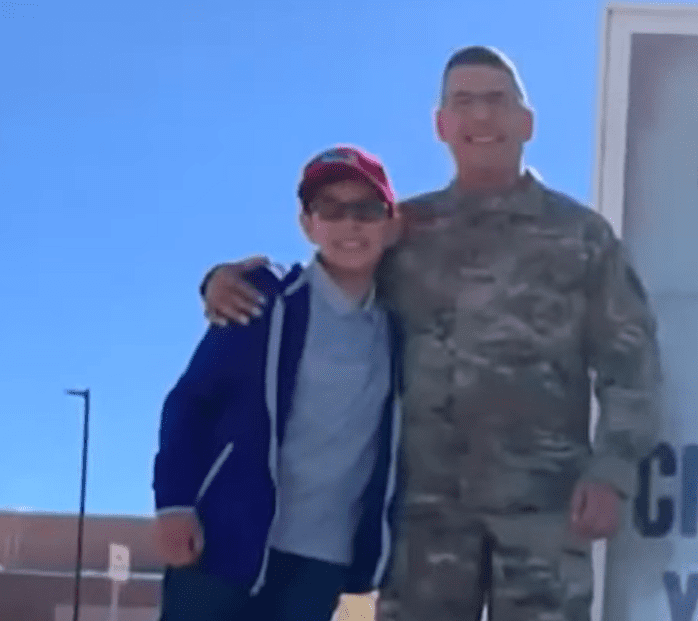 Tyler Tafoya and his father Rubel Tafoya posing together for a photo. │Source: youtube.com/KOAT
BEFORE I GO AGAIN
The military dad now gets to be at home with his family. However, with the possibility of him being deployed again within a few years hanging over their heads, he says he wants to spend as much time as possible with them. The father stated:
"I'm taking him [Tyler] and my daughter Lilliana, who is 14, to Disneyland, and I also will be visiting family in Los Angeles."
Rubel hopes that people, after watching this sentimental video, will remember the importance of their loved ones and spend as much time with them as possible.
You May Also Like: Soldier and Lover Forced to Part during WWII Reunite 75 Years Later, Showing Their Endless Love
Please fill in your e-mail so we can share with you our top stories!