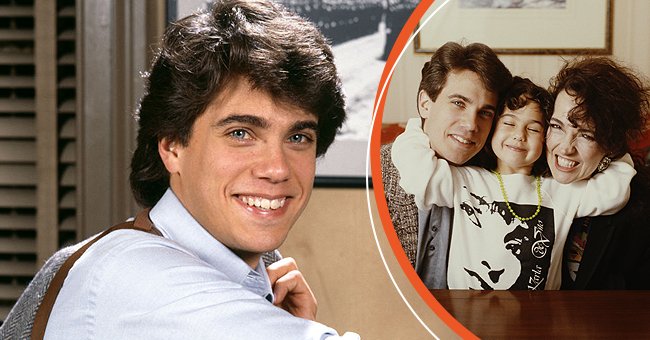 Getty Images
Robby Benson Fell in Love with Karla from 1st Sight - She Didn't Care about Romance at First
Hollywood Stars Robby Benson and his wife Karla DeVito have been married for almost forty years. The pair often speak about their relationship during interviews. In one of such interviews, DeVito made a surprising revelation about meeting Benson.
Robby Benson is well known as an American actor, composer, teacher, filmmaker, and singer. At 65, he is still remembered for his fantastic show of skills in the late 1970s.
Benson rose to fame as a teen idol, appearing in "One on One," "Ice Castles," and many other movies. His career skyrocketed in 1991 after he voiced Disney's Beast from the movie "Beauty And The Beast."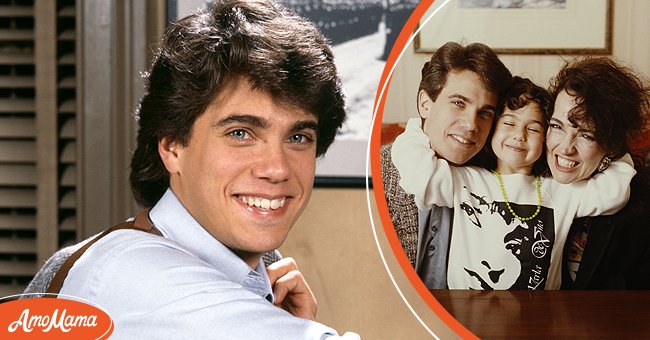 Roddy Benson in a promotional photo for sitcom "Tough Cookies" on January 30, 1986. [Left] | Actor Robby Benson, with his wife, actress Karla DeVito, and their daughter, Lyric, London, 1989. [Right] | Photo: Getty Images
These days, he is still acting but also remains focused on his wonderful family. The actor is a doting father to two children, Zephyr and Lyric, who he shares with his wife, Karla DeVito. Continue reading to know more about the couple and their lovely marriage.
Benson and his wife are great examples of "life imitates art." After performing as a romantic duo on Broadway, the couple has been living happily ever after, and the actor has not stopped talking about his love for DeVito.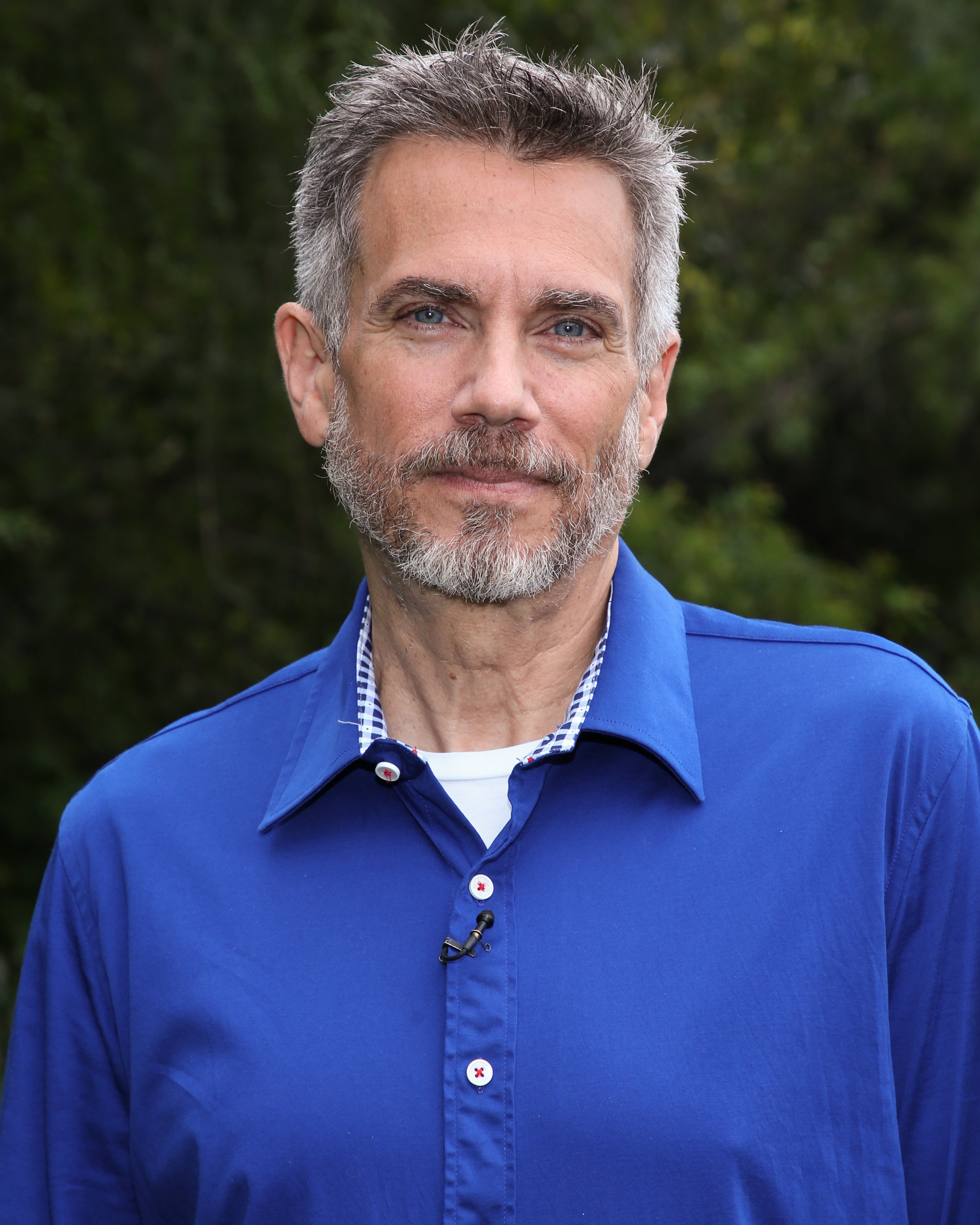 Robby Benson pictured Hallmark's "Home & Family" at Universal Studios Hollywood, 2019, Universal Studios. | Photo: Getty Images
These are the types of news that continue to inspire many young couples out there. Benson and DeVito have stayed together for nearly four decades, and they have proved to everyone that "the improbable" couple is doing just fine.
The father of two told Closer Weekly he was in love with his wife when he met her. The pair worked together on Broadway's "The Pirates of Penzance" while playing Frederic and Mabel.
Reality imitated art, and the fictional couple's relationship became a reality. Benson and DeVito became romantically involved, and a year later, in 1982, they walked down the aisle and have been together ever since.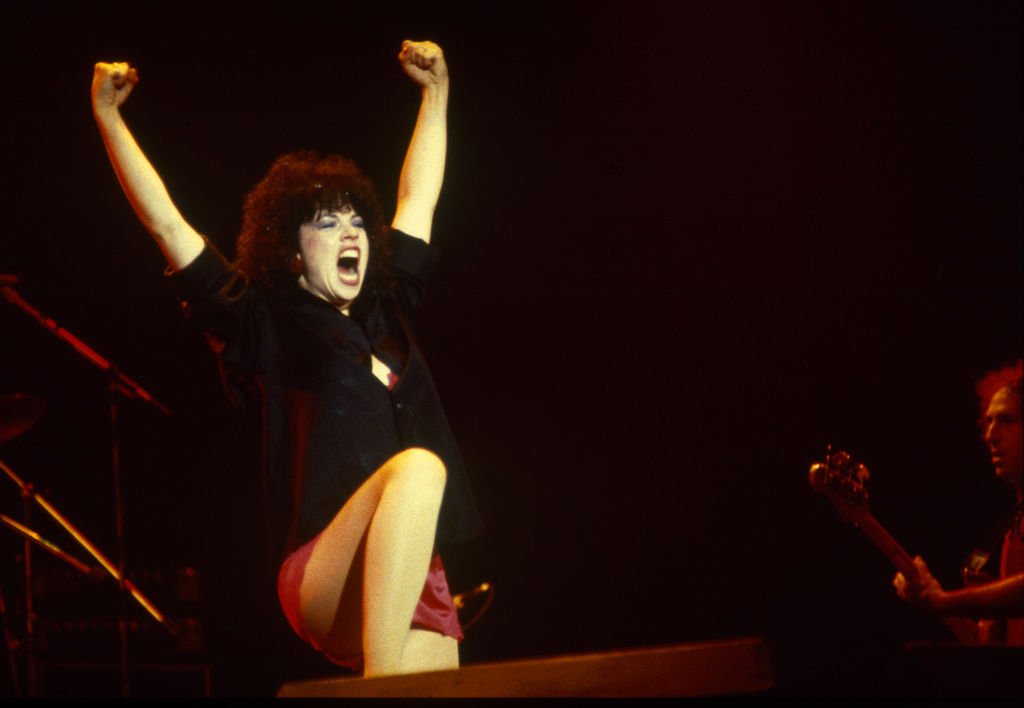 Karla DeVito at the lost and found tour, Wembley Arena 24 September 1983. | Photo: Getty Images
Despite Benson's love for his wife when he saw her, it took a while before he won her heart. When they met on "The Pirates of Penzance" set, the actress was not interested in a relationship or romance.
DeVito said she was on a smooth course and was not expecting to fall head over heels in love with anyone. But, that changed after a mutual friend invited them to their first outing that was also the last.
The lovebirds found out that they had admired each other all along. Benson was impressed with DeVito's voice and talent, and she thought he was a humble and lovely person.
CHANGING EACH OTHER'S VIEWS
Like couples in love, Benson and DeVito have had various impacts on each other's lives, including their views of each other in various aspects. For example, the actor has changed his wife's who-needs-it thoughts about marriage.
Speaking about how Benson won her over, DeVito made it known that her husband was the first person she met who talked about matrimony in a real sense. She said the composer had an amazing way of talking about the future.
Despite dealing with a severe condition, the Hollywood star kept his health status under wraps.
Benson's impact on his wife's view was so severe that she revealed their relationship would be the anchor of her life. The actor has given his woman a different perspective on matrimony, and in return, DeVito changed her husband's thoughts about feminism.
Coming from a home with women that have achieved a lot, Benson was barely interested in female accomplishments.
But, the actress came along and began buying Ms. Magazines, and not long after, Benson's view changed. He started to appreciate women more, realizing that women had to go through a lot.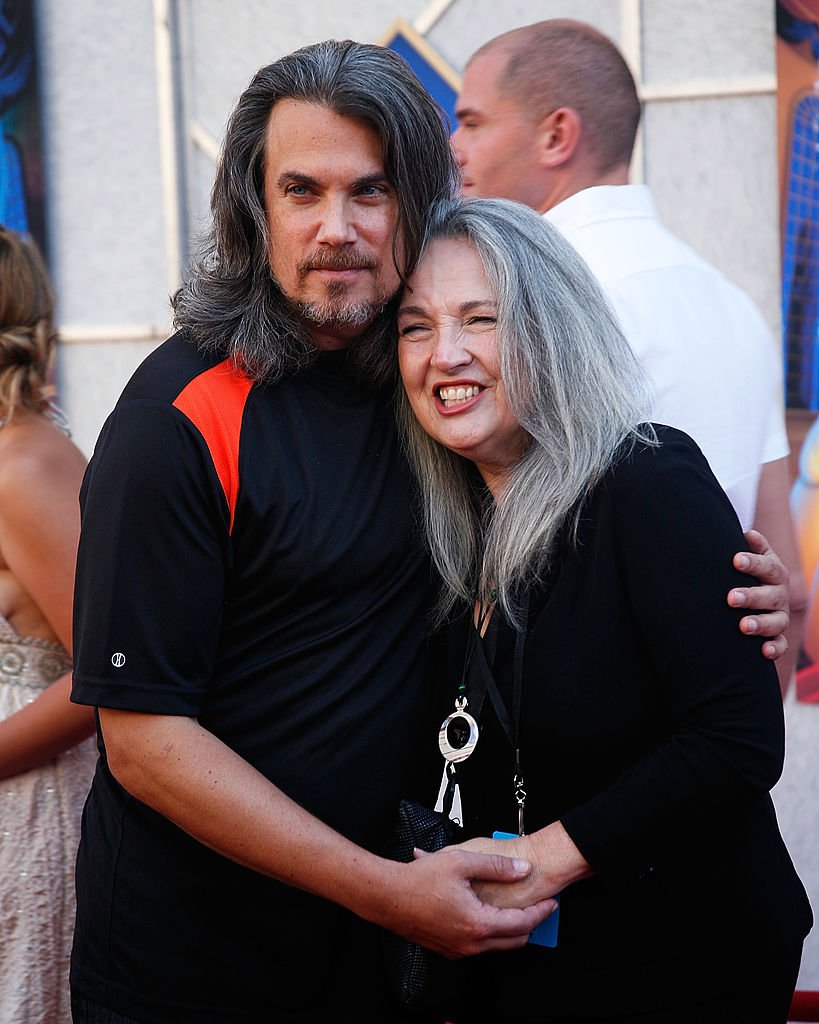 Actor Robby Benson and his wife Karla DeVito arrive at the "Beauty And The Beast" sing-a-long premiere and DVD release party at the El Capitan Theatre on October 2, 2010. | Photo: Getty Images
Benson appears to be living his best life with his beautiful wife, but things have not always been easy for the actor. For the longest time, he had a dark cloud hanging over his head.
The unfortunate circumstance was a chronic heart condition. It was earlier discovered by a doctor who picked up a heart murmur caused by a bicuspid aortic valve defect when Benson was a teenager.
From that moment, the filmmaker lived with symptoms related to his heart issues, such as fainting and having dizzy spells. Benson once recalled a moment in 1979 when he fainted.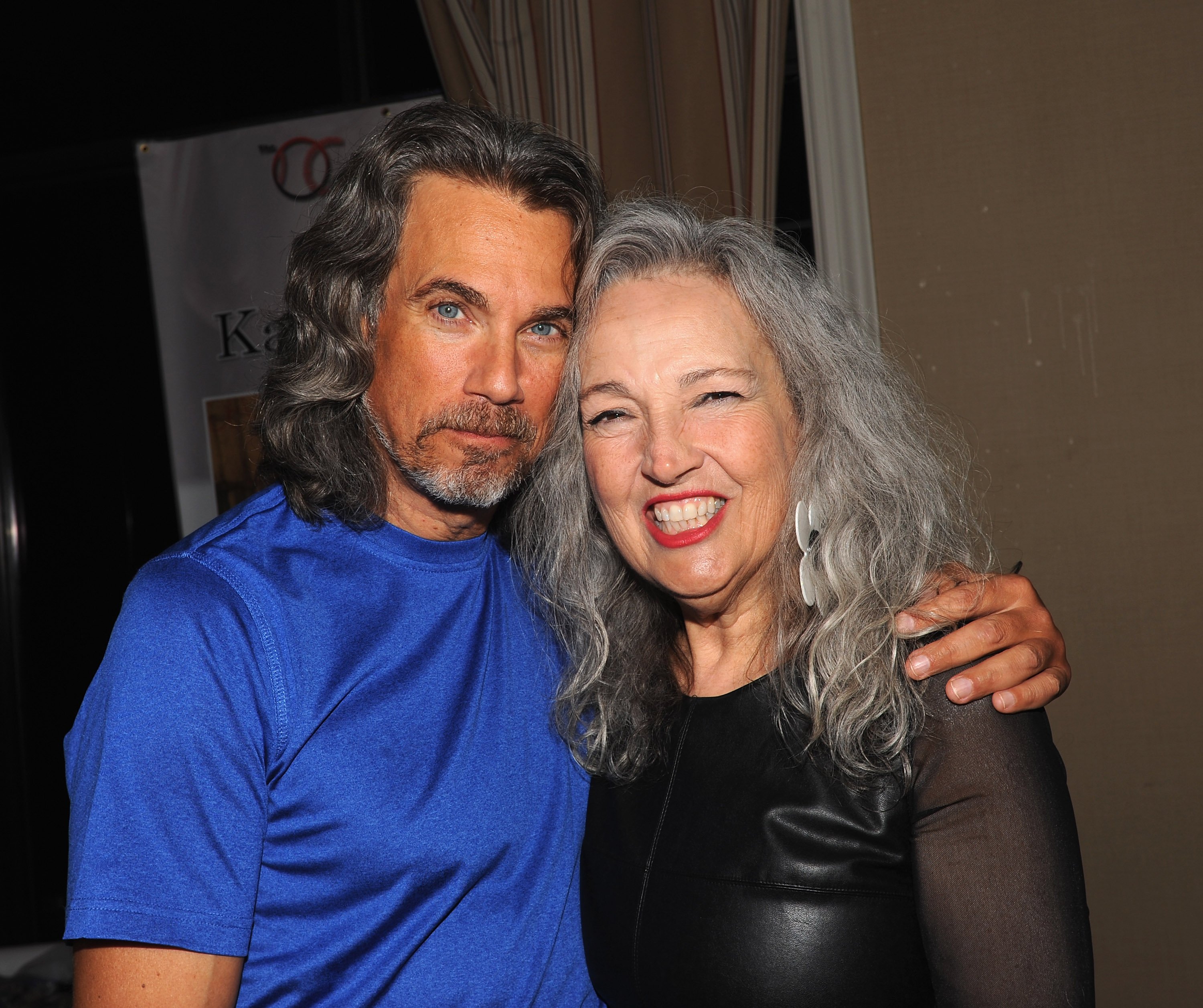 Robby Benson and Karla DeVito attending the Chiller Theatre Expo - Day 1, 2015, Parsippany, New Jersey. | Photo: Getty Images
While on location in San Francisco for the movie "Die Laughing," Benson found himself losing his breath and consciousness after running up a steep hill.
The actor remembered passing out and thinking that it was best not to tell anyone about his diagnosis. Later in 1984, his condition worsened, and at age 28, Benson underwent the first of the life-changing heart surgeries he had throughout his life.
The operation lasted for three and a half hours, and he was put onto a heart-lung bypass machine. Benson was out of his bed three days after his surgery, and two weeks later, he was in the gym working out.
Despite dealing with a severe condition, the Hollywood star kept his health status under wraps. The actor would undergo three more open-heart surgeries to correct the defect, which eventually went well.
BEING A FATHER AND GRANDFATHER
Benson and DeVito are the best parents to their two children, who are following in their parent's footsteps. The elder of the two, Lyric, is a singer and actress. She featured in two 1990s films, "Modern Love," her debut alongside her parents, and in the movie "Evening Shade."
The younger Zephyr is also a director like his dad. In 2015, he made his directorial debut producing "Straight Outta Thompkins." The movie is a film about a middle-class teen heroin addict in New York City.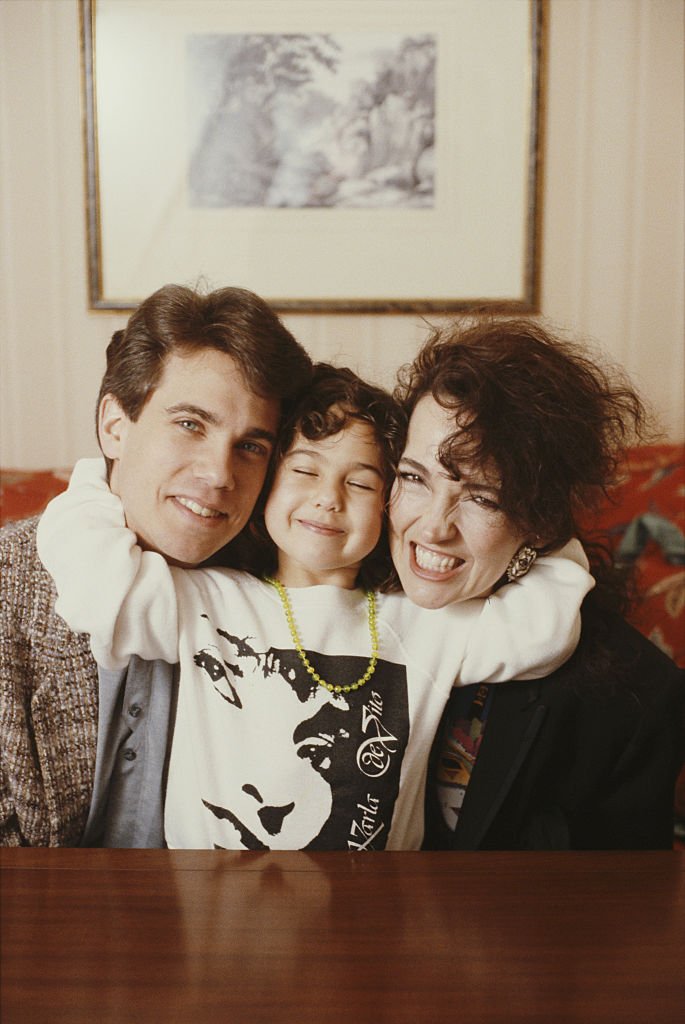 American actor Robby Benson, with his wife, actress Karla DeVito, and their daughter, Lyric, London, 1989. | Photo: Getty Images
Apart from being doting parents, Benson and DeVito are also grandparents. Lyric has two children, Kingsley and Aurora, who have brought nothing but joy to the couple.
Speaking about his role as a grandfather, Benson says it is the best feeling in the world. Having grandchildren has made the actor reevaluate his hours and priorities. The "One on One" actor hopes he is the best he can be as a grandfather, father, and husband.
Please fill in your e-mail so we can share with you our top stories!