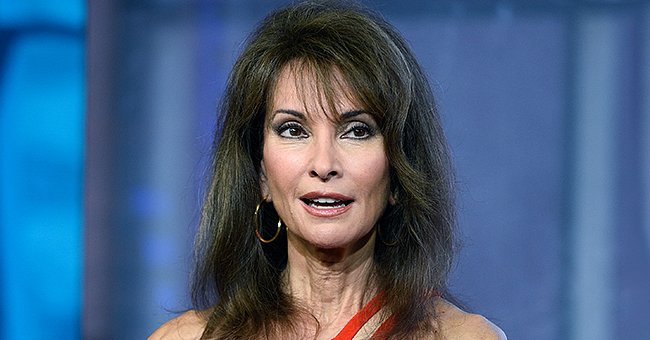 Getty Images
Susan Lucci's Grandson's Condition Was Kept a Secret for Years but He Became a Little Warrior

Legendary Soap Opera Star Susan Lucci was competing on "Dancing With The Stars" when her daughter went into forced labor. This incident yielded something they would have to deal with their entire lives.
Susan Lucci is one of the most famous soap opera stars globally. She can credit her worldwide fame to her outstanding performance as Erica Cane in "All My Children.''
The beautiful brunette icon has a daughter named Liza Huber from her marriage to Austrian Businessman Helmut Huber. Lucci has four grandchildren from Liza.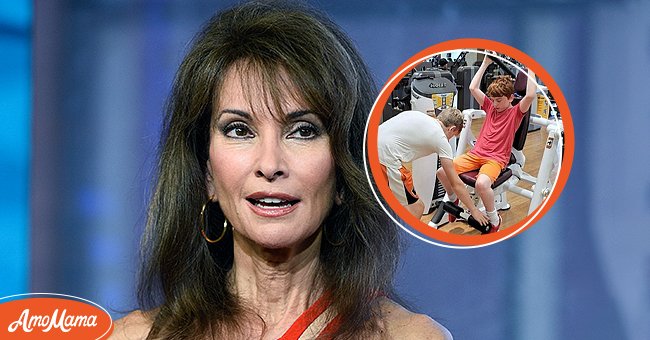 Photo of actress Susan Lucci [left] Susan Lucci's grandson Brendan [right] | Photo: Getty Images instagram.com/brendanhesterberg
Liza Huber is married to her husband, Alexander George Hesterberg III, a tech executive. Together they have four children; Royce, Brendan, Hayden, and the youngest Mason.
On August 16, 2018, while Liza was 31 weeks pregnant with her second child Brendan, Liza felt unbearable pain. Even though her pregnancy was normal, she immediately knew something was wrong.
The pain was so deep she almost fainted and had to be rushed to the clinic. She was taken to the emergency room, where she gave birth to Brendan nine weeks earlier than the due date.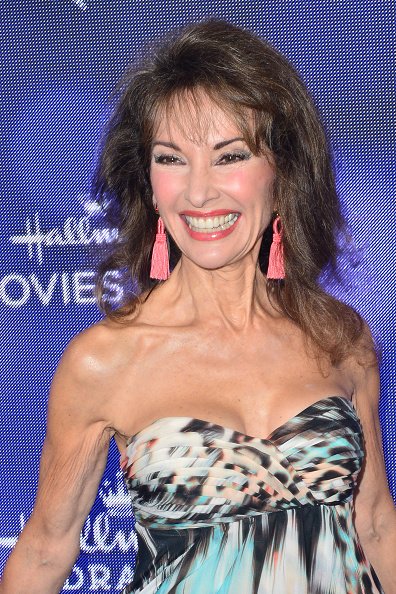 Susan Lucci at Private Residence on July 26, 2019 in Beverly Hills, California. | Photo: Getty Images
At birth, Brendan weighed 4 lbs., 10 ounces, and he had to be taken to the neonatal intensive care unit. He stopped breathing six days later and had to be supported by a ventilator.
Liza was scared he would die, but thankfully, she could take her son home and focus on his care after five weeks. To be able to care for him adequately, she had to stop her acting career.
This incident ultimately led to the creation of her company called "Sage Spoonfuls." The company has a line of products that help parents make healthy food for children. Sage Spoonfuls enabled Liza to work from home, bringing her closer to her kids.
Ten weeks after Brendan was born, Liza noticed he could not sit up by himself. She knew this was unusual but did not want to believe something was wrong.
In 2010, when Brendan clocked 19 months old and could still not stand, his mother decided to take matters into her hands. When she took him to see a doctor, an MRI scan revealed that Brendan had Cerebral Palsy.
Liza reportedly froze and started crying when she heard the news. She realized her son would have to deal with cerebral palsy for the rest of his life. However, she was grateful that he could walk because many other children suffering from the condition could not walk.
OVERCOMING HIS CHALLENGES
After his diagnosis, Brendan underwent an elective dorsal rhizotomy surgery. With this procedure, some parts of his lower spinal cord sensory nerves had to be cut off so he could walk. Fortunately, this operation changed his life.
She also once revealed to People that she broke down in tears when she heard of her grandson's diagnosis.
For the first time, Brendan's feet were flat on the floor, and he could stand up straight. After his surgery, Brendan was also able to go skiing. Although it took two instructors to hold him up the first time he tried, he could ski himself after a while. He was also able to go hiking.
His grandmother, Lucci, explained that he went on an adventure on a mountain path she had previously hiked, and she knew it wasn't an easy feat. Lucci praised her grandson for his positive spirit and never looking at himself as a victim.
Brendan, who is a first-grader, is also a new cub scout and a baseball pitcher. He was taught how to throw by his older brother Royce who also took him to the gym for the first time.
Lucci explained that he does not complain and that he never did. She also praised him for always being creative, intelligent, warm, and very engaging.
LIZA HUBER AND SUSAN LUCCI SPEAK OUT ABOUT BRENDAN
In an interview with People, Liza revealed that it was difficult to deal with Brendan's first few years with the disorder. She explained that he experienced stiffness and pain in his muscles.
Brendan walked with an uneven gait and would require surgery for the rest of his life. She recalled a period when he was in kindergarten, and he kept falling and tripping in class but did not understand why this was happening.
Liza then had to explain his condition to him. She told him why his legs were like that and how he would deal with it for the rest of his life.
Liza explained she had been keeping his condition a secret for years but realized hiding it did not look good to Brendan. Instead, she wants her son to feel good and proud so that he can celebrate overcoming his challenges.
Liza declared that walking up two stairs at home when he gets back from school without holding on to anything is a big deal for Brendan.
She praised her son for being so empathetic as he would be the first to ask if everyone was ok after falling. She would also like to shout about his accomplishments.
Her mother, Susan Lucci, echoed this sentiment, saying she was proud of her daughter for speaking publicly and proudly about Brendan's disorder. She also once revealed that she broke down in tears when she heard of her grandson's diagnosis.
Lucci declared this move would only benefit Brendan and show him that his family is proud of him. She is also a longtime supporter of United Cerebral Palsy of New York City.
The Hollywood veteran explained that she had always wanted to be an actress but would now prefer to be with her family. Lucci revealed she feels blessed and would not trade the love of her grandchildren for anything.
Brendan's grandmother also said that his journey inspires her. Thanks to him, she has learned that life is a gift, and one has to keep moving forward to make the best of it.
Please fill in your e-mail so we can share with you our top stories!