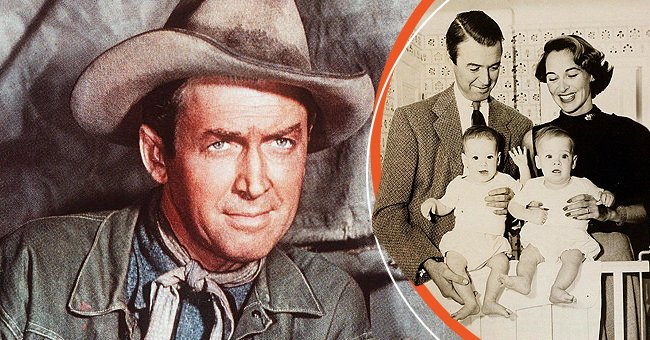 Getty Images
James Stewart Was a Womanizer until He Met His Wife of 55 Years & They Welcomed Twins
James Stewart had a lot of achievements that were obtained from his time as an actor and a combat pilot. However, he had a reputation for being a womanizer, but it changed after meeting his wife of 45 years.
Before he passed, actor James Stewart had an extraordinary acting career that spanned more than five decades. His stay in Hollywood was recognized for the longest time by different people, as he won many hearts, alongside several awards for his performances.
Born in 1908 in Indiana, Pennsylvania, the icon began performing in front of people as a young man. While he studied at Princeton University, Stewart became a member of the Triangle Club and acted in shows, which they put up.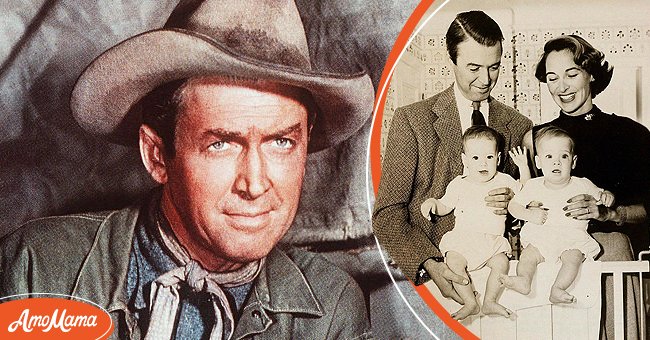 Portrait of American actor James Stewart. [Left] | American film actor James Stewart with his wife Gloria and their daughters Kelly and Judy circa 1951 [Right]. | Photo: Getty Images
He continued until he graduated from college. In 1932, the actor graduated with a degree in architecture, but designing buildings was not Stewart's biggest point of interest. His heart was fixed on becoming one of the best actors someday, and he strived towards it.
STEWART'S EARLY CAREER
Stewart joined the University Players in Falmouth, Massachusetts, the summer after he graduated to broaden his talent. While with the non-profit theatre organization, the icon met fellow movie guru Henry Fonda, who would become his close friend.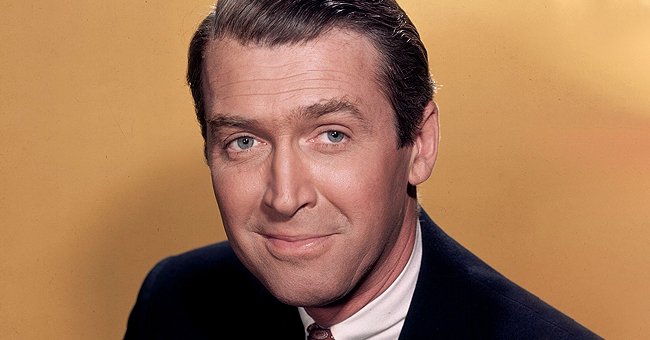 Portrait of American actor James Stewart, circa 1955. | Photo: Getty Images
The year Stewart met Fonda was the beginning of his success journey. The former made his Broadway debut in the show "Carrie Nation." Even though the show was not a hit, Stewart still landed more stage roles. His big break came in 1935 when he bagged a movie contract with MGM.
Stewart successfully landed his first role, featuring in the 1935 movie "The Murder Man." Next, the multi-award-winning actor appeared in 1938's "You Can't Take It With You."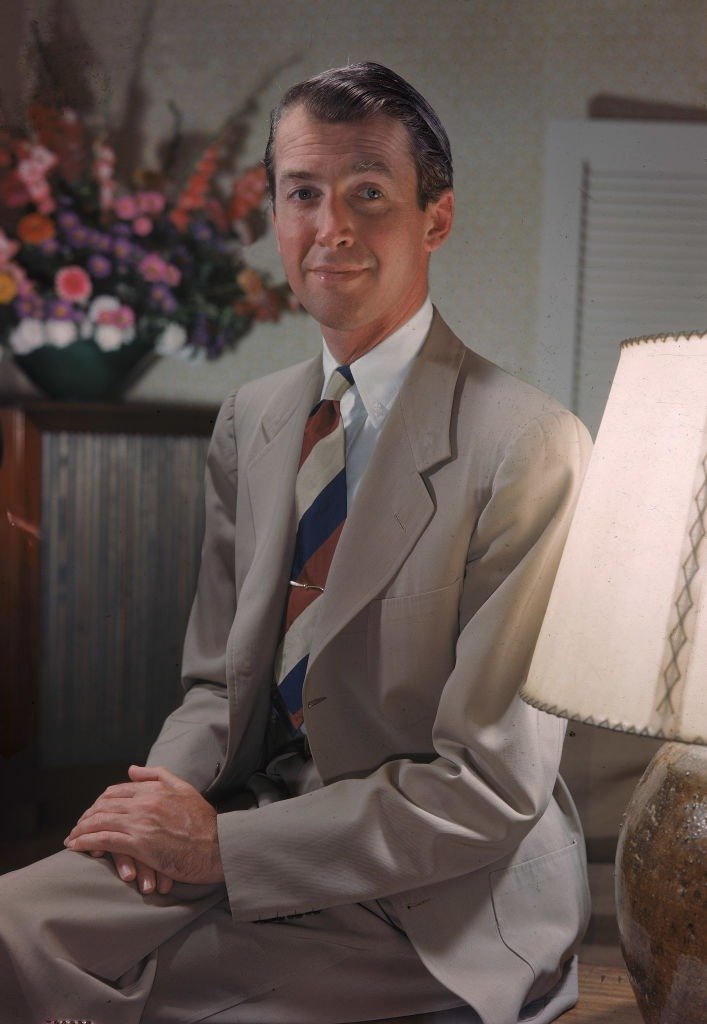 Portrait of American actor Jimmy Stewart seated wearing a tan suit, 1940s. | Photo: Getty Images
The comedy was a big hit; it won an Academy Award for Best Picture and made Stewart a star. The next few years were a rollercoaster for the actor. He got a lead role in "Mr. Smith Goes To Washington."
His performance in the movie earned him his first Academy Award nomination. The following year, Stewart finally got his first Oscar Award after acting in "The Philadelphia Story."
On the day he died, he suffered an embolism, which led to a blood clot in his lungs.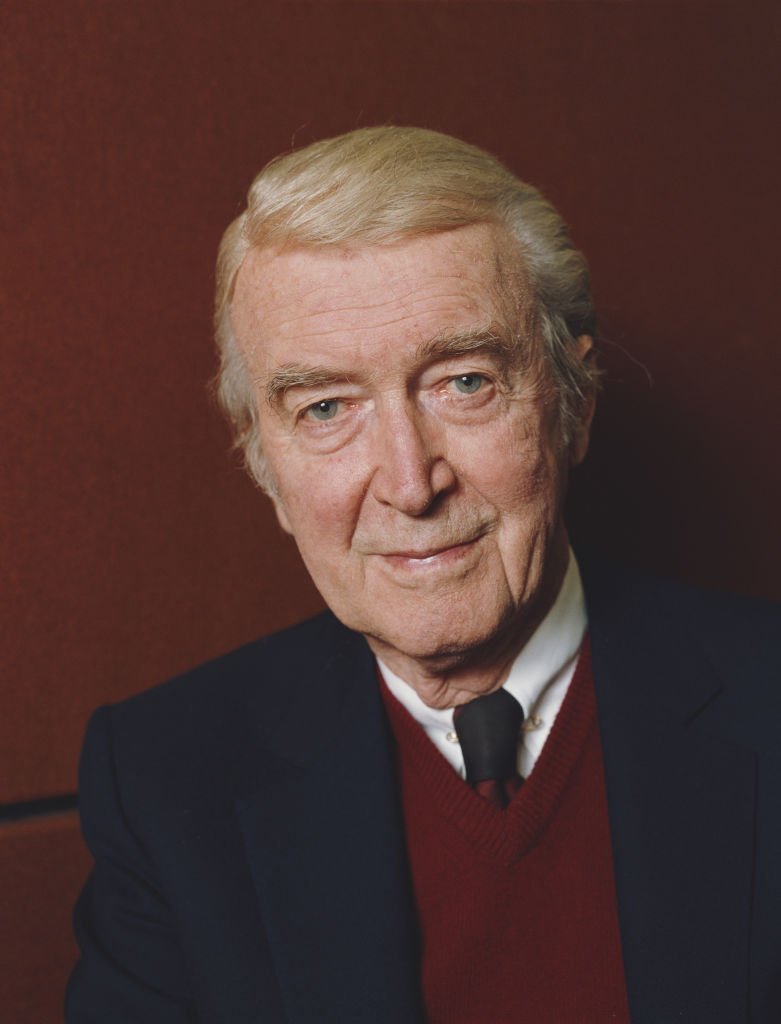 Portrait of American actor James Stewart circa 1990. | Photo: Getty Images
STEWART'S TIME IN THE US AIR FORCE
After receiving his Oscar Award, Stewart took a break from the acting industry to serve his country. He joined the US Air Force and served in World War II.
While serving, he exercised his skills as a pilot. Although the actor could fly a plane or helicopter, his flying skills needed to improve.
So, when he joined the military in 1941, Stewart was enrolled in a flight training school at Moffett field in California. Two years later, the actor grew higher in the ranks. He was sent to Europe as the commanding officer of the 703rd Bomb Squadron.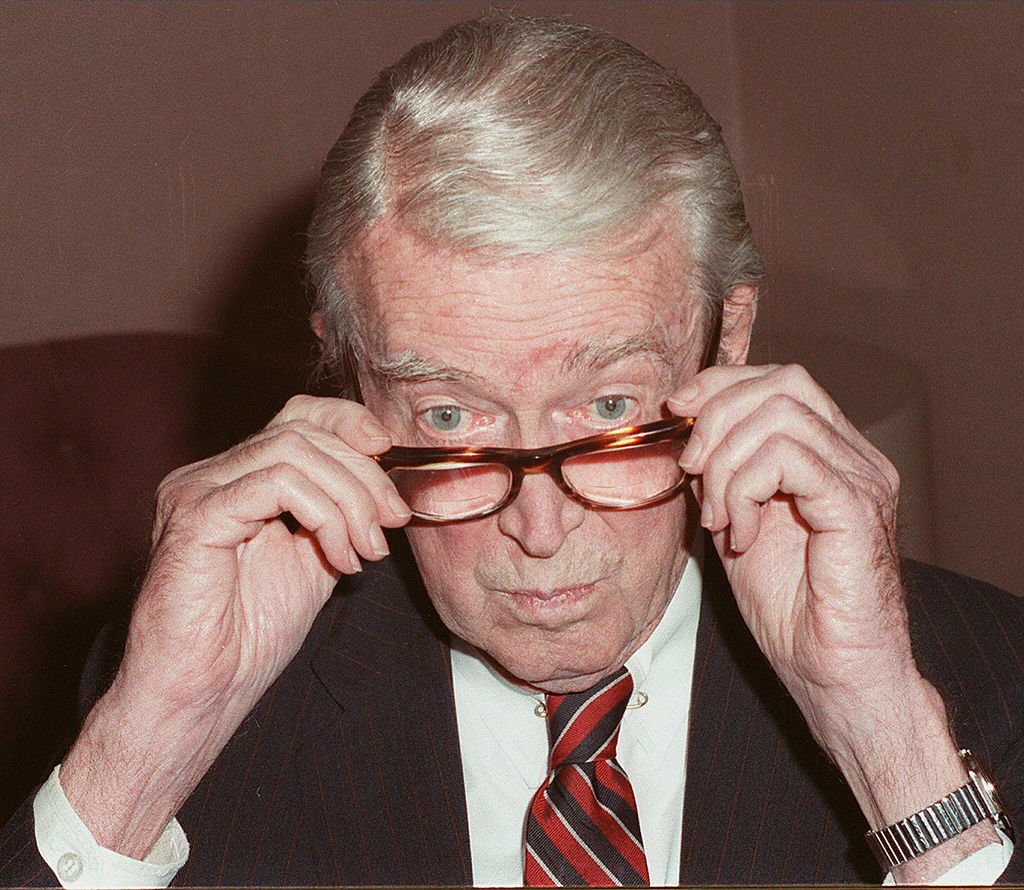 US actor James Stewart adjusting his glasses during a press conference at the National Press Club on December 2, 1987. | Photo: Getty Images
By the time the war was over in 1946, the father of two had become a colonel. He had flown in 20 combat missions and had become the Chief of Staff of the second air division of the eighth Air Force and the second Combat wing.
Like many other military men, Stewart suffered from terrible Post Traumatic Stress Disorder. A report from Daily Mail revealed that he was haunted by "a thousand black memories," which stayed with him for a long time.
Stewart could not get over the guilt of killing numerous civilians in bomb raids over Germany and France. Apart from killing innocent citizens, the actor also felt responsible for the death of his men.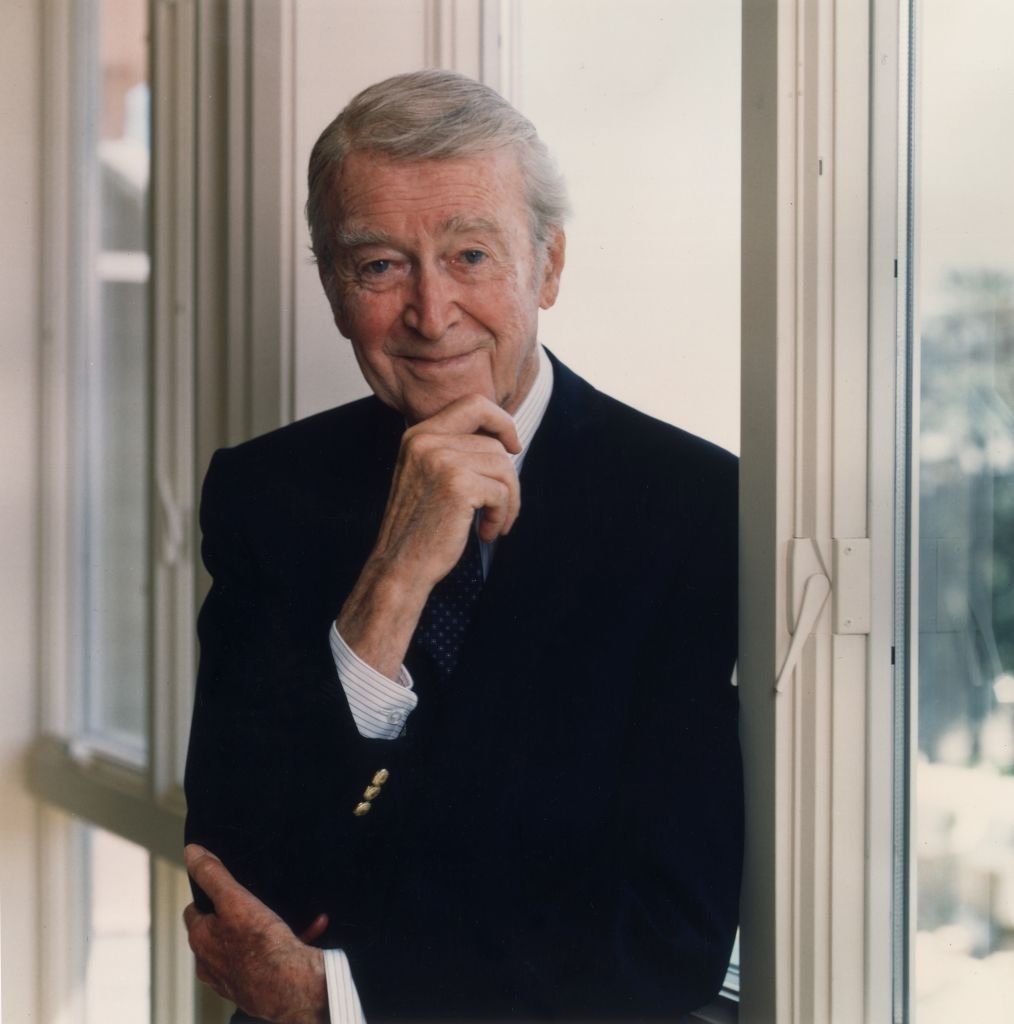 Portrait of American actor James 'Jimmy' Stewart holding one hand to his chin and smiling circa 1988. | Photo: Getty Images
RETURNING TO HOLLYWOOD
The Hollywood star managed to keep his emotions bottled up, combining it with his acting career when he returned. He returned to the big screen in 1946 after World War II was over.
His first movie upon his return was Capra's "It's a Wonderful Life." Other productions that featured the actor include "Harvey," "Winchester '73," "Broken Arrow," "Rope," "Vertigo," "The Jimmy Stewart Show," "Hawkins," and many others.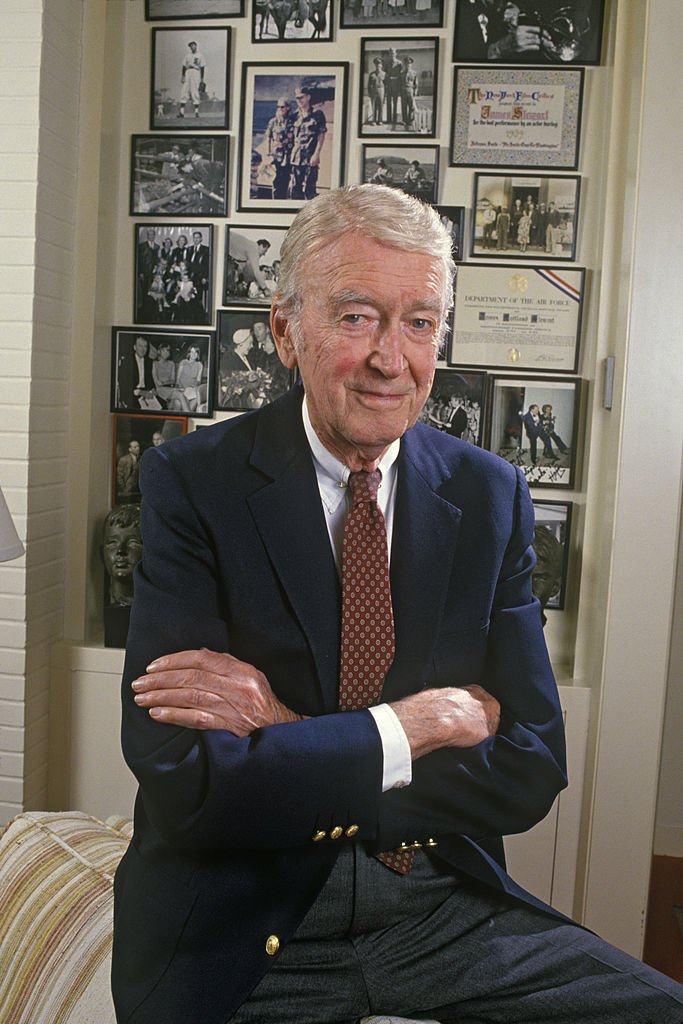 Actor Jimmy Stewart poses in his Beverly Hills, California home during a 1989 photo portrait session. | Photo: Getty Images
STEWART'S WOMANIZING LIFESTYLE
Apart from his professional achievements and his service in the military, Stewart also had an accomplished marital life. He was happily married to his wife and actress Gloria Hatrick McLean for more than forty years.
But before he tied the knot, Stewart was a womanizer. A report revealed that Stewart's father advised him to pick a woman and settle down upon the actor's arrival in Hollywood.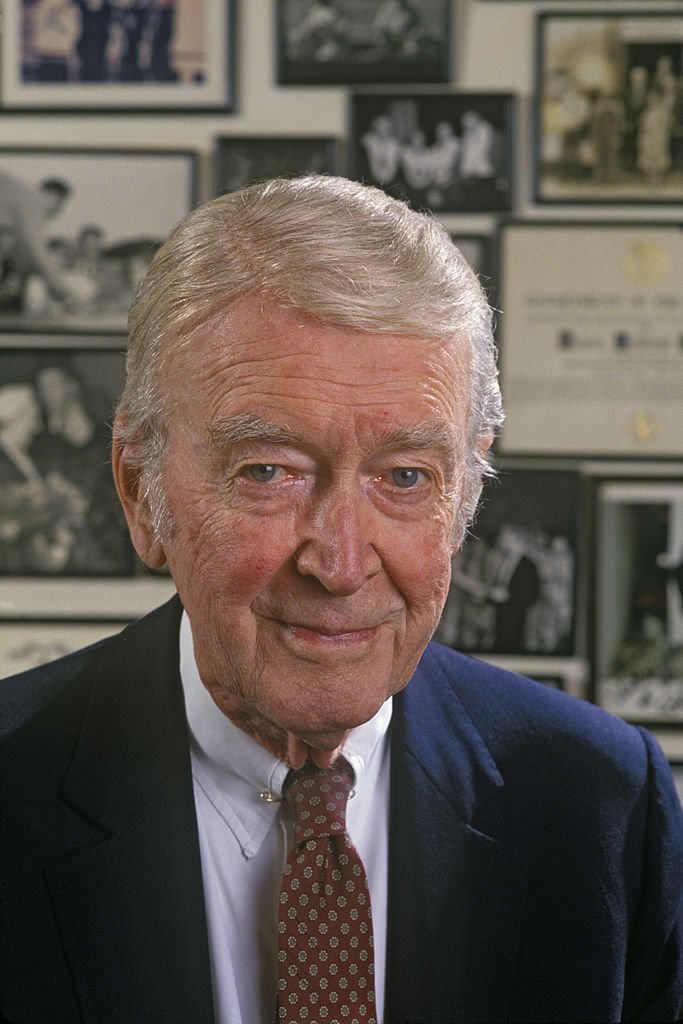 Jimmy Stewart poses in his Beverly Hills, California home during a 1989 photo portrait session. | Photo: Getty Images
But rather than choose a lady with a struggling career, the actor sought after the best. His long list of women included legendary actresses and ladies who were no strangers to the news headlines.
Some of his former lovers were Anita Colby, Eleanor Powell, Loretta Young, Shirley Ross, Wendy Barrie, Marlene Dietrich, Ginger Rogers, Norma Shearer, Dinah Shore, Virginia Bruce, and many others too numerous to mention.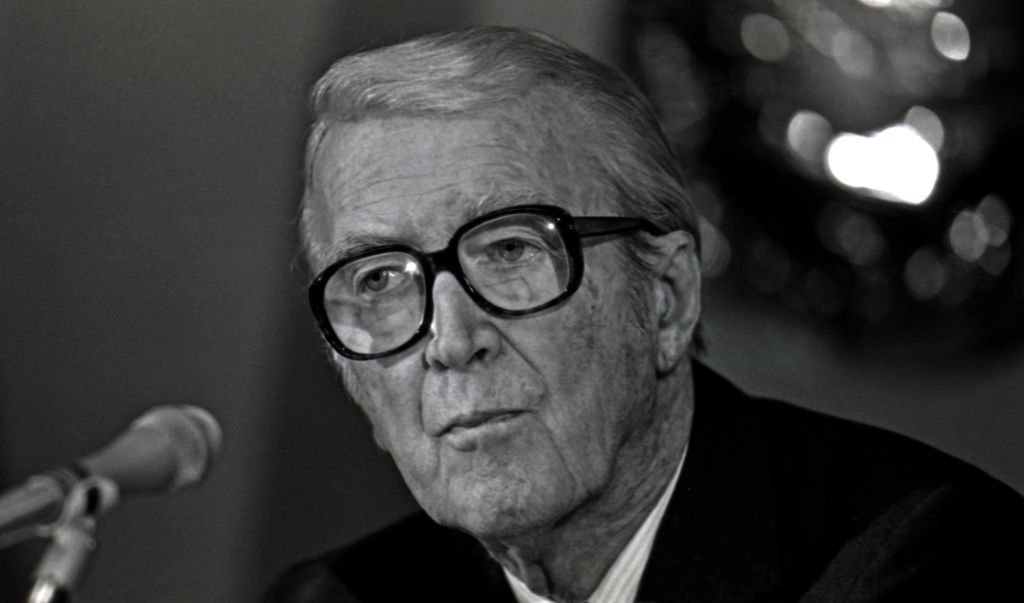 James Stewart speaking at National Press Club during the Directors Guild of America news conference about the colorization of black and white movies, Washington DC, March 15, 1988. | Photo: Getty Images
FINDING THE RIGHT WOMAN
After many years of philandering, Stewart finally decided it was time to find the perfect woman. He said he needed to "put down roots" and have a permanent relationship with the woman he loved. Stewart was ready to get married and have a family he could come home to at night.
He wanted the love of a wife, and for the Hollywood star, the best woman who could offer him that was Gloria McLean. The pair met when Stewart was in his early forties, and not long after, they began dating.
McLean was strong-minded, humorous, and bright. She was the best fit for Stewart, and on August 9, 1949, the couple walked down the aisle. On May 7, 1951, they welcomed twin girls Judy and Kelly.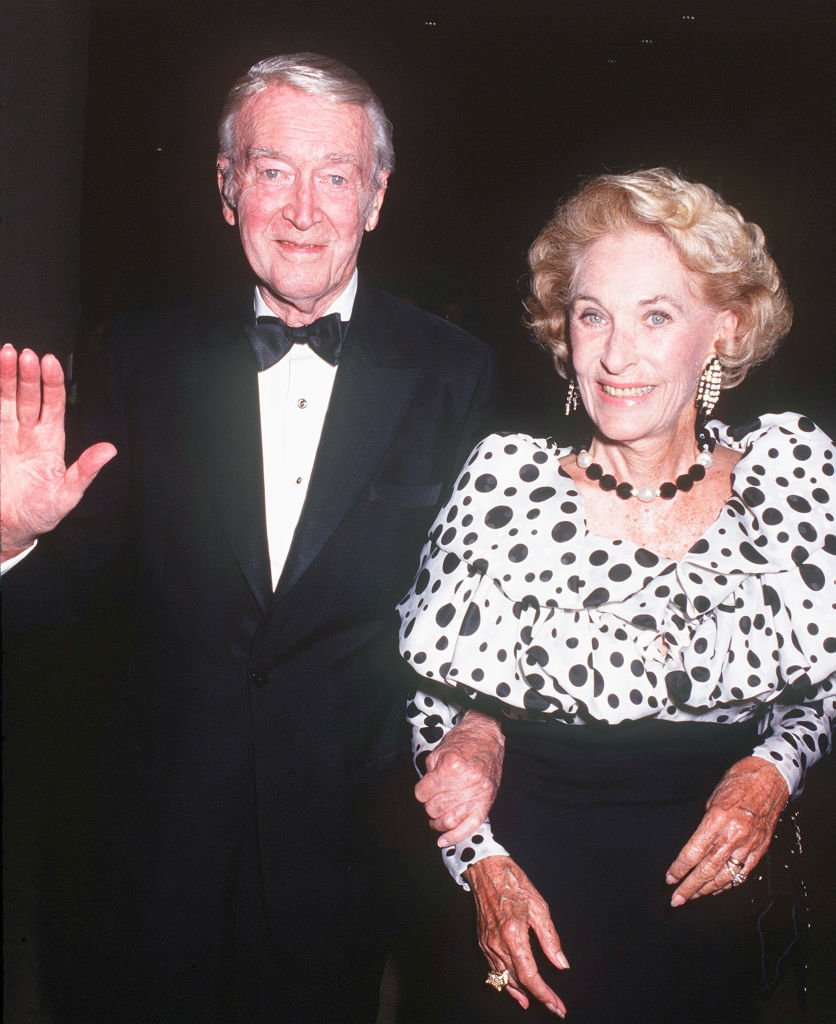 Actor James Stewart with his wife Gloria, circa 1992. | Photo: Getty Images
INSIDE MCLEAN AND STEWART'S DEATH
McLean and Stewart lived happily and quietly in Beverly Hills. They stayed married for forty-five years before McLean's demise in 1994. Stewart's life was greatly affected by his wife's death.
The actor retired from being an entertainer and a public figure. His health depreciated more, and on July 2, 1997, Stewart passed away. Before his death, he battled hearing problems, heart problems, and skin cancer.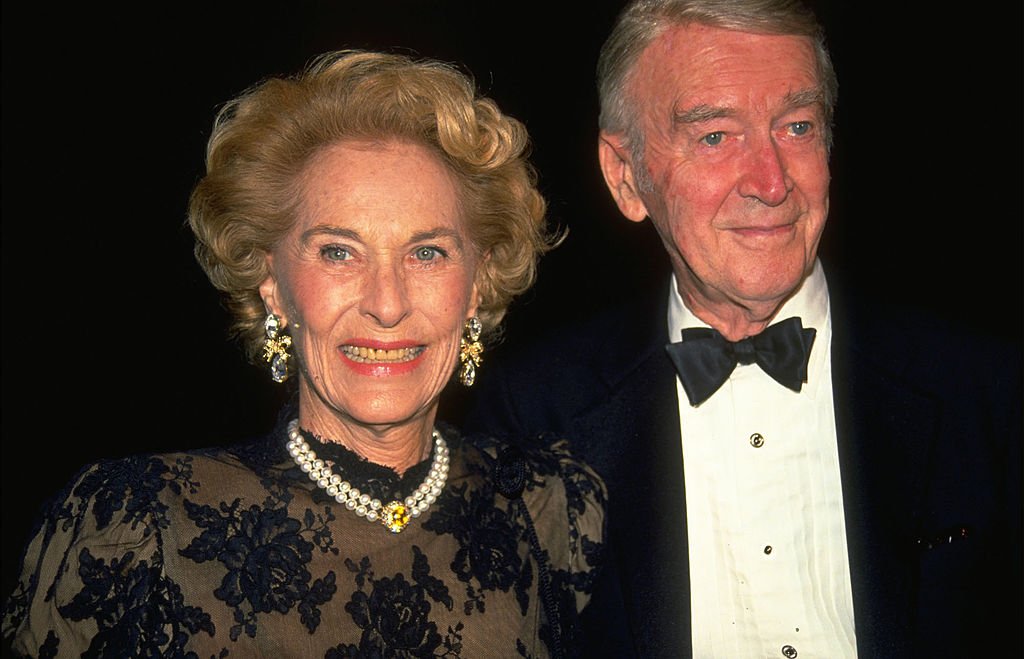 Portrait of James Stewart and his wife Gloria McLean on March 05, 1999. | Photo: Getty Images
On the day he died, he suffered an embolism, which led to a blood clot in his lungs. The clot resulted in a heart attack, leading to the actor's death. He was 89 years old.
Please fill in your e-mail so we can share with you our top stories!