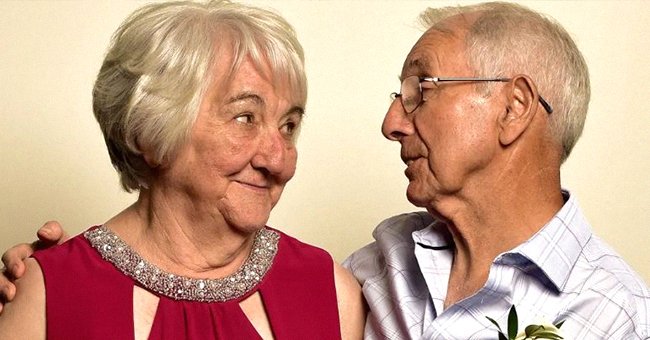 twitter.com/metromorning
Sweethearts Reunite and Get Married 65 Years after Being Separated as Teenagers
Eighty-four-year-old Frederick Paul fumbled around his garage, looking for seashells, but eventually gave up, acquiescing that chalk would do. Spelling out "Welcome Florence" in his driveway, he waited for his high school sweetheart to arrive.
Paul did not grow into a romantic as he aged but was always one for sweet gestures. When he and his beloved, 81-year-old Florence Harvey, first began dating as teenagers in Wandsworth, Canada, he would do all he could to show his love.
The young man would flicker the light on his porch, which Harvey could see across the bay. This, as the young woman knew, meant that he loved her and wished her a good night.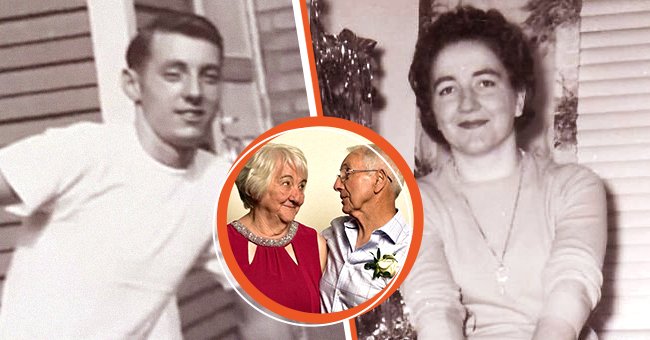 Frederick Paul in his teenage years [left]; Florence Harvey in her teenage years [right]; Frederick Paul and Florence Harvey in their old age [center]. │Source: twitter.com/metromorning
MOONLIT MEMORIES
The two were inseparable, talking for hours on end, going for walks together, and kissing on the sly in between classes. Paul reminisced:
"She was my first love. My first girlfriend and my first true love."
Unfortunately, they were separated. Paul left town to walk his sister down the aisle in Nova Scotia, and then upon traveling to see his brother in Toronto, he landed a job there. After a year, he eventually came back, but to the young man's dismay, Harvey had left, taking a teaching course at the city of St. Johns.
GOODBYE BUT NOT FAREWELL
The pair eventually got married, not to one another, but to other individuals who shared happy decades. Paul said his "I do's" with a lovely woman named Helen, and they remained together for 60 years.
Both of their families were concerned.
Simultaneously, his first love walked down the aisle with Len, whom she was wedded to for 57 years. Both were happy in their marriages until their spouses passed away, Helen from dementia and Len from cancer.
THE VOICE OF AN OLD FRIEND
After Harvey heard that Paul's wife had died, she picked up the phone to send her condolences, also feeling as though the two could relate to the death of a life partner. The 81-year-old expressed:
"The first year after you lose your mate, it's a very, very lonely year. Every holiday is a lonely time."
It was around Valentine's Day, a specifically heartsore time of the year for widows and widowers, so Paul welcomed the comforting call. The pair instantly clicked, and their phone conversations became more frequent, lasting hours long.
AN OLD FLAME SPARKS
Soon enough, Harvey was driving down to Ontario, where Paul lived, all the way from Wandsworth, where she was living. After being welcomed by the romantic sign written in chalk, the duo was ready to marry in three days.
Both of their families were concerned about the rapid nature of their courtship, but worries died out after they witnessed the deep love between them at the elderly couple's wedding. On August 8, 2020, the two tied the knot in an intimate ceremony at Norval United Church in Georgetown, Ontario.
You May Also Like: Man Who Feared He'd Never Date His Love Due to Cerebral Palsy Cries on Seeing Her in Wedding Dress
RIDING THE STORMS TOGETHER
Florence paints a beautiful picture of their life together, stating that they love being in each other's company consistently. The newlywed said:
"We just love being here together. He's a very loving person, very caring. And I love every moment I spend with him."
Beyond the beauty of their everlasting bliss, they have come up against some challenges, with Paul battling stomach cancer. However, in the spirit of true love, his wife has been there every step of the way.
As the church minister Paul Ivany who officiated their wedding, said, these two know the true definition of love. This is because of their experience with marriage and understanding of vows, such as during sickness and in health, Ivany expressed, also stating:
"They were ready to say those vows again. Not with the naive emotionalism of young love but out of the depths of lived experience."
Many of us can only dream of the type of lifelong love these two high school sweethearts have for one another. Harvey and Paul prove that it's never too late for one to find their fairytale, even with grey hair and wrinkles.
You May Also Like: Woman Married High School Sweetheart Four Years After Her Husband Died
Please fill in your e-mail so we can share with you our top stories!