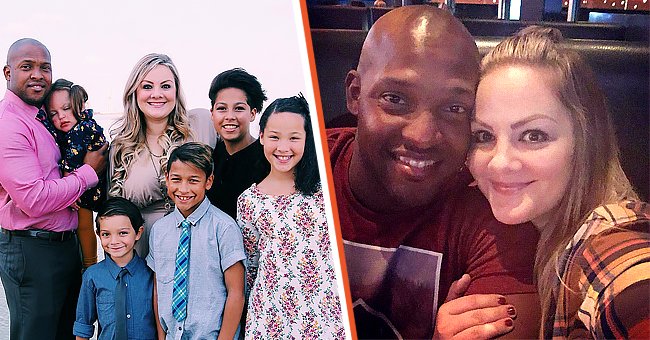 instagram.com/journeyofsarah
Woman Married High School Sweetheart Four Years after Her Husband Died

Sarah and DeAngelo met as teenagers, kicking off a beautiful love story that would overcome failed relationships, death, parenthood, and time itself.
Following her husband's death, Sarah Rhodes fell into a pit of grief, mourning for years, with her two children being the only thing keeping her from losing herself completely.
Four years later, she received a notification that would change her life forever. It was an Instagram notification alerting her she received a follow from her high school sweetheart, DeAngelo.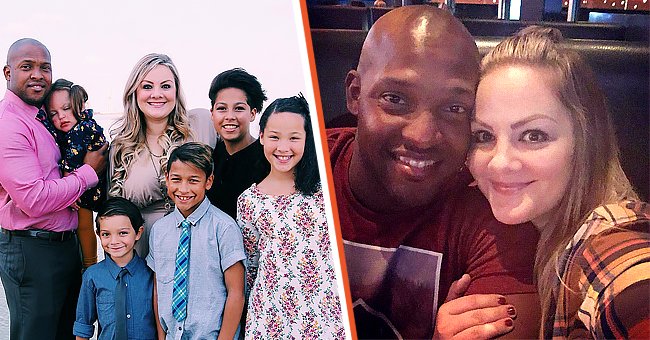 A picture of highschool sweethearts, Sarah Rhodes and DeAngelo with their family | Photo instagram.com/journeyofsarah
Immediately, memories came flooding back as she recalled their first meeting as fourteen-year-olds and how they kicked off their immature yet sweet romance, which lasted only three years.
After their breakup, they went their separate ways, dating other people and welcoming kids with their respective partners. Sarah explained:
"Life took us in completely different directions, which also just happened to make us two better versions of ourselves. Over the last few years, life circumstances changed again for us both[...]"
DeAngelo, who remained in their small town of Oklahoma, welcomed a child with his then-girlfriend in his twenties, which left Sarah convinced they were not meant to be.
She cut all ties with him thereafter and moved to New York City. DeAngelo proceeded to get married, welcoming two more kids.
While in NYC, Sarah met and married her husband, Joel, birthing two children before his death from cancer. Around that time, her high school sweetheart divorced his wife, leaving the two fated lovers single.
All the while, the duo never forgot each other, with DeAngelo keeping tabs on her life by following her blog. He eventually reached out to Sarah by following her on Instagram.
Still determined to keep him out of her life, she contemplated not responding but thought better of it. Twenty-four hours later, she followed him back on the platform, and they got talking, catching up on everything.
Following months of hesitation, the mom of two agreed to go on a date with DeAngelo. During the romantic dinner, they rekindled their affection, reliving their lost twelve years as they shared their first kiss in ages.
One year later, the duo tied the knot at the same spot as their shared kiss, surrounded by close relatives and the five kids they shared between them.
Two years after exchanging vows, the couple welcomed their first child together, uniting their blended family for good. Since their union, the pair have remained the ultimate sweethearts, supporting each other at every step while sharing every special moment together.
Even as they enjoy their newly restored love, Sarah and DeAngelo never forget the significance of their twelve years apart and those that made those excruciating years worthwhile.
More importantly, they keep Joel in mind, paying him special tributes on his anniversaries, given the role he played in Sarah's life, and ultimately, their love story.
Those years apart and the people that walked through it with the high school sweethearts undoubtedly contributed to making them better versions of themselves.
Please fill in your e-mail so we can share with you our top stories!