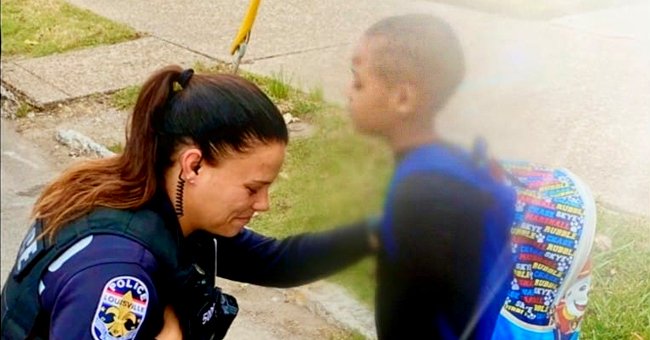 facebook.com/LMPD.ky
Boy Stops Police Officer on His Way to School, Asks Her to Pray with Him at the Bus Stop
This month a little boy approached a police officer as he was making his way to school. He did not have a crime to report, but he asked her to pray with him. The memorable moment was caught on camera and went viral.
In Louisville, Kentucky, a little boy made one police officer's day. Patroling the streets usually involves dealing with troublemakers and assisting citizens in need. However, for LMPD officer Jan Dykes, an average day was made special.
The woman's great day was linked to a youngster that approached her. While many would assume the boy needed help, the opposite was true. He wanted to offer the police officer some motivation and encouragement.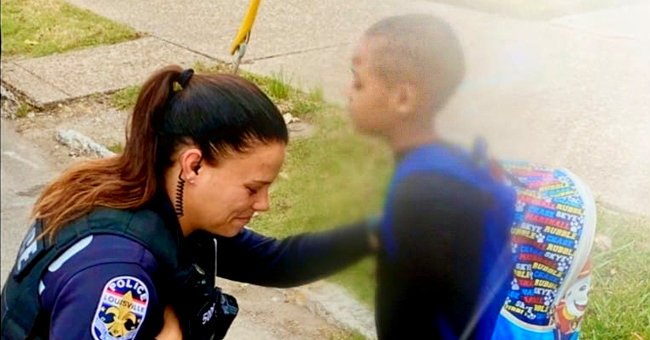 A young boy stops a police officer on his way to school and asks to pray with her | Photo: Facebook/LMPD.ky
THE TOUCHING IMAGE
Officer Dykes shared the encounter that has stuck with her since. Fortunately, it was also captured in a photo that has been doing the rounds online. Shared by the Louisville Metro Police Department Facebook page, the image is unique.
It features the police officer with her hand on the little boy's chest. She was kneeling to his level, and her eyes were closed. In a later statement, Dykes revealed what was happening—the boy was praying for her.
PRAYING FOR THE OFFICER
The youngster was offering up a prayer for her safety. Dykes stated: "He stopped me and was like, 'Hey, before you leave, would you mind if I prayed with you for your day and my day going to school?"
Dykes was caught off guard, but the spontaneous incident was "great." She shared that he asked to pray for her safety and called her a "new friend."
THE BOY'S WORDS
The boy purportedly expressed: "I really hope her day goes great, and hopefully she makes a lot of lives better and going to school and meeting new people." The boy's excitement and positivity struck Dykes.
She could not shake the encounter. Occasionally police officers are lauded for their kind actions, but this child was paying it forward and saying thank you to a public servant he respected.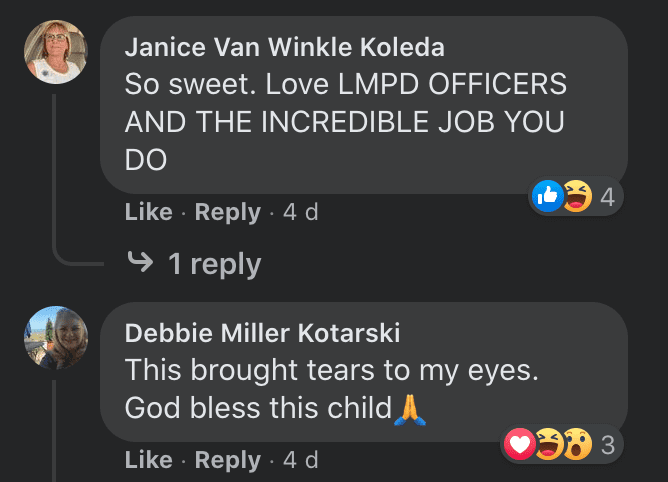 Netizens react to a young boy praying with a police officer | Photo: Facebook/LMPD.ky
COULD NOT FIND THE BOY
The police officer attempted to find the boy after school, but she was unsuccessful. While she does not know his name or address, she hopes he knows what the prayer and gesture meant to her.
Dykes expressed: "It brought a lot of joy to me for him to want to do that for me. It made me happy to see someone so young and moldable being so positive and wanting to be that light."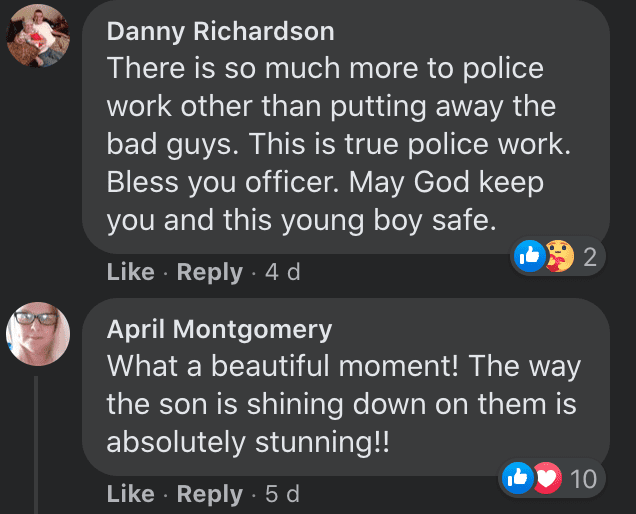 Netizens react to a young boy praying with a police officer | Photo: Facebook/LMPD.ky
THE ONLINE REACTION
The boy's light also touched many netizens. With thousands of likes and hundreds of comments, people applauded the youngster and wished him well. Someone said: "So sweet. Prayers for both of them."
Another user wrote: "God bless this child and the dedicated officers that have to face life and death situations daily." Others noted the compassion visible in the picture and encouraged more people to follow their example.
Please fill in your e-mail so we can share with you our top stories!