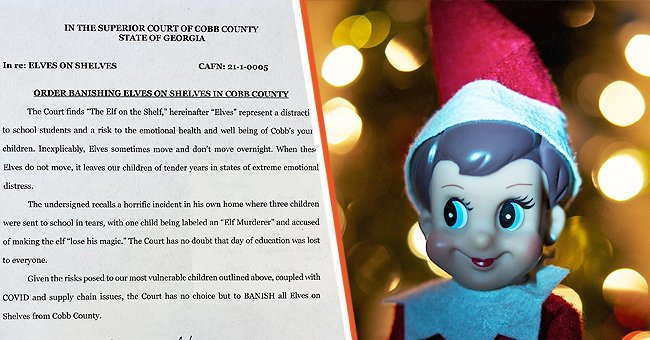 pxhere.com twitter.com/JudgeLeonard
Georgia Judge Jokingly Bans Elf on the Shelf Because It Causes 'Emotional Distress' in Kids
In a funny tweet, a judge stated that he was banning Elf on the Shelf. The "court order" garnered a massive reaction, and even Santa had something to say about it.
Cobb County Superior Court Judge Robert Leonard took to Twitter to share his feelings regarding Elves, and it was not a message of approval. This month, he purported that Elf on the Shelf had caused his children "emotional distress."
The joking gesture was linked to a story from Leonard's past. The Georgia judge remembered an incident that left his children in tears and caused them to miss their education.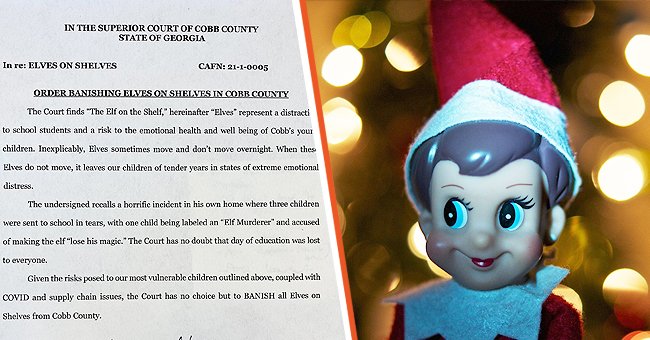 A judge shares a comical jest at Elves at it garners an online reaction | Photo: Pxhere & Twitter/JudgeLeonard
A GIFT TO TIRED PARENTS
In the social media post, he wrote: "Tired of living in Elf on the Shelf tyranny? Not looking forward to the Elf forgetting to move and causing your kids emotional distress?" He then offered to take the heat for all parents.
The words were accompanied by an image of a court order that claimed to highlight the negative aspects of Elf on the Shelf. In the photo, the order found Elves guilty of various offenses, such as being a distraction to kids while in school.
ELVES FOUND GUILTY
The judge also highlighted the inconsistent movement of Elves. He expressed that when they don't move, it can leave young kids in emotionally heightened states.
The judge was also careful to offer those who loved their Elves an option. He stated that those who loved their Elves were free to keep them without any "contempt." His post also indicated where his disdain for Elves came from.
HE BANISHED THE ELVES
He stated that his kids were called "Elf Murderers" and accused of taking away Elf magic. The post ended by indicating that due to the circumstances, a ruling was passed to "BANISH all Elves on Shelves from Cobb County."
Leonard's message was taken in good humor. However, there was one particular man that added his opinion—Santa Clause. The father of Christmas released his own statement in retaliation to the judge.
SANTA'S REACTION
It was written on behalf of the Elves and featured a comment from Santa. He assured kids that Leonard had "no jurisdiction over Christmas cheer."
His post was also in good spirits and indicated the Elves would still be spreading holiday joy and festivities. It also concluded that Leonard was still on the "nice list" despite the court order.
THE ONLINE RESPONSE
One user jokingly called the post "UNCONSTICHRISMASABLE!!!!!" and another added that they agreed with the post. They shared their own experience working in a school that had an Elf tradition. They expressed: "It drove me nuts."
Some were not impressed by his joke and stated that the judge should focus his time and attention on more pressing matters. Regardless, those who appreciated his jest played along and were grateful for the comical distraction.
Please fill in your e-mail so we can share with you our top stories!