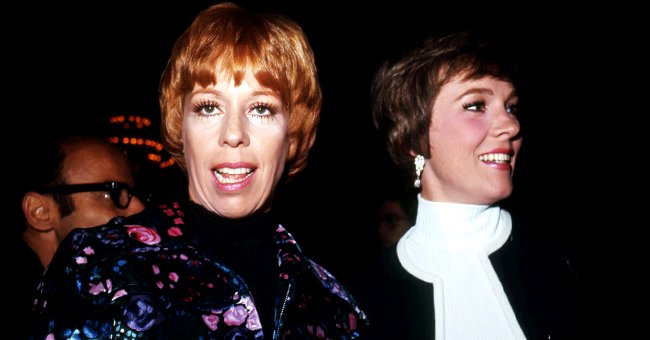 Getty Images
Carol Burnett Considered Herself Heterosexual but Was Still Caught Kissing Julie Andrews
Carol Burnett was a famous TV star of the '60s and '70s and enjoyed a huge fanbase. The show host was once involved in a scandal after being caught kissing an actress.
Those who have seen "The Carol Burnett Show" know not it's hard not to fall in love with the show's lead star. The famous redhead was America's TV darling, and her charms and personality made the title rightly deserved.
Her show ran for more than ten seasons, spanning from the late '60s to the '70s, earning her widespread recognition. Burnett was not only loved by her fans, but she was also a favorite of several celebrities.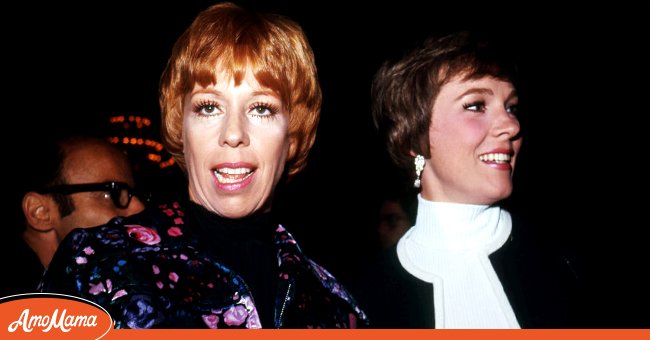 Carol Burnett and Julie Andrews at an event | Photo: Getty Images
During its 11-season run on CBS, "The Carol Burnett Show" featured many movie, television, and musical talents. Burnett featured stars like Jimmy Stewart, Jackson 5, Cher, Bing Crosby, and Flip Wilson on her show.
MEET BURNETT
Burnett enjoyed a career in television, Broadway, and film. Before the launch of her show, she was a guest star on several shows, which helped bring her career to the limelight.
The show host was born in 1933 and was raised by her grandmother after her parent's divorce. Although life with her granny was not so comfortable, it helped expose her to what would become her passion.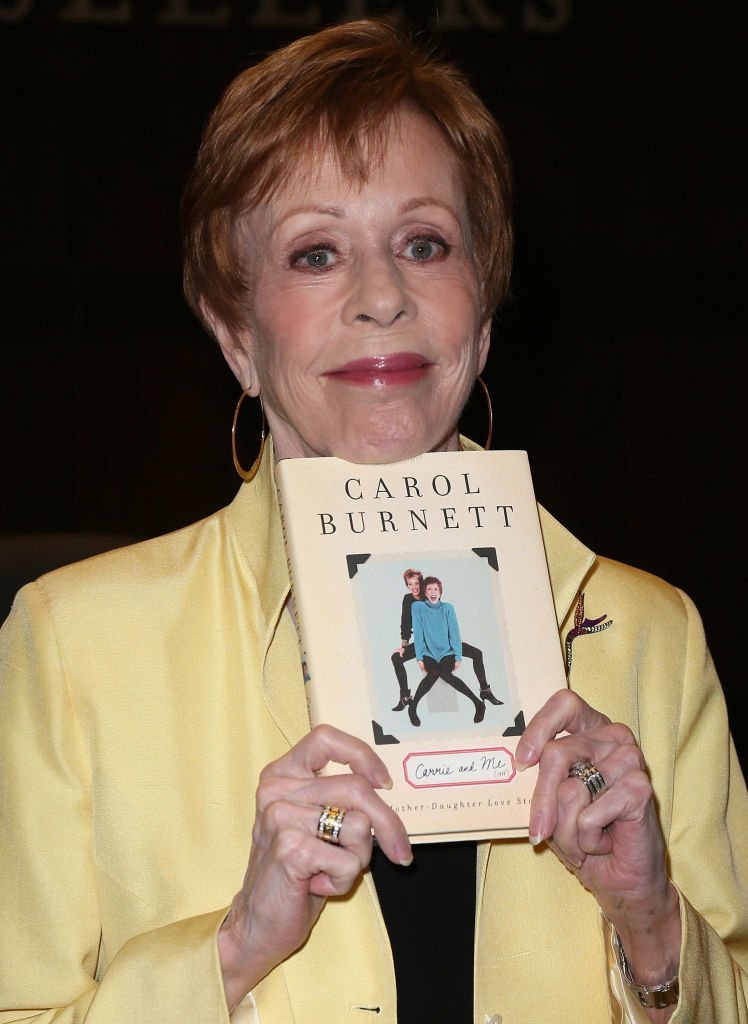 Carol Burnett attends a signing for her book "Carrie and Me: A Mother-Daughter Love Story" | Photo: Getty Images
The 88-year-old once revealed that she often accompanied her granny to the theatre to see as many as eight movies weekly. It was during this time she discovered her passion for acting.
Burnett attended Hollywood High school and graduated in 1951, but her mother and grandmother urged her to study journalism which was not her passion.
While studying theater arts and English at the University of California, Los Angeles, she discovered her acting talent as an aspiring playwright. Consequently, she left school for New York in search of acting jobs.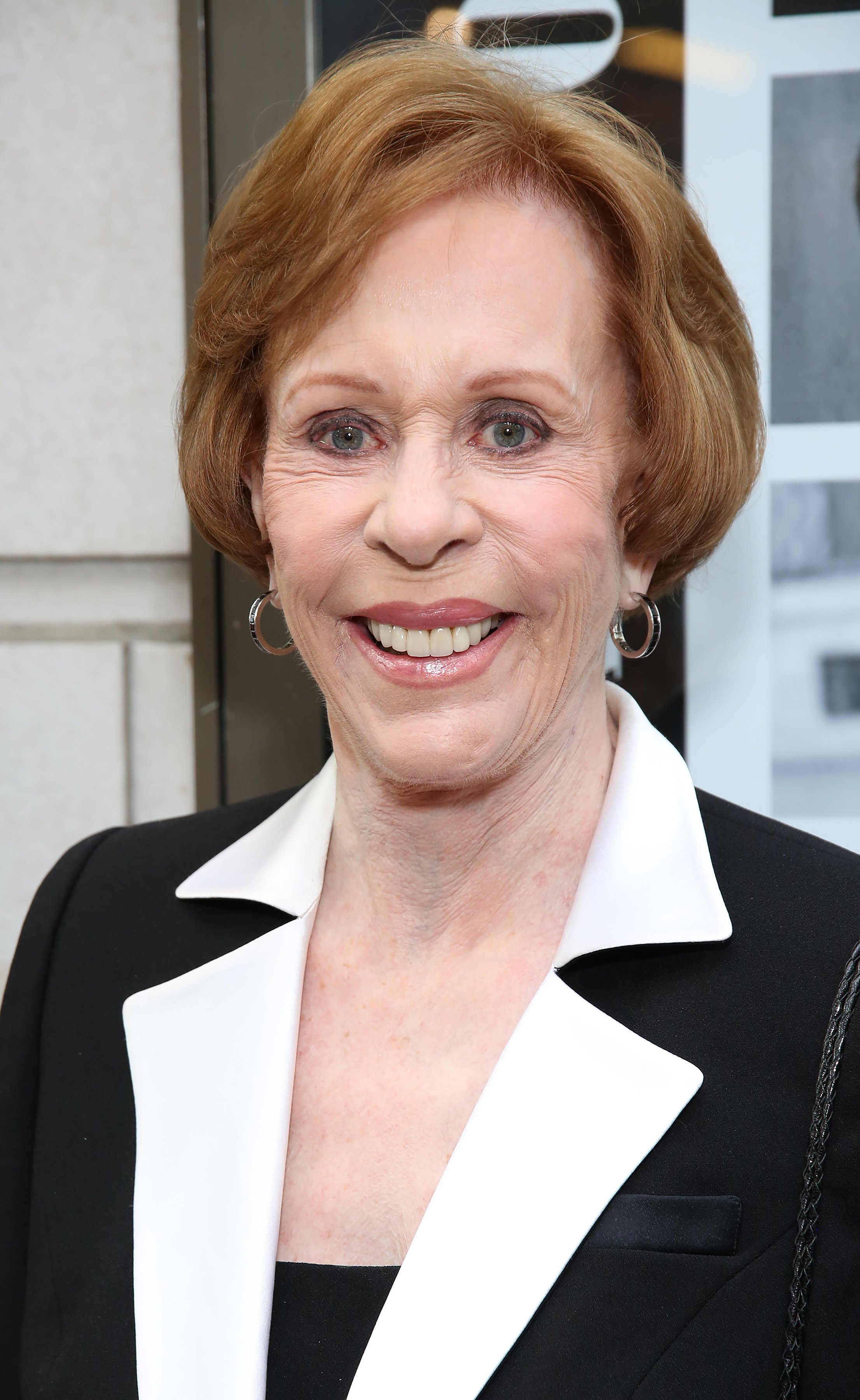 Carol Burnett during the Broadway Opening Night performance of 'The Prince of Broadway' at the Samuel J. Friedman Theatre on August 24, 2017. | Photo: Getty Images
CAREER AND BREAKTHROUGH
Burnett made her television debut in the early 1950s on The "Winchell-Mahoney Show," a children's program. Later, she starred alongside Buddy Hackett in the sitcom "Stanley." The show helped her gain exposure and offered additional options for her.
As her career progressed, Burnett became a regular on "The Garry Moore Show" in 1959. She appeared on several CBS shows and established herself as a well-known performer before being handed her smash show in 1967.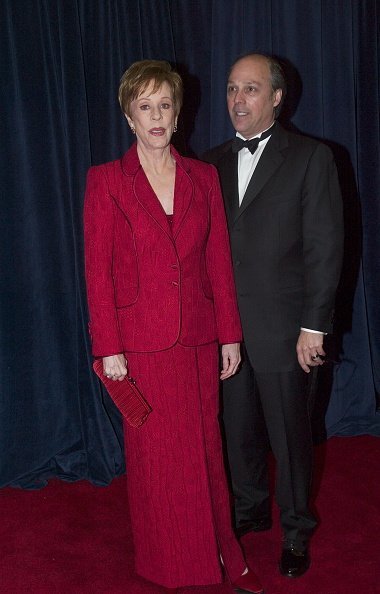 Carol Burnett and Brian Miller at the United States State Department on December 6, 2003. | Photo: Getty Images
"The Carol Burnett Show" was regarded as one of the greatest shows of the '60s and '70s as it had a different approach from other popular shows of the time.
The show often began with an audience question-and-answer session, followed by broad comedic skits and sketches, with Burnett employing her expressive face to great comic effect.
The show was canceled in 1978 after more than a decade. Burnett later returned to television in 1990 and 1991 with the comedy programs "Carol & Company" and "The Carol Burnett Show."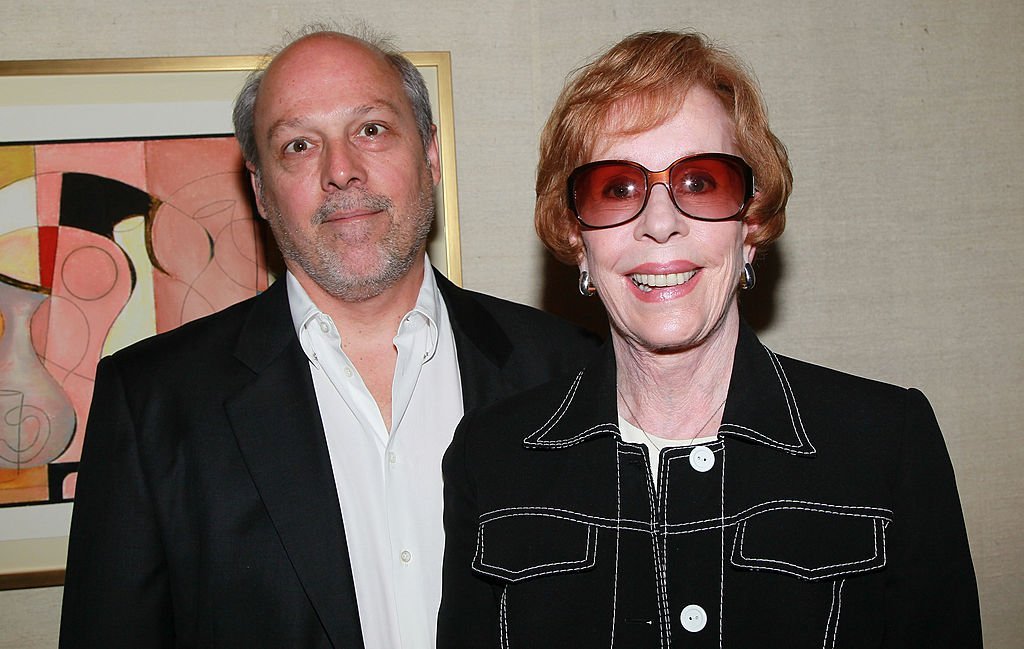 Carol Burnett and Brian Miller attend Blake Edwards' art exhibit preview at Leslie Sacks Fine Art on June 5, 2010. | Photo: Getty Images
Burnett's contributions to the entertainment industry have been recognized numerous times, and she has a long list of honors to her credit. In 2013, she was awarded the Kennedy Center Honors, one of the most prestigious awards given to artists whose work has influenced American society.
The TV icon has also been given other awards. These include the American Comedy Awards, Emmy and Golden Globe awards, the 1980 Women in Film Crystal Award, the Presidential Medal of Freedom in 2006, and a star on the Hollywood Walk of Fame.
Despite how smooth her career looked, Burnett became the subject of gossip and rumors after being caught kissing Julie Andrews by a former First Lady in a prank gone wrong.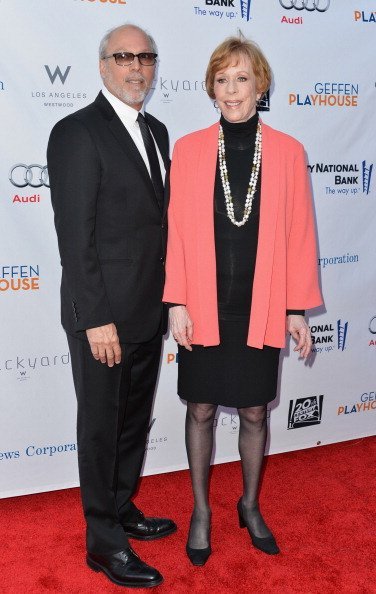 Brian Miller and Carol Burnett at the Geffen" Gala at Geffen Playhouse on June 4, 2012. | Photo: Getty Images
THE COSTLY PRANK
Burnett has been married three times and has maintained that she is heterosexual. However, a hilarious prank with Julie Andrews raised questions over her true sexuality.
Both stars were goofing around and were not lovers as claimed. They were also married to their respective partners at the time.
The "Mary Poppins" star has often recalled that moment and still does with a great smile. Andrews once confessed to enjoying an amazing friendship with Burnett, and the kissing episode remains a standout moment in their friendship.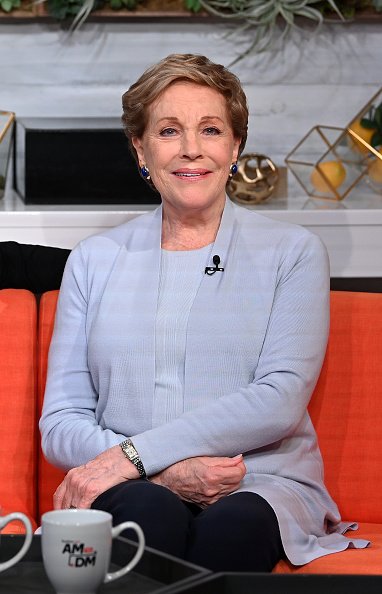 Julie Andrews on October 15, 2019 in New York City. | Photo: Getty Images
The actress opened up on the famous prank during an appearance on "The Kelly Clarkson Show." The incident reportedly took place in the '60s during the inauguration of President Johnson.
According to Andrews, she and Burnett were waiting for their friend Mike Nichols for an event they organized. After waiting a while, they decided to surprise their buddy by doing something silly.
The duo sat by a sofa close to the elevator, waiting to pull the trick on the famous movie director. After hearing noise from the elevator, they kissed, hoping to surprise Nichols but unfortunately, several Secret Service Men filled the room.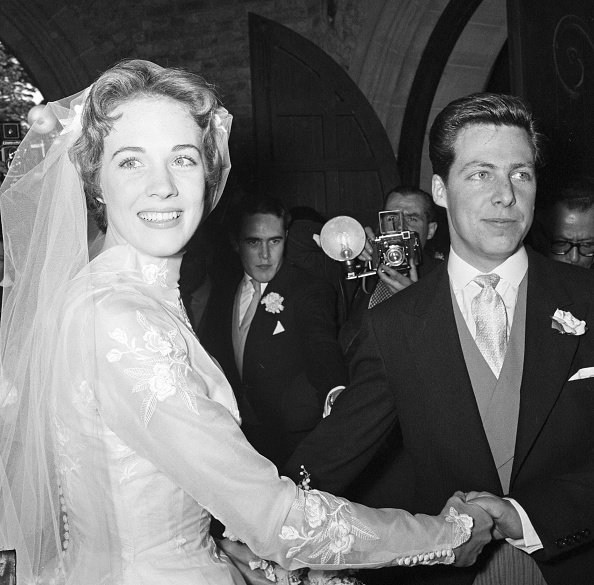 The wedding of Julie Andrews and Tony Walton at St Mary Oatlands Church, Weybridge, Surrey, on May 10, 1959. | Photo: Getty Images
Their big plan had been ruined. While enjoying the humor from their act, the stars were approached by First Lady Bird Johnson. In her chat with Clarkson, Andrews recalled the moment the First Lady approached them.
She said, "the lady went down the hall, realized it might be us, and she came back. By this time, Carol was laughing so hard that she went around the back of the sofa we were sitting on because we both had tears running down our faces at being so silly."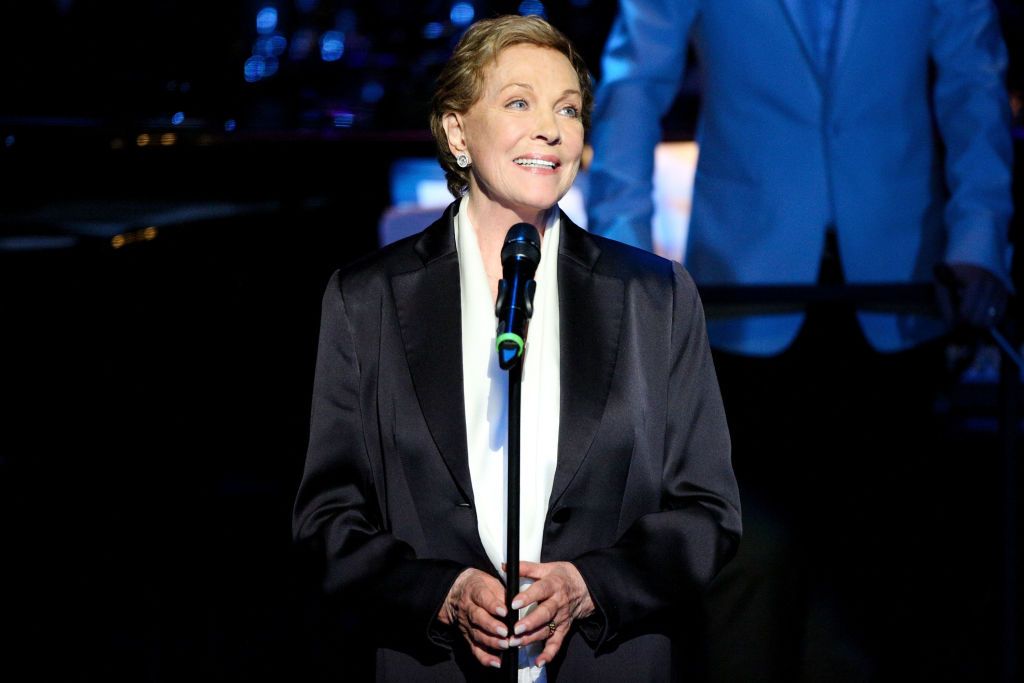 Actress Julie Andrews speaks at Mancini Delivered - A Musical Tribute To Ginny And Henry Mancini at Wallis Annenberg Center for the Performing Arts on April 1, 2017 | Photo: Getty Images
LONG-LASTING LOVE
After two failed marriages, TV icon Burnett gave love a chance for the third time when she walked down the aisle with Brian Miller in 2001. The duo has enjoyed a romance spanning two decades, and Burnett remains grateful for having her long-term partner by her side.
The duo met in the '90s and dated for three years before tying the knot. The couple does not share any kids, but Miller has been an amazing stepdad to Burnett's three children.
Miller has been by Burnett's side through some difficult times, in addition to sharing a wonderful relationship with the legendary show host.
He showed his love and support when Burnett's daughter Carrie died of lung cancer at the age of 38 in 2002 and stood by her when she sought formal guardianship of her grandson Dylan. Knowing her grandson is safe is a source of comfort for Burnett.
Please fill in your e-mail so we can share with you our top stories!