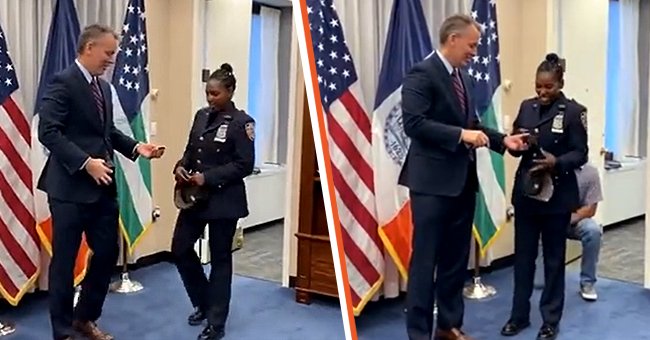 twitter.com/NYPDShea
Officer Goes to Commissioner to Receive Award, but Is Confused When He Hands Her a Ring Instead
An officer went to her Commissioner for an award, but she walked away with much more. Her fiance arranged an extra special proposal that she didn't see coming, and it left her stunned.
One fiance asked his girlfriend's boss if he would help him propose. The moment was captured on camera and showcased the officer's reaction—she was stunned. This month, her NYPD Commissioner called her in.
She walked into his office as a girlfriend and walked out as a fiancee. The Commissioner gave her a ring instead of the award she thought she was getting. At first, she was confused, but then she turned around.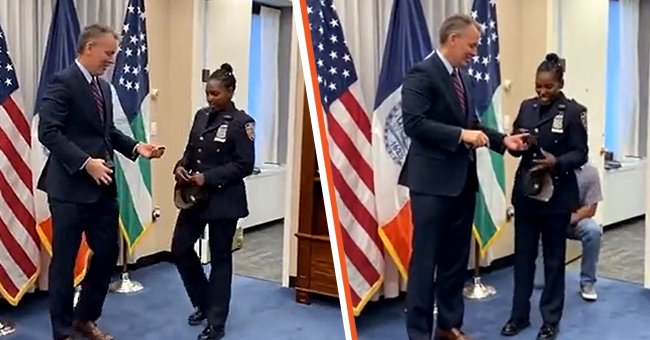 An officer goes to her commissioner to get an award but she is surprised with a proposal instead | Photo: Twitter/NYPDShea
THE UNEXPECTED PROPOSAL
Down on one knee was her boyfriend, who is a retired sergeant. Officer Shaundel could not believe that her Commissioner, Dermot Shea, had played along to help give her an unexpected proposal.
When she saw her boyfriend Henry, she realized what was happening and immediately embraced him. The hug was special, and in a photo shared on Twitter, the officer proudly showed off her ring along with a beaming smile.
WE NEED AN ANSWER
In the video, the people who witnessed the proposal began to cheer as the happy couple took in the moment. The Commissioner quickly stopped them because he realized Shaundel had forgotten about something.
He said: "Hold on! We need an answer." In the online post, Henry could be seen as he placed the ring on her finger. The tweet also confirmed that the officer said yes, and it led to an inpouring of love for the newly engaged couple.
THE ONLINE REACTION
Netizens were happy to see the joyous moment, and many wished the couple well. One user wrote: "Congrats to this Happy couple. So nice to see heartwarming news within the NYPD." Someone else added:
"WOW! What a Superb Surprise."
People loved the officer's reaction to the unexpected moment, and one user said: "This is so sweet." Another commenter also expressed: "Hope that they both continue to love each other for better or worst. Real love never ends!"
THE VIDEO MADE PEOPLE EMOTIONAL
Others shared that the video was touching, and it made them very emotional. Users commended the Commissioner for agreeing to help. A netizen wrote: "Congratulations, Shaundel & Henry. Commissioner, good job on helping with this surprise."
A commenter also praised the woman's ring, and they shared: "Beautiful ring! I shed a tear." Despite initially being confused about what was happening, the sweet and unique proposal is something Officer Shaundel will undoubtedly cherish forever.
Please fill in your e-mail so we can share with you our top stories!