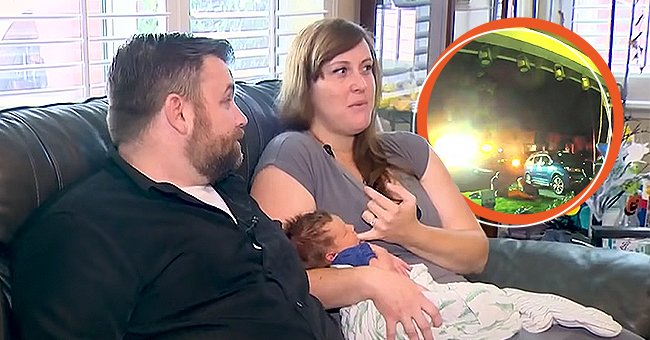 youtube.com/KCRA News
Woman Who Went into Labor and Couldn't Get To the Hospital Gave Birth on Her House's Front Lawn
A Vacaville couple snagged a priceless video of their son's unexpected birth on their front lawn, one week before the expected delivery date. The rare clip is turning heads on the internet.
No one expected baby Thomas Johnson to arrive until mid-November 2021. However, it seems the little one could not wait to join his lovely family.
In an interview, Michael and Emily Johnson, the new parents, recounted how the newborn arrived about a week early, filling their home with the long-awaited cries of a baby.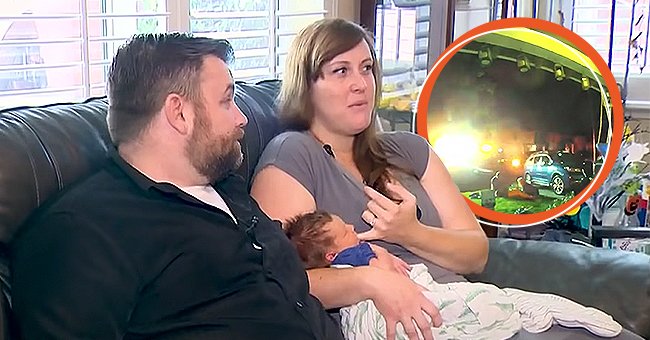 A picture of the couple, Michael and Emily Johnson, and their child | Photo: youtube.com/KCRA News
Their bizarre ordeal kicked off on the fateful Thursday when Emily began
having
contractions several hours apart. Since her delivery date was not due until the following week, she dismissed the bouts of pain.
However, after ignoring them for hours, the contractions soon began coming faster, with about a 30-minute interval. By the time the couple realized they needed to get to a hospital, Emily's contractions were already two minutes apart.
That's when it dawned on her that the moment she'd anticipated for months had finally arrived. Michael called Emily's mom over to watch their older kid, Blake, before grabbing his kids and heading out to the car with his wife.
But that was only as far as they could go. Speaking to interviewers, the woman recalled willing herself to get into the car to no avail. She knew at that moment that wherever she was standing at that moment was her delivery spot.
Emily, who happened to be on her front lawn, got down and positioned herself for the birth. Her mom, Kristy, arrived just in time to see the woman forcing her baby out.
A netizen's comment on the Youtube video | Photo: youtube.com/KCRA News
With Kristy's help, Thomas arrived about twelve minutes later, his beautiful, healthy cries filling the air. Paramedics pulled up just then and ensured everything else went smoothly. Emily shared:
"His head was coming out as they were getting out of the vehicles. Dad got to cut the umbilical cord with a scalpel in the front yard."
Medics transported both mother and child to the hospital for further medical attention. Both were confirmed healthy. The entire incident was captured on the doorbell camera, giving Michael and his wife a chance to relive the symbolic moment, which has since gone viral.

A netizen's comment on the Youtube video | Photo: youtube.com/KCRA News
Netizens' reaction to the "birth on the lawn" has been mind-blowing. While many congratulated the couple for welcoming their son safely, others reflected on how beautiful it was to have nature take its course. One of the comments read:
"When our body is ready, nothing can stop that baby from coming out. It's not like the movies, 'breathe… don't push!' Our body pushes on its own and you cannot stop it."
While the "front lawn birth" has made her somewhat famous, Emily admitted she never wanted to be in such a situation ever again.
Please fill in your e-mail so we can share with you our top stories!