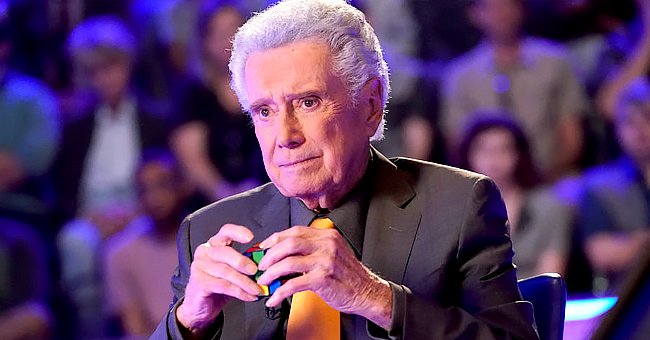 Getty Images
Regis Philbin's Son Had Defect that Led to Leg Amputation & Was Honored for Bravery after 9/11
Daniel Philbin, the son of Popular American T.V. host Regis Philbin had a very tough childhood, but he still made his father proud after his act of bravery.
Regis Philbin, named after his father's alma mater Manhattan's Regis High, was born to parents Frank and Florence Philbin. He graduated from the University of Notre Dame and joined the U.S. Navy in 1953.
He is an American T.V. presenter popularly known for hosting "Live! with Regis & Kathie Lee." The show lasted for 15 years before Kathie Lee left.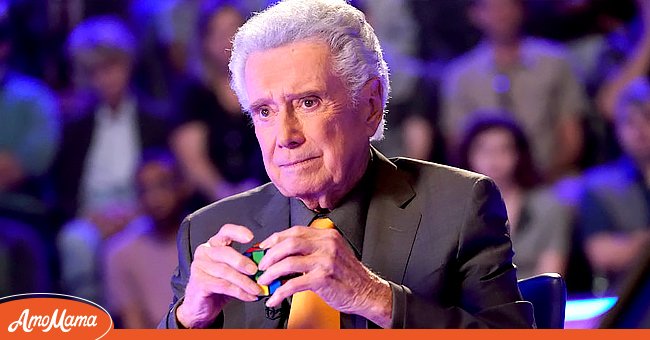 TV show host, Regis Philbin during a season 6 episode of TV show, "Fresh Off the Boat" | Photo: Getty Images
After her exit, Regis was joined by Kelly Ripa, and together they hosted "Live! With Regis and Kelly." The show ran for an additional ten years.
"Live!" was created by Philbin as a local New York broadcast back in 1983. The presenter also hosted "Who Wants to Be a Millionaire?" "Million Dollar Password" and the first season of "America's Got Talent."
Regis, during his 60-year career, also won various awards, including Emmys. He also won a Lifetime Achievement Award from the Daytime Emmy Awards in 2008 and was honored on the Hollywood Walk Of Fame in 2003.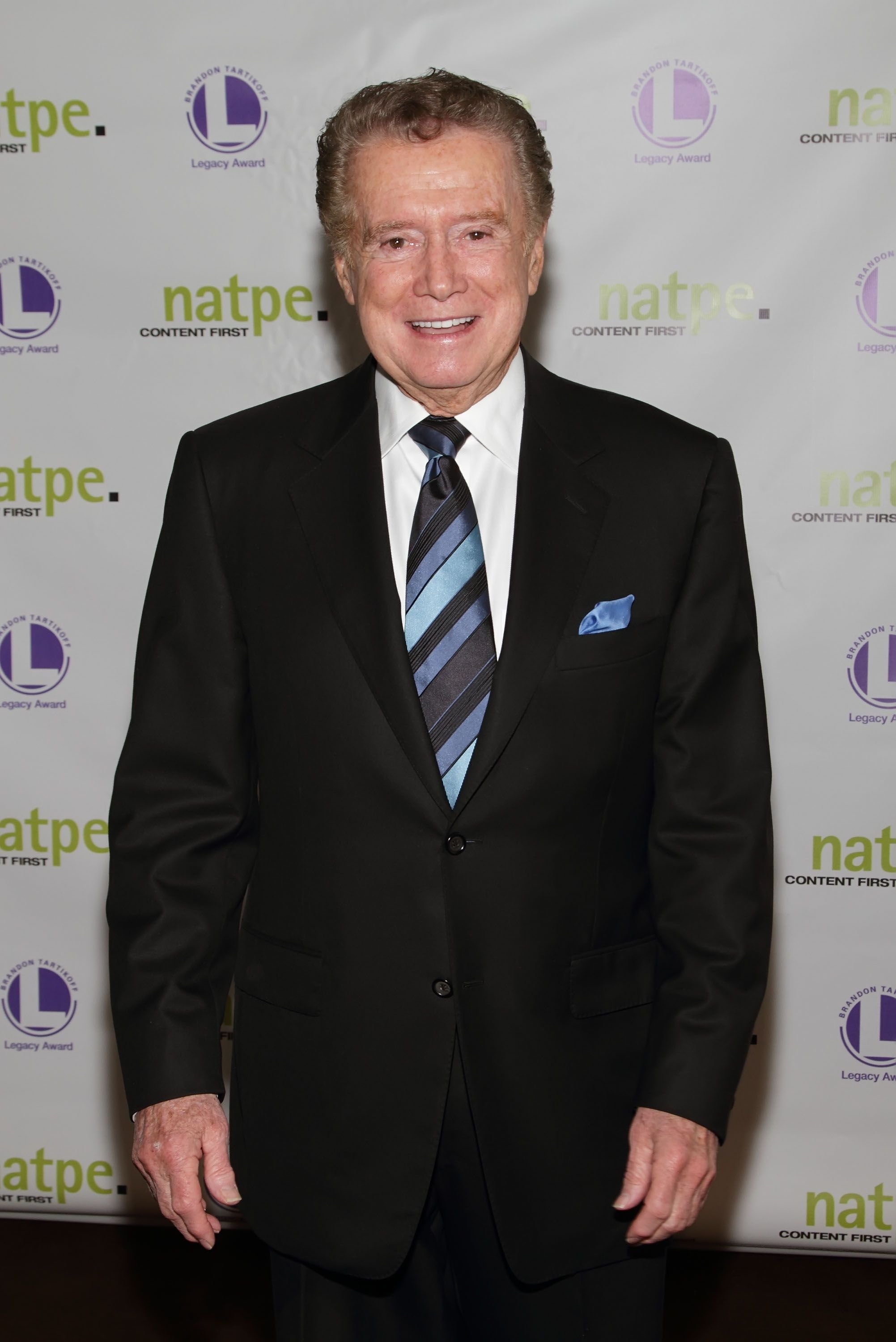 Television host Regis Philbin a the 8th Annual NATPE Brandon Tartikoff Legacy Awards at Fontainebleau Miami Beaci in Miami Beach, Florida | Photo: Getty Images
PERSONAL LIFE
Regis Philbin's first marriage was to actress Catherine "Kay" Faylen in 1955. The couple had their first child, Amy Philbin, in 1961, and six years later, they welcomed their second child Daniel Philbin, born in 1967.
Unfortunately, the couple ended things soon after welcoming their second child; they divorced in 1968 after spending almost 13 years together as a married couple.
However, that was not the end of Regis's love life, as he married Joy Philbin a year after his divorce from Faylen.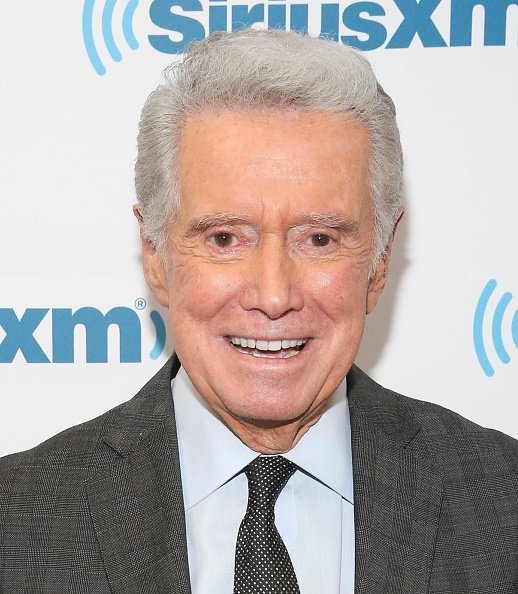 Regis Philbin at SiriusXM Studios on October 3, 2017 in New York City | Photo: Getty Images
Soon he became a dad for the third time when Joy gave birth to their daughter Joanna Philbin in 1973. Less than two years later, they welcomed their second child together and Philbin's fourth, daughter J.J Philbin.
AMY PHILBIN
Amy Philbin is the first child of the television presenter. After his divorce from Amy's mother, his first wife Faylen, Regis was hardly seen in public with his daughter, and not much has been said about her in the media. However, according to reports, Amy is pursuing a musical career.
DANIEL PHILBIN
Regis's first son, Daniel, was unfortunately diagnosed with a spinal defect and bound to a wheelchair soon after birth. His condition was so critical that his legs had to be amputated to help his situation.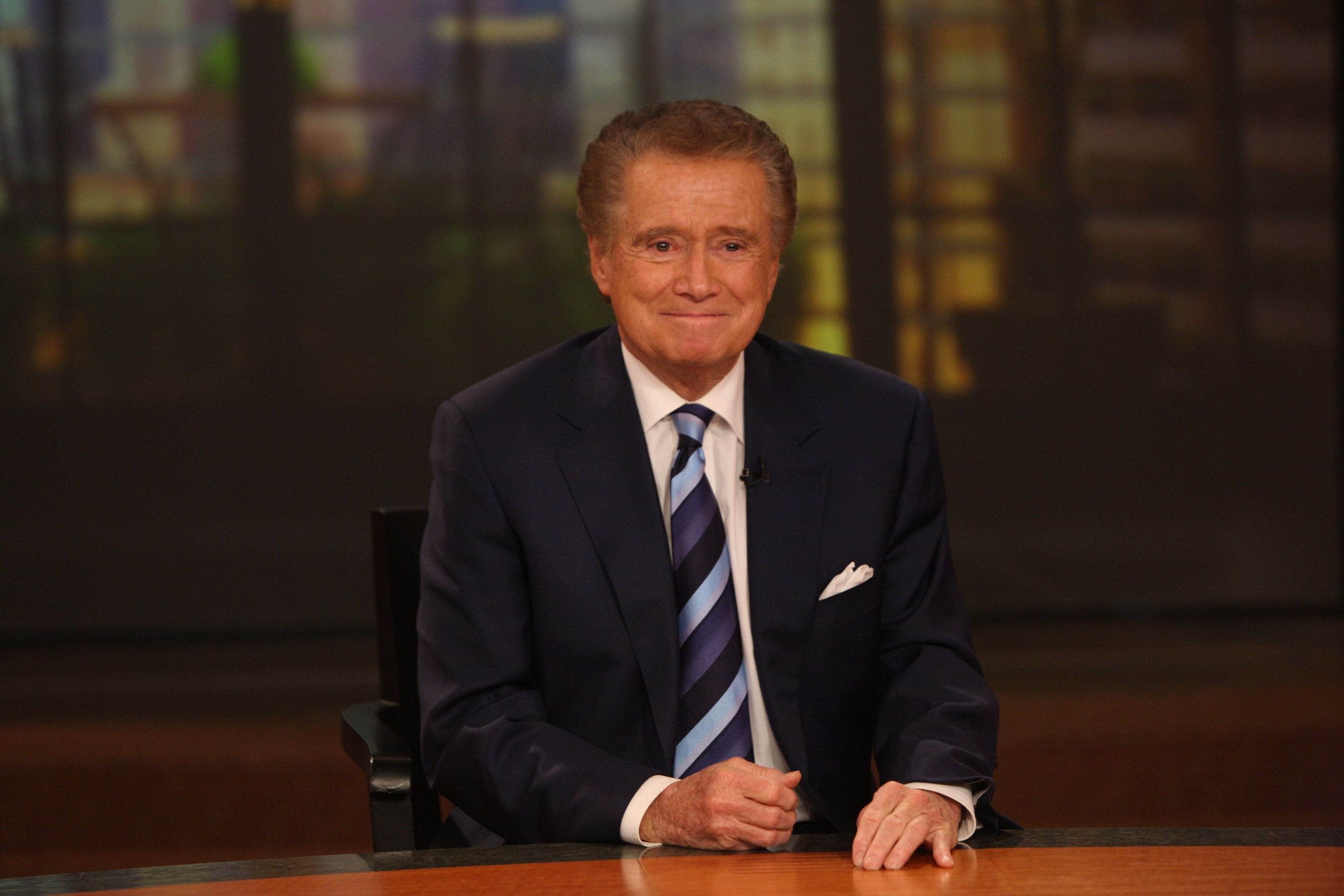 Regis Philbin at a press conference on his departure from "Live with Regis and Kelly" at ABC Studios, in New York City on November 17, 2011 | Photo: Getty Images
He spent the majority of his childhood at the Angel View Crippled Children's Foundation located in California. The young child did not let his condition define him as he bravely went on to earn college degrees in top schools.
Daniel attended Quartz Hill High School and proceeded to earn his bachelor's degree in political science at the University of Northridge in California state. Then in 1996, he bagged his Master's degree in world politics at The Catholic University of America located in Washington.
Daniel went through an internship with the Directorate for Defense Information in 1992 and was called back for another internship after he finished graduate school.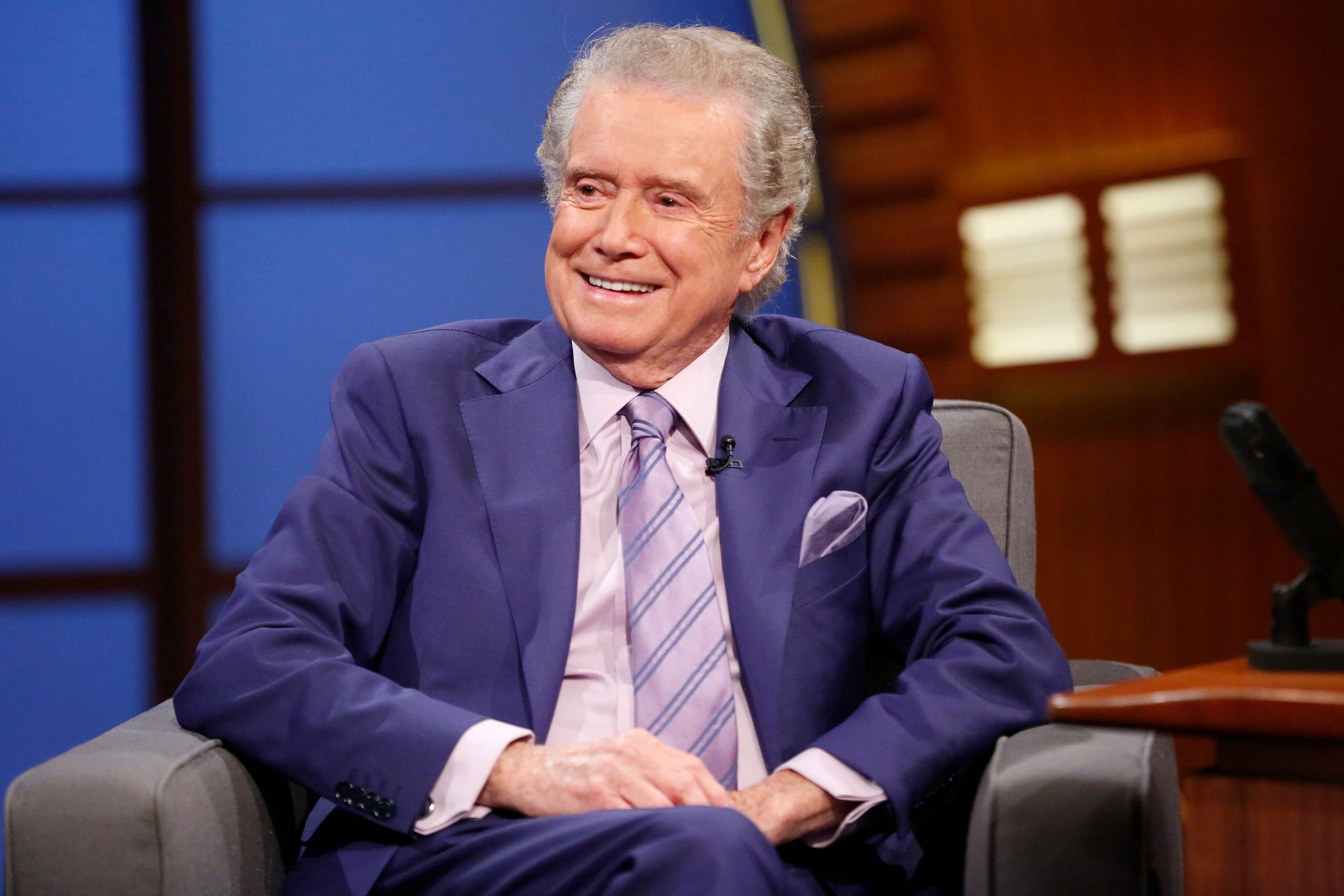 Regis Philbin during an interview on "Late Night with Seth Meyers" on July 16, 2014 | Photo: Getty Images
He went on to work full-time at the Department of Defense as a writer-editor in the Secretary of Defense's Public Affairs Office's Directorate of Public Inquiry and Analysis.
Regis and his son reportedly had a very complicated relationship, a claim the presenter denied while describing Daniel as his hero, especially for overcoming his disability, graduating from college, and working on his Master's degree.
Regis recalled Daniel being in the hospital for a year, and he would see him every day. The T.V. host also refused to comment on leaked reports that accused him of neglecting his son; he explained that going on radio to explain himself would help nobody.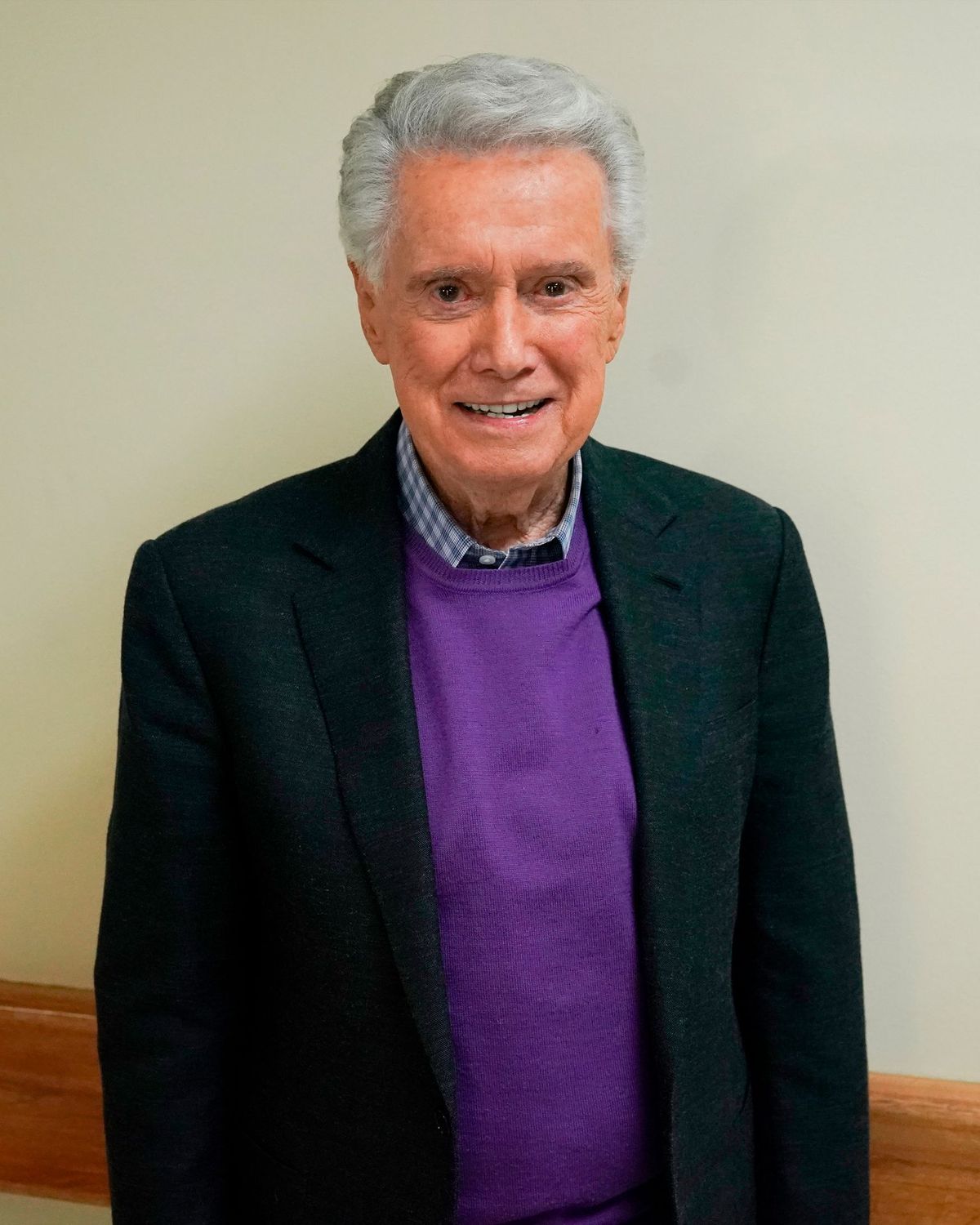 Regis Philbin on season 2 of ABC's "Single Parents" | Photo: Getty Images
During an appearance on "The Late Show" by David Letterman, Regis reported that Daniel was in the Pentagon and on the phone with him when one of the hijacked planes hit the building at the tragic 9/11 incident.
The star further explained his concern for his son's safety, primarily since he used a wheelchair. Thankfully David's office was not on the side where the plane struck, and he could escape.
Daniel reportedly pushed himself for about a mile to the Navy Exchange gas station to help set up a command post. He then went back to the Pentagon later on in the evening while the building was still on fire to assist in a press conference.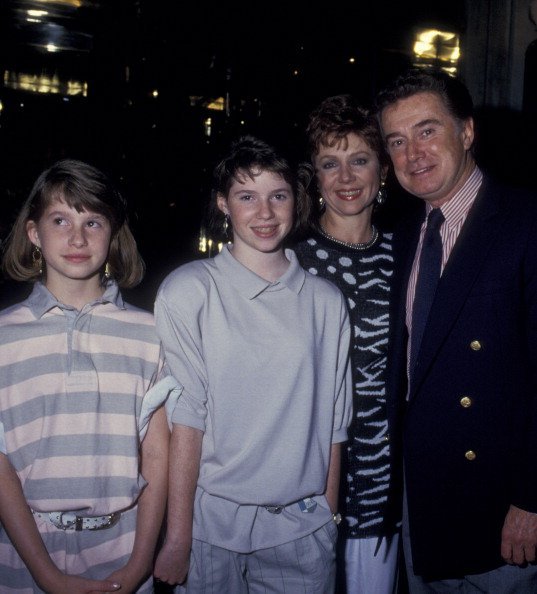 Regis Philbin, Joy Philbin, Joanna Philbin and J.J. Philbin at the premiere party for "The Monster Squad" on June 3, 1987 at the Hard Rock Cafe in New York City | Photo: Getty Images
He returned to the scene the next day to continue helping with some additional duties. These efforts led to him being hospitalized for several days afterward.
He was one of the 16 people with disabilities honored by the Department of Defense to contribute to the September 11 terrorist attacks. Daniel sadly passed away on November 7, 2014, at the age of 49. He died of natural causes.
JOANNA PHILBIN
Joanna was born in Los Angeles three years after Regis married his second wife, Joy. She was raised in New York by the couple, and she bagged her bachelor's degree at Brown University, which she attended growing up.
She then proceeded to earn her Master's degree at the University of Notre Dame, which was also her father's alma mater. She is also a successful writer credited as the author of "Rules of Summer" and "Since Last Summer." The brunette beauty also created "The Daughters Take the Stage Series."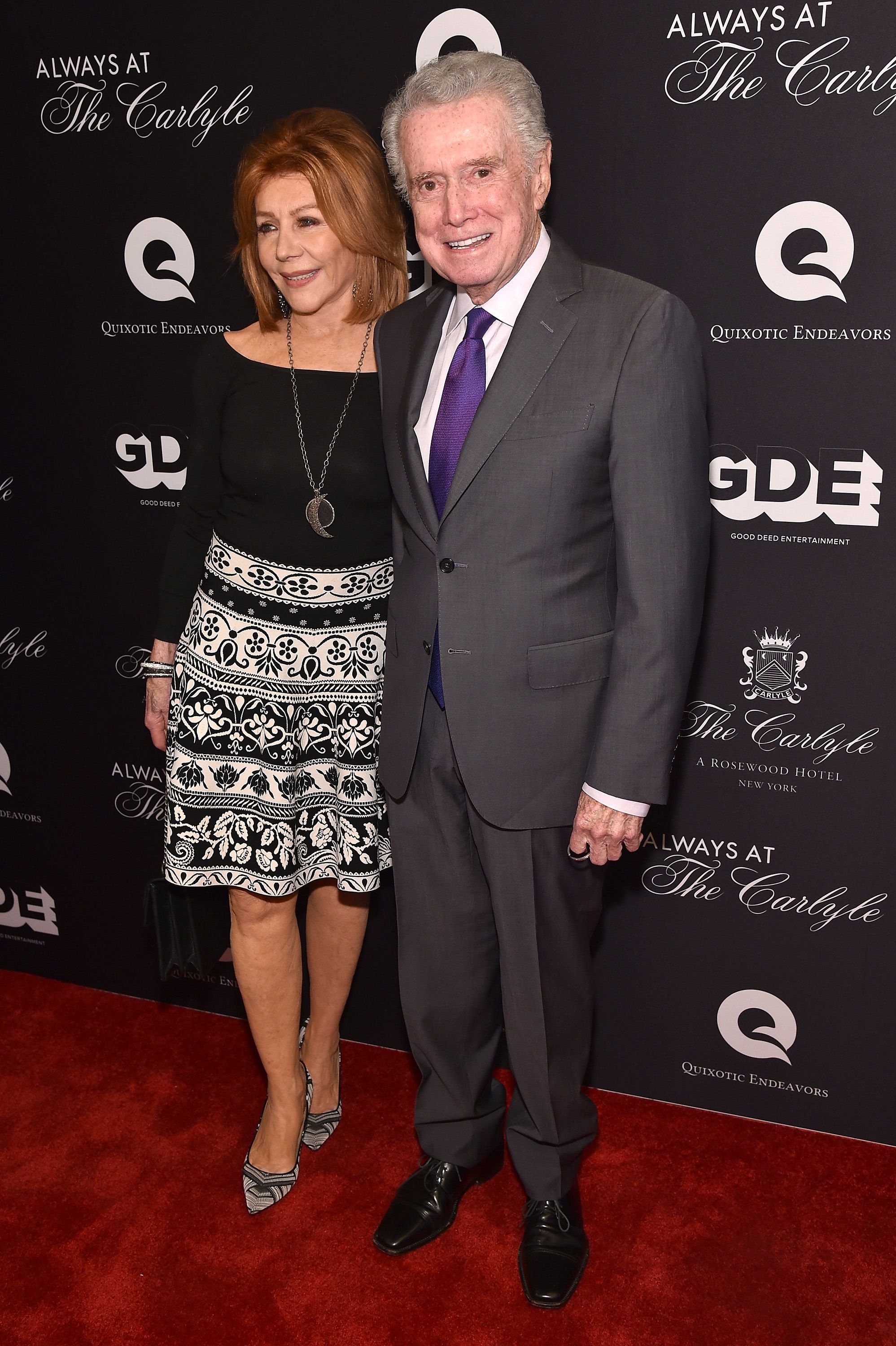 Joy Philbin and Regis Philbin attend the New York premiere of "Always At The Carlyle" at The Paris Theatre on May 8, 2018 | Photo: Getty Images
JENNIFER JOY PHILBIN
Jennifer was born in 1974 and, like her older sister, was raised in New York. The blonde beauty followed her father's footsteps attending the University of Notre Dame to earn her bachelor's degree.
She is a widely recognized and talented Hollywood screenwriter and producer credited with her work on "The O.C." Jennifer married producer Michael Schur. They share a son William and daughter Ivy Elizabeth.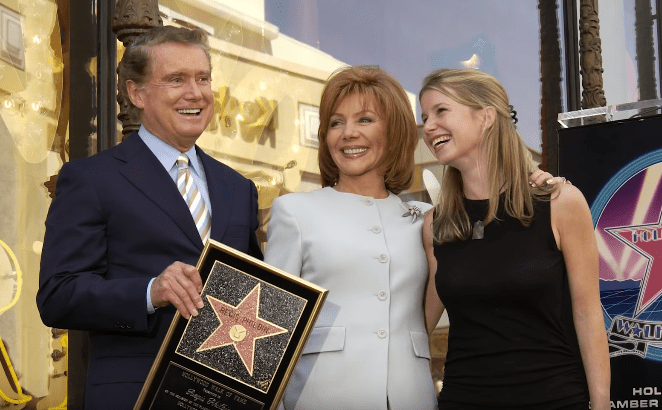 Regis Philbin, his wife Joy and daughter JJ pose for a photograph after receiving a Star on the Hollywood Walk of Fame on April 10, 2003 in Hollywood, California | Photo: YouTube/ Nicki Swift
REGIS PHILBIN'S DEATH
The legendary American T.V. host died of natural causes on July 24, 2020, at the age of 88, just a month before his 89th birthday.
In a statement, his family expressed their gratitude for the time spent with him and praised him for his warmth and legendary sense of humor, which he showcased throughout his lifetime.
The family also thanked his fans who supported him for 60 years of his T.V. career and asked for some privacy to mourn during the difficult time.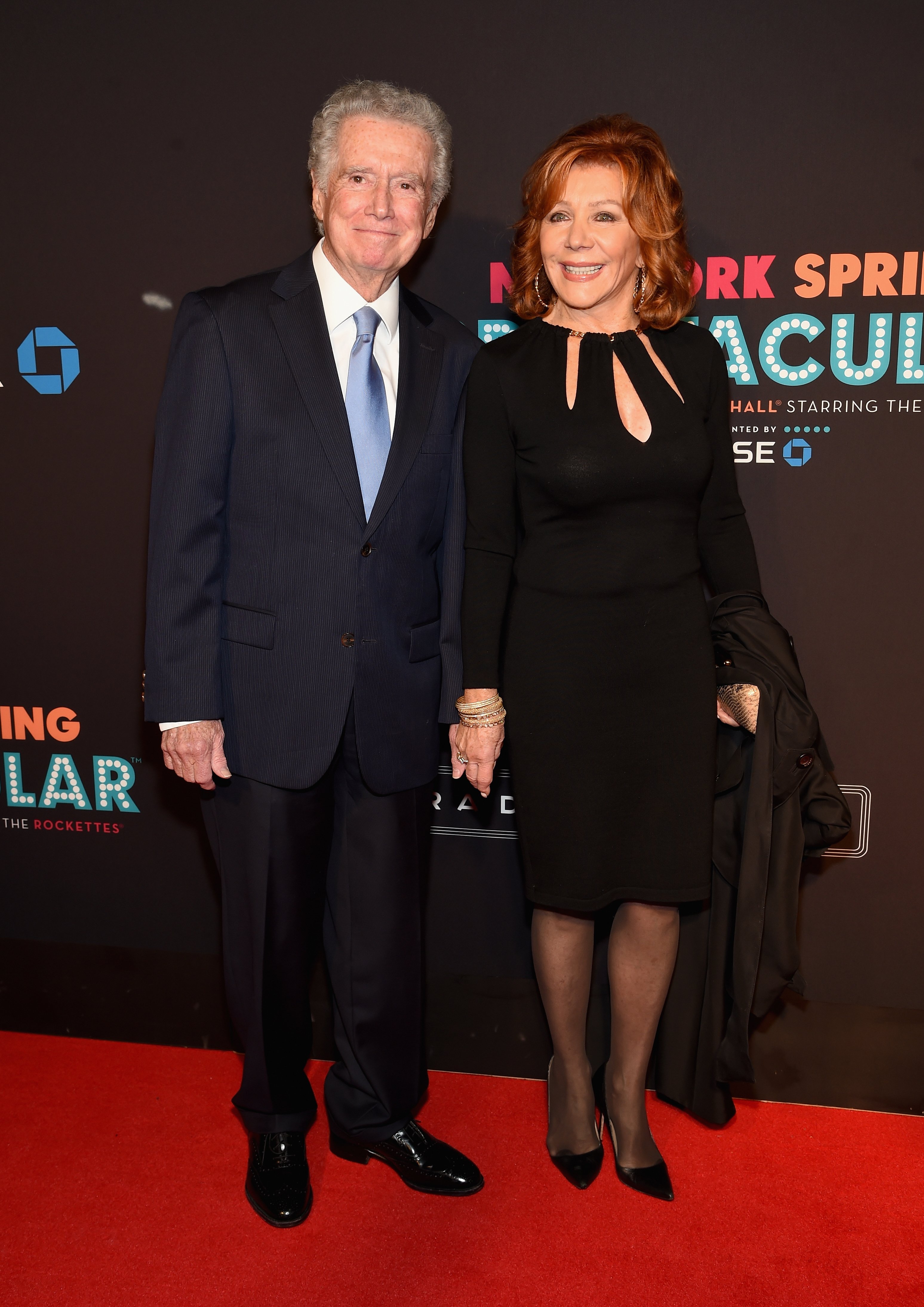 Regis and Joy Philbin attend the New York Spring Spectacular on March 26, 2015 | Photo: Getty Images
His T.V. colleagues also expressed their sadness at the news of his death. They lauded the late star with praises for his creation of "Live!" and his dedication to the show for more than 27 years, kickstarting the career of many others. Music icon Dolly Parton tweeted:
"Regis was one of the finest gentlemen I've ever known and one of the greatest hosts. It was always a joy to be around him, and I, like all of America, will always remember him fondly. – Dolly."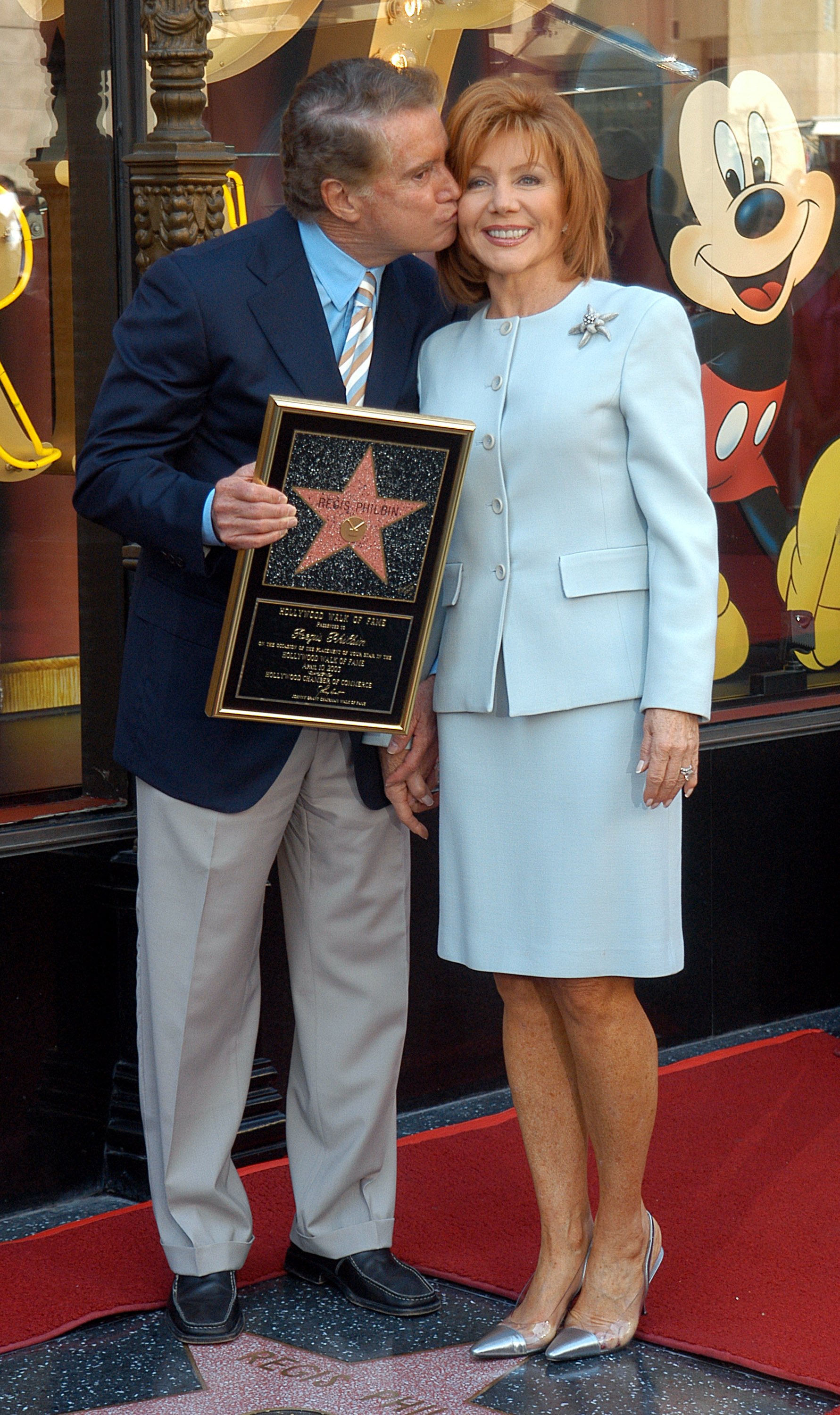 Regis Philbin kisses wife Joy Philbin while receiving Hollywood Walk of Fame Star on April 10, 2003 | Photo: Getty Images
David Letterman also paid him a tribute, writing: "Regis is in the same category as Carson. Superlative. He was on our show a million times, always the best guest we ever had, charming, lovable, and could take a punch. When he retired, I lost interest in television. I love him."
Regis may be gone, but he will always be remembered fondly for the many memories he made and just how much he made people laugh while alive.
Please fill in your e-mail so we can share with you our top stories!