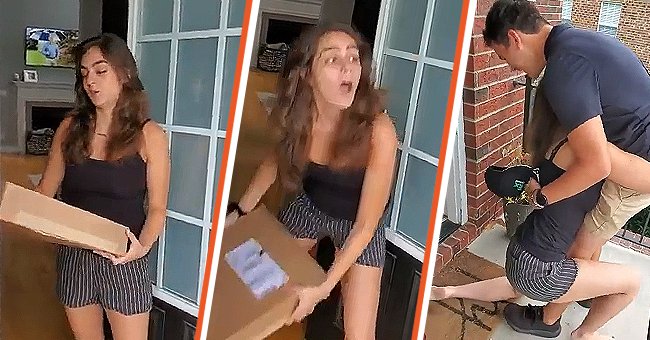 Reddit/r/PublicFreakout
Girl Goes Out to Pick up Parcel and Sees Her Childhood Friend as the Courier
A teenager dressed up as a FedEx deliveryman unexpectedly arrived at his childhood best friend's house. When she went outside to sign for the "delivery," she was stunned to see him.
Last year a Fort Mill, South Carolina resident got a big surprise when she went to collect a delivery from her front door. Sixteen-year-old, Soultana Kotrides, was told her grandmother had sent her a parcel. However, that was not true.
In a viral video, she approached the door confused as to why she was being recorded. She accepted the parcel and thanked the delivery man.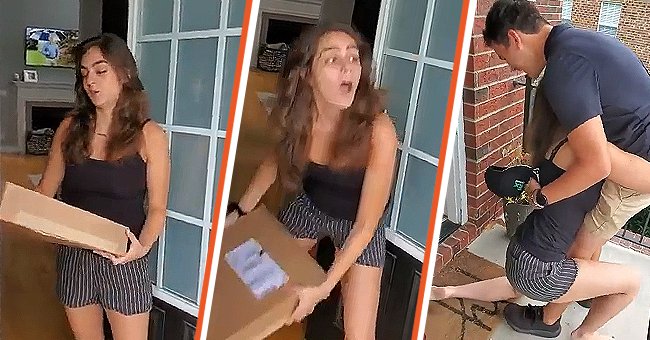 Girl falls to her knees after the deliveryman turns out to be her best friend | Photo: Reddit/r/PublicFreakout
Kotrides then asked if she had to open the parcel right away. Before she got an answer, the delivery man removed his face mask and hat. The girl's reaction said everything. She fell to the ground as she realized who was standing in front of her.
Fifteen-year-old Jory Knauf has been best friends with Kotrides since they were kids. The pair lived next door from one another in Rochester, New York. However, the young girl moved away in 2016.
The girl's childhood friend drove from New York to surprise her. The duo's plans to meet up in 2020 were called off due to the pandemic. Kotrides was sad that she would not be able to see her best friend.
Knauf's mom, Lynn, helped him orchestrate a sweet surprise. She bought him a deliveryman uniform. Then Kotrides was instructed to collect a package from the courier.
Knauf and his mother excitedly messaged Kotrides' father, John, about how their trip was going. He was happy to be a part of the special surprise and said:
"I was near tears watching the strength leave [her] legs as Jory removed his mask."
John called it the perfect moment, and he highlighted the importance of keeping your friends and family close. He stated that it wasn't easy to make the surprise happen. With busy work lives, covid restrictions and distance, it required effort.
Seeing Kotrides' reaction made it all worth it. John expressed: "But the 48 seconds represented by this video were more than worth the effort – these kids will remember that minute all their lives."
The surprise also moved netizens. One user wrote:
"This is so heart-warming. This is what true friendship is all about. It almost made me emotional."
Someone else commented: "I love this video. This story is fantastic!" Another added: "This video is so inspirational to me because it makes me want to go back and find friends I've lost touch with over the years."
A friendship like Kotrides and Knauf's comes along rarely, and this surprise showed just how much their bond means to them despite their distance.
Please fill in your e-mail so we can share with you our top stories!