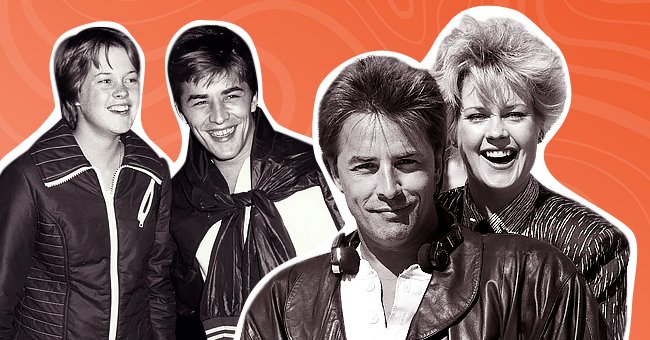 Getty Images
Divorced Don Johnson & Melanie Griffith Had a Telephone Call That Led to Their Reconciliation

After divorcing over ten years earlier, Melaine Griffith and Don Johnson shared a phone call that led to their second marriage.
Out of all the love stories in Hollywood, "Working Girl" Actress Melanie Griffiths and "Miami Vice" Actor Don Johnson have one of the most astonishing stories that Hollywood could make into a movie.
The pair first met on the set of "The Harrad Experiment," which starred Griffith's mother, Tippi Hedren. A 14-year-old Griffith fell utterly head over heels for the 22-year-old Johnson.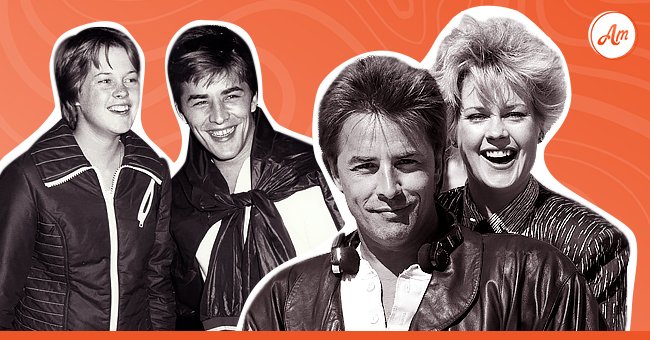 Melanie Griffith and Don Johnson at an after party for a "Dobbie Brothers" concert in 1975 [Left] Johnson and Griffith pictured in an episode of "Miami Vice" in 1987 [Right] | Photo: Getty Images
While speaking to Fox News, Griffith recalled how she felt about Johnson when they started talking on set. She said, "I thought he was the most beautiful person I'd ever seen."
However, Hedren was less inclined to support her teenage daughter's interest in an older man. She recalled feeling "sheer panic" when she realized there was an attraction between them:
"They were two beautiful, wonderful people, and here, my daughter was showing signs that I had never seen before in her, with an older man, and there was just sheer panic."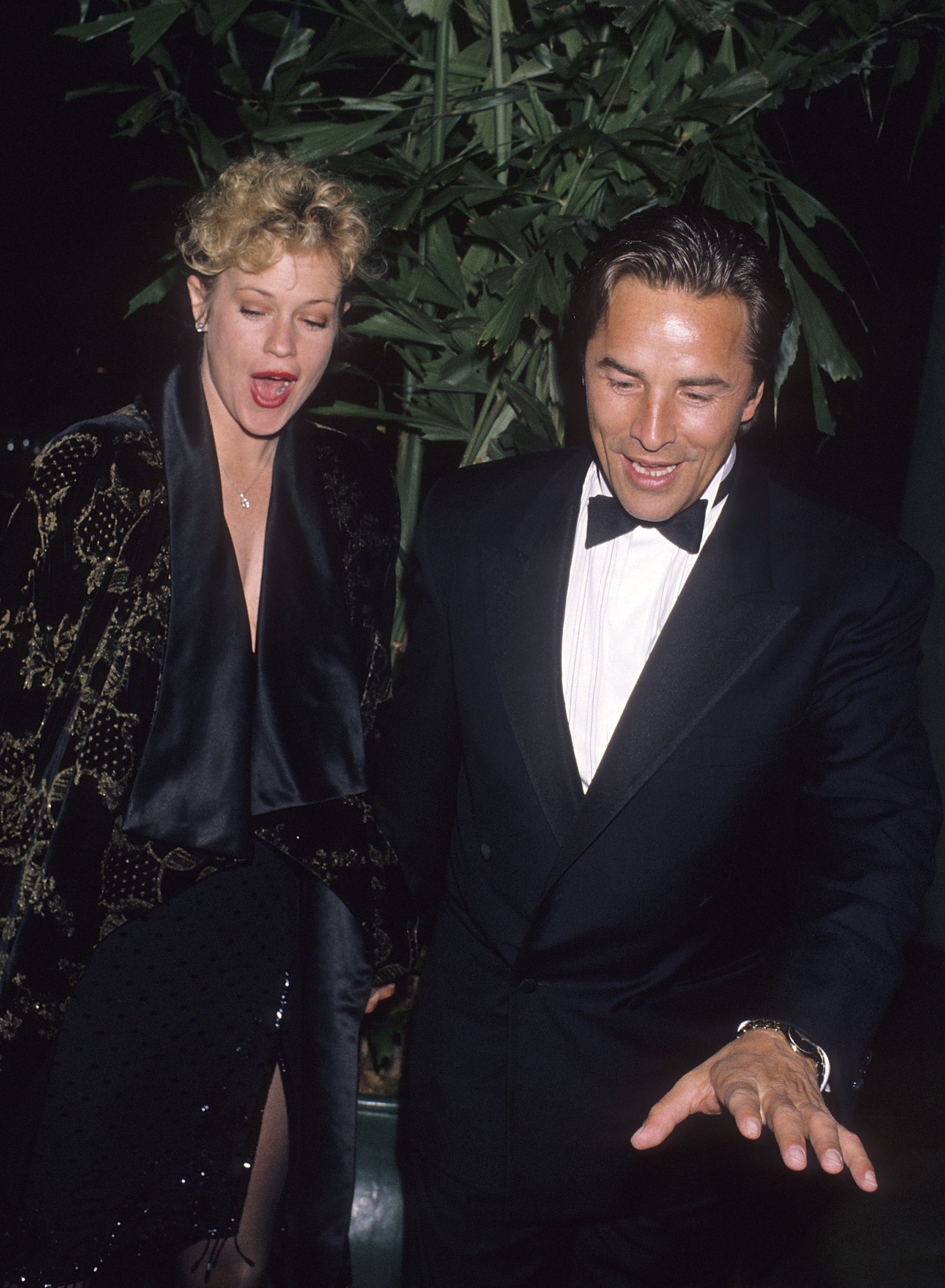 Melanie Griffith and Don Johnson pictured the First Annual Fire & Ice Ball to Benefit Revlon/UCLA Women's Cancer Research Program in 1990. | Photo: Getty Images
Johnson admitted he was "skeptical" about her young age. However, he found her to be mature and "more of a woman" than most of the women he had been dating.
The pair's relationship moved quickly. At 15 years old, Griffith moved in with Johnson, and they continued their relationship and got engaged on Griffith's 18th birthday.
Johnson and Griffith's tied the knot in 1976. However, Johnson admitted he had spent a lot of time with former Miss World, Marjorie Wallace, the night before they married.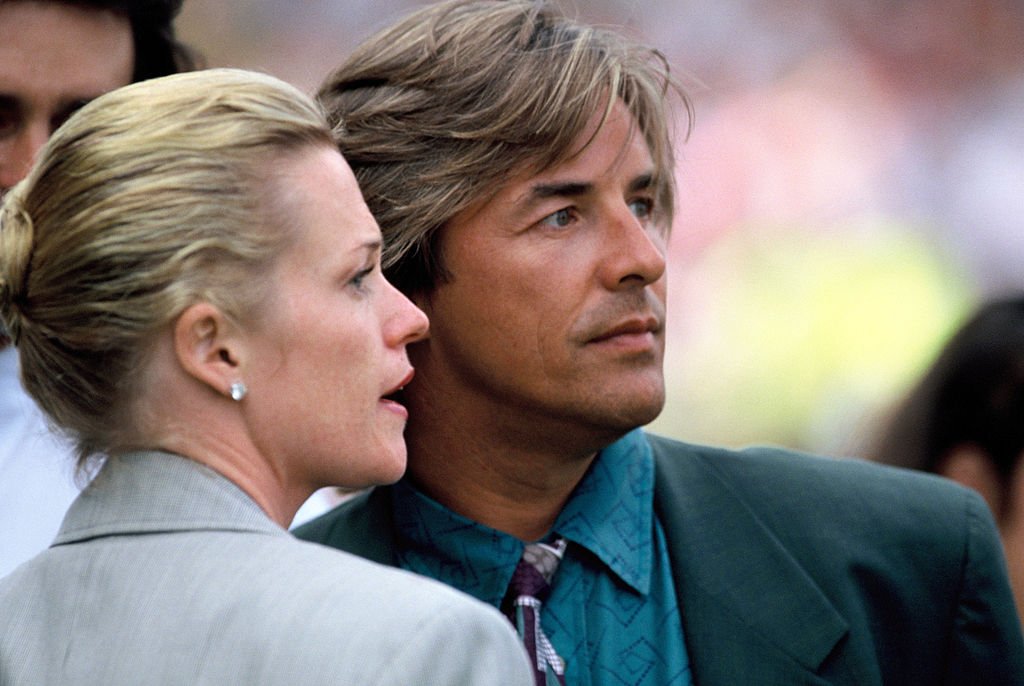 Don Johnson and Melanie Griffith at the opening ceremony of the European Summer Special Olympics, 1990, London, England. | Photo: Getty Images
The confession happened when Griffth called her husband-to-be in the early hours of the morning, and the two professed their "undying love" for each other. The same day they flew to Las Vegas and got married.
Despite the love they shared for each other, the marriage only lasted six months. Griffith and Johnson both married and dated other people until they would reconcile years later.
Griffth dated Ryan O'Neal, and later she married "Scarface" Actor Steven Bauer. The couple had one child together, their son Alexander Griffith Bauer. But they divorced in 1989.
After splitting from Griffith, Johnson dated Patti D'Arbanville. The pair welcomed their son, Jess Johnson, together. Johnson also dated a few other famous women before remarrying Griffith.
Johnson and Barbra Streisand were an item just before Johnson and Griffith rekindled their past relationship. According to reports, Streisand was "crushed" by the breakup.
During their time apart, Johnson and Griffith both struggled with addictions to alcohol. The addiction eventually led to the couple sharing a critical phone call and reconciling.
Johnson's troubles with alcohol, marijuana, and cocaine started in the '70s. However, his life changed in 1983 when he attended his first Alcohol Anonymous meeting and started living a sober lifestyle.
Soon after getting sober, Johnson landed his most prominent role as Sonny Crockett on "Miami Vice" alongside Philip Michael Thomas. The role marked a turning point for his career, as it launched him into the limelight.
Griffith knew her habits of abusing alcohol and cocaine had to stop when she was filming "Working Girl" and found herself feeling "crummy and tired."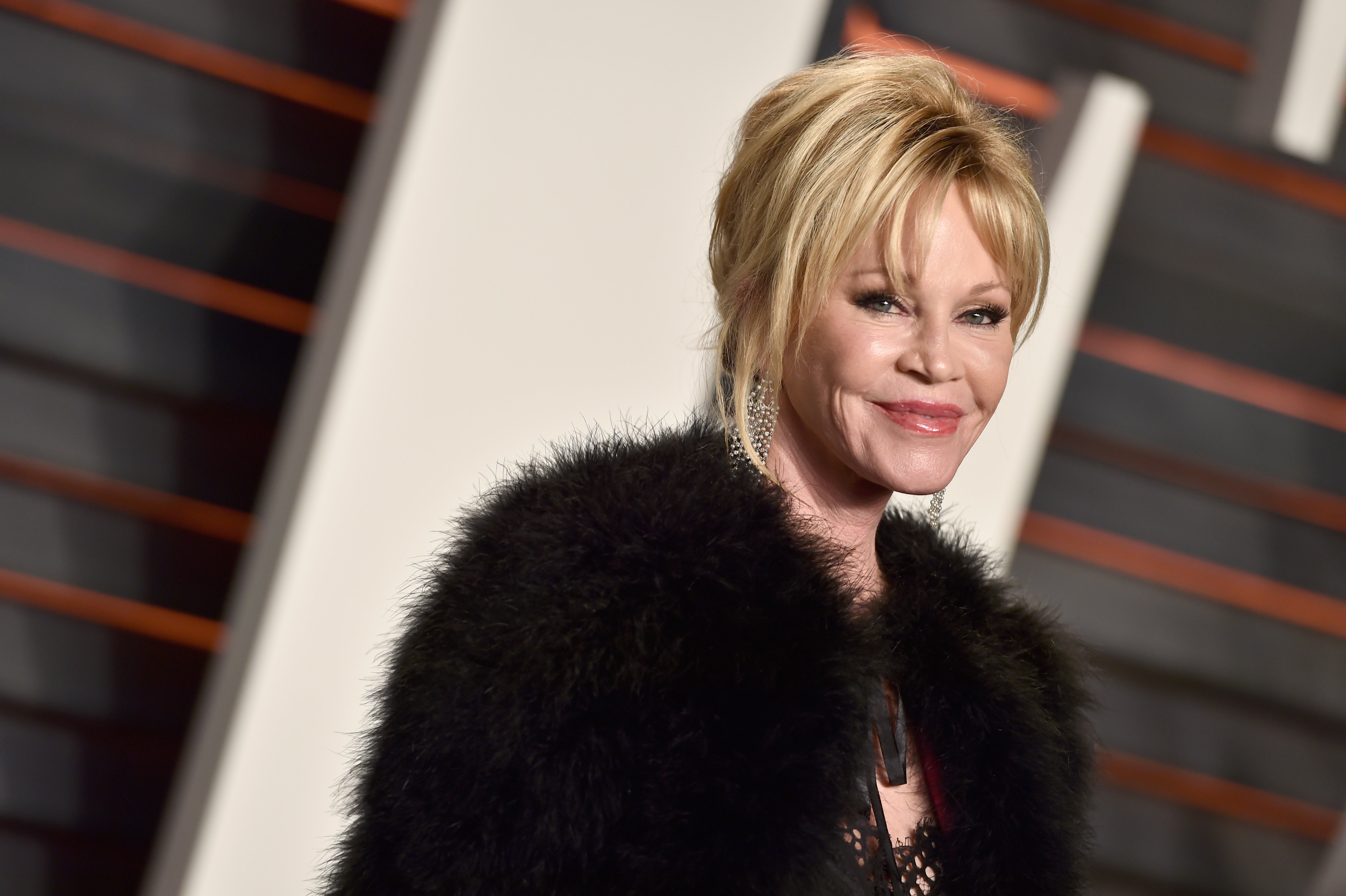 Melanie Griffith at the 2016 Vanity Fair Oscar Party Hosted By Graydon Carter, Beverly Hills, California. | Photo: Getty Images
Consequently, while on the plane to the Hazelden clinic in Minnesota, Griffith called her ex-husband, who was then five years sober. She shared how scared she was feeling to him.
The two had remained close friends after their separation, so Griffith felt she could confide in him. He reassured her and told her he would support her through her stint in rehab.
And he did. The two shared many phone calls during Griffith's time in recovery, and she explained that it was over these phone calls that the couple fell in love all over again:
"He said he'd support me all the way. That was such a turning point. I talked to Don a lot while I was in rehab. And I think we fell in love again on the phone.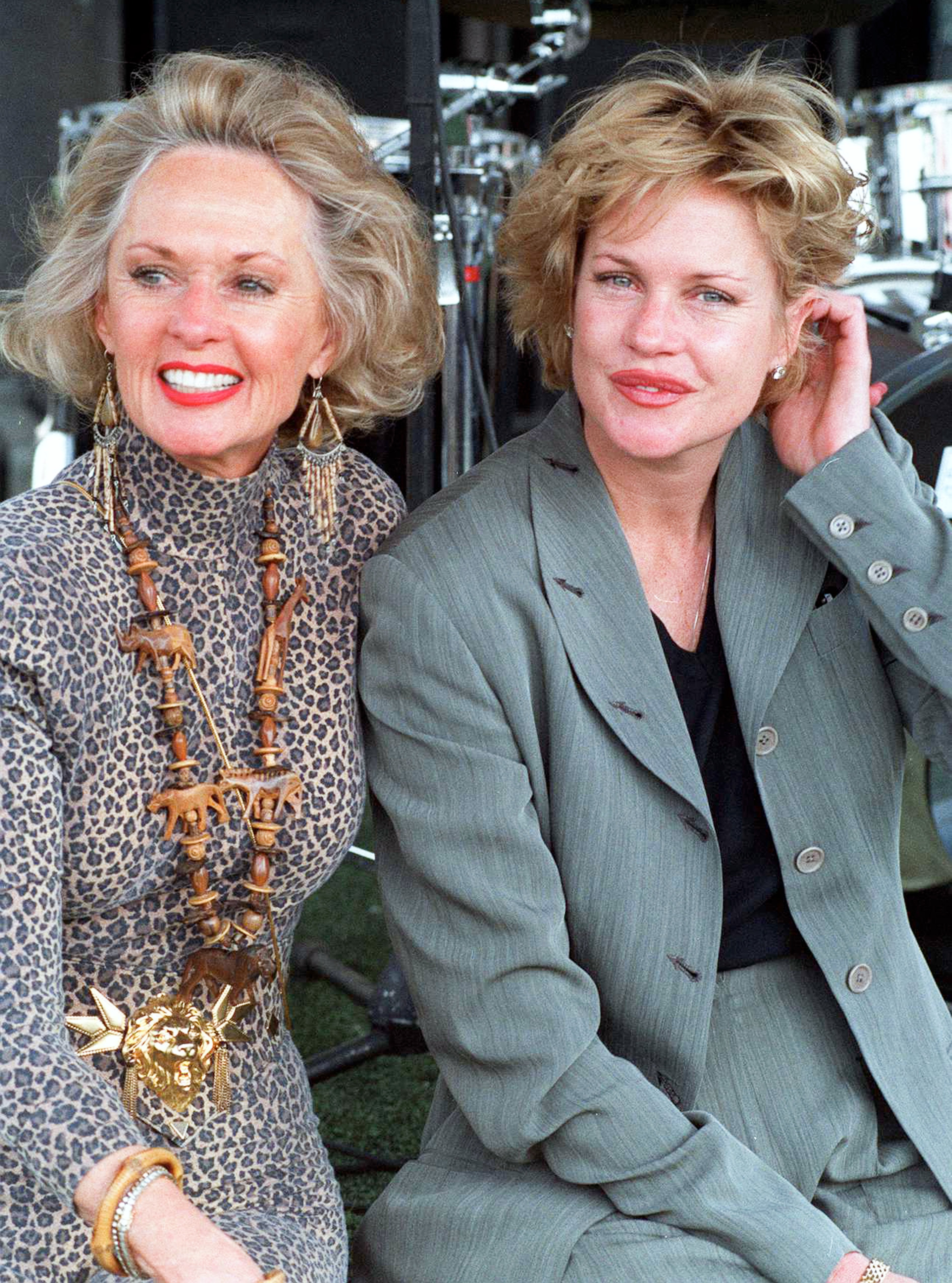 Melanie Griffith and her mother Tippi Hedren at the 'Artists for Shambala' Animal Preservation Benefit, 1994. | Photo: Getty Images
Later the couple reconnected in person. The bond was immediate, and in a few short months, as "Miami Vice" came to an end and "Working Girl" was released in cinemas, the couple was engaged.
Before their wedding, which was much grander than the first, Griffth and Johnson shared their excitement for their upcoming nuptials and gushed over their union in various interviews.
During an interview with People, Griffith eagerly wished their wedding was the following day and gushed over her former husband, who would once again be her husband. She told the outlet:
"He's wonderful [...] I believe some relationships are fated, and ours was probably one of them. I'll always love him. He was my first love."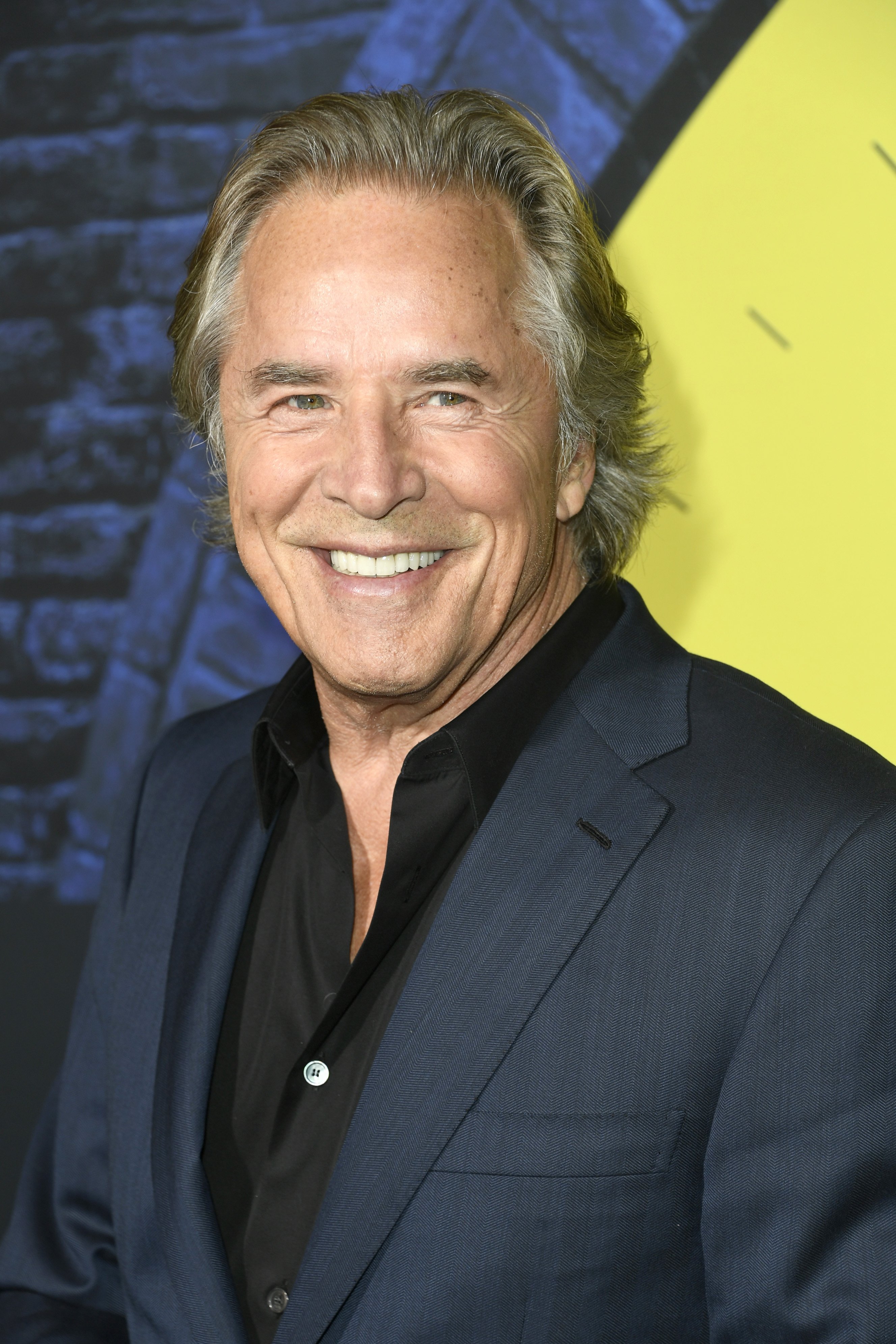 Don Johnson at the premiere of HBO's "Watchmen" in 2019. | Photo: Getty Image
Johnson was also very forthcoming with his feelings about his soon-to-be wife. He told Sun-Sentinel that with Griffith, he felt he had a "foundation," and she was his "long-range happiness."
Furthermore, the wildly in love actor said that his life would be empty and barren without his future wife. In June 1989, they remarried with their two sons as ring bearers.
Johnson wore a white tuxedo, while Griffith wore a white lace wedding gown. They married on their ranch in Aspen to the sounds of a string quartet and helicopters flying overhead, trying to catch a glimpse of the happy couple.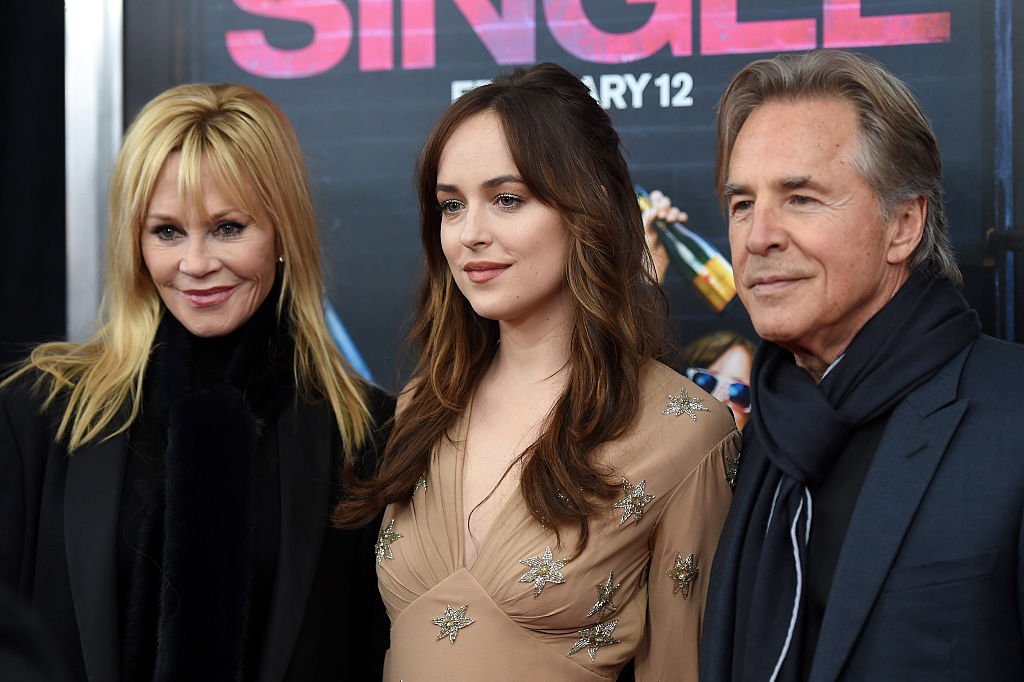 Melanie Griffith, Dakota Johnson, and Don Johnson at the New York premiere of "How To Be Single," 2016. | Photo: Getty Images
During their second relationship, the couple welcomed their only child together, Dakota Johnson. Many might recognize her from her steamy role in the "50 Shades Of Grey" films.
Johnson and Griffith parted ways five years into their marriage in 1994 and cited irreconcilable differences. But they have stayed close to support their children. Johnson once said of his relationship with his ex-wife:
"It's pretty simple: when you love your children and want to share your life with them, it's foolish to denigrate or have any animosity with their mother."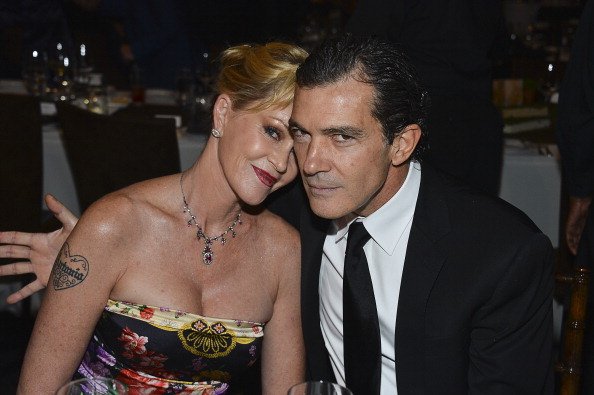 Melanie Griffith and Antonio Banderas at the Children's Hospital Los Angeles Gala: Noche de Ninos at L.A. Live Event Deck, 2012, Los Angeles, California. | Photo: Getty Images
They both found with other people. Griffith married Actor Antonio Banderas in 1996. They welcomed a daughter, Stella, but divorced in 2015.
Like with her other children's fathers, Griffith and Banderas have a close relationship. Griffith has even posted photos of their daughter and Banderas on her Instagram to celebrate different milestones.
As for Johnson, the "Knives Out" actor married Kelly Phleger, a teacher, in 1999. The couple welcomed three children, Grace, Jasper, and Deacon, together.
Please fill in your e-mail so we can share with you our top stories!