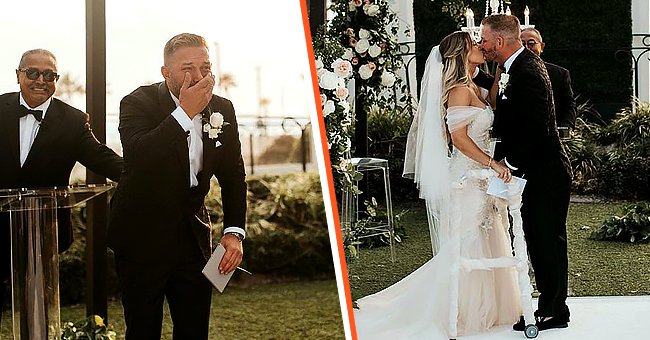 instagram.com/ashabailey_
Groom Is Amazed When Bride Walks Down the Aisle as She Became Paralyzed 11 Years Ago
A woman with a walking disability stunned her groom when she walked down the aisle in a specially-designed bridal ensemble on her wedding day.
Since she was a little girl, Chelsie Hill always dreamt of walking down the aisle to her soul mate, with her dad by her side. However, that dream seemed cut short when she fell paralyzed from the waist down in 2010.
Yet, the determined woman, who never let her disability derail her, remained focused on making those dreams a reality.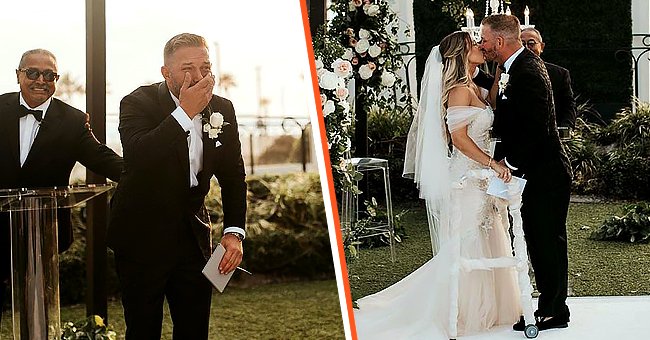 Chelsie Hill and her husband at their wedding day | Photo: instagram.com/ashabailey_
NO ORDINARY WOMAN
Hill proved herself unstoppable when she managed to harness her disability into a force for good, becoming an advocate for wheelchair users.
Embracing those passions, she founded the Rollettes, a wheelchair dance team in Los Angeles. She has since touched thousands of lives, both in the real world and on social media, where she boasts over 167,000 Instagram followers.
Having left her mark on the world with her humanitarian efforts, the 29-year-old was left with one yet-to-be fulfilled dream.
IN PURSUIT OF HAPPINESS
The first phase of her bridal dreams was set in motion in 2014 when she hooked up with her would-be groom, Jay Bloomfield. The two courted for seven years before deciding to take their relationship to the altar.
After a long period of planning, the lovebirds fixed a date for the grand occasion, scheduled to hold at the Hyatt Regency Huntington Beach.

A netizen's comment on the beautiful Instagram post | Photo: Instagram.com/ashabailey_
DREAMS DO COME TRUE
Hill had the best surprise for her loving groom on the big day, despite his aversion to surprises. Fulfilling her long-upheld dreams, she showed up at the venue on her feet, with only a walker to support her as her dad walked proudly beside her.
The sight of his bride walking towards him left Bloomfield stunned, so much that his jaw dropped. While Hill considered her soulmate's reaction priceless, she maintained the planned surprise was in no way a reflection of her insecurities. She explained:
"I want to stress that there's nothing wrong with sitting down in your chair. But for me growing up, I always imagined myself walking down the aisle. And I just wanted to feel that."

A netizen's comment on the beautiful Instagram post | Photo: Instagram.com/ashabailey_
More than fulfilling a childhood dream, the moment also held a special significance to the bride, who finally got a chance to stand "eye to eye with him."
IT REQUIRED LOTS OF PLANNING
At a glance, the guests at the ceremony only saw a happy bride walking down the aisle in a custom Galia Lahav wedding dress, a coordinating veil, and a decorated walker.
However, her ensemble was more than that, thanks to months of planning. Notably, slight alterations helped the bride pull off the surprise seamlessly.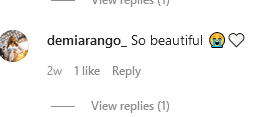 A netizen's comment on the beautiful Instagram post | Photo: Instagram.com/ashabailey_
Her dress came with a removable skirt, which made it convenient to transition from standing to sitting. The excited bride wore leg braces underneath the dress to help keep her on her feet as she strode towards Bloomfield.
Hill arranged to have her groom-to-be stand with his back to the aisle and only turn around on cue as a finishing touch.
His sweet reaction upon turning around was captured on camera and shared on TikTok by their wedding photographer Asha Bailey.

A netizen's comment on the beautiful Instagram post | Photo: Instagram.com/ashabailey_
The clip went viral in no time, attracting heartfelt reactions from netizens. The grand occasion was certainly a dream come true and a day to remember for the newlyweds.
Please fill in your e-mail so we can share with you our top stories!