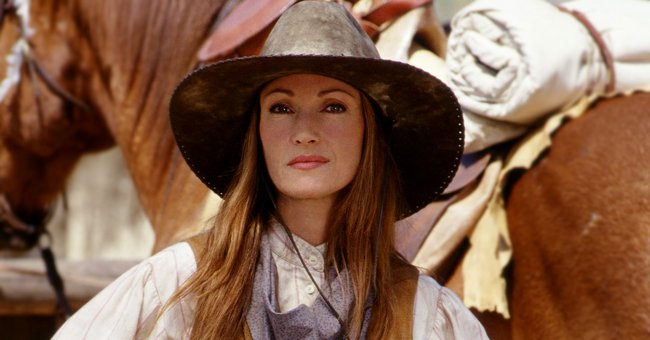 Getty Images
Jane Seymour Felt 'Devastated' after She Caught 4th Husband Cheating with a Familiar Woman
British Actress Jane Seymour has said 'I do' four times, and all her marriages ended in extra-marital affairs. However, it was her fourth marriage that tore her apart because she believed it was "forever."
In 2019, Jane Seymour opened up about her wounded heart following her divorce from her fourth husband, James Keach, who cheated on her with a woman she knows.
The former couple tied the knot in 1995 and parted ways in 2013. Their divorce got finalized in 2015. Before they separated, there were numerous ongoing rumors that the actor was having an affair.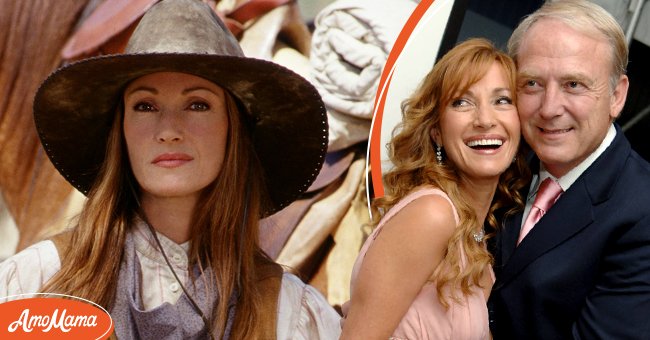 (L) Promotional portrait of British actress Jane Seymour as Dr. Michaela 'Mike' Quinn, in the made-for-tv movie "Dr. Quinn, Medicine Woman: the Movie," 1999. (R) James Keach and Jane Seymour during "Wedding Crashers" New York Premiere - Arrivals at Ziegfeld Theater in New York City, New York | Photo: Getty Images
THE GRUELING DIVORCE
Although that was the case, Seymour never admitted to the painful truth until they split. She explained how everything unraveled between her now ex upon learning about the infidelity. She said:
"Choices were made that I couldn't live with. I thought we were going to be married forever, but James made a choice that I wasn't privy to. He found someone else. I felt horrible, devastated."
The 70-year-old admitted she does not handle betrayal well, adding that it would be different if her husband told her that things weren't working out and sought a separation. But she was never privy to that conversation.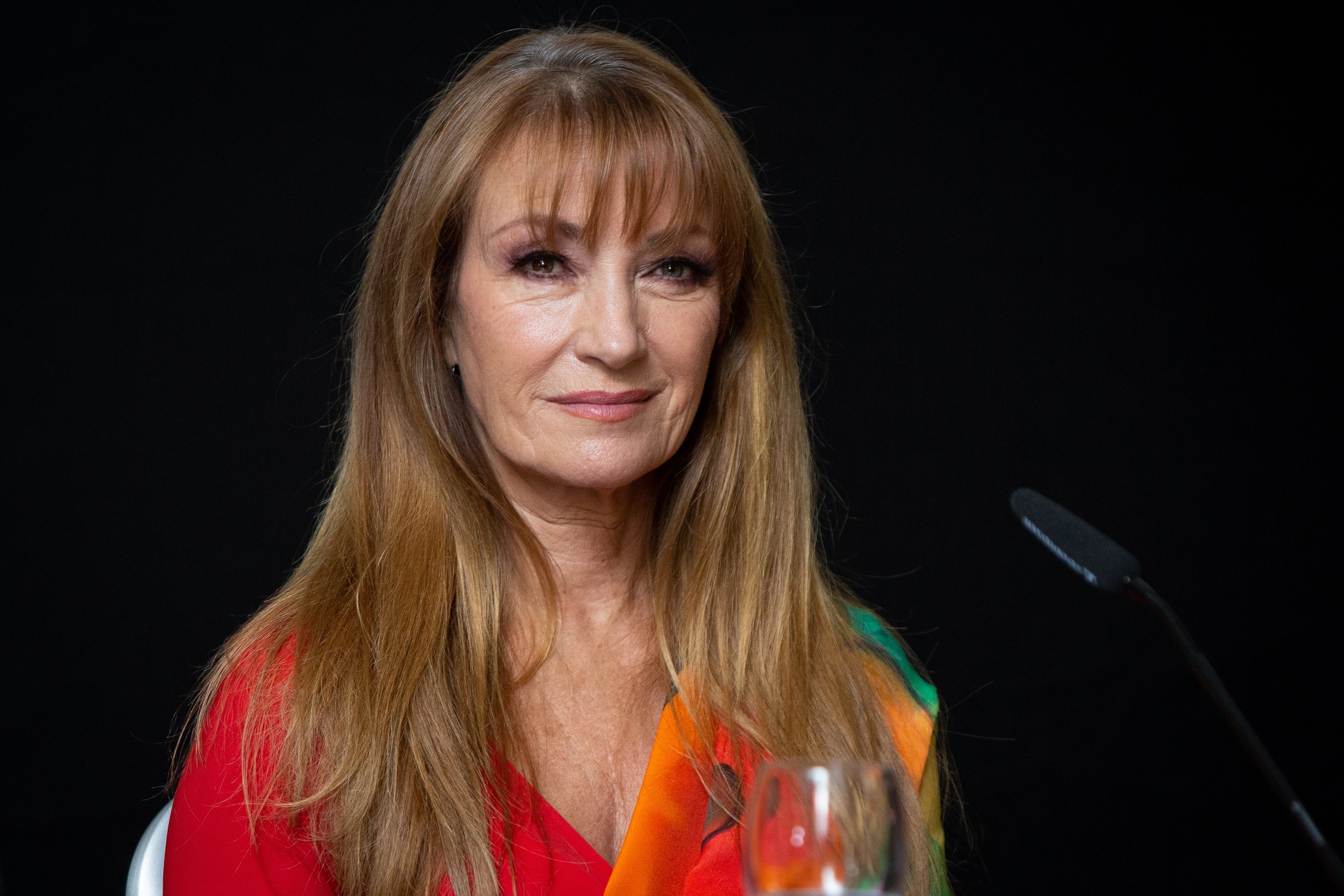 Jane Seymour attends "Glow & Darkness" photocall at The Westin Palace hotel on October 26, 2020 in Madrid, Spain | Photo: Getty Images
Seymour revealed that she found out about the affair by accident. She explained that it had been ongoing for a while by the time she found out, signifying the downfall of her marriage. She expressed:
"It was someone I knew, so that was very frightening."
In response, Seymour said she attempted to salvage their union but realized that it was already over. Speaking on her relationship with Keach now, the author said they are on good terms as friends.
She divulged that they had always prided themselves in being good parents to their kids — twin sons Kristopher and John, 25 years old. However, Seymour also noted that regardless, the pain was too severe to get over.
She said that the timing was terrible and that her confidence was negatively affected by the affair. Seymour shared she even tried dating and that her friends introduced her to other people, but she never connected with anyone else during that time.
HER THIRD MARRIAGE
Before the heartbreak, the entrepreneur suffered dearly in her third marriage to Businessman David Flynn, with whom she shares two elder children Katherine, 39, and Sean, 36.
She learned that Flynn had lost all her family fortune. He was also her manager at the time, and Seymour said she trusted him fully because of that.
However, he blindsided her as she discovered that he had invested in all kinds of business transactions that she did not know about. Seymour explained:
"By the time I found out, everything had gone. It was horrendous. I felt so angry and betrayed."
In an interview with Entertainment Tonight in November 2020, Seymour revealed that Flynn left her penniless with $9 million in the red lawsuits from every central bank.
The "B Positive" star shared that she became homeless and called her agent to say she would do anything to salvage the situation. Thankfully, her manager called the networks, and she got offered a movie, but there was a catch to it.
Seymour was offered to sign a five-year deal in case the film became a series and had to start the next day, which was less than twelve hours.
The movie mentioned above was called "Dr. Quinn, Medicine Woman," and Seymour was the leading woman. Notably, it ran for five years until 1993.
THE SILVER LINING
Considering how everything panned out, the mom of four remains grateful for the opportunity she received from the network:
"They saved my life. I got a roof over my head, I got some money so I could get back on my feet, and my kids could come out to the set and do their schoolwork in the trailer..."
PREVIOUS MARRIAGES & KIDS
While Flynn left her high and dry, Seymour picked up the pieces and soared despite the odds. She and Flynn got married in 1981 and divorced in 1992.
According to Distractify, she is close with her former husband's kids from previous relationships, Jenni and Kaelen. She revealed she does not use the word stepkids as they do not distinguish, adding she is proud of all of her children and spends a lot of time with them.
Seymour was also married to Michael Attenborough from 1971 to 1973. She wed Geoffrey Planer in 1977, but they ended their marriage the following year. Her longest marriage was to Keach, after being married for twenty years.
Seeing that none of her marriages succeeded, the seasoned star said she did a bit of introspection to see where she went wrong. The only thing that she found in common is that she went to work to provide.
Seymour said she did the best she could and took her children around the world with her on work trips, noting she managed to juggle everything somehow.
She said she was married to men who had different issues and that she never ended any of her marriages, but the men did "by finding other people."
Even though she came out of her journey more vigorous than ever, Seymour recalled her divorce processes and described them as painful, depressing, and aggravating.
She noted one lesson that she learned from her mother was that everyone faces challenges and that the sooner one accepts, the better for all involved.
NEW ROMANCE
Currently, Seymour is not married but has found new love as she has been dating British Film Director David Green since 2014.
In 2019 she told, "ABC News" that they accidentally bumped into each other, having known one another for 38 years. Fate brought them together as Green's marriage also ended without him having anything to do with it.
Seymour said after they met, they both realized they were now free birds and have been together ever since. Remarkably, despite what her ex-husbands put her through, she still considers them family.
At some point, Seymour invited Flynn, Keach, and their new partners to join her with boyfriend Green and their children for Thanksgiving.
Speaking on her bold move, Seymour said she is not prepared to look back on the past because it is pointless, mainly because she has a lot to be happy and thankful for. She added all her husbands had been good men, and she loved them nonetheless.
FACTS ABOUT HER CAREER
Besides her rocky love life, Seymour is best known for her acting career that spans from the '60s. She also starred in the "James Bond" film and "Live and Let Die."
She was cast in both movies at age twenty, and the performances earned her recognition and continual work in both television and film.
Seymour has been nominated for an Emmy three times. She won her first Emmy Award in 1998 for her role in the TV film "Onassis: The Richest Man in the World."
Please fill in your e-mail so we can share with you our top stories!