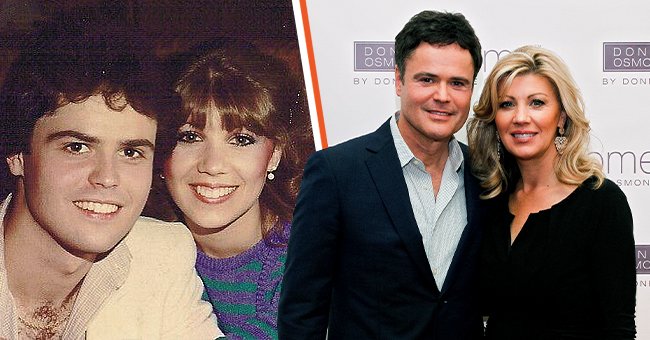 Getty Images | instagram.com/donnyosmond
Donny Osmond's Dad Was Firmly against His Marriage after He Already Missed 'Normal' Childhood

Former Teen Idol Donny Osmond had a mature mind as a young boy. He grew up fast, learning and achieving what most adults do while he was a teenager. He even fell in love and was ready for marriage at 19.
It is no secret that being a teen idol is difficult for many youngsters in show business. But while some had negative experiences, others have become icons, and Donny Osmond falls in this category.
Donny is one name pop culture will always acknowledge. His flair as a six-year-old boy performing with his big brother him so much fame and love, and he has remained a top music artist since then.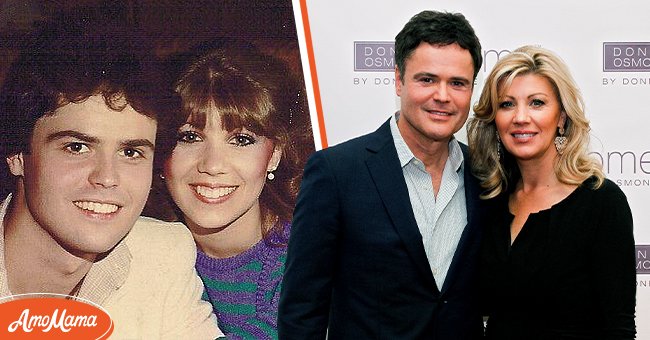 Entertainer Donny Osmond and Debbie Osmond [left]. Entertainer Donny Osmond and Debbie Osmond attend the launch of Donny Osmond Home on September 23, 2013 in New York City. [right] | Photo: Getty Image instagram.com/donnyosmond
Donny has a handful of skills, and he is well appreciated amongst all fans for his excellent dance steps and acting prowess. The now 63-year-old icon is sure not a one-trick pony, and he had an exciting life growing up.
DONNY'S LIFE AS A CHILD STAR
Growing up, Donny blended smoothly with all that came with being famous, and he has been vocal about his life as a child star. Born Donald Clark Osmond, the actor and music legend, is the seventh of nine children.
The star grew in a rural setting in Ogden, Utah, before moving to California, where his career as a musician began. Donny was raised in a close family with loving siblings and parents who were music lovers.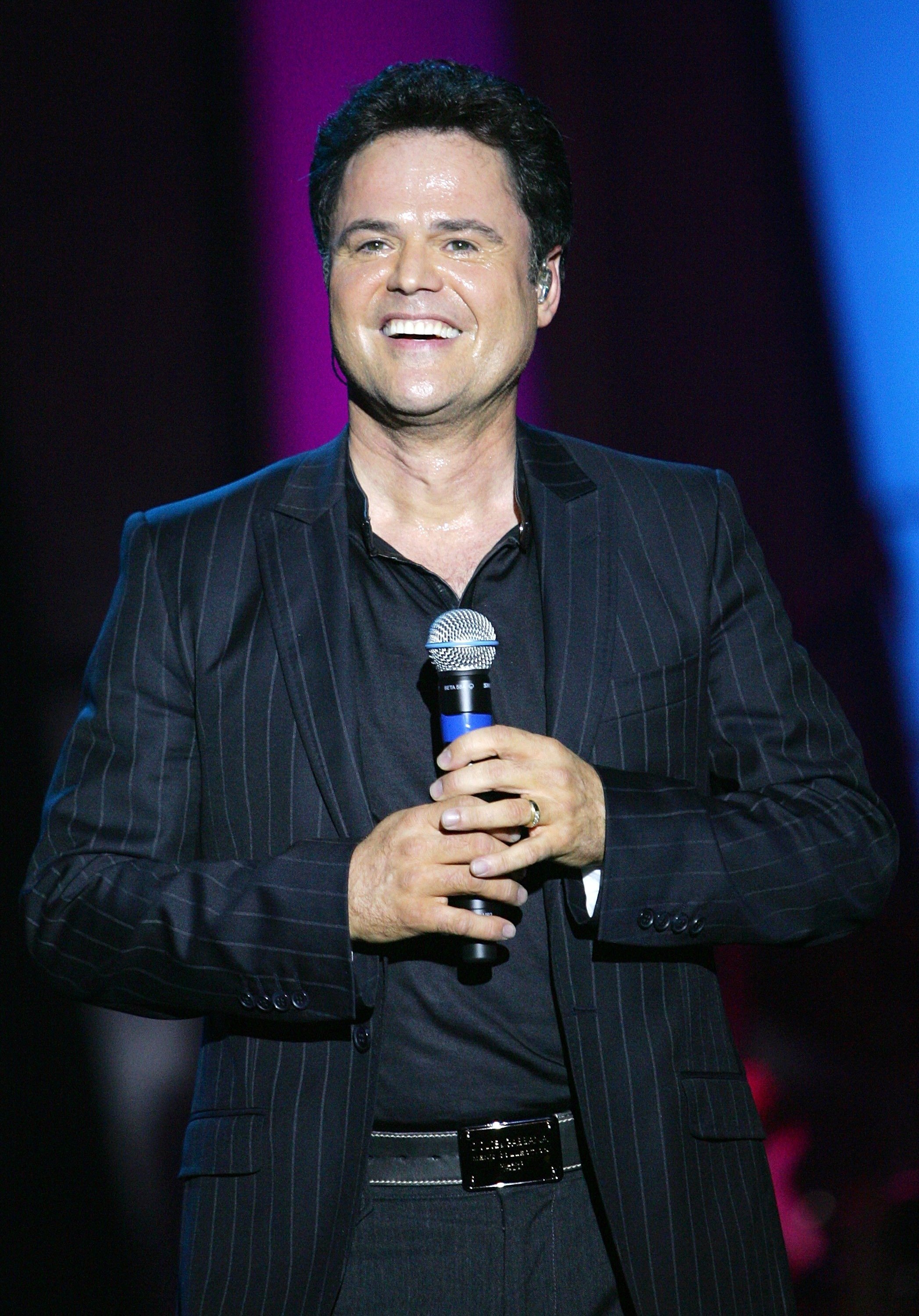 Donny Osmond on August 14, 2007 in Las Vegas, Nevada | Source: Getty Images
According to a statement the star once made, his mother was the loving, nurturing parent while his dad was the disciplinarian who managed the home with rules. But, even as a strict dad, he didn't stop his children from pursuing their love for music.
After moving to California, four of Donny's brothers, already performing as the Osmond Brothers Quartet, got a contract with "The Andy Williams Show." Donny, who was barely six, joined his brothers and the siblings became an unstoppable group.
He had a fantastic career as a child in the spotlight, and he has been vocal about how thankful he was for his mother's ability to raise a large show-business family. He also expressed gratitude for his father, who he sees as a mentor.
DONNY AS A RISING STAR
As a child who had a great passion for music, the "One Bad Apple" artist had people like Stevie Wonder and Andy Williams as mentors. Donny revealed that his love for music made up for the "normal" childhood he may have missed.
However, while the Osmonds rocked the music industry with Donny blessing fans with his dance steps and unique vocals, the young star played lover boy backstage. He secretly began dating Debbie Glenn while he was a teenager.
At 19, the young star was sure he was ready to take his relationship with Debbie to the next level. Speaking about how he and Debbie started, Donny revealed that when he confronted his dad about his intention for a marriage, the older man said:
"Well, there goes your career, but this is ushering in your personal life."
It appeared that Donny's dad had been right about the change marriage would bring to his career. But thankfully, Debbie was a good partner, and Donny once stated that if he hadn't married her, he would have been "a mess."
Although Donny's father had doubts about matrimony for his son, the star proved he could balance work and marriage. He took his career to another level exploring his interests in other areas of show business.
He turned to the theatre, starring in Andrew Lloyd Webber's 1999 "Joseph and the Amazing Technicolor Dreamcoat." He also hosted the successful US TV show "Donny and Marie."
Amidst a successful career, Donny's wife remained a big part of his life. He has proven his ability to balance marital affairs and work multiple times after many years.
DONNY AND DEBBIE'S RELATIONSHIP
The "I'll Make A Man Out Of You" star and his wife remained one loving celebrity couple since they tied the knot in 1978. The couple's love grew stronger after years, and now at 63, Donny has nothing but praises for his wife.
However, their marriage wasn't all velvet and rose bed as they faced many struggles with fans and the media's interference. Once reflecting on the early years of their marriage, the music icon revealed that some believed his relationship wouldn't last.
Donny mentioned his marriage's effect on his career and how it stirred him when some fans turned against him because he was married. Debbie also faced a lot of critics from tabloids.
But amidst the struggles of living a life in the public's eye, the star and his wife stuck together and crossed many milestones. And, 38 years into marriage, the doting husband wrote on Facebook:
"We've shared a wonderful life together. Debbie gave me wonderful sons. We now have 3 beautiful daughters-in-law. "
He also called the mother and grandmother "a very hot babe!" He celebrated the 38th anniversary with a throwback photo and a recent one of the two of them sitting in the same spot 40 years later.
HOW DONNY AND DEBBIE DID IT
Donny and Debbie's marriage is blessed with five sons: Donald Osmond Jr., Jeremy, Brandon, Christopher, and Joshua. Their kids have made them not just proud parents but also grandparents.
Donny's kids all have remarkable careers, and the star once credited his wife for being "such a powerful and uplifting influence" on the family. Young couples have a lot to learn from this loving pair, and it turns out there is a secret to their perfect marriage.
In a statement made in 2020, Donny shared that the secret to having a successful marriage was about making your partner happy. Donny has effectively made Debbie happy and given her credit for being an amazing woman for decades now.
Please fill in your e-mail so we can share with you our top stories!