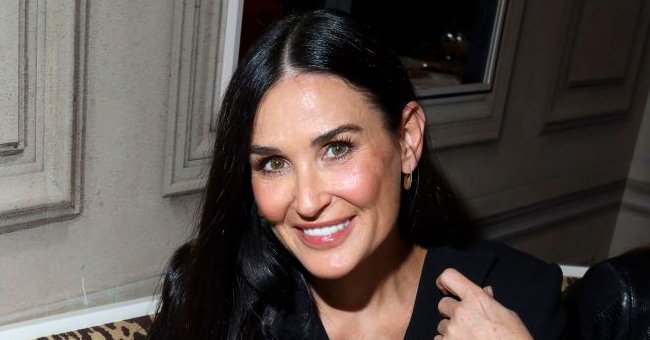 Getty Images
Demi Moore Fuels Gay Rumors as Fans Believe Masha Mandzuka Outed Their Relationship
Actress Demi Moore was married thrice, each ending in divorce. She caused a stir online recently after rumors surfaced about her dating a woman for nine years. See how her fans reacted.
Renowned Actress Demi Moore was one of the top paid actresses in Hollywood. She is famous for several movies, including "Ghost" in 1990 and "Striptease" in 1996.
Just as she is famous for her roles in numerous movies, the 59-year-old actress is known for her multiple marriages to well-known men. She was married to Musician Freddy Moore and Actors Bruce Willis and Ashton Kutcher.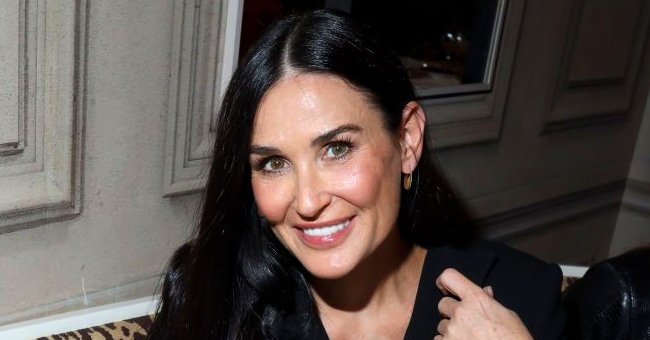 Demi Moore attends the Monot show of the Paris Fashion Week Womenswear Fall/Winter 2020/2021 on February 29, 2020 in Paris, France. | Photo: Getty Images
DEMI'S PAST MARRIAGES
Demi married Freddy from 1980 until 1985, Bruce from 1987 to 2000, and Kutcher from 2005 to 2013. Of her three ex-husbands, she only shares children with Bruce.
She and Bruce share daughters Rumer, 33, Scout, 30, and Tallulah, 27, all of whom followed in their entertainment footsteps. Despite their divorce, Demi and Bruce remain close friends.
Meanwhile, the "Indecent Proposal" actress has become the subject of online rumors. The latest rumors claim that she has been in a lesbian relationship with Masha Manduzka for a long time.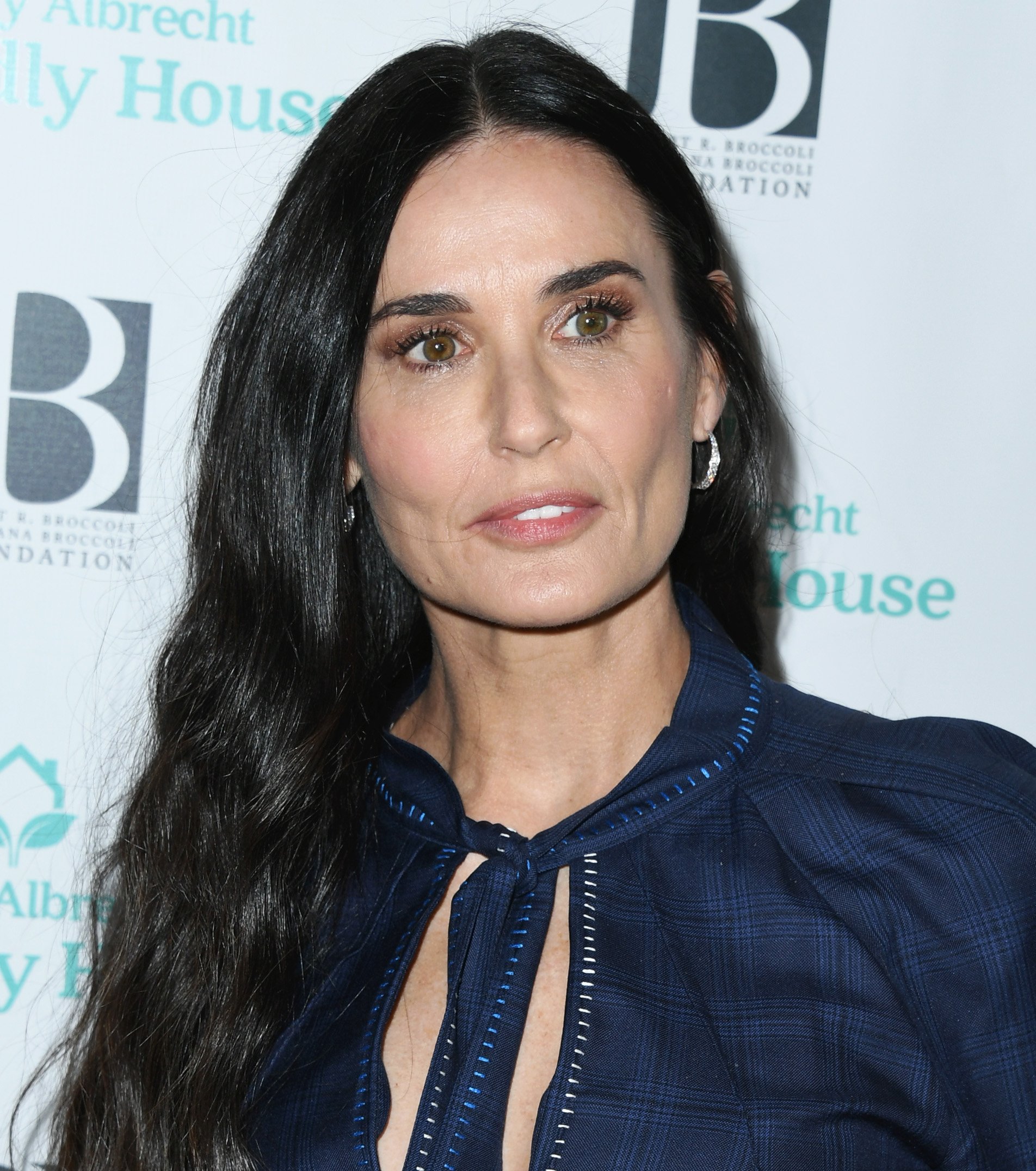 Demi Moore attends the Friendly House 30th Annual Awards Luncheon on October 26, 2019 at The Beverly Hilton Hotel, California. | Photo: Getty Images
THEIR RUMORED RELATIONSHIP
Masha, a Serbian fashion stylist, based in Los Angeles, has collaborated with numerous fashion brands, including Jimmy Choo, J. Crew, Madewell, and Warby Parker.
The stylist recently shared three pictures on Instagram featuring herself, Demi, and a little girl. She wrote a heartfelt birthday greeting for the veteran actress in the caption.
Masha also expressed that she is "grateful for nine years" with Demi. She ended her note with four emojis featuring an angel, a red heart, a rainbow, and a praying hand.
THE TWITTER USERS' REACTIONS
Masha's post did not escape fans' watchful eyes. Several fans expressed their reactions on Twitter. An observant user tweeted alongside a screenshot from Masha's post:
"did demi moore's gf of NINE YEARS just gently out them on insta last week [sic]??"
Another shared a picture of Demi from the 1992 movie "A Few Good Men." The user believed that there was more to the actress's character as Lieutenant Commander Joanne Galloway.
Demi and Masha's rumored romance appears to be a big hit with Twitter users, regardless of whether the pair is dating. A user commented:
"first elvira & now demi moore...truly a bumper crop year for lesbians who remember the internet dialup sound.[sic]"
Masha's recent birthday tribute for Demi was not the first time she posted online. Previously, Masha shared another delightful picture with the "G.I. Jane" actress in September 2019.
The photo showed Masha dressed in an all-black ensemble while Demi donned an animal-printed long dress. Beside Demi was another friend Soleil Moonfry dressed in a leather jacket and jeans.
The trio shared smiles during an event. Masha wrote that it was a great night celebrating Demi's memoir "Inside Out" in the caption. She described the actress as her "incredible friend."
Masha ended her post with sweet words saying that she adored and felt proud of Demi. The fashion stylist added that she was honored to be part of the "Flawless" star's life.
A QUIET AFFAIR
In addition to fans' speculations on social media, the Mirror reported that the "Passion of Mind" actress and Masha have been quietly seeing each other for three years.
Although they allegedly keep their relationship under wraps, Demi and Masha's romance continues to make headlines.
It is the first time Demi has been publicly linked to a woman. In 2009, Demi was falsely accused of having an affair with "Real Housewives" star Brandi Glanville on a Caicos island.
Masha's presence in Demi's life happened after the latter's marriage to Kutcher, who was involved in an infidelity rumor in 2011. The rumor left Demi heartbroken.
Although they allegedly keep their relationship under wraps, Demi and Masha's romance continues to make headlines. A source reportedly said the pair are raising a baby girl named Rumi.
Unknown to many, Masha is a proud mother of two — Rumi and Julian. She shares her two children with Bogomir Doringer, who lives in Amsterdam, and regularly visits them in LA.
BECOMING A SECOND MOM
The source added that Demi serves as a second mother to Masha's daughter. The couple was previously spotted shopping for children's clothing a few years ago.
Not much is known about her son, but Masha shared a beautiful picture of her adorable daughter lying on the bed featuring the "Disclosure" actress in 2016.
In 2017, Masha shared a selfie with Demi, who carried the little girl with a tiara in her arms. She called her daughter a princess while she described the movie icon as "queen d."
DEMI'S HAPPY FAMILY
Like her rumored girlfriend, Demi is also a proud mom of Rumer, Scout, and Tallulah. She may have split with Bruce a long time ago, but they happily co-parent their daughters.
Demi and her ex-husband's co-parenting abilities left their daughters in awe. Rumer said she praised their parents for establishing a cohesive relationship after their separation in a recent interview.
Following his divorce from Demi in 2000, Bruce has been married to Model Emma Heming since 2009. The "Die Hard" actor and his new wife welcomed two little daughters Mabel, 9, and seven-year-old Evelyn.
NEW MILESTONE AMID PANDEMIC
Recently, Demi expressed happiness of Tallulah's recent engagement to Film Director Dillon Buss amid the pandemic. The actress, her daughters, Buss, and Bruce, isolated together in Idaho.
Demi shared her family's reaction to Tallulah and Buss's new milestone online. Tallulah shared several pictures of Buss's proposal and a close-up photo of her engagement ring.
The "Brave New World" actress congratulated Tallulah's engagement. Demi also said her youngest daughter's beautiful moment was the happiest day for the family.
Demi previously opened up about her quarantine experience with her family. Despite the global health crisis, the "No Small Affair" actress described their time together as a "blessing."
Meanwhile, Rumer credited her family's close relationship with her quitting smoking. Demi also said she and her family were able to focus on what is essential amid the pandemic.
Please fill in your e-mail so we can share with you our top stories!