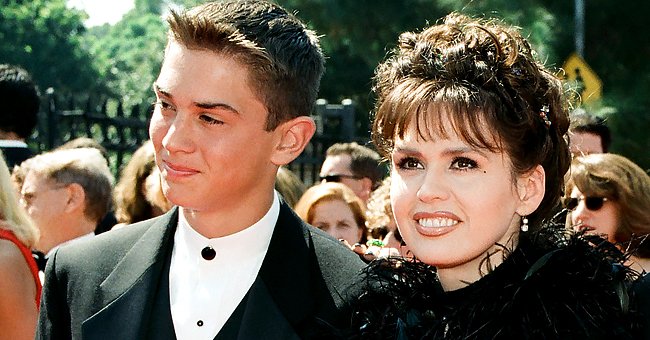 Getty images
A Look inside Marie Osmond's House Where She Keeps Memories of Son Who Died at 18 in 2010

Marie Osmond has been through some rough patches in life, but losing her son was the worst thing to have happened to her. For years, she has held on to her son's memories in her home in Utah.
Many love their homes for the comfort and aesthetic value it brings. However, for others like Marie Osmond, homes are a place where they keep the memories of their loved ones.
With a successful music career, Osmond has had the luxury of owning several beautiful homes. But her most prized property is in St.George, Utah, where she lives with her husband.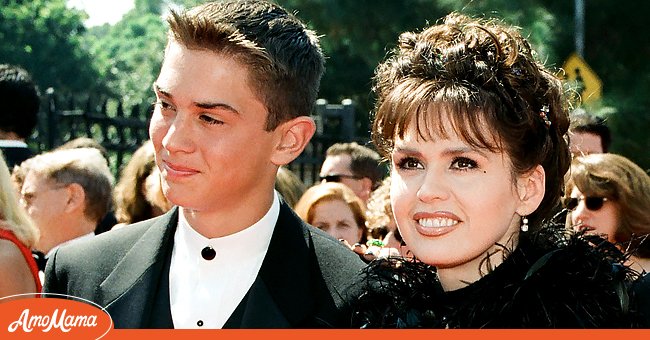 Marie Osmond and her son Michael Blosil at the 50th Annual Primetime Emmy Awards held at the Shrine Auditorium in Los Angeles, CA on September 13, 1998 | Source: Getty Images
HER BREATHTAKING HOME
Over the years, Osmond has given fans sneak peeks of her stunning abode, which features an island in the middle of the pool, a home theatre, and a mindblowing view of the mountains beyond.
The kitchen has a large dark wood table, while the walls are fitted with matching cabinets. A marble island in the middle of the kitchen completes the look.
The living area features beautiful furniture, including a couch that the "Donny and Marie" alum says was picked out by her late son, Michael.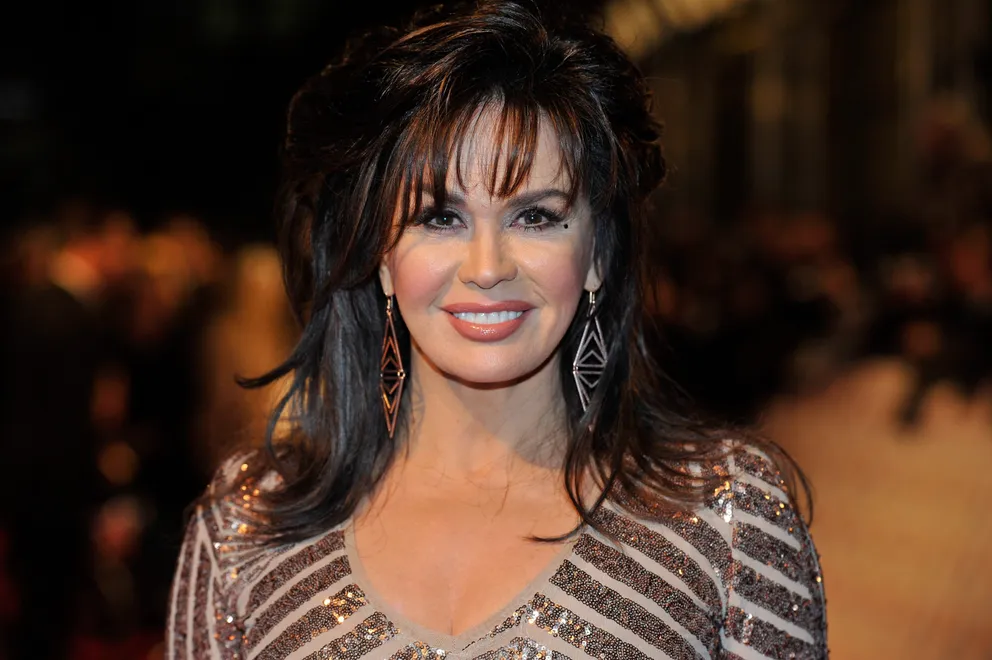 Marie Osmond pictured at the National Television Awards at 02 Arena in London, England in 2013. | Photo: Getty Images
The couch is one of the items that Michael and Marie purchased together, and she holds on to her son's memories whenever she naps on it. She tears up when describing how much comfort it brings her:
"This is Mike's couch. It is the one thing I wanted. It is the last thing we bought together. It's comforting, and I remember when we got it and how much he loved it."
When the star is not relaxing on her cozy couch, she enjoys a quiet time in the outdoor lounge area. Judging from the sneak peeks of her videos, it is easy to tell how luxurious and unique her home is.
It is no wonder the "Crazy Horses" singer preferred to leave behind her Los Angeles home for the Utah one when the coronavirus struck.
She and her husband Steve Craig, who she married in 1982 then a second time in 2011, remained holed up in their St. George's house, socially distancing and keeping safe.
The songstress says she took the time out to connect with her husband, saying that after 25 years, the quarantine period was the first time they were alone.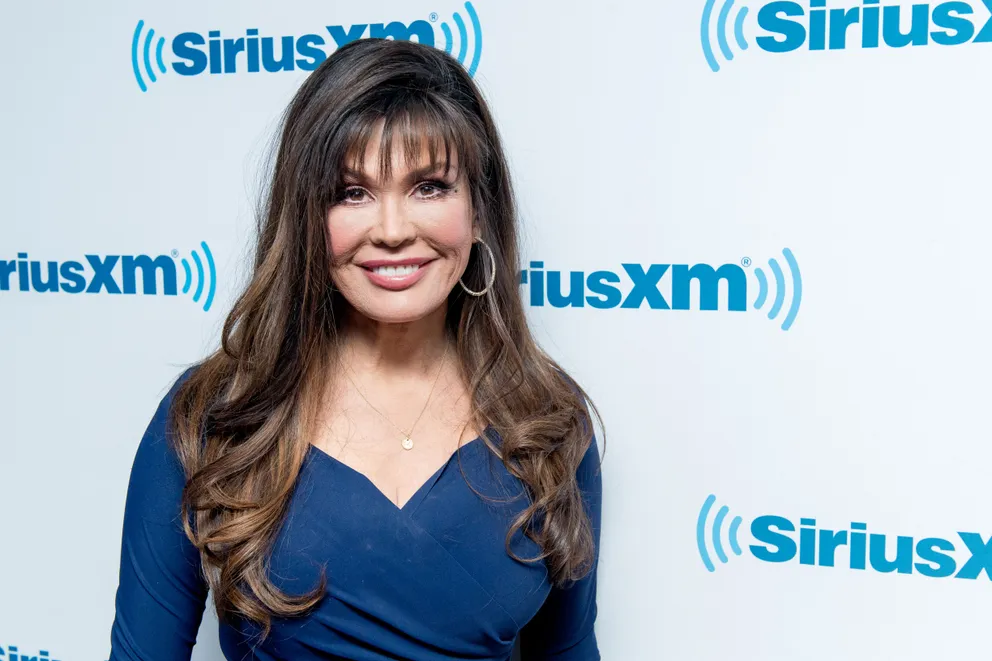 Marie Osmond at Andy Cohen show at SiriusXM Studios on January 10, 2018 | Photo: Getty Images
Osmond would also keep tabs on her children through a family group text, which made her happy throughout the isolation period. She says that seeing texts from her children trickle in made her feel like they were getting closer.
But away from being her place of unwinding and comfort, the home doubled up as an office. The 62-year-old singer would paint, read, and craft there, which she loves doing when she's not working her day job.
She said how grateful she was that she could continue working safely from home, then added a quote from her father. Dailymail reiterated it, reporting:
"The most important work you will ever do is within the walls of your own home."
THE TRAGIC LOSS OF HER SON
The bliss and quiet of her home are just a few reasons she loves spending time there. Away from the aesthetics, the household has sentimental value that Osmond says she will hold dear to her heart for as long as she lives.
Besides the couch, the home holds other memories of her late son, Michael, who passed on after taking his own life in 2010. Michael started struggling with depression after his parents' divorce in 2007.
Michael was only a freshman at the Fashion Institute of Design and Merchandising, but he had much going on. Besides the bullying and depression, he had also struggled with substance abuse.
He had begun abusing drugs at the age of 12 and had been in and out of rehab several times. He even once attempted to take his life while in rehab, something he'd promised his mom he'd never do again.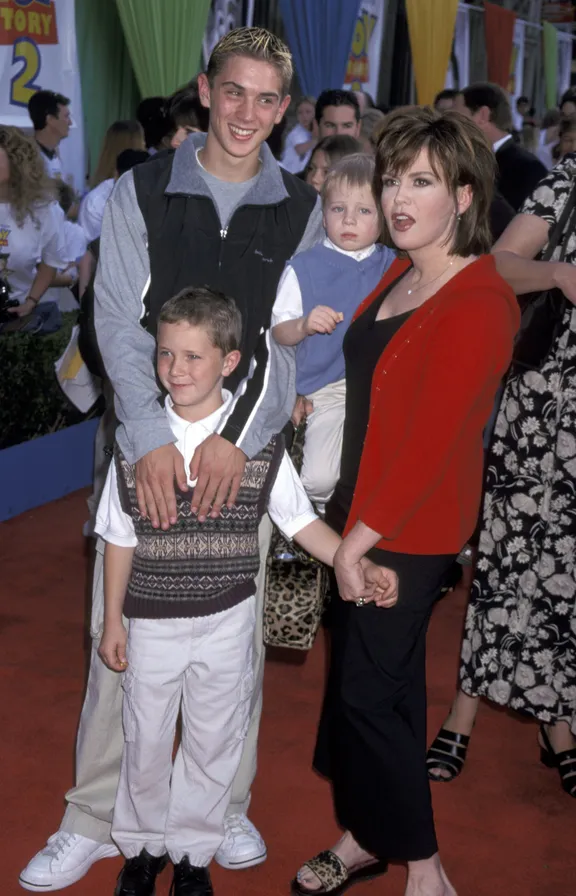 Marie Osmond and sons Stephen, Michael, and Brandon during the "Toy Story 2" World Premiere | Source: Getty Images
Only days before his untimely death, Michael had spoken to his mother and opened up about having no friends. His admission reminded Osmond of a time when life had dealt her the same card.
Osmond had suffered from post-partum depression for the longest time, even leaving behind her family and driving away for two days. She understood where her son stood and offered to meet up and talk about it.
But unfortunately, Michael never lived to see the day. Osmond opened up about the ordeal, saying that she was aware of the bullying texts Michael received and had kept them with her all those years later.
She knew her son's bullies but chose to keep the information to herself, never once taking action against them. She, however, felt that it was time to address such issues because they were becoming increasingly common.
DEALING WITH THE LOSS
Losing a child is every parent's nightmare, and for Osmond, the loss of her son was devastating. Heartbroken, Osmond opened up about her and her family's grief, saying that she did not think she would ever get over it.
Osmond felt that Michael did not open up to her about his problems because he had seen her struggle as a single mom for the longest time and did not want to burden her.
She, however, praised him for being an amazing young man and for having the courage to face his obstacles. However, she said she continues to carry a pain that only a mother can feel, one that she will take with her for the rest of her life.
VISITING HER CHILDHOOD HOME
In the spirit of reminiscing, Osmond took a trip down memory lane when she visited her childhood home, also in Utah. She shared the videos on her Instagram, showing her fans the place she called home for years.
The songstress shared beautiful stories of her life as a young girl. She also recalled all the happy and mischievous adventures she went on with her brothers, Jimmy, Merill, Alan, Jay, Wayne, and Tom.
"The Talk" host gave her fans a virtual tour of the grounds where she spent most of her childhood as she drove around the vast property where the Osmonds called home. In the clip, she said she will always be grateful for her humble beginnings.
If you or someone you know is considering suicide, please contact the National Suicide Prevention Lifeline is 1-800-273-8255. Other international suicide helplines can be found at befrienders.org.
Please fill in your e-mail so we can share with you our top stories!