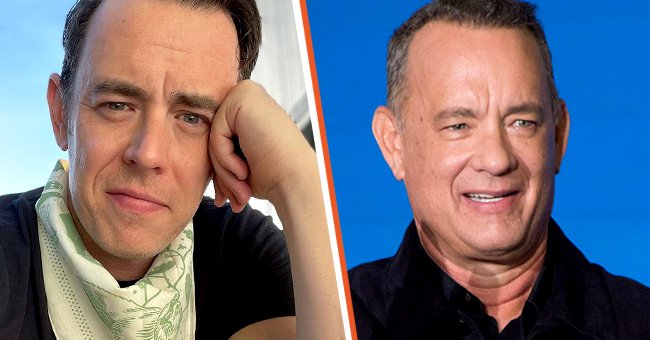 Colin Hanks | Tom Hanks | Source: Instagram.com/colinhanks | Wikipedia/Tom Hanks 2016/CC BY-SA 2.
Tom Hanks Has a Carbon Copy Older Son Who Remembers Dad Trying to 'Make the Rent'
Tom Hanks is a renowned actor who has cemented his name in the history books of Hollywood. He had a rough start in the early years of his career, and along the way, his children suffered because he was still trying to make ends meet.
In a March 2020 exclusive interview with the New York Times, Tom Hanks spoke frankly about his humble beginnings, trying to make it as an actor in the world of entertainment and how it affected his kids at the time.
Tom grew up in Northern California and came from a dysfunctional family. He was only five years old when his parents divorced, and he and his older siblings lived with their father, while another brother lived with their mom.
Actors Tom Hanks and Colin Hanks attend The Cinema Society and Brooks Brothers screening of "The Great Buck Howard" at the Tribeca Grand Screening Room on March 10, 2009 in New York City | Source: Getty Images
Humble Beginnings
Both parents were having it tough, just trying to survive. Tom's father worked in various small restaurants and remarried more than once, including moving from one place to another every few months.
He and his siblings had to take care of the house while their dad worked long hours. However, the "Cast Away" star said he hadn't developed resentment towards his folks to date.
Tom said he witnessed how difficult life was for them at the time. They never explained things to him, and he shared that they did not know how to find words to express themselves.
Tom noted it was because they were filled with self-hate and guilt, adding that they found it challenging to raise four kids. He stated:
"Now, I've got four kids myself, and as soon as you start having your own kids, you go, like, oh, I get it."
During an interview, Oprah Winfrey asked Tom what it was like growing up in a dysfunctional family. He revealed that a light bulb went up in his head when asked this because he had never thought about himself that way.
But he knew something was off because he had started collecting a lot of typewriters, hundreds of them. Tom concluded his hoarding went back to how he never managed to keep things he owned and loved as a child because he moved from one place to the next.
As an adult, Tom revealed he realized that his parents did not afford him the chance to pack things up whenever they moved, so he lost some belongings that meant dearly to him. He shared:
"I had nothing that stayed with me all through my life. I don't have anything from when I was five years old. I don't have anything from when I was 3."
Being a Dad & a Husband
Tom was nineteen when he got his first typewriter as a gift from a friend. When he started collecting them, he was married. The Hollywood star was getting gigs on "The Love Boat" and at the Great Lakes Theater outside Cleveland.
Before that, the "Greyhound" star was an unemployed actor who spent two seasons playing alongside actors from all over the regional-theater map. He explained he had never been out of California before getting the job in Cleveland.
Tom started to collect typewriters because he was trying to reframe his past experiences. When he thinks about that time, he said:
"I start thinking about mistakes I made with my kids and not explaining things or not being there for them. Or being preoccupied with other things that are going on in our adult world."
He continued: "My son Colin was born when I was very young. As well as my daughter, but that means we have this gestalt understanding because they remember when their dad was a guy trying to make the rent."
Now dubbed an American cultural icon, Tom explained that his other two kids were born after establishing his acting career, so their upbringing differed.
Meanwhile, Colin appeared on Dax Shepard's podcast "The Armchair Expert." He openly talked about the harsh financial reality of growing up as Tom's son while living with his mother full time. He shared:
"I don't know how much money my mother was getting in alimony, but what I heard was, 'We don't have the money for that. Your dad has that. We don't have that.'"
Tom shares his eldest child Colin, 44, and second child Elizabeth, 40, with his former wife, Samantha Lewes. The pair were college sweethearts and met as acting students at Sacramento State University.
They tied the knot in 1978 but welcomed their son Colin a year earlier in 1977. Colin was therefore given a family name from his mother's side following his birth, Colin Dillingham.
Cancer Diagnosis
It was not until his mom and dad got married that he was given the last name Hanks. Tom and Lewes welcomed their daughter Elizabeth in 1982. However, their marriage crumbled, and they divorced in 1987. Tom commented on their separation once:
"We tried to make our marriage work, but we were both too young."
Lewes and Tom remained friends after their separation, and the 66-year-old filmmaker was among those who felt devastated when she was diagnosed with bone cancer.
Lewes discovered she had only a few months to live following a routine checkup per the New York Post. Tom reportedly responded promptly and arranged for her to see top bone-cancer specialists at UCLA and supposedly even paid their fees.
However, it was too late for medical treatment because the disease had already spread to her lungs and possibly her brain. Sadly, the actress died on March 12, 2002, in Sacramento, California, at age 49.
Their firstborn spoke about her passing on the "Armchair Expert" podcast, sharing that his mom's death changed how he viewed the showbiz industry. He said the experience prompted him to turn down movies that were not appealing to him, even if it meant not working for a while.
Colin's Career
Colin followed in his father's footsteps pursuing a career as an actor, and has appeared in films such as "King Kong" and "Orange County," including the TV series "Jumanji."
The producer is a Golden Globe and an Emmy Award nominee. In addition to his acting career, he is also the CEO of his handkerchief company, established in November 2018 and nicknamed it "Hanks Kerchiefs."
He once tried his luck in music as he was a bass player until he fractured his thumb. In an interview with Conan' O Brien, the star revealed he played bass in a band called Pontius Pilot.
Being a Family Man
Colin is also a family man, having married Samantha Bryant in May 2010. The couple shares two children, daughters Olivia, 11, born in 2011, and nine-year-old Charlotte, born in 2013.
At the time of their youngest child's arrival, Tom's current wife, Rita Wilson, said she was over the moon welcoming a second grandchild.
In October 2019, Colin joked about his relationship with his little ones after they were back at school. He said: "I am just an Uber driver from one thing to the next."
The dad of two also revealed earlier that his daughters understand that their grandfather is world-famous, but they do not care about his popularity.
Colin explained that their time spent with his dad is like any other playdate with a grandparent, while adding Tom spoils them a lot.
In August 2021, he shared he highly doubts his kids would follow in his or their grandfather's acting footsteps. Colin told Us Weekly that he hopes that they do not go that route.
The "Fargo" star added he keeps telling his kids that they can do whatever they want. He said he is eager to see what they would eventually choose as their careers and how they would go about it.
Former Girlfriend
Before becoming a dad and a husband, Colin dated Actress Busy Philipps. The exes met when they were 18 and 19 years old and dated while studying at Loyola Marymount University in the '90s.
In January 2017, the former couple found themselves in the hot seat, appearing on "Live! With Kelly," with Philipps as a co-host. Despite dating for years during their teens and early twenties, the two are still relatively close friends.
Please fill in your e-mail so we can share with you our top stories!