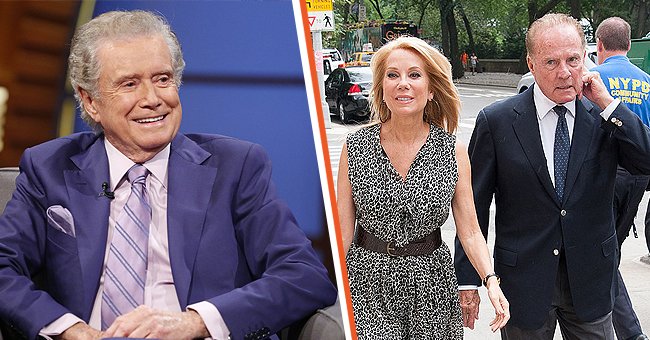 Getty images
People: Regis Philbin Protected Kathie Lee Gifford after Husband's Infedility & She Forgave Him
Kathie Lee Gifford once found herself in the middle of a cheating scandal when photos of her husband with another woman surfaced. Even though it took a while, she forgave his infidelities and saved her marriage.
Kathie Lee Gifford is famously known for her remarkable talents as a TV presenter and author of the children's illustration book "The Gift That I Can Give." She is also an actress with roles in movies such as "Then Came You" and "A Godwink Christmas."
Despite her successful career, she once suffered heartbreak when her husband cheated on her with a flight attendant. When the scandal broke, Kathie and Frank Gifford were in their eleventh year of marriage, threatening to break apart their once blissful marital life.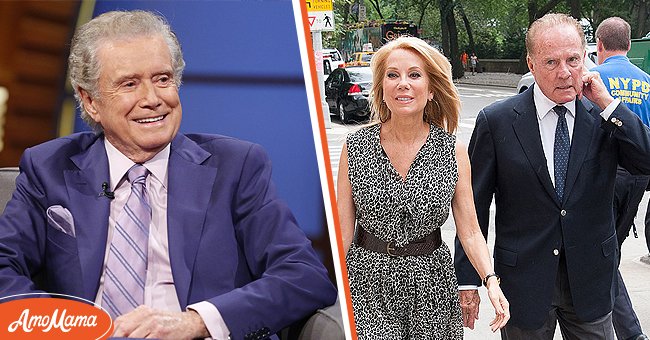 Left: Regis Philbin during an interview with Seth Meyers on July 16, 2014. Right: Frank Gifford and Kathie Lee Gifford arrive at the funeral service for Marvin Hamlisch at Temple Emanu-El on August 14, 2012 in New York City. | Source: Getty Images
Frank, a former sports commentator, and football star, though a victim of entrapment, had been caught cheating. He was with a former flight attendant, Suzen Johnson, at the Loews Regency Hotel in New York.
Frank and Johnson met for the first time in 1993, during a flight that Johnson was stewarding. Frank was instantly attracted to the blonde beauty and slipped her his number.
While they did not meet until four years later, they were in communication all through. They even planned to meet before the 1997 rendezvous, but it never happened.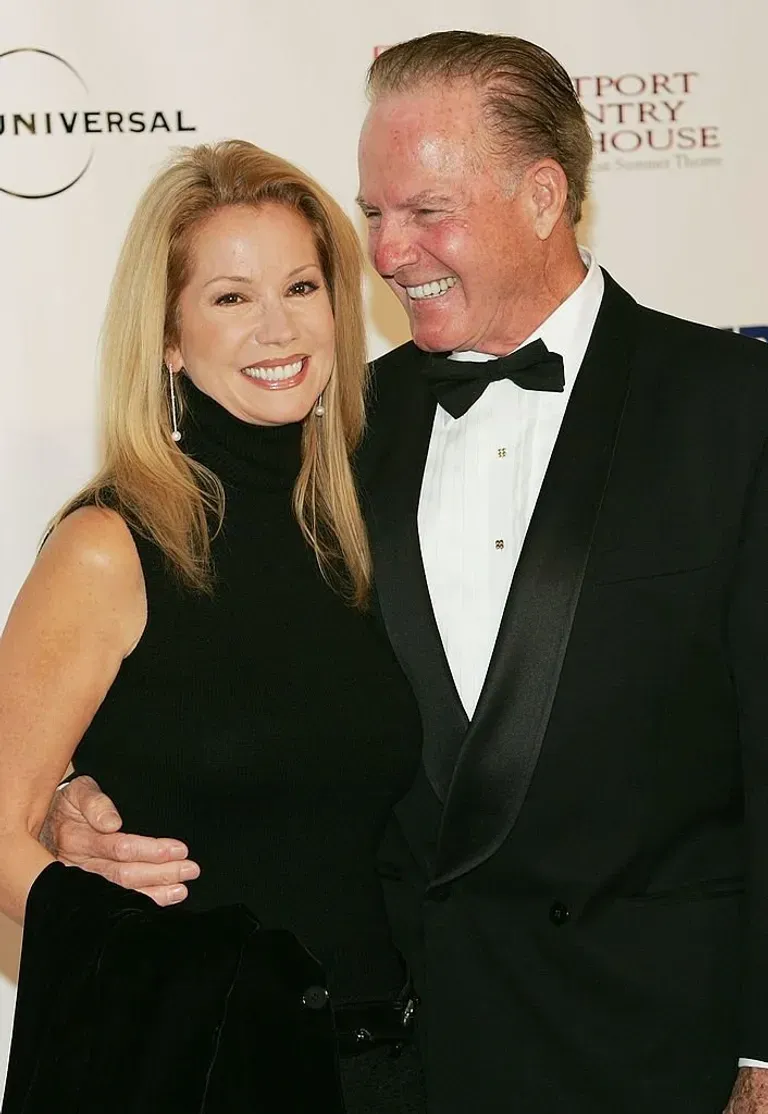 Frank Gifford and Kathie Lee Gifford at the Westport Country Playhouse benefit dinner at The Hyatt Regency on October 14, 2004. | Photo: Getty Images
As fate would have it, it turned out that Frank was part of an orchestrated plan by the supermarket tabloid "Globe." The publication had set up secret cameras in the hotel to catch Frank in the act.
After the story came out, Gifford was devastated, and understandably so. Fortunately for her, she had her long-time friend and co-host, Regis Philbin, to support her during those trying times.
The two had co-hosted on "Live! with Regis and Kathie Lee" for years. Philbin was also known to protect her on air. So in the wake of the scandal, Gifford knew she had someone to lean on.
INSIDE KATHIE AND PHILBIN'S FRIENDSHIP
Theirs was a friendship that had lasted decades. The two first started working together in 1985, when they co-hosted the WABC-TV "The Morning Show." The show would later be broadcast nationally as "Live!"
Thanks to the natural chemistry between the two, the show became a huge hit. The fans loved it because of the authenticity it showcased and also because, for the first 15 minutes, the two would entertain their viewers with casual banter about their personal lives.
Gifford once said when she met Philbin, it felt like she had met her doppelganger. Their chemistry was instant, and they were so much alike in their creativity. They also truly enjoyed each other. Their friendship lasted for decades to come.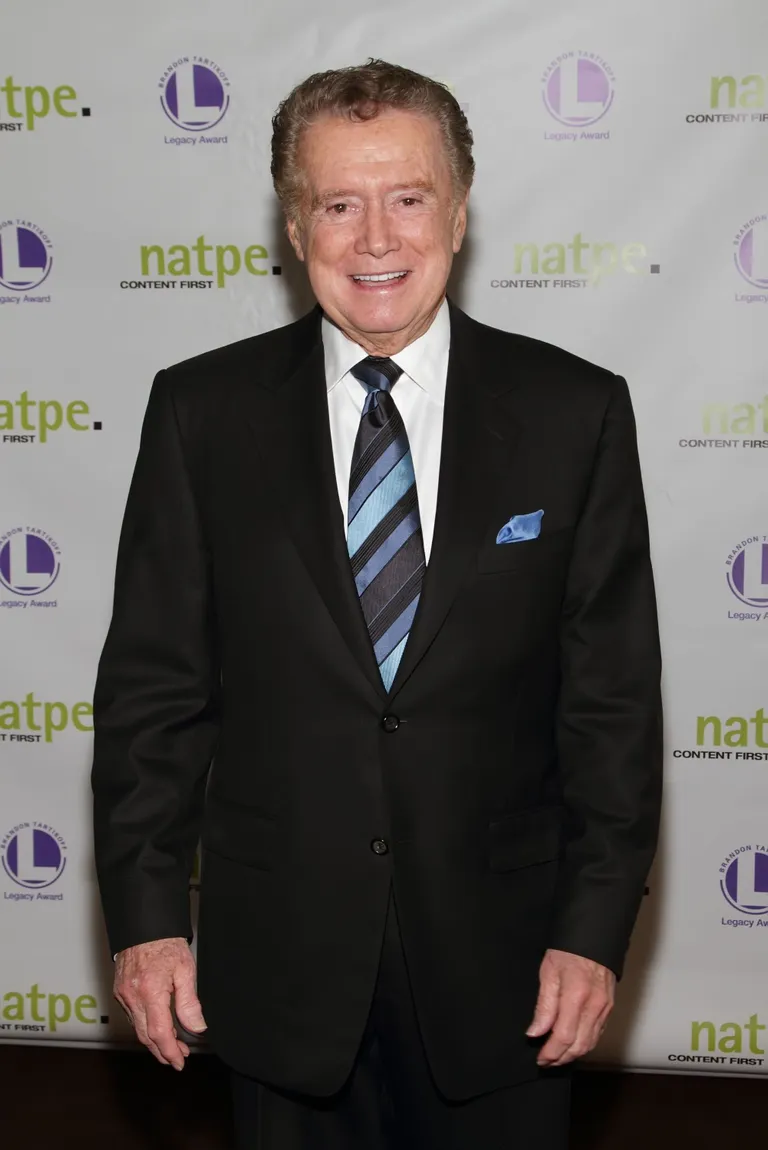 Television host Regis Philbin a the 8th Annual NATPE Brandon Tartikoff Legacy Awards at Fontainebleau Miami Beach in Miami Beach, Florida | Photo: Getty Images
Gifford even wrote the introduction to Philbin's 1995 autobiography, "I'm Only One Man!" Their 15 years of co-hosting were full of celebrations of their milestones. As Philbin would later disclose, he was there when Gifford met Frank and married.
It was only fitting that he was there for her when she experienced the most heartbreaking moment of her life. Speaking to People, she disclosed how hard her husband's infidelity had been on her, saying:
"Everybody talks about the hard times that I went through that were public. By any definition, they were the most painful times of my life. But I always knew Regis had my back."
KATHIE CONSIDERED LEAVING HER HUSBAND
In 2017, Gifford opened up on "Today," saying she had considered leaving her husband after the news of his infidelity hit the media. She said it was a horrible test of their relationship.
Gifford avoided going down Park Avenue, where the Regency Hotel is, in the years that followed. The mere sight of the hotel often triggered too much emotion in her.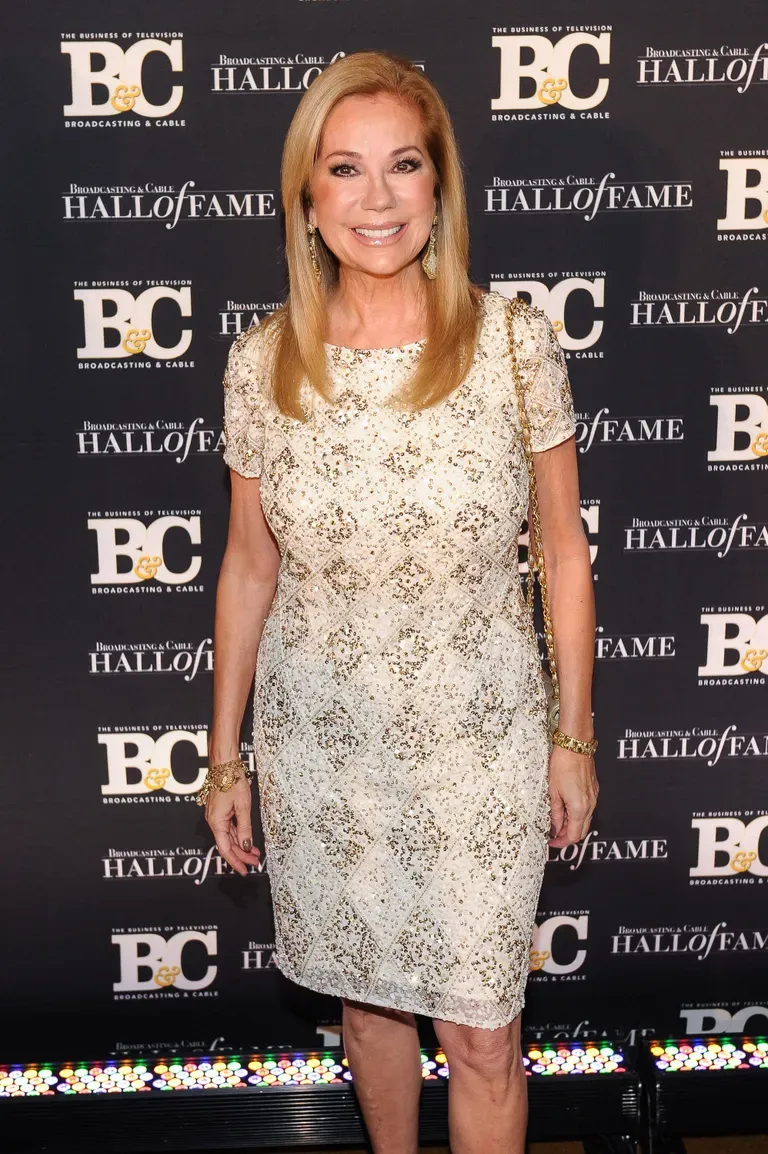 Kathie Lee Gifford at Broadcasting and Cable Hall Of Fame Awards 25th Anniversary Gala at The Waldorf Astoria on October 20, 2015. | Photo: Getty Images
Gifford could not deal with how casually Frank expected them to move on from the infidelity for the longest time. Eventually, she forgave him, and their desire to work things through ultimately prevailed. She said:
"It takes a lifetime to build that kind of friendship and history together and trust, and it takes one stupid decision to destroy it. Sometimes you run out of time to build it up again."
She says her counselor put her up to a challenge. The counselor asked Gifford to forgive the father of her children if she could not forgive her husband.
SAVING THEIR MARRIAGE
After looking at things from that perspective, Gifford realized that Frank was more than just her husband. He was her babies' father. She began to recognize how compassionate, loving, gentle, generous, and sweet her husband was.
From there, the forgiveness journey became much easier. In Gifford's memoir, "It's Never Too Late: Make the Next Act of Your Life, the Best Act of Your Life," she admitted that the years that followed were rough, and they struggled for a long time.
It was evident to Frank that his wife would never be the same person she was before the infidelity. And yet, they stayed together.
In the process, they saved their marriage and children, who Gifford says would have been very different today if they had chosen to end their marriage. They remained happily married until Frank met his death in 2015.
FRANK PASSES ON
In August 2015, the former football star and actor known for his role in the 1959 submarine movie "Up Periscope" passed on. Following his demise, his family released a statement announcing that he had died from natural causes at his home in Connecticut.
The statement added that the family was grateful for the extraordinary life that Frank had led, noting that they felt grateful and blessed to have experienced love from such a fantastic person.
From his second marriage to Gifford, Frank left behind a legacy as a father to his beautiful kids, Cody and Cassidy. He will also be remembered as a celebrated NFL player, an actor, and a husband.
He was also a father to Erin Gifford, Victoria Denise Gifford, Kyle Gifford, and Jeff Gifford from his first marriage to Astrid Gifford, which ended in 1986.
Please fill in your e-mail so we can share with you our top stories!