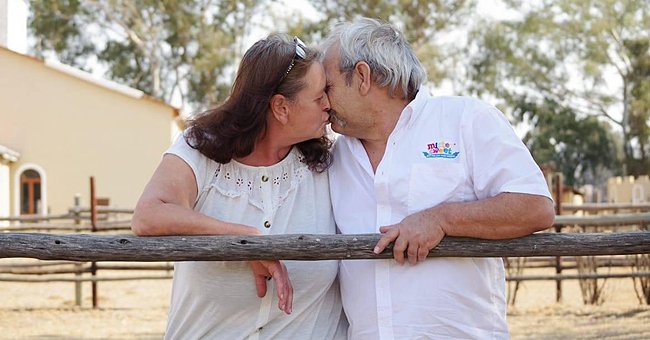 facebook.com/JohannesAlbertusBrunettee
Couple Reunites 45 Years after They Lost Contact as Kids to Start a Relationship and Marry
A couple who met as kids and drifted apart for more than four decades finally met and entered a relationship in their 60s. They have been together for five years and have plans to tie the knot soon.
There's something so beautiful about two people in love coming together and vowing to stay connected for the rest of their lives. Rhoda Schutte and Johannes Brunette shared a special connection that dated back to their childhood.
They were only teenagers when they first saw each other at a local municipal pool in Krugersdorp, South Africa. Brunette and his brother mustered up the courage to ask Schutte and her sister Annamarie if they could walk them home.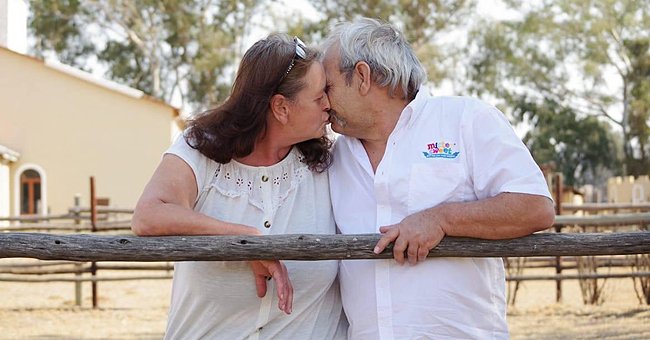 Rhoda Schuttes and Johannes Brunette sharing a kiss. | Photo: facebook.com/JohannesAlbertusBrunettee
CHILDHOOD LOVERS BECOME LIFE PARTNERS
Soon afterward, Schutte moved, and the two didn't see each other for 45 years. But when they finally met after being apart for so long, they immediately entered into a relationship. Brunette and Schutte have been together for five years.
Earlier, they had built separate lives for themselves and were married to different people. Brunette was married for 33 years and had one son and two daughters. When his wife passed away, he began feeling lost and alone.
It was then that his younger sister, who was friends with Schutte's sister, Annamarie, planned a date for him and Schutte. On the other hand, Schutte had also married someone else and got divorced a few years before.
Schutte had her reservations about going on a date with someone she had last seen as a kid. But after meeting Brunette, she expressed how thankful she was for having someone as caring and loving as him. Talking about her feelings, she said:
"I was wondering what he is going to think of me. I'm tall and a bit chubby," Rhoda says. "And when we did meet, he said, "yoh, but you are tall! (sic)"
Brunette shared that being reunited with the love of his life has taught him that one should never give up. Both in their 60s, the couple has plans to get married soon, and we wish them all the best.
It seems Brunette and Schutte aren't the only ones who got their happily-ever-after despite being apart for over four decades. Another couple has found their happy ending after a man confessed his love to the girl from his school he had always liked.
41-year-old Kegakiloe Kgalegi and 38-year-old Onthatile Matshidiso went to the same high school. Kegakiloe was Onthatile's senior and saw her every day. He loved the way she carried herself and found her sweet and kind.
However, he was too shy to admit his feelings. In 2018, Kegakiloe decided to search her name on Facebook after not having seen her for more than 20 years. The two reconnected right away.
Onthatile shared that even though she knew him from school, she had never thought things between them could ever get serious. But after reconnecting with him, she realized he had all the qualities she had always wanted in a man. She also said:
"He has the most amazing energy to be around - he's calm, kind, and affirming. He's also cute, funny and deeply caring, which makes him my best friend."
The two love birds had initially given up on dating. Kegakiloe had gone through one too many failed attempts and felt demoralized, while Onthatile thought it best to prioritize her career and build a solo life for herself.
But after catching up through Facebook, the lovely couple from Rustenburg, South Africa, discovered how they had earlier been at the same places and events and even shared mutual friends.
They are now planning to tie the knot in 2022 and are beyond ecstatic about finding each other after all these years. The lovely couple shared that despite the challenging experiences, one should never give up on love and wait patiently for the right person.
Indeed the remarkable love stories of Brunette and Schutte and Kegakiloe and Onthatile prove that true love can survive all odds.
Please fill in your e-mail so we can share with you our top stories!